📷 Love taking photos but hate editing them afterwards? Check out Luminar AI. As the name suggests, it is a Super-Intelligent AI Photo Editor that will seamlessly integrate in your workflow and make taking photos fun again.
Fujifilm makes some of the best mirrorless cameras in the market. It has a strong reputation among photographers and film-makers, with its line of APS-C X-mount cameras and medium format GFX models. The company has been steadily expanding its X-system lens catalog for almost a decade now, making the process of picking the best Fuji lens a daunting one.
Whether you're searching for zooms, primes, cine, wide-angles, or telephoto lenses, we have you covered. To help you make a more informed decision on the lens to pick, we have reviewed ten of the best Fuji lenses of 2023.
How to Read a Fujifilm Lens
This post has a lot of photography jargon. Before you set into finding your choice for the best Fuji lens, you should first understand what all the letters and numbers beside each product mean.
For instance, one of the best telephoto lenses for Fuji currently available is the Fujifilm Fujinon XF 18-135mm f/3.5-5.6 R LM OIS WR.
Let's break down all these confusing numbers and abbreviations:
XF – the lens series (XF or XC)
18-135mm – the focal length
f/2.5-5.6 – the maximum aperture range
R – the presence of an aperture ring. This enables a manual adjustment of the aperture
LM – the presence of a linear motor. This is meant to aid with AF (autofocus) speed
OIS – the presence of Optical Image Stabilization
WR – the presence of Weather Resistance capabilities
The Best Fuji Lens for 2023
| Product | Model | Max. Aperture | Angle of View | Price |
| --- | --- | --- | --- | --- |
| | XF16-55mmF2.8 | f/2.8 | 83.2°~29° | |
| | XF16mmF1.4 | f/1.4 | 83.2° | |
| | XF56mmF1.2 R | f/1.2 | 28.5° | |
| | XC35mmF2 | f/2 | 44.2° | |
| | XF16mmF2.8 | f/2.8 | 83.2° | |
Best Prime Lens for Video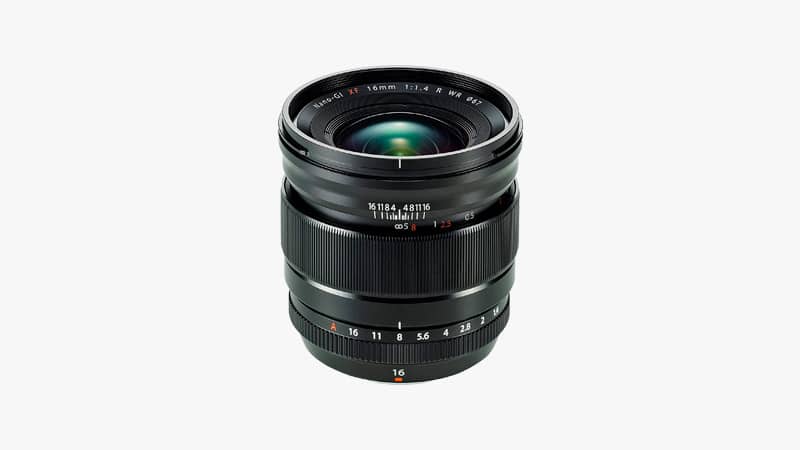 Features
Iris diaphragm with nine rounded blades
An optical formula with 13 lens elements
Built-in high-torque DC coreless motor for an ultra-fast AF performance
HT-EBC and Nano GI coatings to reduce reflections
A camera-to-subject distance indicator
The Fujifilm Fujinon XF16mm F1.4 R WR might carry a premium price, but this is backed by its matching performance. The wide-angle lens covers up to a 24mm field of view, in full-frame terms. The XF16mm lens is made to withstand low-light shooting and create blurred backgrounds, helping you get personal with the subjects.
This waterproof XF model makes it an ideal companion for street photography, reportage, landscapes, etc. Its metallic, glossy black barrel has a bayonet mount used to attach the hood. The included hood comes with a petal design that is made of plastic, enabling reversible storage.
Features
Lightweight
Better low-light shooting
Stronger background defocusing
The Fujifilm Fujinon XC35mm F2 is a budget prime which performs better than most lenses at twice its price. It has been on our recommendations list for long, thanks to its excellent optical quality and all-weather design.
The Fujinon XC35mm F2 is as basic as it gets. The lenses are small and housed in a composite plastic barrel with a matte black finishing. It is one of the many 35mm prime lenses but at the opposite end of the XF35mm F1.4 R and above. In fact, it is a cut-price version of the same, without the metal barrel and mounting plates. Moreover, there is no hood included, but only a lens cap.

This lightweight companion still offers the same optical construction and performance you would get in the much more expensive XF35mm F2. Even though Fujifilm made these lenses for their cheaper X-mount cameras, such as the X-A7 & X-T200 cameras, you'd still get the value for your money when used with pricier models.
Features
All-metal construction
A smooth and responsive focusing ring
Unique nanotechnology-engineered 'apodization' filter
Supports shallow depths of field
The Fujifilm Fujinon XF56mm F1.2 R is ideal for portraits, wedding, and studio photographs, thanks to its 85mm full-frame equivalent focal length. The wide f/1.2 aperture supports shallow depths of field, with an incredible focus area. This makes the XF56mm F1.2 R one of the best Fuji lenses for subject isolation and maintaining a natural shooting distance while blurring the background to your liking, with a tight depth of field.
The lens is made using 11 elements from 8 groups – one of which is a two-sided aspherical element and two extra-low dispersion elements. The spherical and chromatic aberrations are controlled by these elements, making them quite useful in these lenses. The other elements have convex surfaces that ensure that there is ample light coverage.
The nanotechnology-engineered 'apodization' filter is an optional special element in the lens's optical. It helps to smoothen the paths while still outlining the shapes in defocused areas. Such a feature makes this product's bokeh appear softer and more creamy. However, you may be forced to break the bank for this added attraction, since the non-APD version of the lens cost approximately two-thirds as much.

The 56mm F1.2 feels sturdy due to its all-metal construction. The premium feel is attributed to its barrel and physical aperture ring. Although it appears a little heavy, it is still relatively lightweight since it balances perfectly with most Fujifilm's line of mirrorless cameras.
With tons of positive user reviews online and a near-legendary status, the Fujifilm XF56mm f/1.2 deserves a mention as one of the best Fuji X portraiture lenses. This is the ideal Fuji lens to go for if looking for stellar low-light performance and subject separation.
Best Wide-Angle Lens for Video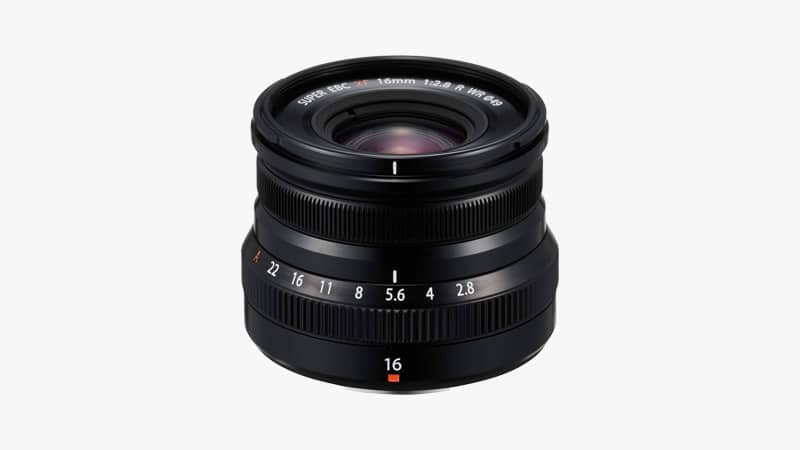 Features
Weather-sealed construction
Quiet stepping AF motor
Lightweight and compact design
Super EBC coating
The Fujinon XF16mm F2.8 R has been a great wide-angle lens option for Fujifilm users. This is yet another excellent performer that delivers solid results for its price. It offers a wide-angle of view similar to that of a 24mm lens in a 35mm system, with an F2.8 maximum aperture for low-light shots.
The build quality for the XF16mm f/1.2 is generally excellent. This is because much of the exterior is made out of metal, giving the lens a robust, premium feel. The aperture and focusing rings are comfortable and easy to use. The petal-shaped lens hood is also sturdy, made from rigid plastic, and adds about 10mm to the overall length of the lens.
The dust and weather-proof Fujifilm lens include an iris diaphragm with nine rounded blades and an aperture ring on the metal barrel. There is also the presence of a super EBC coating to improve the optical performance, with a formula that has 10 elements in 8 groups.
The dimensions of the lens do not change during focusing as it is entirely internal. The front elements do not rotate, allowing for the seamless use of filters such as graduates and polarizers. When this lens is used on an X-series camera in manual mode, both the monitor and EVF screens display the distance scale.

Unlike for many other lenses with the same features, the short focal length and the wide maximum aperture do not impede fast and quiet auto-focusing. AF accuracy is also commendable.
Features
Nano-GI coating
Weather-resistant
Fast and quiet auto-focusing
A field curvature correction mechanism
If you're a user of Fujifilm X-series cameras, you might not find any other lens that offers a wider zoom view than the Fujifilm XF 8-16mm f/2.8 R LM WR. The main competitor for this brand is the Fujifilm XF10-24mm F4 R OIS, which has about half its weight and comes with in-built stabilization. So why would many people prefer this bigger, and a relatively more expensive model?
Even though the difference between the wide-angle settings of the 8mm and the 10mm is insignificant, the coverage is noticeably greater in practice. While using the latest and complex optical formula, the XF 8-16mm combines high-end performance with rugged construction. This is why the Fujifilm XF 8-16mm f/2.8 R LM WR is mainly used for many types of photography, especially on architectural subjects.

This product boasts of an angle of view equivalent to that of a 12-24mm optic in a 35mm system. There are no filter threads in these lenses because they don't accept screw-in filters. This is partially attributed to their protruding front elements and in-built lens hood. A 150mm filter adapter may be required for the XF 8-16mm lens to use filters.
Best Travel Lens for Video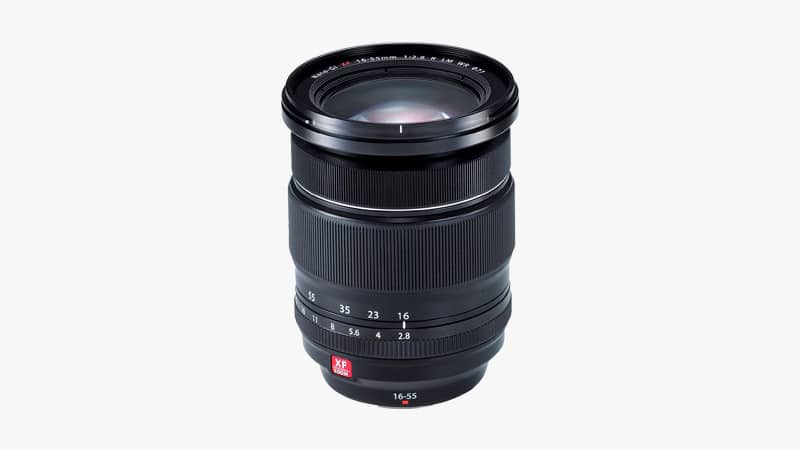 Features
Weather-proof design
Highly accurate and fast autofocus
Constant f/2.8 aperture
The Fujinon XF 16-55mm F2.8 R LM WR became the first-ever professional-grade zoom lens for Fujifilm's X series with interchangeable lens cameras. It maintains a constant f/2.8 aperture in its entire zoom range and is absurdly sharp at each focal length. The contrast and bokeh are also spectacular, with excellent resistance to flare and ghosting, thanks to the dual conventional nano-structure coating.
There is a feast of glassware which incorporates 3 aspherical elements and 3 ED (Extra-low Dispersion) elements. The highly accurate autofocus is super-fast and is enabled by a twin linear motor. Furthermore, The lens is sealed to protect against moisture and dust, ensuring its durability.

The only minus found with this product is its lack of image stabilization. This is a deliberate engineering decision made by the manufacturers, which was meant to maximize image quality. If stabilization is a major requirement for you, you should opt for the Fujinon XF 18-55mm F2.8-4 R LM OIS. However, for absolute image quality, weather-sealing, and a wider angle of coverage, the Fujinon XF 16-55mm F2.8 R LM WR is worth a try.
Best Video Lens for Blurred Background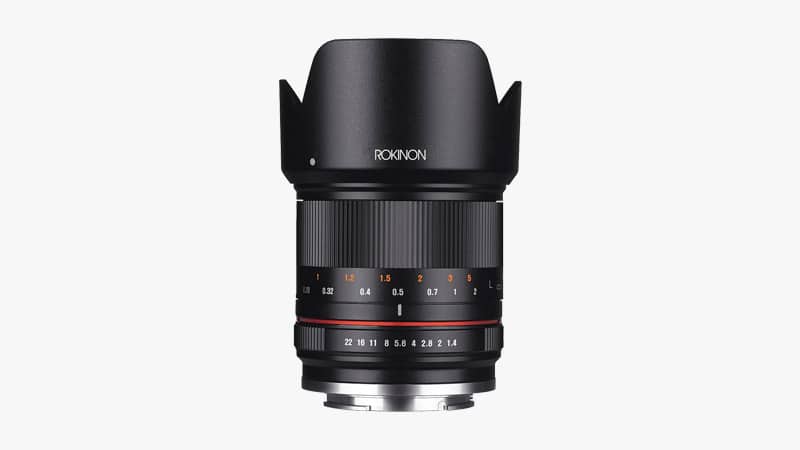 Features
Ultra Multi-Coating on all lens elements to reduce flare and ghosting
Manual focus design for better bokeh
The Rokinon RK21M-FX 21mm F1.4 is made for the APS-C-format Fujifilm X-mount mirrorless cameras, providing a 31.5mm equivalent focal length. This product combines a wide-angle perspective with a fast maximum aperture, to provide the best image results.
There are three aspherical elements and one (ED) extra-low dispersion element, used in the lens construction. These help to control the distortions and aberrations, which are a big nuisance to photographers. Moreover, they also help to reduce color fringing for clearer and sharper imagery.

With precise positioning filters in mind, the RK21M-FX 21mm has a manual focus lens with a non-rotating 58mm front filter mount. Additionally, the diaphragm ensures that out-of-focus quality images are produced when one uses selective focus.
Best Cine Lens for Video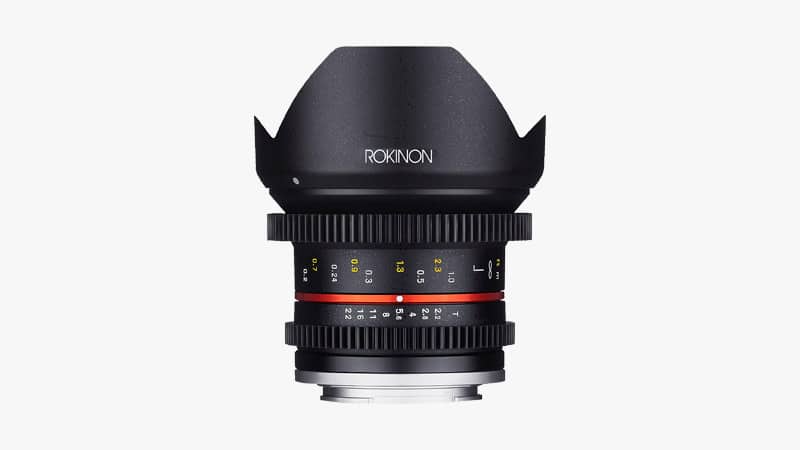 Features
Image Circle covers APS-C sized sensors
0.8 pitch gearing on focus and aperture rings
De-clicked aperture for smooth iris pulls
Nano Coating System for higher contrast images
Includes bayonet mount lens hood
The Rokinon CV12M-FX 12mm Cine lens for Fuji X-mount cameras is a wide-angle cine lens optimized for digital cinematography. They produce an image circle that covers APS-C-sized sensors or much smaller ones.
A 98.9-degree angle of view makes these lenses ideal for tight interior locations, architecture, and landscape photography. Its fast maximum aperture of T2.2 enables the photographer to capture moments clearly even under low-lighting conditions. The aperture ring can be de-clicked for seamless iris pulls during a shoot.

To minimize the rate of distortion and chromatic aberrations, the manufacturers included three ED (extra-low dispersion) and two aspherical elements. Furthermore, a Nano Coating System (NCS) has been applied to all lens elements to reduce and prevent flares and ghosting.
Best Telephoto Lens for Video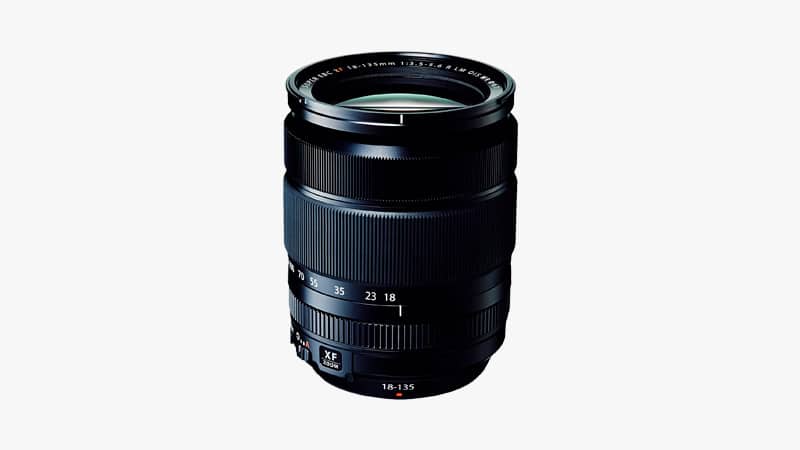 Features
7.5x zoom ratio
Image stabilization system
Offer telephoto coverage
Uses an APS-C sensor
Since it was released in 2014, the Fujinon 18-135mm f/3.5-5.6 became one of the first lenses for the X-mount systems that one would consider an 'all-in-one' product. This Fuji lens is perfect for walkabout and travel photography thanks to its 'superzoom' features. Thanks to its APS-C sensor, it can take you from a wide-angle view to a serious telephoto coverage, equivalent to 27-206mm.

The 5-stop optical stabilizer is a plus if you like traveling light. The motor autofocus is efficiently fast, making the lens excellent for various shots from landscape, to architectural, sports, and even wildlife photography. The rain won't stop the fun too, as the lens has a comprehensive weather-seal.
Features
Edge-to-edge sharpness
Compact and lightweight
Two linear motors
Beautiful and creamy bokeh
The Fujinon XF 55-200mm f/3,5-4.8 is a relatively portable telephoto lens, offering impressive image quality across its zoom range. The product has in-built image stabilization, allowing for the use of slow shutter speeds, even under low-light conditions. Moreover, the ability to use slower shutter speeds under difficult light conditions allows you to use lower ISOs, which in term lead to you getting a cleaner image.
When used with a 1.52x crop factor, the Focal length of the XF55-200mm shows the same angle of view of an 80-300mm on a 35mm camera. This feature makes the XF55-200mm an ideal option for cropping out tight landscape shots or for pulling elements in the distance closer.

In-focus elements are razor-sharp, silent, and fast, making this model one of the best Fujifilm cameras for discreet shooting.
We hope you enjoyed our comprehensive guide on the best Fuji lens for 2021. Be sure to check out the Fuji 16-55mm f/2.8, an incredible all-rounder and one of the best Fuji lenses we've ever reviewed. If you're focused on getting better image quality, this is the one to go for.
The Fujifilm Fujinon XC35mmF2 offers great value for your money, but if you're looking for a budget choice, the Fujifilm Fujinon XC35mmF2 would be an excellent pick without sacrificing on the quality. Our comprehensive buyers' guide will help you to make an informed choice.
Please don't forget to leave a comment below and share this article if you found it helpful.
Photo Credit: Unsplash