From at-home gift personalization to taking your business to the next level, one of the laser cutter and engraving machines below is sure to suit your customization needs.
We know that the laser cutting and engraving market can be confusing to navigate, so we have narrowed down only the best laser cutters and engravers to fit any budget, material, and use case you may have.
But before you start shopping for the best laser-guided cutters and engraving machines, check out these things you need to consider when looking for your new customization tool.
What Makes the Best Laser Cutter & Engraving Machine
Buying a laser cutter & engraver isn't the simplest thing in the world, but I intend to make it as easy as possible for you with this guide. Although there are dozens of factors to consider when buying one, I want to emphasize the most dominant elements that separate decent and good laser cutters from the best of the best, so let's start from the top:
1. Fiber Lasers
Without a shadow of a doubt, ever since fiber laser machines came to the market, crystal and gas-powered laser cutting tools were nearly completely forgotten. This new type of technology produces a more focused, much stronger laser beam via fiber optics, which makes cutting through the heaviest of metals a breeze.
To top it all, more power means faster cutting and engraving, meaning that the laser's lifespan won't wear as much (or as frequently).
2. Laser Lifespan
The average lifespan of a laser tube spans between 1,200 to 2,000 hours. Although that may not seem like a lot, that's about 12 weeks of continuous operation.  You probably won't be using a laser cutter for the full length of your work hours, and you probably won't use it even half the time, so 12 weeks with 2,000 hours isn't such a bad number after all.
However, what makes the best laser engravers and cutters better and more cost-effective than 'average' ones is the superior laser lifespan. Some of the better models on this list, especially professional laser engravers, feature advanced laser tubes that boast 10,000 hours of operation, which essentially means that you can, should you want to, use the machine for a full year non-stop.
This is a feature that is characteristic of some of the best laser cutting machines, as you will be able to mitigate your long-term costs of maintenance.
3. Large Work Area
In simple terms, the bigger the surface you have to work with, the easier your job becomes. High speeds and wattage may be important, but you won't be able to utilize your laser cutting machine's full potential without a work surface that is large enough – a work area that will provide you with the much-needed flexibility to make adjustments on the fly and prevent potential accidents.
By 'large' work area, I mean a surface with dimensions that measure at least 100 by 100 millimeters. Obviously, some of the more expensive models I've included on the list offer four times that size and are, in my personal experience, some of the best machines I've had the pleasure of working on.
4. Wattage/power
Not to be confused with voltage (V), wattage (W) influences the sheer power of any machine operating on electricity. As with any such machine, its strength makes it suitable or not suitable for certain tasks.
For instance, if you're looking for a laser engraver to use at home for hobby-inspired purposes, you can make do with a weaker model easily. For professional use, however, I recommend going with a machine with at least 30 watts of strength.
5. Price to Value ratio
Price-to-value is not cost-effectiveness or subjective value. This element is completely objective and encompasses both. There's a big misconception that the bigger the machine is, the more expensive it should be.
Buying a laser cutter & engraver is different from casual shopping and is more akin to long-term investing. Not many people can cash out thousands of dollars and switch over to a different model if they aren't fully satisfied.
Take a good look at the list below, and you'll find machines in virtually all price ranges – starting below $500, and ending with the range below $12,000. Consider your needs and the intended use for your machine before making the final call.
The Best Laser Cutter Engraving Machines for 2022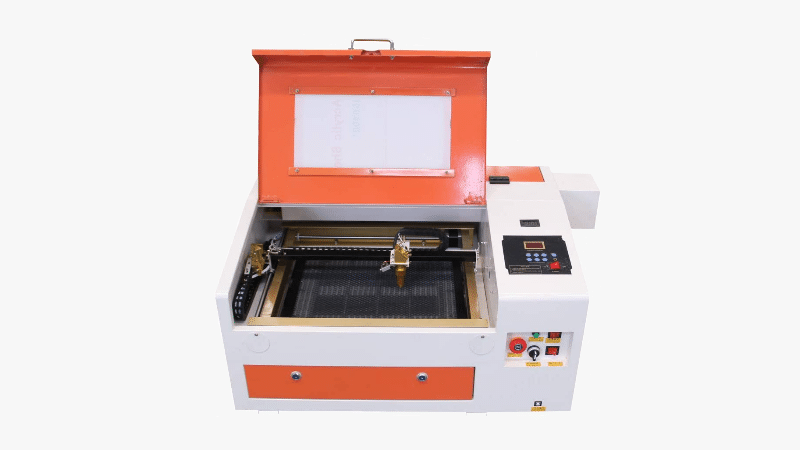 Coming in at just under $3000, the TEN-HIGH CO2 Engraver Machine 60W has a mid-range price point and offers top-tier quality.
We chose this engraving machine as our editor's pick due to the wide array of non-metal materials it can easily engrave and cut.
We'd suggest this machine for personal and small business use, especially for situations where precision is mandatory, as it won't take up too much room but still offers sufficient engraving speeds and a capable, high-power laser.
Some of the features we love about this machine include:
Engraves and cuts most non-metal material
Won't take up too much space at 61 x 26.38 x 18.5 inches
Outstanding precision and rapid cutting speeds
Wide work area
Check Price on Amazon Directly Add to Cart on Amazon
---
Best Laser Cutter and Engraving Machine Under $500

The NEJE Master 2S Plus Engraver & Cutter weighs about 7 pounds and can cut 3mm of plywood or any kind of fabric very easily. With an engraving area of 255 by 420 mm, this laser cutting machine can cut or engrave acrylic, leather, wood, paper, and MDF with exceptional levels of precision.
This laser cutting tool is easy to set up and has multifunctional keys for resetting and frame positioning. It also works with documents in different formats including JPEG, PNG, TIF, TIFF, SVG, and a host of other file formats.
The NEJE Master 2S Plus laser cutter supports NEJE software and LightBurn, and is compatible with Mac, Windows, and Android systems.
This laser cutting machine is perfect for professional DIY projects and its software is preloaded with multiple graphics that you can use for a test run.
Features:
An engraving speed of 1000mm per second
Protective panel and automatic reset to prevent accidents
Temperature control and automatic fan speed adjustment
Able to engrave different kinds of material including film-coated glass, stainless steel, and painted metal.
Check Price on Amazon Directly Add to Cart on Amazon
---
Best Laser Cutter and Engraving Machine Under $1000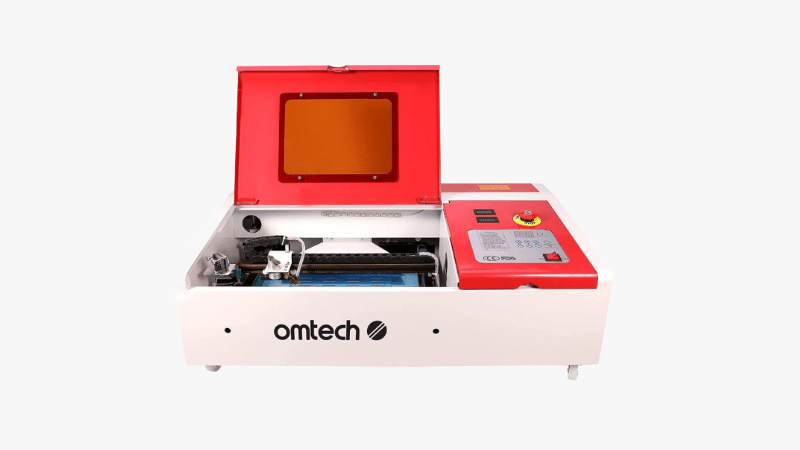 The Orion Motor Tech 40W CO2 Laser Cutting and Engraving Machine is an excellent workstation and holds some superiority over its competitors due to its decent price tag. Besides the unique design, it has some intuitive features for those who want to start laser engraving for personal or small business use.
The Orion Motor Tech 40W CO2 Laser Cutting and Engraving Machine weighs 50 pounds and includes a control panel with adjustable knobs. The four detachable wheels promote easy movability.
This model works with most third-party vector graphic software programs, such as CorelLaser and LaserDraw. It also works with printers, scanning machines, and with documents in TIF, BMP, JPG, JPEG, WMF, EMF, and PLT formats. Unfortunately, it isn't compatible with Mac operating systems.
This laser cutter has an integrated exhaust fan to improve ventilation performance when working. Once you turn the device on, the red dot guidance will indicate the machine's path on its 12 by 8 inch (300 x 200mm) engraving surface. This is enough space for most personal engraving projects.
With this model, you can engrave or cut wood, bamboo, acrylic, mylar, pressboard, rubber, fabric, glass, ceramic, paper, fiberglass, leather, marble, plywood, melamine, anodized aluminum, tile, cork, and more NON-metal materials.
Features:
Able to engrave dozens of materials except for metals
Comes with a water pump, ventilation tube, exhaust tube, USB key
50-pound weight
12 by 8 inch engraving surface
Check Price on Amazon Directly Add to Cart on Amazon
---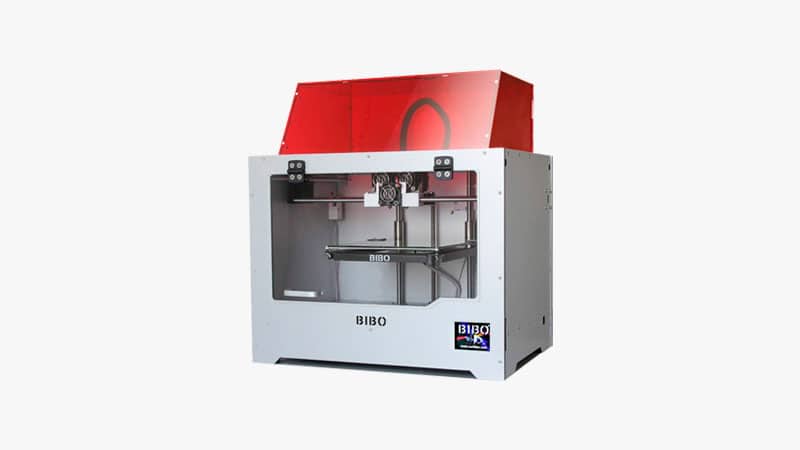 BIBO 3D Printer and Laser Engraver is a 3D printer that doubles as a laser engraving tool. So if your business could benefit from a 3D printer along with a laser engraver, this product is a hidden gem.
Here, we will focus on the engraving aspect of this device. The Bibo can cut through plywood, double-color planks, leather, crystal, organic plastics, and fabrics.
It has a printing/engraving area of 214 x 186 mm (8.4 x 7.3 inches) and an engraving precision of 0.01 mm (0.0004 inches).
The printing layer resolution is 0.05-0.3mm, which is considered quite competitive. It's compatible with Windows, Mac, and Linux OS and with STL, OBJ, DAE, AMF, BMP, JPG, JPEG, PNG, and GCODE file formats.
This is one of the cheaper laser cutters and engravers, but it is equipped with a superior laser head and has effective heat dissipation with two cooling fans.
Features:
3D printer and a laser engraving tool
Works on Windows, Mac, and Linux OS
34 by 19.92 by 17.09 inches
Engraves multiple materials, including plastic, plywood, fabric, leather, planks, and more
Two cooling fans
Check Price on Amazon Directly Add to Cart on Amazon
---
Best Laser Cutter and Engraving Machine Under $2000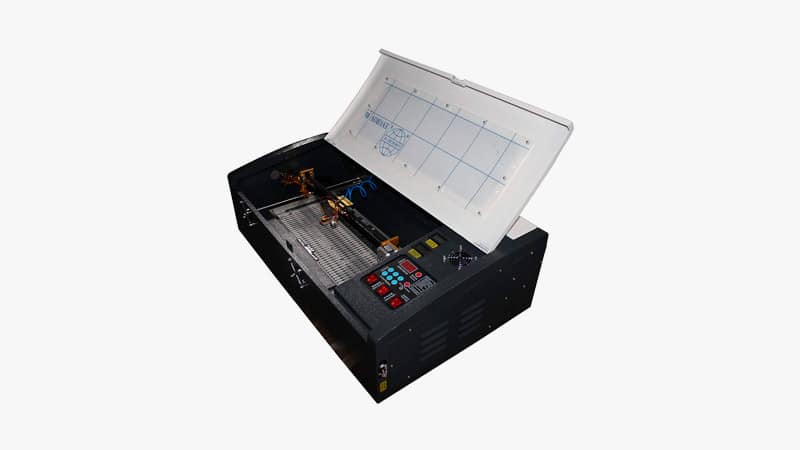 The Ten-HIGH 3020 laser engraver proves superior to Ten-HIGH's other models in this price range due to its increased surface area of 12 by 8 inches.
The Ten-HIGH 3020 is an extremely accurate laser cutter, with the accuracy of the laser beam reaching 0.01mm. Additionally, at top speed, the Ten-HIGH 3020 can engrave at up to 600mm per second with surgical precision.
To help prevent the build-up of vapors given off while engraving plastics and other materials, there are double exhaust fans built into the Ten-HIGH 3020. It also connects to your Windows computer system via a simple USB interface.
This laser cutter is compatible with CorelDraw (not included), yet cannot be used with Mac devices.
Features:
Dual exhaust fans
Engraving space of 12 inches by 8 inches
Windows compatible
Remarkably durable parts
Works with CorelDraw
Extreme precision laser beam at 0.01mm
Engraving speed up to 600mm per second
Check Price on Amazon Directly Add to Cart on Amazon
---

With the Snapmaker 3D Printer, you can cut, engrave, carve and print out your designs, all in one machine. It's not just about its ability to perform these activities, but also the impressively high resolution that tramps other dual-purpose laser cutters.
If you've been searching for the ultimate arts and crafts kit, this might be your last stop.
This 3D printer and desktop laser cutter tool includes the 3-in-1 software, Snapmaker Luban, which allows you to explore your creativity and gives you access to helpful APIs, tutorials, and plugins.
It also has an auto-focus feature that automatically finds the optimal laser height before it starts engraving. This means you don't have to spend so much time adjusting the focal point for a clear image.
This laser-guided engraver works well on wood, fabric, leather, plastic, and non-transparent acrylic. It is a solid and well-built kit that will be a great asset to any graphic design or arts and crafts business.
If you want only laser engraving features, then this will not be a good buy for you. However, if you're looking for versatility, or you're exploring a new crafting style like CNC carving alongside engraving, then this is the one.
Features:
Engraving bed size of 320 x 350 x 330 mm
Comes with a pair of 0D6 protective goggles
Weighs 50 pounds
Does not engrave gold or silver materials
Compatible only with android
Check Price on Amazon Directly Add to Cart on Amazon
---
Best Laser Cutter and Engraving Machine Under $3000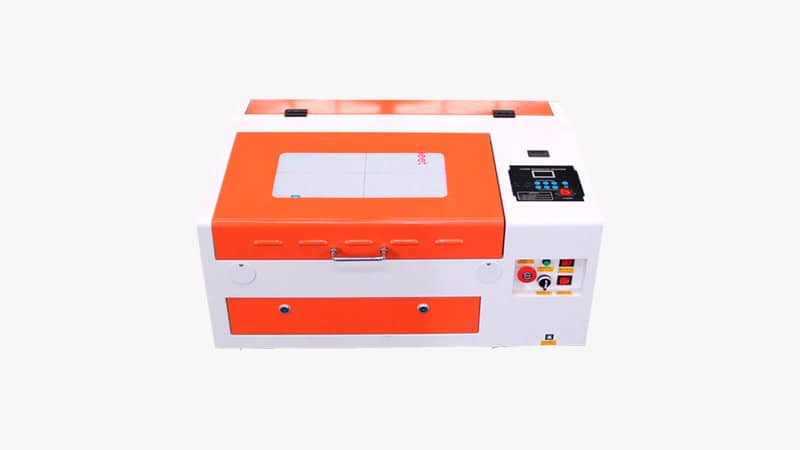 The TEN-HIGH CO2 Engrave Machine is a great option to consider if you're looking to engrave a wide variety of different materials including wood, leather, glass, cloth, bamboo, paper, and just about everything short of metal.
With a purchase of the TEN-HIGH CO2 Engrave Machine, you receive device-specific software called LaserDraw. It is also compatible with CorelDraw, although CorelDraw is not included with the product.
The TEN-HIGH CO2 laser engraving machine software is compatible with all Windows operating systems, although it will not work with Mac computers.
This laser engraver machine will connect to a computer via a USB interface. It is not wireless, so you will need to have a nearby system.
Features:
Capable of engraving a wide range of materials, including leather, wood, bamboo, paper, glass, and dozens of other options
Total weight of 115 pounds
Product dimensions are 34.5 inches by 25.7 inches by 20.5 inches
Engraving area of 400mm by 300mm
Compatible with CorelDraw (not included)
Works on Windows 7, 8, and 10
USB connection
Check Price on Amazon Directly Add to Cart on Amazon
---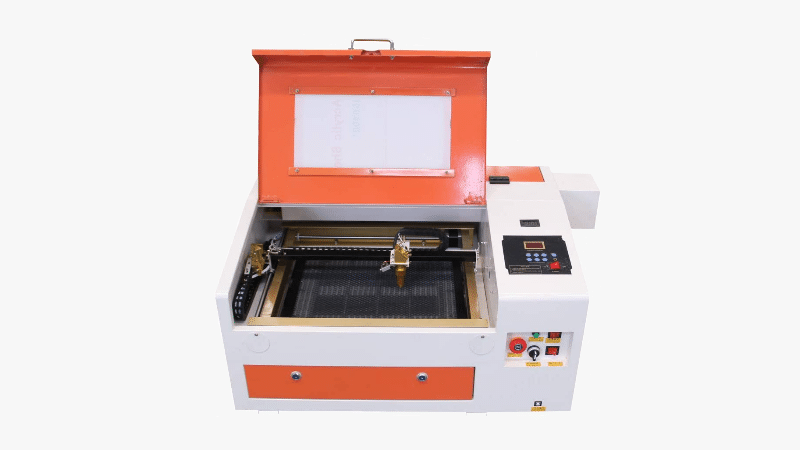 TEN-High 60W is a very versatile laser cutter and engraving machine that can work with density board, acrylic, leather, glass, bamboo, cloth, and paper.
Unlike some other machines that may function better as an engraving tool, this machine is perfect for both laser cutting and engraving.
The engraving bed can accommodate materials of 400mm by 300mm in size. You can use it for garment sampling, gift- and toy engraving, making computerized embroidery, and even seal engraving.
For maintenance and safety, there's an integrated ventilation fan. It also displays the cooling temperature as it runs which means you can monitor your machine and turn it off when the temperature appears to be off the charts.
With the TEN-HIGH CO2 60W engraving tool, you have an engraver plugin called CorelLaser and design software called LaserDRAW. It also works well with CorelDraw, although this is not included in the package.
 Features:
Product dimensions of 36.61 x 26.38 x 18.5 inches
Engraves a wide range of materials, but not metals
Weighs 143.3 pounds
Compatible with different versions of Windows OS
Check Price on Amazon Directly Add to Cart on Amazon
---
Best Laser Cutter and Engraving Machine Under $4,000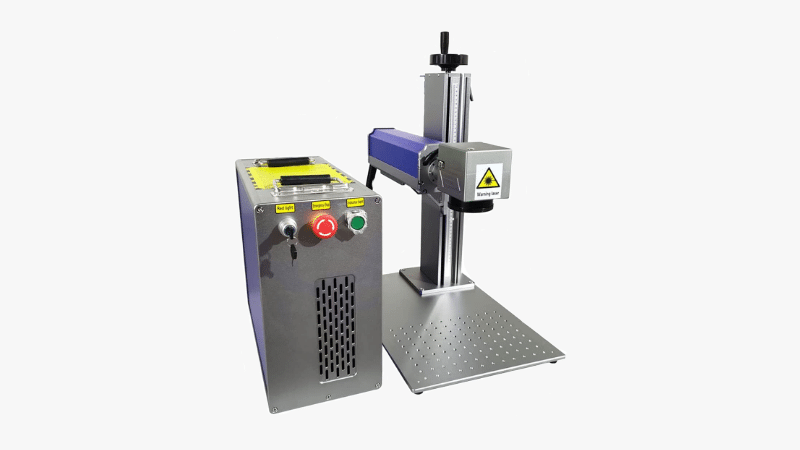 MCWlaser cutter and engraver is a robust machine with 20 watts of power, boasting a huge work area of 110 by 110 millimeters. It utilizes Raycus laser technology as its main source, offering up to 10,000 hours of operation.
Furthermore, MCWLaser is highly versatile and able to cut through various metal materials, including steel, silver, alloy, aluminum, or copper, as well as non-metal materials, such as plastic, ceramic, or leather.
This laser cutting machine works with the EZCAD software, which is included in the package. It works with both early and newer versions of Windows, ranging from as early as XP, all the way to the newest variant of Windows 10. Furthermore, MCW's laser engraver is also compatible with Autocad, Adobe Photoshop, and similar design software.
Features:
Raycus laser source with 10,000 hours of operation
 20 watts of strength
 Boasts a large work area measuring 110 by 110 mm
Can cut through various metal and non-metal materials
Ideal for home  laser cutting operations and projects
Check Price on Amazon Directly Add to Cart on Amazon
---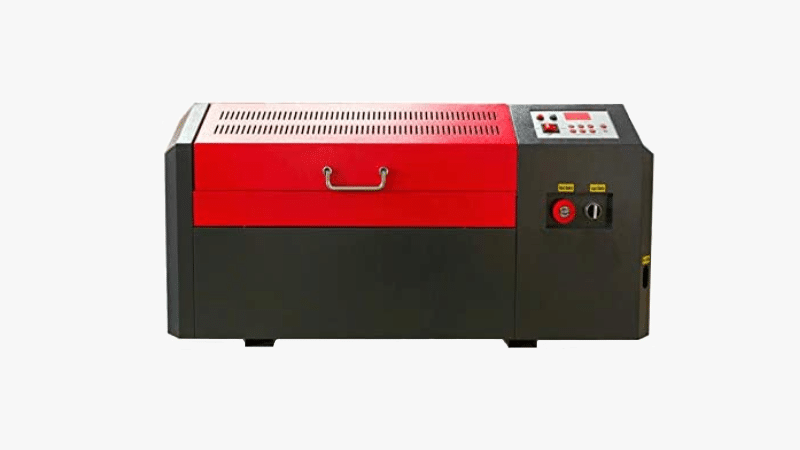 The next model on the list is Newlin's CO2 Engraving machine – a professional workhorse that will provide you with all the tools you need to cut or engrave pretty much everything from fabric to dense metal materials.
As a professional laser engraver, it offers more versatile and 'heavier' features in comparison to cheaper models on the list, including a sealed CO2 tube that extends its service lift lifespan, streamlined data output enabling you to use it with a host of different design software, as well as a beginner-friendly design.
One of its biggest advantages is its humongous working area, measuring 400 by 400 millimeters. Furthermore, Newlin's CO2 Engraving Machine features a honeycomb lift that can rise to approximately 150 millimeters.
Features:
50 watts laser tube
Beginner-friendly design
Perfectly suited for professional laser cutting projects
Honeycomb lift that can extend up to approximately 150 millimeters
Massive work area stretching across 400 by 400 millimeters
Check Price on Amazon Directly Add to Cart on Amazon
---
Best Laser Cutter and Engraving Machine Under $5,000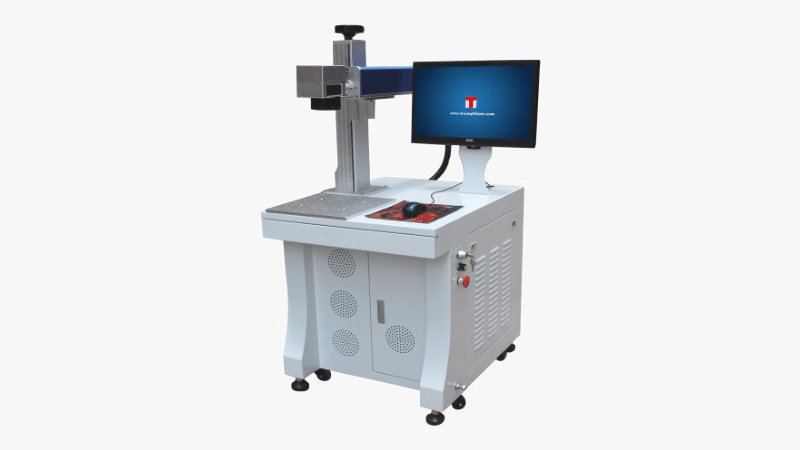 Even among the largest, best-performing laser engraving machines and tools, Triumph's 30w Fiber Laser Marking Machine stands as a behemoth, towering above some of the most sought-after models that the current market has to offer.
I've thoroughly enjoyed working on it during the past couple of months, and I've been amazed by its vehement power, the ability to cut clean through practically every material I've placed on its workboard, and its outstanding cutting speed.
Pinpoint accuracy and surgical precision would be the terms that understate Triumph's laser cutting machine's performance; moreover, it utilizes advanced digital technologies for rapid scanning without sacrificing stability, which is something  I found that most of the other machines I've used have lacked.
Another thing I was mind-blown about is its 80 millimeter rotary attachment that streamlines cylinder engraving tasks. As professionals, we should strive for flexibility, and given that Triumph's laser cutter offers both versatility and accuracy topped with a ton of power, I can safely say that it's one of the best laser engravers in its price range.
The lifespan of its laser source is nearly 10,000 hours, so it goes without saying – you won't need an upgrade in decades, even if you're using it round-the-clock for weeks.
Compatibility-wise, Triumph's laser cutter and engraver machine works most digital design software, including Coreldraw, Autocad, and Photoshop. Better yet, the package includes a built-in computer and monitor with pre-installed software. If you wish to use it straight off the bat, all you need to do is simply plug it in and power it up.
The only thing I wasn't overly enthusiastic about is the 200 by 200 mm work area. Namely, there are more affordable models on the list that offer more working space, although this little drawback is more than compensated for with the myriad of benefits offered by Triumph's 30w Fiber Laser Marking Machine.
Features:
30 watts of strength
Tremendous cutting power
The ability to cut or engrave even the sturdiest metal materials
Superb level of accuracy paired with impeccable stability
Advanced rapid scanning galvanometer
Check Price on Amazon Directly Add to Cart on Amazon
---
Best Laser Cutter and Engraving Machine Under $6,000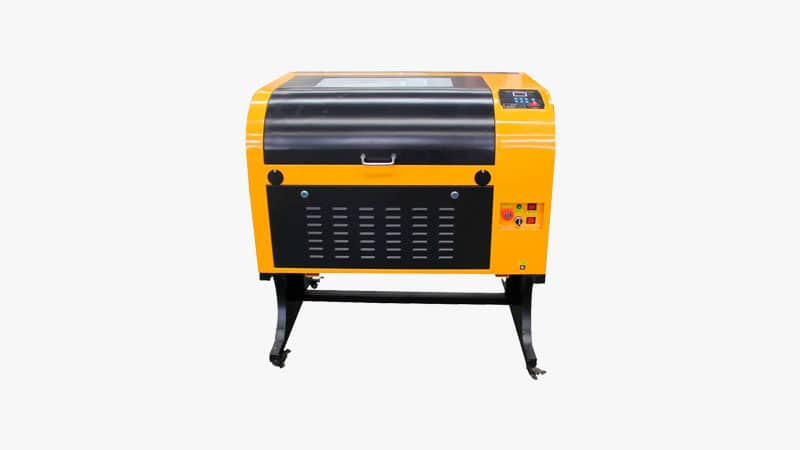 The TEN-HIGH CO2 Upgraded Version Engrave Machine is a laser engraving machine with 60W of power. It can cut through acrylic, plywood, bamboo, PVC, leather, glass, plastic, density board, solid wood, double color plate, silica gel, ox horn, felt, resin, and other non-metal materials.
The 60W Upgraded Version has a work area of 400 x 600 mm (15.7 x 23.6 inches), an engraving speed of up to 30 mm per second, and a cutting speed of up to 500 mm per second. This model is extremely heavy and is meant for industrial purposes rather than your workshop table or desk.
The laser-guided engraving machine's positioning accuracy is 0.15 mm and the visual operating panel is extremely easy to use. The industrial-grade precision metal-mold laser head can cut up to 6 mm into cork and similar materials.
It supports all formats from CorelDraw and supports BMP, dib, jpg, jpeg, png, gif, WMF, emf, PCX, and TIF file formats. This model is equipped with a superior laser head and has effective heat and fume dissipation with the high-power axial fan and water cooling.
Moreover, it comes with an electric automatic lifting system and a blowing flame-retardant system to prevent burning when the machine is in operation.
The device includes native software, a focal length card, an exhaust pipe, a power cord, a USB cable and key, adhesive tape, clamps, a limit switch, an air pump, and a water pump.
Features:
Works via smartphones
15 by 29.13 by 43.31 inches
Cuts and engraves multiple materials
Weighs 286 pounds
Has a water-cooling system
Check Price on Amazon Directly Add to Cart on Amazon
---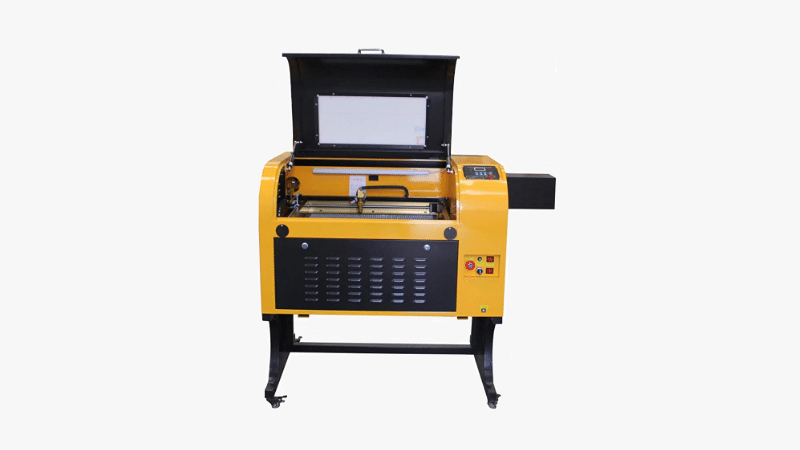 This TEN-HIGH Upgraded Version is a laser-guided engraving machine with 100W of power. This is significantly higher than other discussed models. It can cut through acrylic, plywood, fabric, hardwood, cork, and glass.
With a laser engraving area of 400 by 600mm, a speed up to 500mm/s, a red-light positioning system, and industrial-grade precision metal, you'll be getting the finest engraving with a distinct resolution.
The Upgraded Version also has other features like flame retardance and an automatic lifting system that ensures your final product doesn't come out looking like burnt toast.
The TEN-HIGH 100W is highly efficient, reliable, and operates with low noise.
Keep in mind that, by default, it only works for materials with plane surfaces. If you need to work on irregularly-shaped surfaces, you'll need an additional rotary axis.
Features:
Engraving area of 400mm by 600mm
Compatible with Windows 7, 8, and 10 of 32-bit or 64-bit system
Engraves most non-metal materials
Weighs 220 pounds
Dimensions of 44.09 x 31.5 x 27.56 inches
Check Price on Amazon Directly Add to Cart on Amazon
---
Best Laser Cutter and Engraving Machine Under $12,000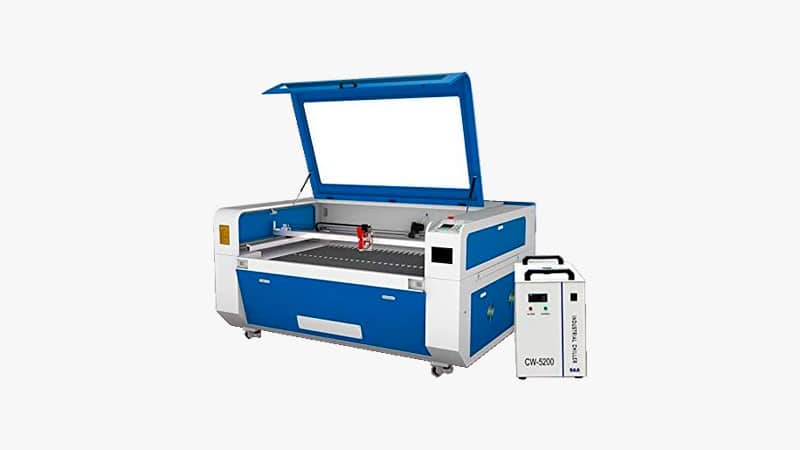 SFX 180W Reci W8 CO2 Laser Engraver Cutter Machine is a powerful laser engraving machine and laser cutter that takes advantage of an air-assisted engraving feature. It also works with programs like CorelDraw and AutoCAD and supports bmp, hpgl (plt.), jpeg, dxf, ai, dst, dwg and las file formats, ensuring it blends into your current setup seamlessly.
With the SFX machine, you, unfortunately, can't engrave into metal. However, you can engrave just about any other material out there, including plastic, bamboo, plexiglass, crystal, wood, glass, ABS, acrylic, and many more.
The engraving speed is up to 60000 mm per minute and it has a cutting speed of 5000 mm per minute. The positioning accuracy is 0.01 mm, which means it can engrave even the tiniest details of your design.
The air pump and the exhaust fan ensure that there's enough heat dissipation when the machine's working to prevent overheating.
The180W Reci W8 will connect to your computer system using a wired USB 2.0 cable connection.
This model is hefty and weighs in at 946 pounds, so you would need to have a designated space for it. Regardless, the accuracy, speed and versatility of this machine makes it one of the best professional engravers on the market today.
Features:
Capable of engraving into just about any material out there (besides metal)
Works on Windows and macOS (with LightBurn software)
61 by 61 by 50 inches
Weighs 946 pounds
Has air pump and exhaust fan
Check Price on Amazon Directly Add to Cart on Amazon
---
Conclusion
There's no limit to the variety of laser cutters and laser engraving machines out there. You can pick up an entry-level option for under $500 if you're interested in basic laser engraving on leather and vinyl stickers, or you can move your way up into the world of wood and metal engravers.
We love the TEN-HIGH CO2 Engrave Machine 60W, but what are your favorite laser engraving machines on the list? Have you tried any of them out yourself, or is there perhaps another engraver you'd recommend to your fellow shoppers?
Let us know in the comments! We'd love to hear from you.
Disclosure: The product recommendations are not sponsored and are chosen by our editorial staff. We may earn an affiliate commission when you purchase an item through our links.
Photo Credit: Unsplash