Podcasting is quickly becoming a popular marketing tactic in a variety of industries. After all, what could be better content than the opportunity to share your knowledge through conversations, interviews, and interaction?
In fact, it is estimated that around 90 million people listen to podcasts every month in the US which makes up 32% of the population.
If you're thinking of getting into podcasting this year and aren't sure where to start, our team has put together some of its recommendations on where to find the best podcast hosting software.
While you should be putting most of the focus on having great content for your cast, it's also important to have the right technology and equipment. A professional-sounding production can sometimes mean greater success or greater reach.
Think of it this way: what would you think if you were listening to a show that had a lot of pops and crackles?
Before making your purchase decision, it's important to keep in mind that you'll need to have an idea of what you want out of your microphone before you start shopping.
The most important things to keep in mind are:
Dynamic or condenser? This is usually a matter of personal preference, but podcasters need to have an idea of what sort of sound quality they want. Dynamic sound can be more focused, but it usually has a warmer quality. Condenser mics are bright and clear, but they can also pick up more ambient noise. It's all about finding the tone that you want.
XLR or USB? Do you want something that you can plug into your computer or do you want something that uses additional power? Deciding on your power source will dictate many of your options, as well as the microphones you have to choose from. Most USB mics are condenser mics, so keep that in mind. XLR will require additional power sources, but you can find both condenser and dynamic mics suited to it.
What's your price range? For most podcasters, this is what makes or breaks a decision. If you're trying out your first podcast, it's best to start off with something a bit more affordable before investing in more advanced microphones or audio production software. The truth is, you might not need it. However, if you are more experienced in audio production and have high standards for sound quality and control, then it may be in your best interest to choose something that's a bit more high-end.
Get started with podcasting with our recommendations on microphones. We've put together a list of suggestions for every budget. Feel free to leave a comment at the end of the post with your favorites or recommendations!
The Best Podcasting Microphones for 2023
| Product | Model | Polar Pattern | Connectors | Price |
| --- | --- | --- | --- | --- |
| | Shure SM7B | Cardioid | XLR | |
| | Blue Yeti Nano | Cardioid | USB | |
| | HEiL sound PR-40 | Cardioid | XLR | |
| | RODE PROcaster | Cardioid | 3-pin XLR | |
| | Razer Seiren Mini | Supercardioid | USB | |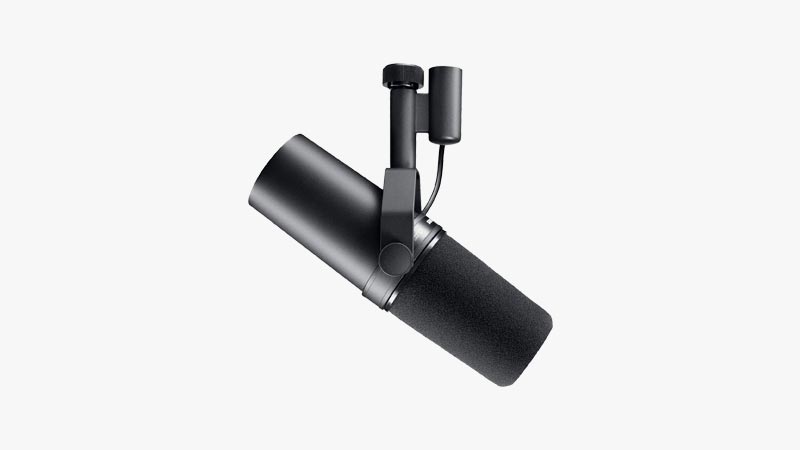 Directionality: Unidirectional
Use: Studio
Type: Dynamic
Frequency response: 50 to 20,000 Hz
Polar pattern: Cardioid
Impedance: 150 ohms
Switches: Bass roll off and presence
Connection: 3-pin XLR
The SM7B is one of Shure's best selling cardioid microphones. It's a professional-grade dynamic microphone made exclusively for recording speech and vocal performances.
Because it has only the cardioid pickup pattern, this microphone is excellent for professional podcasters!
Shure's 50Hz – 20kHz frequency range will make your listeners fall in love with your voice and provide the feeling that they're in the room with you while you're speaking.
For good reason, this microphone reigns as king of studio recording, vocal and reproductive capabilities are smooth and crisp.
Because of its specialized nature, it is an excellent choice for podcasters, announcers, and singers because sounds immediately in front of the microphone are distinctly registered when off-axis noise is avoided.
An XLR cable is required to connect the SM7B to a computer interface or mixer. Any XLR cable will work, but one with "star-quad" shielding will provide the best overall performance.
You'll need software if you're recording to a computer. GarageBand is a popular Mac and iPad program, and Audacity is a free Mac and PC software. You'll also need a preamplifier if your interface does not offer 60 dB of clean gain.
The Shure SM7B is an improved version of the previous SM7 (introduced in 1976), SM7A. (introduced in 1999).
The SM7B was launched in 2001 and has since been one of the most widely used microphones!
Features
The Built-in pop filter efficiently avoids plosives and fricatives, which means you can talk easily without having to worry about how near you are to the recording capsule! It offers a wide-range frequency response for great audio reproduction. It also has a flat frequency response for accurate and clean signal reproduction. It comes with bass roll-off and mid-range control. It has internal air suspension shock isolation to eliminate mechanical noise. The A7WS detachable windscreen helps to minimize plosives and create a deeper sound.
Pros
Top quality
Great for beginners
Phenomenal capabilities
High-quality design, looks amazing on camera
Investment for years, no more wasting money on going through multiple microphones per year.
Cons
Low signal levels
Not fantastic at rejecting large amounts of ambient audio
Best Podcasting Microphone Under $400
Features
Directionality: Unidirectional
Use: Studio Recording, Broadcast
Type: Dynamic
Frequency response: 28 Hz to 18 kHz
Polar pattern: Cardioid
Impedance: 600 ohms
Sensitivity: -53.9 dB at 1 kHz
 Connection: 3-pin XLR
Behold! The high-performance dynamic microphone is suitable for use as a vocal mic for talk-show hosts, podcasts, streams, and other voice-over uses; the PR-40 Dynamic Studio Microphone from Heil Sound.
Does the name Heil sound familiar? Bob Heil is one of the most popular sound and radio engineers to produce the blueprint for modern sound systems for rock music.
Who wouldn't like to own a microphone designed by a sound expert? Knowing that Heil was involved in the design of this microphone, you can expect nothing but the best of the sound world.
As podcast experts, we know that voice sound is not the only important element of a show.
Another important aspect of a podcast is the music therefore the big dynamic element is responsible for producing a smooth response with a normal and articulate midrange.
The HeilPR-40 is perfect for podcasters with a small home studio as it is shielded by the steel body and internal humbucking coil, so you don't have to worry about your mic being close to monitor displays and loud lighting fixtures.
Features
It has a large diaphragm, combined with a low mass and an effective NdFeB magnet structure. The wide dynamic range and record-high SPLs make it an excellent kick drum mic. The tight cardioid pickup pattern with 4 rear ports is designed to reject off-axis noise. It also offers a unique screen system using two different diameter mesh screens and an internal breath blast filter that allows the user to talk closely to the microphone.
Pros
It will add a natural and soft sounding touch to your voice
Kick drums and bass instruments will sound like live concerts
Solidly built, it won't break if you accidentally drop it
Worry no more when you travel as it comes with a mount and hard case for added protection during transport
Cons
Popping noises and breathing are easily picked up when too close
Best Podcasting Microphone Under $300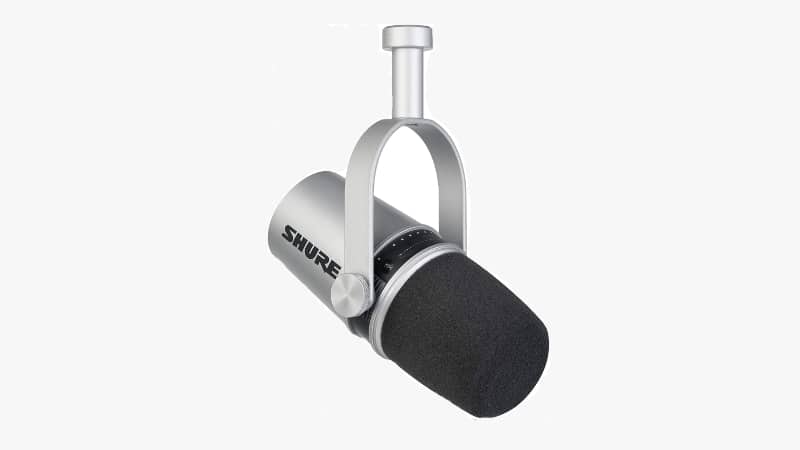 Directionality: Unidirectional
Use: Broadcasting, computer
Type: Dynamic
Frequency response: 50 Hz to 16 kHz
Polar pattern: Cardioid
Impedance: 314 Ohms at 1 kHz
Sensitivity: -55 dBV at 1 kHz
Connection: XLR 3-pin Male, USB Type-B Female  
The Shure MV7 is a user-friendly microphone that substitutes buttons and switches in favor of a touch panel with a row of LED lights to show the gain frequency.
For on-the-fly updates, the panel often has a mic mute button. An XLR, micro USB, and headphone jack output are located on the back of the body.
The MV7 microphone is designed for long-form content producers who want to improve their production values but don't want or can't afford to do so.
This cardioid microphone is a must for podcasters because it can be used as a USB or XLR microphone—and you can also use all outputs at the same time.
The metal housing, like the SM7B before it, is tough and can withstand the rigors of travel and you can rest assured that your microphone will not get damaged in transport.
The original vintage 1981 model Shure SM7(A) (Serial number 252) was used by Michael Jackson for tracking vocals with Stevie Wonder.
The fact that legends like Michael Jackson and Stevie Wonder have used this microphone indicates its long history of excellence and experience.
Features
This microphone has a built-in pop filter to protect against plosives and p-pops, greatly simplifying your editing process. It offers an unidirectional cardioid polar pattern, which is the best defense against room and background noise. It also has a built-in 3.5mm headphone monitoring with a mix control for a high-quality audio experience.
Pros
Vocals will sound angelic
USB (digital) and XLR (analog) connections
It will reproduce your real voice
User friendly, even non-digital natives will find it easy to use
Cons
Loose windscreen
Touch controls a little cumbersome
Directionality: Omnidirectional
Use: Broadcast radio, voice-over recording, podcasts
Type: Dynamic
Frequency response: 75Hz-18kHz
Polar pattern: Cardioid
Impedance: 320 ohms
Sensitivity: -56.0dB re 1 Volt/Pascal (1.60mV @ 94 dB SPL) +/- 2 dB @ 1kHz
Connection: 3-pin XLR
Rode Procaster is an affordable broadcast microphone that produces professional-quality sound.
It has an extremely smooth and manageable response, making it suitable for recording. At the same time, the mic rejects a lot of room noise and reduces popping effects.
This microphone does great in noisy environments! Feel free to get out of your home studio and record your podcast in another location; may it be cafes, events or simply in your friend's office, the PROcaster is capable of filtering out noise from a distance and that's why we love it.
Rode Procaster is a very versatile microphone with superior sound quality that has been proven for recording purposes, and it is very inexpensive as opposed to comparable microphones from other manufacturers.
Aside from a bassy low-end, it has a smooth uniform response with a strong clarity and excellent background rejection, as one might expect from a broadcast microphone.
It's powered by XLR, but if you're looking for a USB, RODE also makes a PODcaster mic in this series.
Reviewers note that this mic is best for solo applications, so keep that in mind when considering it for your podcast.
Features
This microphone comes with an internal pop filter to minimize sounds that overload and distort. It also has an internal shock mounting of a microphone capsule for low handling noise. It has a sturdy, all-metal construction that can handle heavy use. It offers a bassy low-end and smooth uniform response with a strong clarity and excellent background rejection.
Pros
Very versatile mic in every sense
Affordable price compared to others
You won't have to worry if your kids play with it, it is solidly built
Rejects a lot of background noise, perfect for a home studio with no soundproof
Great for outdoor recording
Cons
The quality depends on the preamps it feeds
Requires a shock mount
Directionality: Unidirectional
Use: Studio
Type: Condenser
Frequency response: 20Hz – 20kHz
Polar pattern: Cardioid
Impedance: 100 ohms
Sensitivity: -31.9dB re 1 Volt/Pascal (25.00mV @ 94 dB SPL) +/- 2 dB @ 1kHz
Connection: 3-pin XLR 
The RODE NT1-A and its abilities are well-respected by recording studios, TV post-production teams, professional podcasters, and musicians. It can be used for practically anything!
Whether you are a professional podcaster or you just enjoy being on air as a hobby, you need this multi purpose microphone.
Why waste your money buying two different microphones – one for voice sound and one for acoustic (which is what professional studios do) when you can buy an affordable one that is suitable for every purpose?
The circuitry is entirely new, and the capsule has a much-extended frequency response relative to the original, providing absolute 20Hz-20kHz coverage.
Don't hesitate to invite guest musicians to your podcast, as this microphone will make their guitar performance sound amazing.
The tiny bump in the highs brings out the best of vocals and allows you to track dreadnaught guitars without fear of runaway low end or loss of pick attack.
It's also very quiet, which ensures ample dynamic range for everything from drums to upright bass.
Features
This microphone has a large 1" capsule with gold plated diaphragm wide frequency response and excellent signal-to-noise ratio. The cardioid polar pattern minimizes off-axis noises, blocking out environmental disruptions, monitors, or off-axis instruments. It offers a quiet, noise-free output with maximum signal gain using a transformerless output Internal capsule shock mounting.
Pros
Entry-level condenser microphone made for beginners
It will make acoustic guitar performances sound like someone is playing the guitar in your room
It can make your vocals stand out
Cons
Heavy
Needs a good preamp/audio interface
Best Podcasting Microphone Under $200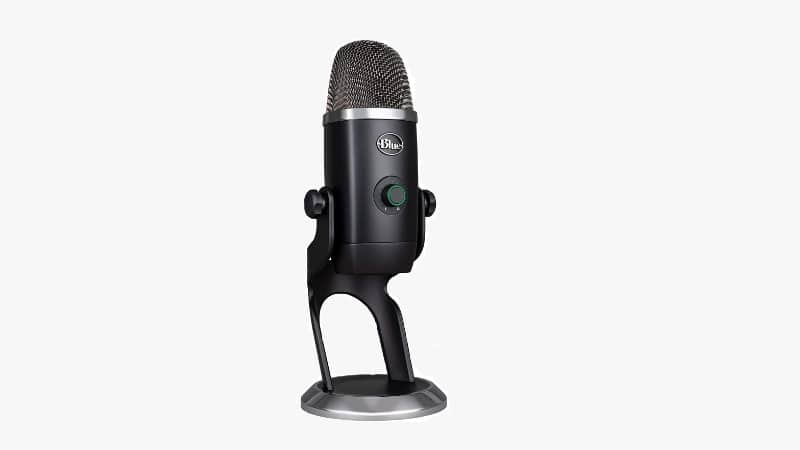 Directionality: Bidirectional, Omnidirectional, Stereo
Use: Studio
Type: Consender
Frequency response: 20-20,000 Hz
Polar pattern: Cardioid
Impedance: 16 Ohms
Sensitivity: 62mA – 203mA
Connection: USB 
The Blue Yeti X is a desktop USB microphone with much more robust components than its competitors. That is possibly why its ancestor, the Yeti, is so popular with home recording enthusiasts.
The Yeti X is a good ally for podcasters on a relatively tight budget since it is less pricey than an interface and a dedicated mic in many ways.
It is also a great microphone for beginner podcasters who are not yet aware of the volume of their voice. The Yeti X has your back on that one!
There are four modes for recording. Choose from stereo, cardioid, omnidirectional, and bidirectional options to find the sound you want.
Because of the pattern modes, this microphone is exceptional for podcasters who want to capture ambient noise or want the ability to capture interviews between two (or more) people.
One of Yeti X's most notable improvements is its adjustable LED lights, which allow the microphone to have an 11-dot volume meter that indicates how loudly you're speaking.
A quick long-press of the volume knob adjusts the volume of your headphones, while another long-press adjusts the monitoring settings so you can hear as much (or as little) of your own voice as you want.
Features
This microphone comes with a four-capsule condenser array inside for clearer, more focused pickup patterns, and an LED meter that allows you to easily maintain professional sound quality while live on camera. With the advanced Blue VO!CE audio software you can get a suite of broadcast vocal effects that makes it easier than ever to achieve professional on-stream sound quality.
Pros
Strong audio quality with four mic patterns, including cardioid and stereo
LED live metering so you can always know which mode you're currently using
Flexible recording, hear as much (or as little) of your own voice when recording as you want
Your voice will sound noticeably fuller
Cons
Expensive
Big and bulky
Voice modulation exclusive to WoW Edition
Best Podcasting Microphone Under $150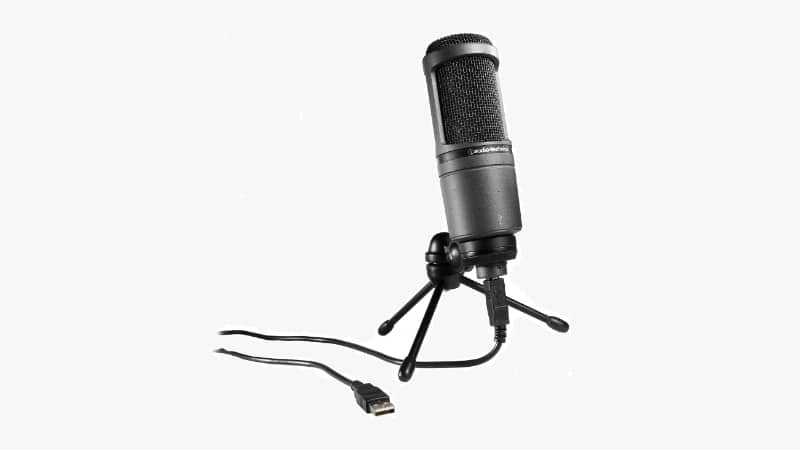 Directionality: Unidirectional
Use: Studio
Type: Condenser
Frequency response: 20-20,000 Hz
Polar pattern: Cardioid
Impedance: 100 Ohms
Sensitivity: –37 dB (14.1 mV) re 1V at 1 Pa
Connection: 3-pin XLR, USB Power (5V DC) 
The Audio Technica AT2020USB Microphone is a studio-quality microphone that plugs into your computer's USB port.
This microphone is the hottest on the market at the moment as it is intended to be used for podcasting, studio recording, and voice-overs, and it works flawlessly with advanced recording software.
This microphone is beginner-friendly as it is very simple to use. Simply plug it into a USB port on your PC or MAC and you're good to go. The Audio Technica is a must-have for anyone who wants to start recording on their laptop or home computer.
The design aesthetic of the Audio Technica AT2020USB is one of our favorites. The retro appearance of this microphone, along with its excellent audio quality will look exquisite on your podcast set.
The build of this microphone contributes to its usability. It has a medium-weight diaphragm with permanent cardioid polarization to provide a lot of stability.
This well-rounded USB microphone provides deep, rich lows as well as crisp highs, giving the vocals an extra boost on both ends for a professional experience.
Features
This microphone has a custom-engineered low-mass diaphragm for extended frequency response and superior transient response. Cardioid polar pattern to reduce pickup of sounds from sides and rear. It comes with a side-address studio condenser with USB digital output (Windows and Mac compatible). It's low self-noise – perfectly suited for sophisticated digital recording equipment.
Pros
Provides deep and rich reproduction of your voice
Multipurpose recording applications
It boosts the vocals
Quality extended frequency for clear sound
Cons
The tripod stand isn't very sturdy
Only cardioid polar pattern
Best Podcasting Microphone Under $100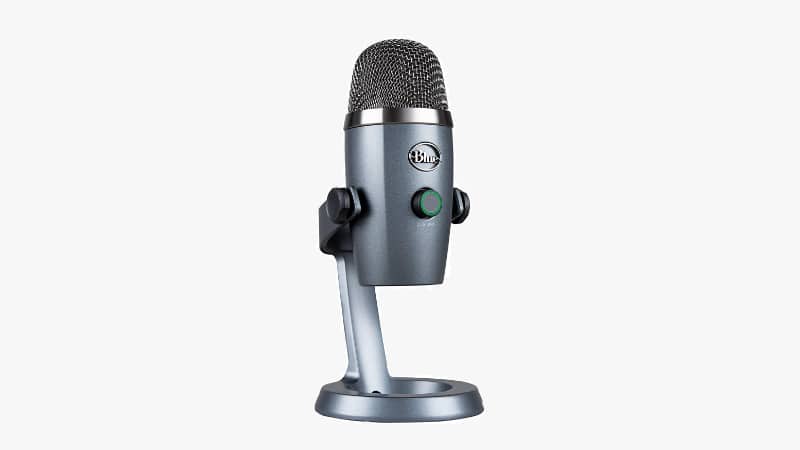 Directionality: Omnidirectional
Use: Studio
Type: Consender
Frequency response: 20-20,000 Hz
Polar pattern: Cardioid
Impedance: 100 Ohms
Sensitivity: 4.5mV/Pa (1 kHz)
Connection: USB  
If you've been looking for a low-cost USB microphone for gaming, streaming, or podcasting, then look no further than the Blue Line. The Blue Yeti Nano is a smaller and less expensive clone of the popular Blue Yeti.
The Blue Yeti Nano is cheaper, but it does not seem or feel that way. Both the stand and the microphone are made of heavy metal with a stylish matte coating.
The set of ports and controls strikes a balance between versatility and the ability to keep it simple; after all, this is a microphone for home users, not recording professionals.
For example, the underside disguises a micro-USB port for connecting the Nano to your PC or laptop, as well as a 3.5mm aux output. This is extremely useful if you're recording by yourself, it allows you to plug in a pair of wired headphones to hear how you sound.
It's also available in Red Onyx and Cubano Gold as well as Vivid Blue. They all look great and add to the charm of podcasting and streaming on the go.
These mics look astonishing on camera, and if you use one to interview a guest, they'll be impressed.
Features
The built-in metal stand on this microphones makes it easy to adjust the angle of the mic exactly where you need it. The two condenser capsules enable great sound for recording and streaming. It also offers switchable polar patterns - Cardioid and Omnidirectional mode.
Pros
Same quality Yeti sound for less money
Very portable, have it with you at all times
Choice of colors
Sturdy build and kid-friendly
Cons
No pop filter or windscreen
Gain is only adjustable via Sherpa software
Directionality: Omnidirectional
Use: Speech and broadcast
Type: Condenser
Frequency response: 20Hz – 20kHz
Polar pattern: Cardioid
Impedance: 320 Ohms
Sensitivity: -57.0dB re 1 Volt/Pascal (1.60mV @ 94 dB SPL) +/- 2 dB @ 1kHz
Connection: 3-pin XLR  
In recent years, Rode has made some impressive moves in the field of podcasting. It is putting up stiff competition for classic broadcast microphones at a fraction of the price with its small PodMic.
The PodMic is a small dynamic cardioid end-address microphone made for podcasting and streaming.
It is designed for speech and broadcast use, and it functions equally well in a professional studio or a loud workplace, which is exactly what you need at an affordable price. It offers a deep, warm, and crisp tone.
The Rode PodMic is extremely robust thanks to the solid metal structure that surrounds the capsule and protects it from damage.
If we consider the fact that many higher-end microphones are made of plastic, we can see that the quality of this shell is very remarkable.
You'll find a lot of uses for this mic, particularly once you unlock its full potential with a preamp. The versatility is unparalleled, and we couldn't be happier with the results with both music and voice applications.
Features
This microphone comes with a richly detailed RØDE dynamic capsule, internal pop shield, and double-mesh housing for excellent plosive and sibilance control. It has a solid brass construction finished in a hard-wearing matt black and integrated swing mount for easy positioning.
Pros
Weighty and robust metal construction, it is build to last!
It's small and you can take it anywhere you want
It's a plug and play solution, you don't need to be an audio engineer to get started
Directionality: Unidirectional
Use: Studio, voice, acoustic instruments & cabs
Type: Condenser
Frequency response: 30 Hz – 20 kHz
Polar pattern: Cardioid
Impedance: 200 Ohms
Sensitivity: 15mV/Pa
Connection: 3-pin XLR male
The MXL 990 has become one of the most innovative microphones in the market. The MXL 990 is the first high-resolution condenser microphone to be affordable to podcasters on a budget, with a FET preamp and a massive diaphragm for fully professional sound quality in both digital and analog recordings.
With its silky, high-end, tight, solid low, and midrange reproduction, this innovative condenser microphone continues to astound streamers and podcasters. If you love vintage style microphones but want modern capabilities, then the MXL 990 is a great pick for your podcasting adventures.
The MXL 990 is affordable yet of high quality, you wouldn't want to miss the opportunity to improve your podcast setup and impress your guests with this vintage and fancy microphone.
Features
The microphone has a cardioid polar pattern as well. This means that it just takes up audio right in front of the microphone and picks up little or no audio along the sides or back of the microphone. It seems to have a small pick-up range, which tends to minimize a lot of the background keyboard noise. It also has a custom shock mount included for stability in sound.
Pros
Provides silky sweet high end and retains tight, solid low and midrange reproduction
Vintage body style with a champagne finish for a fancy look on camera
Nice sound on voice & electric guitar
Good at eliminating background noise
Cons
Can not handle high SPL sources
May sound overly bright and harsh for some sources
Best Podcasting Microphone Under $50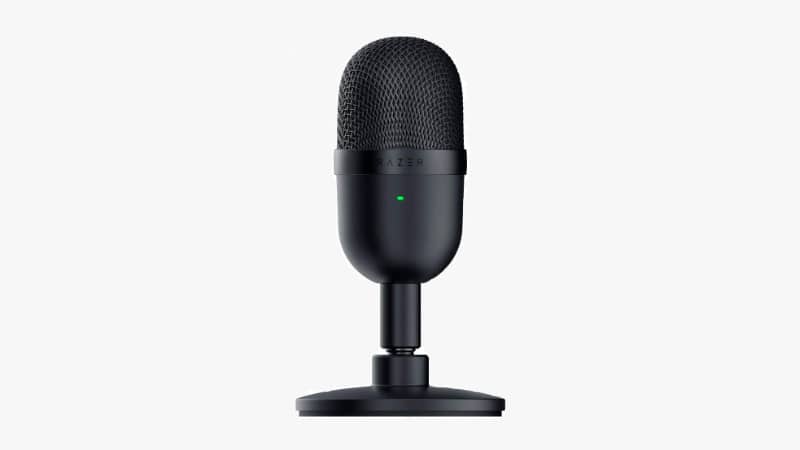 Directionality: Omnidirectional
Use: Computer
Type: Consender
Frequency response: 20Hz – 20kHz
Polar pattern: Supercardioid
Power required / consumption: 5V 500mA (USB)
Sensitivity: 17.8 mV/Pa (1kHz)
Connection: USB   
Podcasting microphones can be expensive, with complex applications, excessive settings, and rough designs. Although this might be appropriate for some people, not everyone wishes to spend hundreds of thousands on a flashy piece of equipment. In that case, the Razer Seiren Mini is the perfect fit.
For someone looking to upgrade their audio quality, Razer's Seiren Mini USB microphone is an excellent entry-level choice. This mic is now available for $50 and, as the name implies, is a miniature clone of Seiren's Seiren mics. And, although it does forego several features in order to reduce both its profile and price, it does not skimp on sound quality.
The Seiren Mini performs almost as well as USB microphones costing three to four times as much. This, along with its small size, makes it perfect for someone just starting out making audio or video content. If you're looking to upgrade from your current headset mic, this is a perfect place to start stepping up your podcast game!
Features
This microphone comes with a 14mm condenser capsule and flat frequency response for more accurate reproduction of your voice. It has a heavy-duty tilting stand for stable support. The Razer Seiren Mini's built-in shock mount dampens these vibrations to help protect your stream or colleagues' ears against sound anomalies.
Pros
Quality audio signal is ideal for vocals and streaming
No software is needed, on modern operating systems just plug it in for it to power up and start working
Affordable
Compact and portable, you can even carry it in your bag or purse
Its sleek and elegant design will make you look professional
Cons
No headphone jack or onboard controls
Mic stand height/angle not ideal for alignment with mouth
Whether you are just starting your podcast journey or you are a professional broadcaster, we've selected the best microphones that will suit each and every enthusiast according to their budget.
Take advantage of this article and help yourself with making a great decision to improve your podcast setup.
Every podcaster has different needs and a different set of recording standards, so don't be afraid to experiment and see what works best for you!
Photo Credit: Unsplash