If you're in a hurry, check out our Editor's Pick: August Smart Pro.
You're driving to work, or you're heading to the airport. You're standing in line for coffee or about to pick the kids up from school when suddenly a worry pops up into the back of your head.
"Did I lock the door?"
You think back on when you left the house or the office. You try to think about every move you made while leaving. Yet nothing stands out. So now you're worried about the security of everything inside the house.
"What if someone tries to rob the house? They could walk right in!"
At this point, your mind is playing tricks on you and now you're sure the house or office is unlocked and anyone walking past might be a potential thief. If only you had a way to check the lock on your door without driving across town or calling a friend to stop by.
Thankfully there is. A smart door lock.
Smart technology has improved significantly in recent years. It's possible to control just about everything in your house, in some shape or form, with smart technology. In terms of your home or office door lock, you can still control it as you would a normal lock, and yet you have the added security of locking or unlocking the door from your phone.
But with so many smart doors locks now on the market, which is right for you? Here are the eight best smart door locks for your home and office, plus how each can improve your overall feeling of security (while helping you avoid those sudden feelings of panic as you'll never again wonder if you left the house unlocked).
Home and office door locks don't just secure what's behind the doors. The locks offer peace of mind. Smart locks help give you additional control over your locks, but if you're new to the world of smart door locks (or smart home technology in general) you may wonder what exactly you should be looking for.
Here are a few tips to consider when shopping around for the best smart door locks.
1. Smart Home Integration
You ideally want to control your smart home from a single service. This means integrating it with your digital assistant such as Amazon's Alexa, Google Assistant, and to a lesser extent, Apple's Siri (although Siri has significantly fallen behind in the world of smart technology).
While not of critical importance, the ability to integrate the smart door lock with the rest of your IoT (Internet of Things) devices is convenient, so it is something to consider.
2. Price
You're investing in a door lock that connects to your home or office's Wi-Fi network. With the added technology it will cost more than your standard deadbolt.
Just how much more depends on a number of factors, specifically the tech built into the lock. You'll likely spend anywhere from $100 to $500 for a smart door lock. You just need to decide how much you're willing to spend ahead of time.
3. Unlocking Features
Lock and keys have been around for thousands of years. While key security has improved dramatically, the basic concept of a lock and the accompanying key is the same. With a smart door lock, you have the ability to move past this method of locking.
Some smart door locks will still use a key, or at least feature a key aspect to it. Others rely completely on a fingerprint scanner or a digital door code. You should consider these different unlocking features when shopping around.
You should also consider if the smart lock has multiple unlocking options. You likely don't want to go with a lock that only uses a fingerprint scanner. Stop and think how often your cell phone doesn't unlock with the fingerprint scanner.
Whether it's because it's cold outside or your hands are wet, this can prove a bit of an issue. The smart door locks do have improved technology over what's built into your phone, but having a secondary unlocking option just in case the scanner doesn't read correctly can be the difference of you being locked out of your house or not.
4. Installation
Installing a smart door lock is different from a traditional door lock. While not necessarily a deterring factor, before buying a lock you should determine whether it's something you can install on your own, or whether it's better to have a professional come out and install the equipment (they can also help you set up the smart features, if this is something you need help with).
The Best Smart Door Locks for 2023
| Product | Model | App | Battery Life | Price |
| --- | --- | --- | --- | --- |
| | August Smart Pro | August app | 3-month | |
| | Ultraloq UL3 BT | U-tec app | 18-month | |
| | Assure Lock SL | Yale Secure app | 12-month | |
| | August Smart | August app | 6-month | |
| | Candy House Sesame | Sesame app | 18-month | |
Editor's Pick
The right smart lock for you might not be the same smart lock that's right for your neighbor. There are some personalized features you need to consider. The eight smart locks we have listed here you can't go wrong with, as each is an excellent investment.
However, we decided to go with the August Smart Lock with Connect as our Editor's Pick.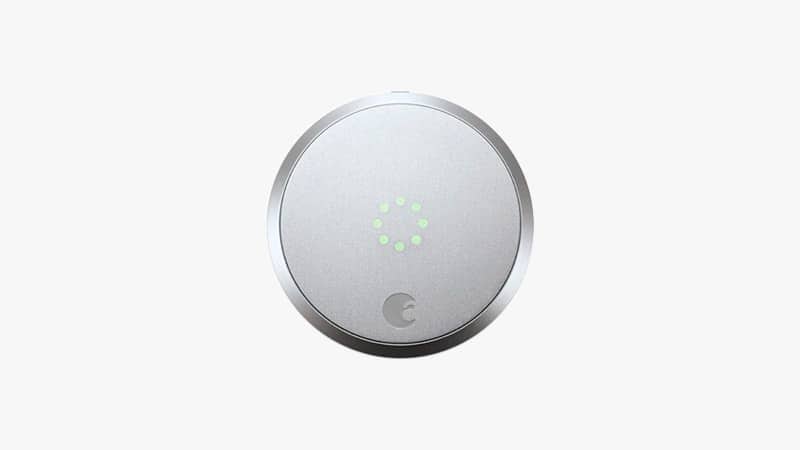 There are a number of great features you'll find with this lock. Beyond the easy installation aspect and the clean look, we ultimately picked this over the other options because it works with Amazon Alexa, Google Home, and Apple's HomeKit.
If you're truly going for a smart home you'll want to invest in a lock that works with the digital assistant of your choice. Some of the locks on this list don't work with a digital assistant, while others don't work with the three main service providers.
Some of the other reasons why like the August Smart Lock with Connect includes:
No need to purchase an additional hub (it comes with the lock)
Voice control your lock so you can unlock or lock the front door with a simple voice command
Monitor door activity with the app
Can be programed along with other smart technology in your home to work together (such as lights coming on, thermostat setting a desired temperature and coffee starting, all when you walk in the front door).
Best Smart Locks Under $150
1. August Smart Lock, 3rd Gen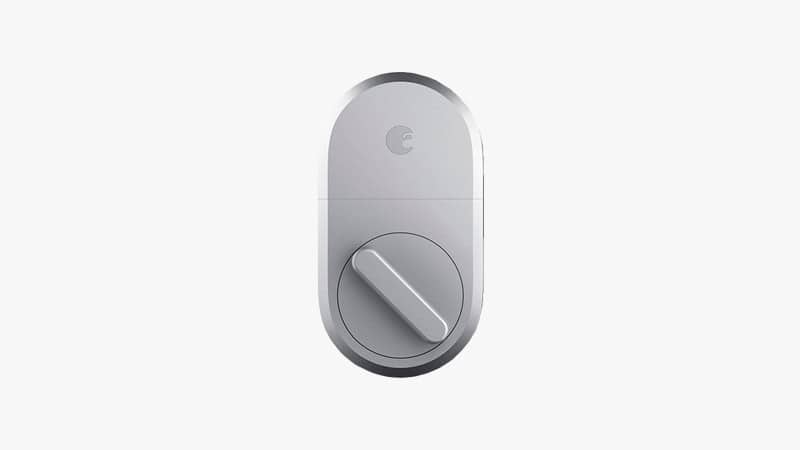 When you want something basic without spending a large sum of money, the August Smart Lock is a great place to start.
There isn't anything overly thrilling about the lock, nor does it stand out. But that's really the point when it comes to this smart lock. It has a simple deadbolt-like twist lock that is secured through voice activation. In fact, it is a deadbolt with smart technology built into it.
If you're interested in a lock that can be self-installed this is another great option as well. However, you will need to have a few other pieces of technology on hand for it to work. While you have the lock, you will also need to invest in the August Connect Wi-Fi Bridge.
With the Wi-Fi bridge, the bridge connects to your home's Wi-Fi network and then sends out signals to associated devices. The hub is small and plugs into a single power outlet, so it won't take up much space.
The nice aspect about the August Connect Wi-Fi Bridge is it not only connects to other August based Wi-Fi devices (such as lights and plugs) but you can control it with Amazon Alexa, Google Assistant, and the Apple HomeKit.
When shopping through Amazon the website will push you toward Alexa, but if you currently use Google Assistant, or you are invested into the Apple ecosystem, these digital assistants will work just as well with the lock. In fact, the August Smart Lock is the only smart lock on this list that works with all three digital assistants.

Installation for the August Smart Lock takes a few minutes, requires four AA batteries and a screwdriver. Outside of this, configuring it with the August hub and digital assistant is a snap.
Some of the main benefits of the August Smart Lock include:
Fits over most current deadbolts so installation is a snap
Works with Alexa, Google Assistant and Apple HomeKit for easy digital assistant integration
Keyless entry yet still works with old deadbolt keys
Can lock/unlock with the August app
August DoorSense app will tell you if the door is completely closed or not latched properly (a great feature if you have kids).
Can be programed to lock automatically when you leave and unlock automatically when you arrive home
2. Sesame Smart Lock, 2nd Gen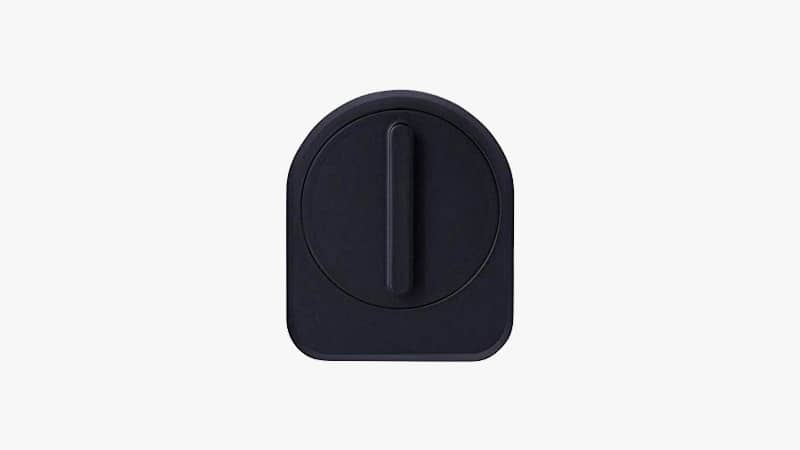 The Sesame Smart Lock is very much like the August smart lock. It installs directly over your current deadbolt, so installation is simple and straightforward. You can continue using your key to unlock the door, yet you can also control it through the Sesame application.
The Sesame Smart app comes with the ability to monitor your door history. This way, you can see when someone lease or enters. This is a great security feature that lets you know when your kids arrive home from school (you can also stay on top of teenagers trying to sneak out of the house at night).
The Sesame Smart Lock is designed for a number of home locks, so if you have a lock that tends to stick or is difficult to turn the Sesame Smart Lock will adjust to the lock. The smart feature is only found on the interior side of the door, so you don't need to worry about people from the outside tampering with the lock.
As the Sesame Smart Lock is installed just on the interior this makes it a great lock when your office is part of an office building and you're not able to install a new door or adjust the lock itself. It also works great if you live in an apartment community. You won't adjust the lock itself so your landlord can maintain access, but this gives you added smart security (plus you can see if or when maintenance enters your home based on when the lock is engaged).

Installation is easy and the batteries come with the Sesame Smart Lock. You will need to invest in the Sesame hub though, otherwise, it will not work (the hubs prevent individuals from connecting to your home Wi-Fi and unlocking the door).
Some of the features of the Sesame Smart Lock include:
Works with both Google Assistant and Amazon Alexa
Easy to install and batteries are included
Great for apartments and offices within larger office buildings
Cost effective entry into the world of smart door locks
Can be controlled with your smartphone and voice-activated while at the house
Excellent security features built into the app, including door history and auto-lock configuration
Best Smart Locks Under $200
3. Ultraloq UL3 BT Bluetooth Enabled Fingerprint and Touchscreen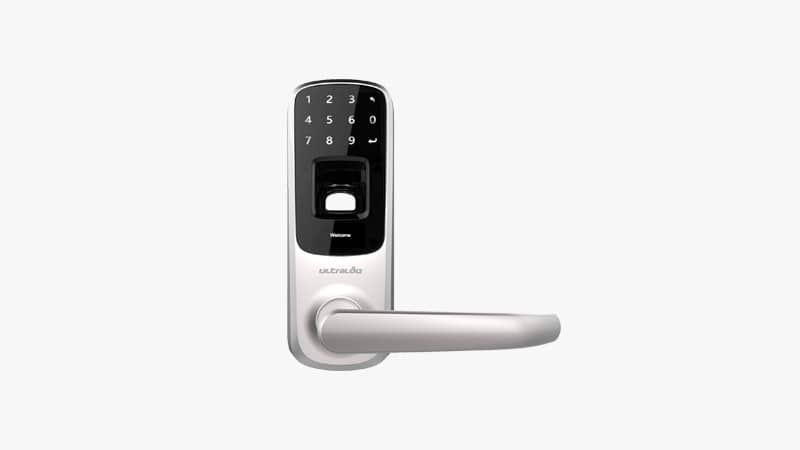 When you want something a little more than just a fancy deadbolt lock you'll need to spend a few extra dollars. But with the added investment you'll discover all kinds of new security features.
This is true with the Ultraloq UL3 BT Bluetooth Enabled Fingerprint and Touchscreen. In fact, it is billed as the world's first 5-in-1 keyless entry smart lock.
With the assortment of security features, you can require multiple points of authentication. You also have options for unlocking the door, should you find the need.
This is a dual-sided lock, meaning you'll need to install the Ultraloq UL3 BT on both sides of the door. Due to this, you may not be able to use the lock on an apartment or within some office complexes (you should consult with your landlord to see if you're able to upgrade your lock prior to purchasing the equipment).
The Ultraloq UL3 BT comes with an excellent application that provides you with not only the ability to lock and unlock the door from your smartphone but you can monitor user access with the door. This way, you don't just see when the door has been unlocked/locked but also when someone has attempted to unlock the door.

The Ultraloq UL3 BT does work off of Bluetooth, so if you have Bluetooth enabled on your phone you can program the door to unlock automatically as you approach.
However, the lock does not come with digital assistant integration, so you can't communicate with the door via Alexa or Google Assistant (at least currently).
Some features of the Ultraloq UL3 BT to consider include:
Bluetooth 4.0 technology so power usage is extremely low
Touchscreen senses movement and will activate when a hand is in front of the touchpad
A fast reading fingerprint scanner that is protected from the elements with its pushed in lock location
Water and weather resistant
Hidden backup key on the underside of the lock allows you to unlock the door with a key, should your phone battery die or if you're unable to use the security features
Lock uses 3 AA batteries (included) and will last up to 8,000 times. When batteries start to drain the app will be notified on the phone
4. Schlage BE479 V CEN 619 Sense Smart Deadbolt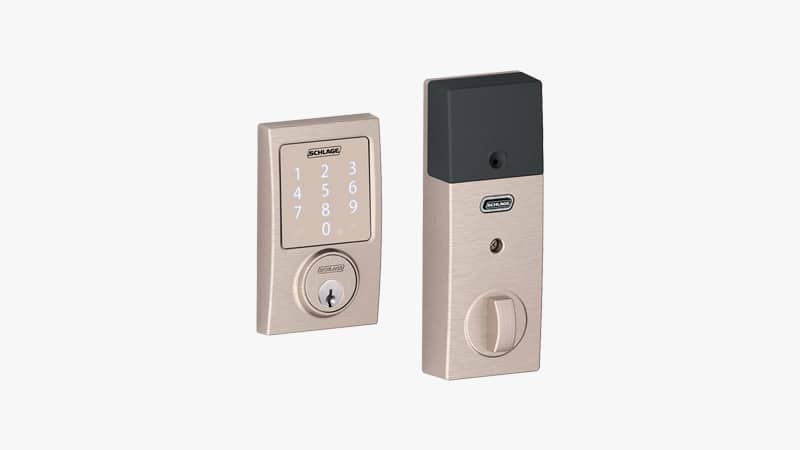 The Schlage is a combination of traditional deadbolt lock with new smart technology. In many ways, it looks similar to a key and code lock you might purchase now. However, the Schlage brings with it new smart technology to improve your control of the lock.
The lock is installed on both the front and rear of the door, so installation is more in-depth than what many of the entry smart locks provide.
However, with that said, Schlage does provide an in-depth installation manual (plus there is an installation video as well), so if you want to install the equipment on your own it shouldn't be much of a hassle.
The touchscreen above the lock displays clear and remains the same color of the lock until activated. This reduces the attention it draws as in many ways it looks like a regular deadbolt.
If you don't want a lock that is bulky or screams "smart home" with its look, this may be the lock for you.
The lock is controlled with a traditional key or with an entered code. You can also unlock the door with your phone.
You can control the lock with an Android or iOS app.
However, if you want to add voice control to the lock you can pair Alexa with the lock as well as the Schlage Wi-Fi adapter (which is sold separately).
Ultimately while this lock might not have the same kind of voice control and extensive smart control features as other locks on this list, the Schlage is great because it has a minimalist appearance. When you want a quality lock that doesn't have technology dripping from its appearance, this is the way to go.
There are also a number of color options, so you can pick one that looks right at home with your current door handle.
Some of the features you'll find on the Schlage include:
The ability to integrate it with Amazon Alexa
Both iOS and Android control apps
Minimal in design
Ability to unlock the door with a traditional key, smartphone, Amazon Alexa, and control pad
Several design and color options to best fit your home or office needs
Best Smart Locks Under $250
5. Samsung SHS-H635 FMS Digital Door Lock, RFID Keyless with Mortise

In terms of appearance, it's hard to pass up this Samsung smart lock. If you can call a lock sexy, this would fall under that category. It's sleek in design, slender, made from excellent materials and looks great on any door.
The door also comes with a number of security features, which works well not only for your home but for an office setting.
On the outside of the door, there is a digital keypad that activates when interacted with. It has a sleep, a black backdrop, and an elegant display. There's also a touch card reader. This is perfect if you want to give security cards to members of your staff. You can also use more traditional keys with the lock.
If you want to use your smart lock with a digital assistant this is not the door for you.
While it has smart features it will not pair up with Alexa or Google Assistant. This is more of a professional office lock than anything else.

The lock even has a fire detection sensor built into it, so if it detects a fire it will notify you through the installed security application. The app will notify you of any tampering with the lock, plus the lock itself is bump, prick and scratch proof.
Some of the features you'll find with the Samsung door lock includes:
Silent mode for when you enter the house late or if you have sleeping children and you don't want to wake them
Long-Term leave mode allows you to program the lock to prevent access during an extended period of time (until you remove the long-term feature)
"Prank Mode" activates if the password has not been entered correctly after five times. A warning sound plays
Key cards are quick and easy to use. The RFID technology makes it work faster than a standard key
6. August Smart Lock Pro + Connect 3rd Gen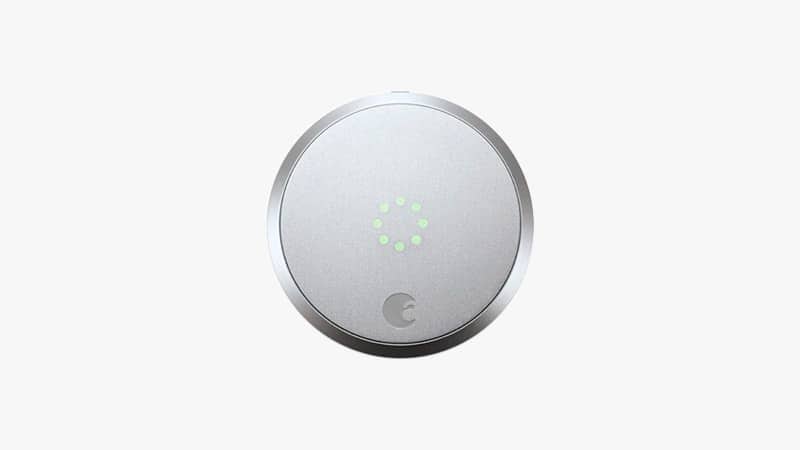 The August Smart Lock Pro is an upgraded version of the first smart lock on this list. However, unlike the other option this comes with the August Connect hub, so you don't need to purchase additional equipment (although if you want to use it with Google Assistant, Amazon Alexa or Apple HomeKit you will need to pick up a subsequent device).
If you're new to the world of smart technology and you want an inexpensive, entry-level speaker to work with your August Smart Lock Pro (or any of the other systems that work with digital assistants), both Amazon and Google have puck-shaped speakers that regularly go on sale for under $30 (Apple does not have a discount speaker option).
This setup also goes over a traditional deadbolt, so installation is a breeze. It has a more streamlined appearance to it as well. It doesn't have a deadbolt-looking knob, but instead, there is a dial around the perimeter of the lock.
The lock will unlock/lock with your smartphone. You open the app and tell the lock what to do. You can also activate the Bluetooth feature, which can detect when you have left your house and auto-lock your door (or auto unlock when you're approaching).
A nice feature with this August lock is you can give temporary phone key access. This way, if you have family members staying for a few days you can give them phone access for while they are in town. Or at work, if you need someone to head into the office you can grant them access for a set period of time.
August will also pair with your digital assistant, should you want to control the device with your voice and not open up your phone. This is nice if you're cooking and someone is at the door. You just tell your digital assistant to unlock the door. You can also tell the door to lock if you're in bed and don't want to get up.
Some of the features on the August Smart Lock Pro you'll like include:
Included Connect hub
Works with Wi-Fi and Bluetooth
One of the only brands that work with Amazon, Google, and Apple
Sleep in design
East to install
Comes in two different colors
Track activity with the August Smart app
7. Yale Assure Lock SL – Key Free Smart Lock With Touchscreen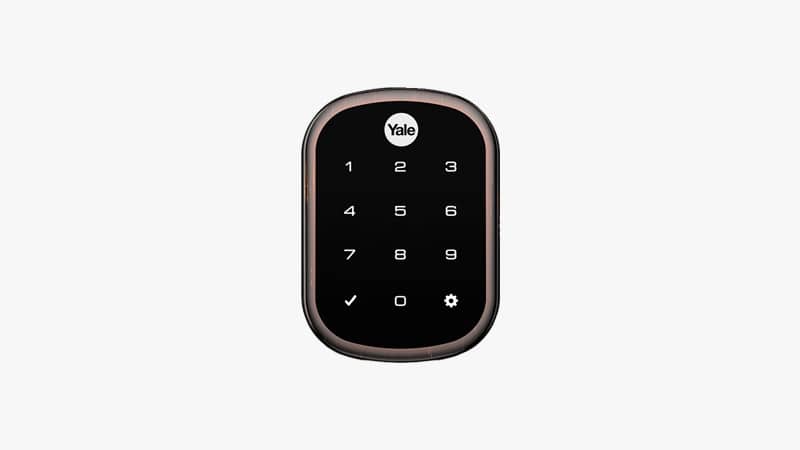 This is a simple and elegant looking smart lock. It features a control touchscreen pad as the entire lock that is smaller than a cell phone. You also have control with it using your Apple iOS device or when talking with Siri.
The Yale Assure Lock SL does connect with an Apple HomeKit. However, probably the biggest downside with this is it doesn't work with Amazon Alexa or Google Assistant.
Apple's HomeKit is significantly behind the other two digital assistants in terms of integrated appliances and capability, so while this is a fine option if you are within the Apple ecosystem, you likely will want another option if you have an Android device (or if you just want to stay ahead of the curve and have the latest home smart technology).
The device is pretty sleek and it comes from a lock company that has been around for 180 years.
The lock highlights itself with the ability to work without your phone, although it requires you to touch a 9V battery (smoke detector battery) to the underside of the keypad. Chances are you'll be able to charge your phone prior to buying a 9V battery to unlock your front door, so this feature doesn't offer much in the way of additional benefits.

The app is helpful with the Yale Assure Lock SL though. You can give access to others by giving them individual codes. This way, you can see who is entering the house. You can also remove their codes from the list of acceptable accounts, should you want to prevent them from entering your home or office.
Some of the features on the Yale Assure Lock SL you might like include:
Works with your Apple devices
Give personalized access to up to 25 people
Locks automatically
Voice control with Siri
Weather resistant
Easy to install
Best Smart Locks Under $500
8. Samsung SHS-P718-LMK Push Pull Biometric Touchscreen Digital Door Lock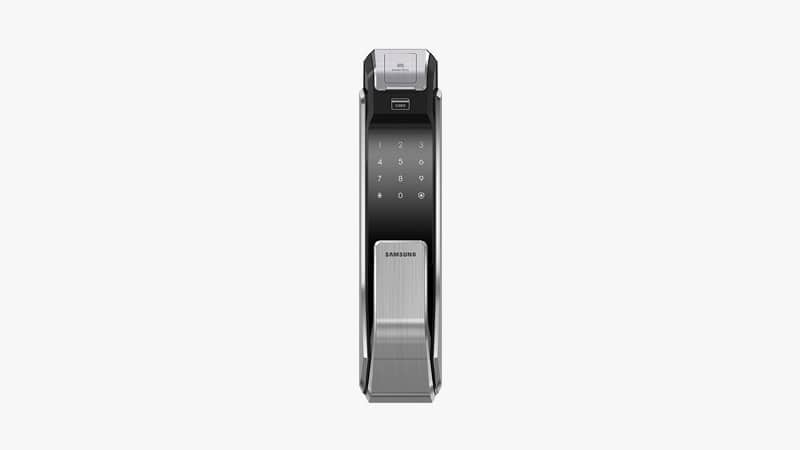 In terms of technology built into a lock, it's hard to pass up on this Samsung option.
This is the kind of door lock you see in spy movies, with a fingerprint scanner at the top of the lock, a digital touchscreen code underneath, and a door handle lock that pulls down (instead of twists).
Installation is a bit more in-depth with this device, as it requires setup on both sides of the door.
However, if you're looking for superior locking technology at the office, this is a great option. You can use key tags for added security.
You can also combine different locking options, so someone may need to use their fingerprint, key tag, and push in a key code if you want to really get serious with locking.
One thing to keep in mind with this Samsung though is it is not digital assistant enabled.
You're not able to control it with Alexa or Google Home. You must be physically on site to open the door. This is why the lock is likely better for an office setting.
Some of the features you may like on the Samsung include:
Multiple unlock features for improved door security
Dead battery alarm
Silent mode for when you enter at night and want to avoid disturbing anyone
Away mode for when you're gone for an extended period of time
The push-pull handle is helpful when trying to open the door while your hands or full (or for anyone who struggles with round door handles)
Finding the right smart lock is a personal preference. It really comes down to a few special features:
Do you want digital assistant integration?
How many security features do you want?
Do you want easy installation or something much more involved?
Each of the security smart locks we highlighted here is exceptional options and you really can't go wrong with either of them. We highlighted the August Smart Lock with Connect as our Editor's pick because it works with all digital assistants, it is easy to install, looks great, and comes with a number of special features within the app.
So whether you're interested in expanding your smart home technology or you just want a new front door lock, each of these locks is a great option.
Which lock are you interested in? What do you like about smart locks and are there features you wish these locks had? Let us know in the comments. We'd love to hear from you!
Photo Credit: Unsplash