Dentists often look for marketing professionals who can effectively answer the question, "How do I get a return on my investment?" While ensuring your marketing agency can answer this, it's also important to ask the same question of yourself when it comes to your website performance.
Measuring the ROI of your website doesn't require a marketing agency that specializes in working with dentists. In fact, you can start taking a look at your website now to see if it's performing at its best. From there, you can get actionable insights that can guide you along in your marketing, or maybe even future web development.
P.s If you're not using any data analytics service then you can install Google Analytics on your website to start tracking user behavior and interaction with your website to make better marketing decisions.

If you're a dentist, here are the 3 metrics you should be keeping track of to ensure you're getting the best possible return.
1. Website Traffic:
This is a no-brainer, but the important part here is to not just look at the total amount of traffic you're getting in a specific time period. You want to also look at the sources. Sources of traffic can give you ideas on how well your marketing efforts are currently performing.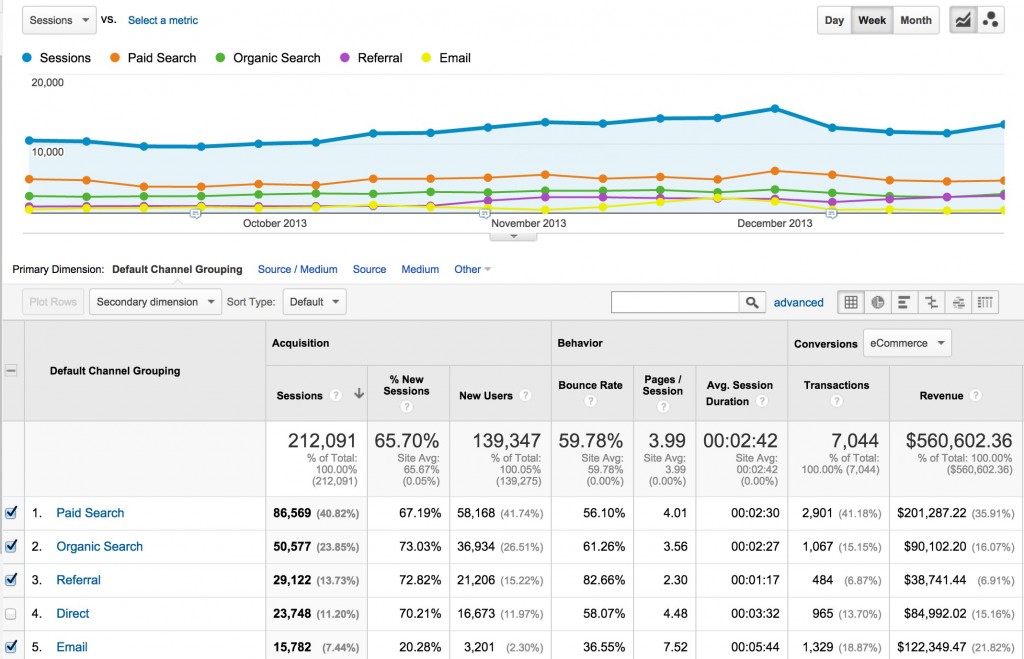 The primary sources you should look at first are:
Social Media:
If you have a presence on social media sites like Facebook or Twitter, see if those sites are actually sending traffic by looking in your analytics under referral Acquisition and then click on Social.

If you're not seeing a lot of referrals, don't panic: it could just mean that people are getting more of their information off of your social channels. Having your social media presence evaluated by a marketing agency who specializes in your industry can be a good way to see if you're on the right track.
Organic Traffic:
This is traffic that comes from search engines but isn't paid. Checking your organic traffic can tell you often if your site is performing well in the search engines, meaning it's ranking well when users search for phrases and are served your site as a relevant result.


Seeing increases in organic traffic month over month – or even steady performance – can indicate a good foundation.
But, if you notice drops or declines in your organic traffic, it might be best to seek out the assistance of an agency that specializes in SEO for dentists. Often, they can help you examine your site and develop a campaign strategy to produce more organic traffic for your specific geographic territory that you want to target for your practice.
Paid/CPC Traffic:
This is traffic referred from search engines that you've paid for by using advertising platforms like Google Adwords. Paid traffic can tell you a lot about the success of your PPC campaigns when used in conjunction with your advertising platform reporting (e.g. Adwords reporting data).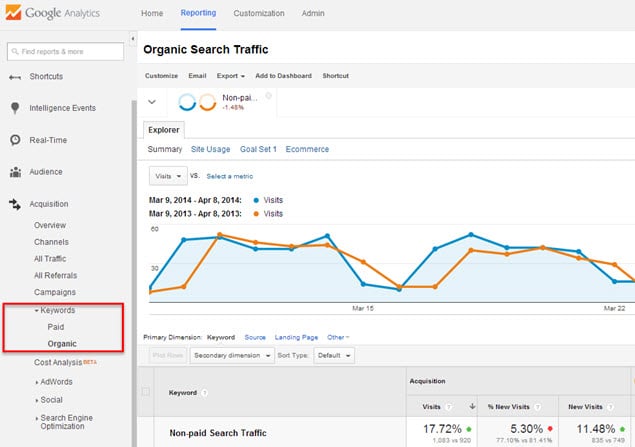 If you're not sure what PPC is or how to get started with advertising your business on search engines, it's important to seek out the help of a professional.
PPC, while an effective marketing tactic, can also be costly if you don't know what you're doing. Seek help from an agency that offers PPC for dentists, as they will have the knowledge of not only how to target your niche, but also work with your budget and your geographic location.
Referral Traffic:
This is traffic that comes from other domains, which can tell you a lot about your users as well as your reputation. Sites that get a lot of referrals are often seen as "trusted" as they are linked to from other sources.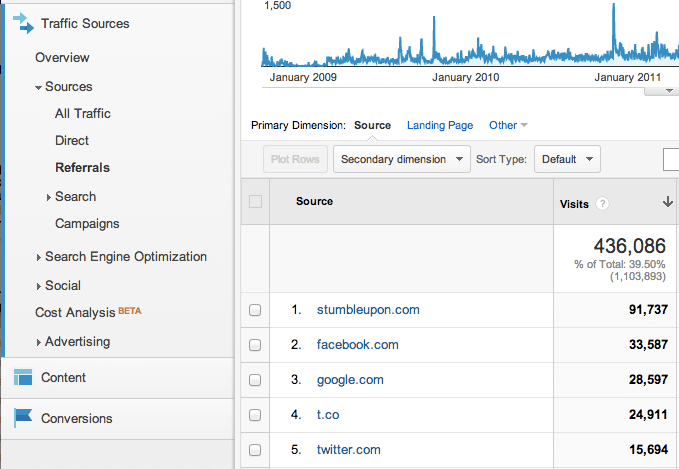 So, for example, if your dental practice is known in your community and you have referral visits from a link that was placed on a site that talks about your practice, that can mean that you're effectively harnessing referral traffic.
From a reputation standpoint, visits from sites like Yelp can help you determine if people are finding your reputation online to be trustworthy. Referrals can also help you measure the success of ads you've placed on other websites, too.
Direct Traffic:
Direct traffic comes from when a user types your site's domain or URL directly into the search bar. This is a good stat to examine because it can tell you about how recognizable your brand is.
You can click on the direct tab to see which pages they are visiting the most, either the homepage or any particular post or service is receiving direct traffic which can give you a lot of insight to make that service shine out or offer any discount or deal to close more customers.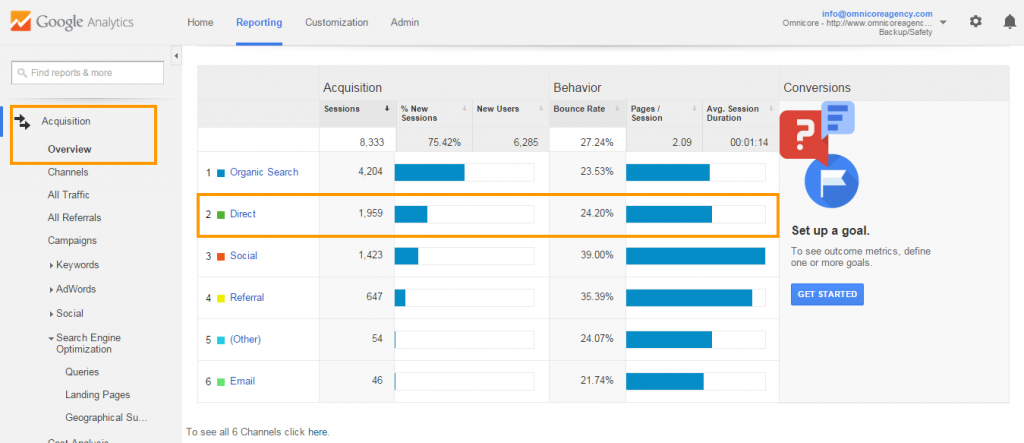 Additionally, if you're doing TV or radio advertising, this can be a good metric to see how successful those ads might be as direct traffic can be partially attributed to those marketing tactics.
2. Average Session Duration:
Also known as "Time on Site", average session duration is all about calculating the average amount of time a user spends on your site or on a specific page of your site. This information can tell you a lot about how engaging your site is and whether or not you are providing value to your customers.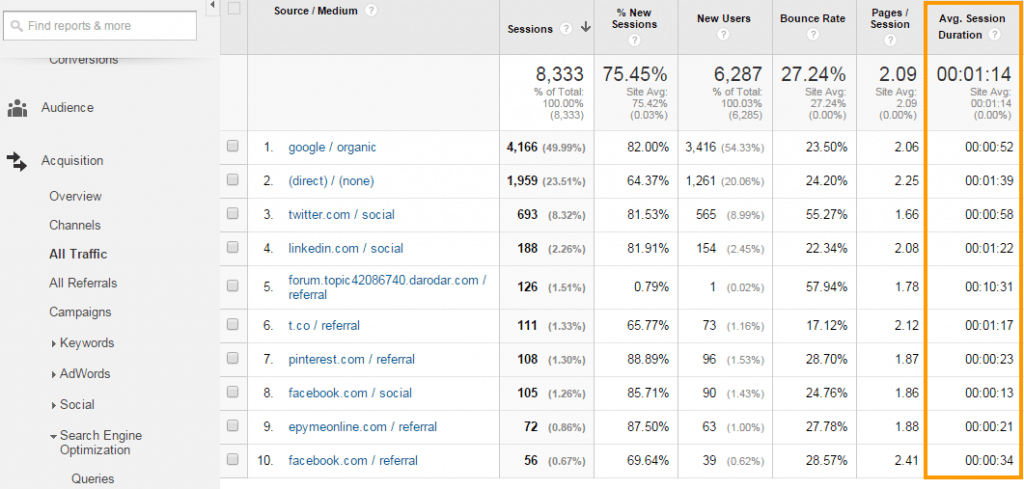 So, for example, if you have a page that focuses on dental hygenie tips that you share with your patients and you see that the time on site for that page is several minutes, that can show you that your content marketing efforts are working.
People are finding that page and spending some time with that content.
However, if you see that you have a library of great resources and the time on site for those pages is well under a minute (and it would take longer to skim or digest that information), then it might be time to seek out an agency that specializes in content marketing for dentists so that they can identify any issues preventing engagement, or offer consultation onto how to best deliver the information you want to share with your patients.
3. Bounce Rate:
Bounce rate can be incredibly revealing to any website owner. This number is simply the rate at which a user arrives on a particular part of your site and then immediately leaves. For most, a bounce rate of 50-60% is pretty good, but don't panic if you see something that's higher. High bounce rates can mean a few things.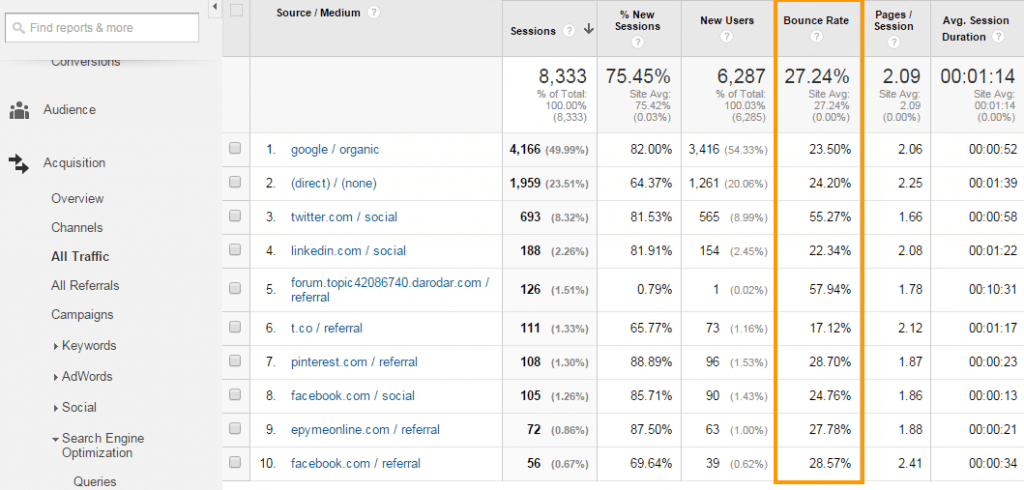 First, it can mean that there's a problem with that page wherein people are leaving pretty quickly once they arrive.
This can be a good starting place to start talking to a dental marketing agency or web developer, as they can often take a look at the pages with the highest bounce rates and develop actionable steps to address problems that might be driving away traffic, things like broken images, poor calls to action, irrelevant information, or other usability concerns.
You might also want to examine your hosting provider or the site itself. High bounces can also indicate technical problems that require further investigation to resolve.
Secondly, a high bounce rate could mean that users are getting the information they need quickly and then leaving. This is pretty common on mobile websites, one page websites, or other types of pages where information is easily accessible, like operating hours or phone numbers.
To learn more about bounce rate and how to improve it, Google actually has a great page that explains this stat and things to be mindful of:
https://support.google.com/analytics/answer/1009409?hl=en
These metrics are a good foundation for determining website success, but if you'd like to discuss more ways to see if your website is delivering the best possible ROI, give the experts at Omnicore Agency a call – we'd be happy to give you a consultation!
Photo Credit: Unsplash