Social media has been looked at with the secret desire to avoid it by many professionals.
Why?
Well, there are a few reasons but two big ones are the fact that professionals like privacy and security and the other reason is the sheer time and effort it takes to make social media work for your practice.
But, this is why all you really need is a digital marketing company that understands how social media can be used to generate profitable returns and work with you to execute proven strategies.
Here we will delve into the 7 best ways to use social media to grow your dental practice.
1. Facebook Contests
Facebook contests are a great way to not only engage existing fans and followers but also attract new ones.
As a healthcare marketing agency that has run and managed contests before, the response our clients have gotten using contests is very positive.
One way you can use contests is, "Tune in to win on Free Cleaning Friday!" Then make a contest with a winner that gets a free cleaning.
Now, if you do this regularly for like a month or two, you want to optimize it as much as possible. Without giving away the whole farm–you have to think of ways to get two people or more for the freebie you are giving away.
You can do this in one of two ways. Stipulate that if they bring someone they get 50% off their cleaning or whitening whatever you choose.
You can also have a second and third prize winner that is 50% off. This means you're still getting paid and winning new customers.
2. Facebook Video
Facebook video ads have been on the rise since they launched. As they play natively on the platform itself, Facebook has noticed that people are actually watching and engaging with the video ads as they auto-play in the feed and Facebook allows users to tag their friends other than liking and sharing the videos which makes it really effective.
Not to mention that Facebook Video ads are far less expensive than YouTube and the engagement is really high too.
Here is an actual case study from Facebook if you like to read more on this subject.
Here are some of the benefits of using this type of ad: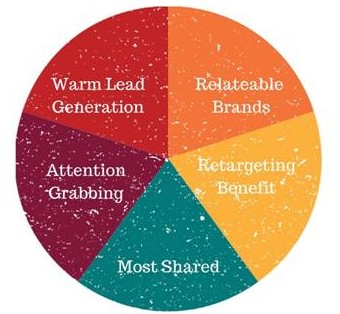 Warm Lead Generation


When you click on your video ad you'll see who viewed your ad in terms of who completed it which means 95% watched and who viewed it for 3 seconds.
You can then tailor your ad to those groups in the next round. The type of video ad for a dental office may be a procedure that your target would need.
Think of what you specialize in and then determine the target and get taping.
3. Facebook Ads
If video is not your thing then the regular Facebook ads are just right for you.
There are countless opportunities that we can set up on your page such as special offers both long and short term.
We'll change them to suit your business needs. Combining that with the ad features below you've got instant exposure to thousands of targeted prospects instantly!
This is the most valuable feature because it's clean and quick and there is much more chance of selling them your service.
Plus all your information is right there, so it's a one-step process for them. Facebook ads are a benefit in the way of putting you in front of the target you have.
You stay in control of what the demographic is for that target. With Facebook ads, you can find your ideal audience online.
It allows you to choose zip codes and even target the audience by their interests for people in your geographical area.
Facebook ads will use your email list and compare it to their own database. Once they find a similar audience—your ads go straight to them with laser precision.
This is not just targeting likes it's targeting interests and that means thousands of people.
It will then take you to this screen where you fill out the required information like age and other demographic targets.
See also: 7 Orthodontic Marketing Ideas to Get More Patients
4. Instagram
Instagram is one of the most important social media platforms with over 300 million users. Yes, you heard that right.
Think about it, you have a dental practice where you can engage thousands of people with both pictures and tips to help everyone that follows you.
With the help of a marketing agency, you can run a new series each week and use illustrations to reinforce your text.
Let us help you do the really important stuff like get you shared as much as possible.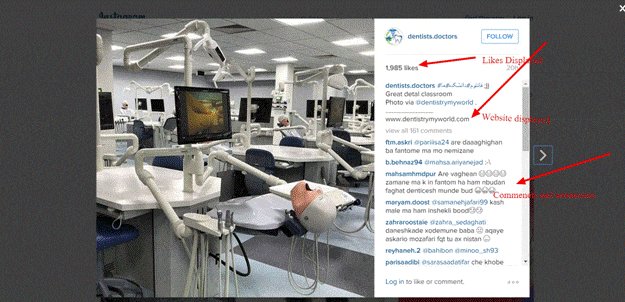 5. Google+
First, the main point is Google dominates the internet. They rule how we search and own YouTube which sits at a cool number two.
Google is by far 100% more inclusive than Facebook. The first benefit is that anyone can see your posts without a ritual to do it.
After you as a dental practice have a laser clear and verified Google+ local listing you can then employ the social element of the account.
Just when you thought Google+ wasn't appropriate for a dental practice, the benefits listed here may make you think again.
You are more likely to be recommended based on your reviews and your location as well as who is in your circles. You have targeted groups that have you in their circles. This means more exposure to their circles etc.
Your patients post you and review you as their favorite dentist!
You get a Zagat summary which is very powerful and yes they are still an enormous influence.
People will have the reviews and photos from people they already know highlighted when they search for a dentist. That means once someone has reviewed you—when someone they know searches for a dentist you'll pop up highlighted right there.
You can acquire more new patients; drive more traffic to your website and give a pretty big boost to your local ranking.
Post interesting and beneficial things for your patients.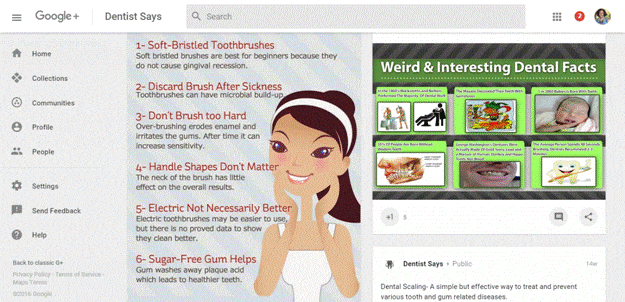 People can repost on their Google + and you can see right away who is interested and in what type of post.
So, why should you get on board right now?
Here are 4 sure reasons.
Google owns Google Plus. It is the number one search engine in the world and is unlikely to go anywhere soon. They are also very much in charge of the metrics regarding SEO and organic search which is imperative to your business.
Right now, you have more chance to be the big fish because the pond is still small in your arena. Most dentists will have a website and Facebook but not a Google + page. Get on it!
Great way to get quality inbound links. This will certainly boost your website cred.
Another amazing feature is Google Hangouts.
Google Hangouts is a place where companies invite others at a specific time to do amazing and creative things.
You can read how to use Google Hangouts here. Google has a whole tutorial on what you can do with hangouts.
Here is an example of what others have done.
Below, is a clothing company that invited people to buy the clothes they were discussing on the panel.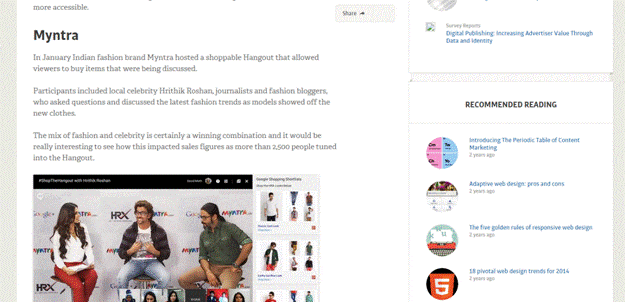 Related Guide: SEO vs PPC for Dental Practices
6. Twitter
Twitter isn't all beeps and tweets about nothing. Smart business owners have found a way to use Twitter as a tool to grow business and it's worked for many in leaps and bounds.
You can post LIVE by the minute and post pictures people can see about your amazing life as a professional dentist in your community.
One very important way that Twitter can be used by dentists is to help those suffering in pain up to the minute so they can give advice and even book an appointment. That's exciting!
One way you can use Twitter is LIVE. This means you can do a show where everyone meets at a designated time and you can answer dental questions. This is an example of a tweet live invitation.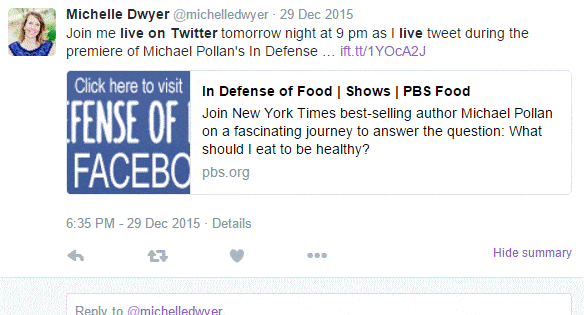 One rule of thumb is to make sure you are showing up at a specific time and day each week. It has to be clear and concise.
Make sure you know what you want to cover beforehand for that day and for the next week. You'll be smart to drop a teaser on them.
Like "Next week, find out how your gums can be killing you" you know, some shocker as long as there is some truth to it.
The key is to get them to tune in and you can run podcasts for what they missed on the website which gets them to it.
7. Using Twitter Advanced Search
In the sample field below you can target your search in a way that even supersedes Facebook search. This is accessible with the Twitter Web app.
There are a variety of search combinations to use to narrow it down to even a phrase from another tweet, a photo or you can go between the top tweets and all tweets about that particular interest tweet.
You can use exact phrases or if you aren't certain you can use "none of these phrases".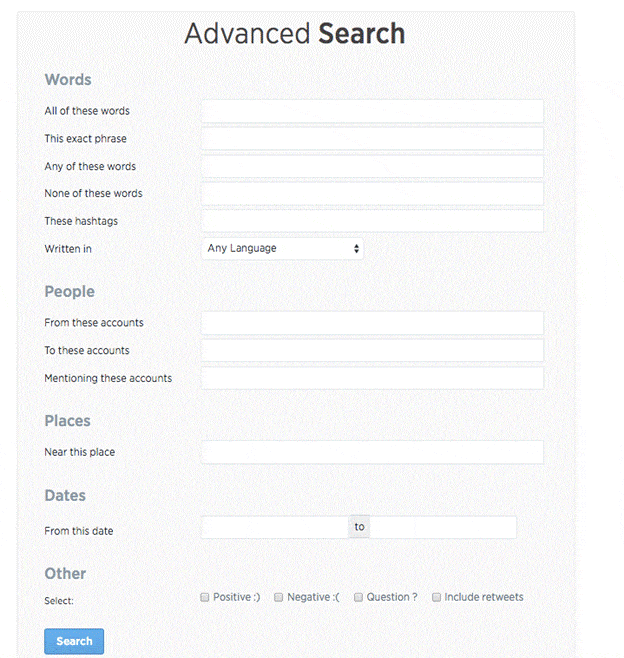 As you can see all of these elements work in tandem to provide you with a profitable and high-ranking dental practice. This is of great benefit to you. Contact us today for a free consultation on your practice and how we can help you.
One good way that dentists can use this feature is to type in words in different combinations that bring up tweets they can respond to. Like the example below.
This is a way to find folks in pain or with certain issues like wisdom tooth issues. Note the arrows are pointing to the various choices of word combinations.
This is a fast and easy way for you to reach local people having an issue right there in real time.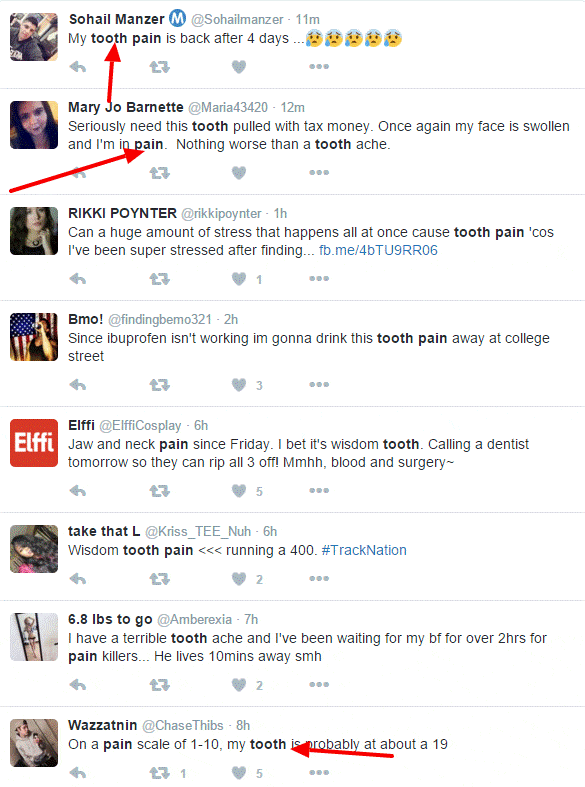 That's a wrap, if your practice isn't active on social media then it's high time you start building up a following before your competitors get a major chunk of the potential audience.
Photo Credit: Unsplash