Have you ever wondered what the future looks like?
Well, you don't have to wonder anymore. The future is 4K, and it looks amazing.
Cinematographic cameras with 4K resolution have been around for a long time, but its introduction into the mainstream is relatively recent. Movie cinemas began integrating 4K resolution around 2011, and the first 4K home theater projector was released in 2012. But it wasn't until last year that Blu-Ray technology and next-generation consoles began incorporating 4K technology. However, 4K is exploding at a rapid pace, and you don't want to be left behind.
Maybe you're wondering, what exactly is 4K resolution? Well, I'll tell you.
The term '4K' refers to the horizontal dimensions of the resolution. High-definition (1280×720) was known as 720p, and when 1080p came on the scene at it was referred to as full definition (1920×1080). 4K generally has an aspect ratio of 4096×2160 and is considered ultra-high-definition, or UHD. With approximately twice the vertical and horizontal radius of 1080p, 4K media is effectively four times larger and clearer than full-definition television. For computer monitors, the standard aspect ratio for 4K technology is 3840×2160.
Since ultra-high-definition technology is so new, finding a good computer monitor with 4K resolution can be a little tricky. But there's good news: we've already done the homework for you. We've checked out the best 4K computer monitor and have the best ones below, so you don't have to go through the trouble.
Don't worry. You can thank us later.
QUICK OVERVIEW: THE BEST 4K MONITORS
Things to Consider
Like all major purchases, there are some key elements to keep in mind when considering which product you are going to purchase.
How big is your computer desk? What will you be using your computer for? These are just some of the questions you should consider before making your purchase. I have outlined five things you should consider if you're looking to buy a new 4K monitor.
1. Resolution and Image Quality
Since 4K computer monitors are a relatively recent innovation, they won't necessarily all be capable of the same resolution. However, computer resolution isn't the only thing to be curious about. You should also how the monitor presents different color schemes. This is especially important if you intend to do a lot of gaming on your computer.
2. Size of the Monitor
Screen size and resolution do not directly correlate. Or, to put it simply, it's possible for a 26-inch monitor to have superior resolution to a 36-inch monitor. You should have a good idea how large you want your monitor to be. This can prevent you from buying one that is larger than you need and save you money.
3. Portability
For many of you out there, this will be a non-issue. Your desktop will be a stationary fixture in your office, bedroom, den or wherever else you choose to put it, and the monitor is staying put with it. But if you have ideas about porting your desktop around with you, you might want to consider how heavy it is. Some newer monitors can weigh over 20 pounds, so be advised.
4. Input/Output
Any modern UHD laptop is going to have an HDMI port. Most of them will also come with USB ports and possibly even audio output for speakers or headphones. Naturally, this won't be a concern for everyone, but it's worth paying attention to.
5. Price
There is a plethora of 4K monitors on the market, and many of these are competitively priced with one another. So if you have a specific budget in mind, you shouldn't feel pressured to pay more for added features. A $400 4K monitor will still have the same resolution as a $600 4K monitor, but the more expensive monitors will still deliver a better performance. It's very important to stay within your budget, but it's also good to know what you want out of your monitor.
Editor's Pick
We know that not everyone has the time to peruse a long list looking for the best monitor. Some people don't like shopping, and others just want to know what will give them the best value for their money. We believe that the LG Electronics 4K UHD 27UD88-W 27″ LED-Lit Monitor is the best value for it's price.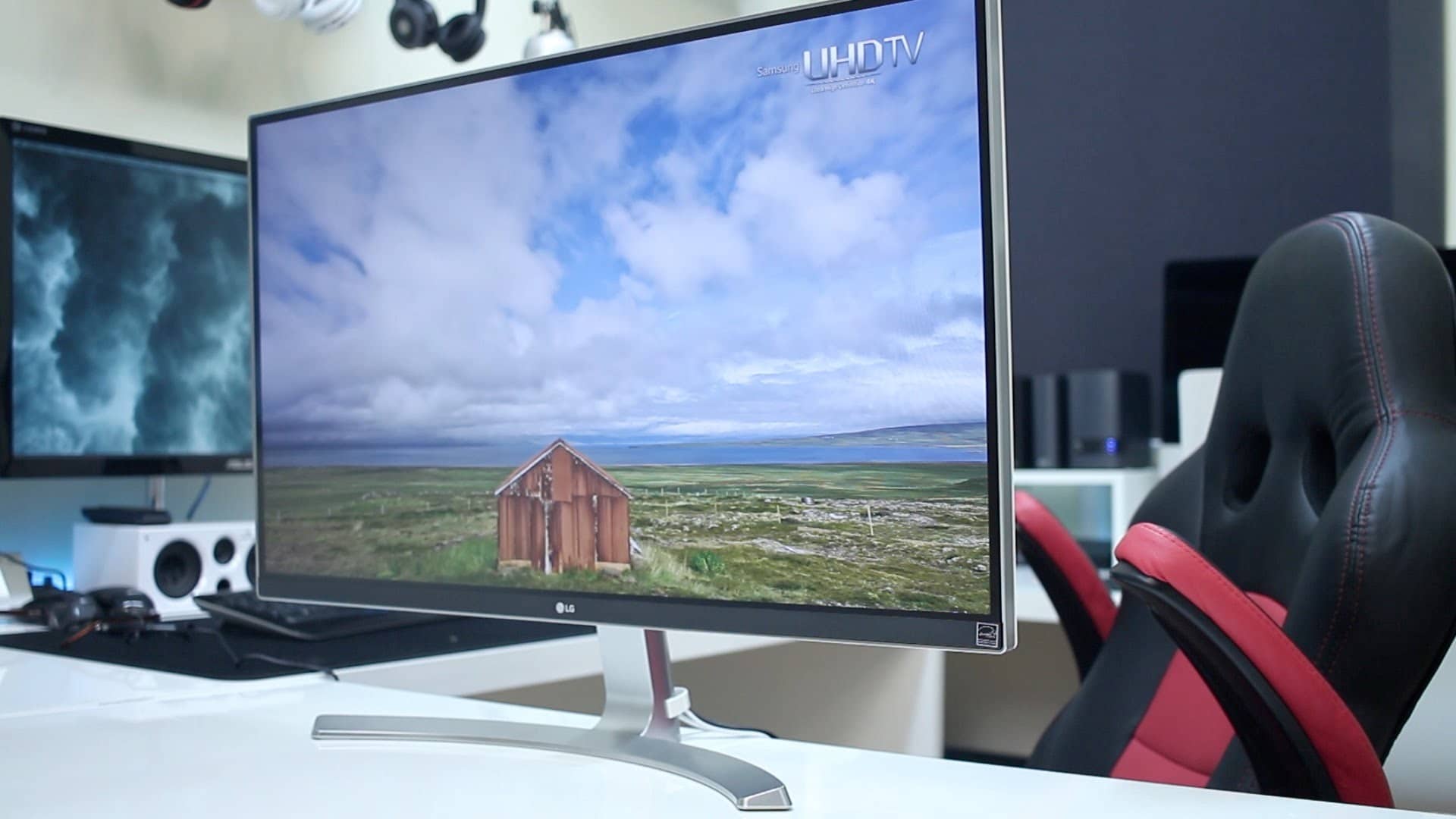 Ultra-high def. 3840×2160 resolution captures every detail.
Built-in split-screen capabilities.
Utilizes hyper-advanced USB Type-C technology.
Advanced color calibration allows you to cycle through presets or determine your own ideal color scheme.
FreeSync technology helps to remove screen tears and frame rate stuttering associated with high-end gaming.
Check Price on Amazon or Directly Add to Cart on Amazon
Best 4K Monitors Under $400


Video gaming is one of the areas where 4K monitors are in highest demand. This is partially because the computer-generated graphics benefit from the higher resolution more than movies and pictures and partially because PC gamers have long been serious about having the best graphics possible.
The ASUS MG28UQ 28-Inch FreeSync Gaming Monitor is designed with this audience in mind, and is programmed with features and abilities that will appeal especially to gaming enthusiasts. Some of the features are standard, such as a TUV certified flicker-free screen and an optional blue light filter to minimize eye strain.
What stands out with this monitor is its more advanced features, especially for the price range. For example, the monitor has a 1ms response time, which helps to combat performance-based lag. The monitor also uses Adaptive FreeSync technology that coordinates with your GPU, providing superior frame rates with less screen tears and inconsistent frame rates. The monitor has a 60 Hz refresh rate, comes with two USB ports and features an ergonomic base that allows you to adjust the screen to your preferred angle. The monitor also has 2X HDMI 2.0, DisplayPort 1.2 and two USB 3.0 ports, and comes backed by a three-year warranty.
If you're a hardcore enthusiast who wants nothing but the best, the ASUS MG28UQ may not provide the performance you need. But if you want a great 4K experience without paying a premium price, this is a hard monitor to beat
Flicker-free screen and blue light reduction
Adaptive FreeSync technology improves graphical performance
Excellent refresh rate of 1ms
Check Price on Amazon or Directly Add to Cart on Amazon

Welcome to next-gen technology. This Samsung computer monitor offers stunning UHD resolution at a reasonable price. This 28-inch monitor uses eight million pixels to create crystal-clear images you have to see to believe. Not only does the monitor offer extreme resolution, it takes color to a whole other level. Traditional monitors offer 16.7 million colors. This Samsung can support over one billion colors!
Using Picture-in-Picture technology, the monitor makes it easy to multi-task, by providing two windows for watching movies or browsing the internet while working on spreadsheets, writing projects or whatever other tasks might need to be accomplished. Dual HDMI ports allow you to connect two HDMI-connected devices, such as a PC and gaming console, simultaneously, allowing your monitor to function as a gaming television as well as a computer monitor.
28-inch monitor
Picture-in-Picture split-screen
Dual HDMI ports
Check Price on Amazon or Directly Add to Cart on Amazon

The 24-inch Dell Ultra HD monitor offers the ultra-detailed resolution and incredibly rich colors you expect from a 4K monitor at an exceptional value. A combination of HDMI and USB ports allow you to interface your monitor with computers, gaming consoles, tablets and smart phones without compromising the image quality. Audio ports allow you to plug speakers directly into the monitor, making it an ideal way to enjoy video games or listen to your iPod playlist.
In addition to its superb resolution, color quality and connectivity, this monitor is also built with the environment in mind. It meets Energy Star ratings for low power usage, does not incorporate toxic mercury in its LED screen, is free of BVR and PFC in its wiring, and has a chassis composed of at least 25% post-consumer materials, so you can feel good about your purchase in more ways than one.
24-inch monitor
Energy Star certified
HDMI, USB, and audio-in ports
Check Price on Amazon or Directly Add to Cart on Amazon

It is no secret that staring at a computer screen all day can be very hard on the eyes. That was one of the factors that motivated the development of the ASUS PB287Q Eye Care Monitor. One of the downsides of LED technology is a persistent flicker caused by the backlight that maintains the monitor display's brightness. Utilizing new techniques from TUV Rheinland laboratories, this monitor uses a dynamic system that adjusts the backlight to eliminate the harmful flicker.
In addition, the monitor works to filter out blue light emanating from the monitor, as it has been proven that such light can damage the pupils. Of course, the monitor comes with several filter settings to ensure everything looks right if you are enjoying a movie or some other entertainment, while ensuring that the screen does as little damage as possible when used for work.
When you couple these advanced eye care measures with the stunning resolution and color of 4K technology, it is easy to see why this 28-inch computer monitor comes highly recommended, not only by us but by PC Magazine as well.
28-inch monitor
Flicker-free LED screen
Recommended by PC Magazine
Check Price on Amazon or Directly Add to Cart on Amazon
Best 4K Monitors Under $600

In this competitive market, it takes a lot to measure up to the best. The 27-inch LG 27UD68-P does a phenomenal job of staying competitive by offering advanced FreeSync gaming technology.
One of the most common complaints of video game aficionados are the technical limitations sometimes present in high-end games, including screen tears, dropped frame rates and stuttering. LG's FreeSync technology allows the monitor frame rates to better keep up with the dedicated graphics card, ensuring seamless play and a superior gaming experience.
Other advanced gaming features include superior detail thanks to an incredibly high resolution and quick color optimization that ensures superior graphics and colors in every moment. Quickly change the color scheme to highlight the detail in dark dungeons as opposed to flying through the clouds in an airplane. The inclusion of these advanced gaming features make this an ideal desktop/gaming monitor for the serious video game enthusiast.
27-inch monitor
FreeSync technology improves GPU performance
Color schemes tailored to video games
Check Price on Amazon or Directly Add to Cart on Amazon
Best 4K Monitors Under $700

If you're looking for the best all-around multi-purpose monitor at the most reasonable value, then you can't go wrong with the LG Electronics 4K UHD 27UD88-W. This 27-inch monitor stays ahead of the competition by integrating the Type-C USB port, also known as USB 3.1, into its chassis. This inclusion grants the user instant access to any files stored on the smartphone or tablet, allowing you to stream 4K videos, initiate data transfers and charge your portable devices all at the same time.
In addition to the USB Type-C port, this monitor features all of the amenities of the LG 27UD68-P: beautiful high-resolution graphics, advanced gaming support with FreeSync and Black Stabilizer technologies, optimized game modes to help gamers enjoy the most out of the 4K experience, and Split Screen 2.0 that helps to make multi-tasking a breeze.
Check Price on Amazon or Directly Add to Cart on Amazon
Best 4K Monitors Under $800


When it comes to TV screens, bigger is always better. This is true of computer monitors as well. The BenQ PD3200U 4K Designer Monitor gets a lot of things right, but it does have a couple of minor shortcomings. Still, it's safe to say the good outweighs the bad.
Let's start with the good – and there's a lot of it. One of the things I really like is that this monitor functions just as well as a TV as it does as a monitor. And with a 32" inch screen, it's large enough to be a television as well. It has a dual-view function mode that lets you use two different viewing modes simultaneously. These modes include Darkroom, sRGB, CAD/CAM and Animation Display. The monitor switches seamlessly from one PC to another with the touch of a keyboard or a mouse, and it features the standard flicker-free and low blue light features that come standard with modern monitor screens.
This is a very high-performance monitor, but it does have one shortcoming. It has a frame rate of 4ms which, while still excellent, does not offer the same performance as a lower delay, like 1ms. Most people won't even notice the difference, but if you're playing demanding computer games, you might. It's not a huge issue, however, and I doubt a lot of users will even notice much difference. All in all, this slight flaw is more than made up for by the multitude of advanced features that make this a highly desirable computer monitor.
Flicker-free screen and blue light reduction
Multiple screen settings let you customize your viewing experience
Instantly switch between two different computers
Check Price on Amazon or Directly Add to Cart on Amazon

The Digital Cinema is yet another LG model represented in this series. Like the last monitor I reviewed, this also supports the new Thunderbolt USB technology which means this 4k monitor can be use with Macbook Pro or any Macbook. Featuring a 31-inch Ultra-high-definition screen, state-of-the-art IPS liquid-plane technology and an array of advanced input/output options, this monitor is an excellent choice for a high-end experience.
Continuing in the long line of excellent LG technology, this offers the same crisp, clear colors, advanced FreeSync technology and complimentary gaming features that help to distinguish LG monitors from their competition.
31-inch monitor
Improved liquid-plane screen
FreeSync technology improves GPU performance
Check Price on Amazon or Directly Add to Cart on Amazon
Best 4K Monitors Under $1000


If you had told me ten years ago that computer monitors would be so advanced that they'd need their own processor unit, I would have laughed in your face. But not only does the ASUS Ultra HD ProArt Professional Monitor have its own processor, it has its own dedicated RAM as well. There is basically a miniaturized computer inside the monitor to improve its performance.
As its name suggests, the PA328Q monitor is designed with professionals in mind. It features unbelievable color accuracy, rated at 100% sRGB true color reproduction, and adheres to the standard Rec. 709 HD format. The monitor offers a wide arrange of connection options, including HDMI 2.0 and DisplayPort 1.2 connections that allow you to connect with next-gen gaming consoles, 4x USB 3.0 ports, and MHL 3.0 for better 4K performance.
Thanks to extraordinarily accurate colors, this monitor is perfect for photo and video editing, as well as graphic and video game design – really, anything that benefits from true-to-life colors. With a refresh rate of 60 Hz, you can enjoy uninterrupted professional performance, making it easier for you to do the things you need to do. Since this doesn't have FreeSync technology, this isn't the best fit for video games, but its ideal for professional use.
Flicker-free screen and blue light reduction
100% sRGB true color accuracy
2014 Red Dot Award recipient for outstanding design
Check Price on Amazon or Directly Add to Cart on Amazon
Best 4K Monitors Under $1500

The ASUS PA239Q 32" 4K/UHD Eye Care ProArt Monitor is one of the more expensive 4K monitors on the market, but it also offers some excellent, high-tech features that you won't find in less expensive models.
One of the main problems with cheaper 4K monitors is they don't always have enough ports for all of your devices. The PA329Q gets rid of this problem right away. In addition to four HDMI 2.0 ports, it also has a DisplayPort 1.2 and a mini-DisplayPort 1.2, allowing you to hook up several computers and gaming consoles simultaneously without the need for port-swapping.
Another major boon of this monitor is its customization and compatibility. It utilizes ASUS ProArt Calibration technology and is also compatible with most major hardware calibrators, including the Datacolr Spyder 5 Series and x-rite i1 Display Pro. The monitor lets you save your preferred color profiles to the monitor itself, and switch between profiles at the touch of a key. With 100% Rec.709 and 99.5% Adobe RGB true color reproduction, the PA329Q offers outstanding color results as well.
Like the PA328Q, this monitor is not tailored towards high-end gaming, but it nevertheless offers solid performance and a 60 Hz frame rate. If you're looking for a gaming monitor, there are better models out there, but for professional use, this is one of the best 4K monitors money can buy.
Flicker-free screen and blue light reduction
99.5% sRGB true color accuracy
Color profiles can be customized and instantly accessed
Check Price on Amazon or Directly Add to Cart on Amazon
Conclusion
When it comes time to pick out a new 4K monitor, the bevy of choices can be overwhelming. With so many different monitors on the market, finding the best one in a crowd can be overwhelming, especially if you're not a tech geek like me.
If after reading this you're still not sure what to get, you can't go wrong with the LG 4K UHD 27UD88-W. The advanced graphics features and inclusion of USB-C make it an awesome choice. Hopefully this list has helped you find what you're looking for. No matter which monitor you choose, you're going to love it.
Which monitor did you buy? We'd love to hear from you!