TV boxes such as Roku, Xiaomi Mi Box S, and Nvidia Shield TV Pro are more popular than ever, but the options don't end there. If the TV box market is feeling a bit overwhelming, this article is for you.
A TV box is a small electronic device that connects to your television, transforming it into a smart TV. We've reviewed countless smart TV models to compile this list of only the best devices the market has to offer.
But before you go shopping, check out this list of things to consider when deciding on the perfect Android TV box for you.
When it comes to buying an Android TV box, you need to pay close attention to its technical specifications. There are a lot of different factors to consider, and unfortunately, there isn't an "ideal" TV box that has everything you're looking for. By familiarizing yourself with some of the more important features of an Android TV box, you can make a smarter purchase for your home and family.
1. Operating System
Like all advanced electronics, TV boxes run using a dedicated operating system (OS). The OS is much more than just aesthetic appeal and a lineup of apps, however. The OS affects the optimization and performance of your TV boxes through factors like memory utilization and OpenGL support.
The operating system of your TV box also affects any smart hubs you may have in your home. Since not all smart devices are compatible with one another, make sure your TV box works with the rest of your smart technology. If you use Amazon Alexa, you'll get the best performance results from Amazon TV devices, although these are rarely available in stock. If your home is connected through Apple technology, you'll need an Apple TV with an iOS for compatibility.
A TV box will be functional no matter which operating system you choose, but make sure you buy one with an up-to-date OS for improved performance.
And if you have a smart home, you'll enjoy greater synergy if your TV box uses the same OS as your smart hub.
2. Audio Passthrough
Audio passthrough is a feature that allows the sound of a video file to "pass through" the TV box and onto a home theater receiver, which is better able to decode and translate the compressed sound files.
In other words, audio passthrough is a feature designed to make your movies, TV shows, and even music sound better. While not all TV boxes are equipped with an audio passthrough, the feature is frequently found in KODI due to its versatility, and some TV boxes even have a 5.1 audio passthrough. This feature isn't essential for everyone but it's a good thing to keep an eye out for.
3. Dynamic Refresh Rate Switching
Dynamic Refresh Rate is another technical term you may or may not be familiar with. Dynamic refresh rate refers to how quickly your TV devices or computers process and project what you're viewing. 60Hz is considered to be ideal because at that refresh rate, the human eye can no longer detect blinking, or how fast the computer redraws the images.
Unfortunately, not all videos are coded to 60Hz, and when you're viewing a movie rendered at 30Hz on 60Hz settings, it's not going to look very good. Dynamic refresh rate switching allows the TV Box to automatically compensate for the difference in frame rate, syncing the lower frame rate of your movie with the higher frame rate of your TV for better visual appeal.
For this feature to work, however, you will have to ensure that your software (such as KODI), your hardware (Android, Fire TV, etc.), and your television itself are equipped with dynamic refresh rate switching. If just one of them does not have the feature, you will have to manually adjust the frame rate.
4. HDMI, Ports, and WiFi
For the sake of economy, I'm lumping a variety of important ports, such as HDMI, Ethernet, and USB ports together in one category. While these ports have little in common with one another, they are all very important to your TV box.
Easily the most important of these ports is your HDMI port. If you have 4K TV devices and want to watch TV at 60FPS, then you're going to need HDMI 2.0. HDMI 2.0 has a bandwidth of 18GB/second, compared to the 10GB/second bandwidth of HDMI 1.4. While the earlier HDMI model can process 4.0 videos, the performance and quality will be better with a more modern HDMI.
Also important is a Gigabit ethernet cable. Gigabit Ethernet is the most advanced Ethernet connection and provides superior data transfer for less buffering during video streams. You also want to look for devices with USB 3.0. Data transfer with USB 3.0 is ten times faster than with USB 2.0, so if you're streaming videos from a flash drive or portable hard drive, you're going to want USB 3.0.
5. KODI
KODI is to your TV box what OpenOffice is to productivity software or what Mozilla is to internet browsers. Just as OpenOffice offers a facsimile of Microsoft's industry-leading word processing and data analysis software and Mozilla provides a welcome alternative to Chrome, Edge, or Safari, KODI is an open-source media center that serves as a hub for all your audio and visual activities, whether it be watching YouTube, streaming music or playing a DVD.
Because KODI is open source, it can be installed on almost any TV box. KODI is a comprehensive software program that can function on your phones, tablets, TVs, or other electronic devices, including NAS. In effect, KODI is a media hub that compiles all of your media entertainment into a single, easy-to-use program. And because it's open-source, it can be customized almost endlessly to your preferences.
One thing to bear in mind, however, is that KODI does not work nearly as well with Apple devices as it does with other operating systems. While KODI can be installed on your Apple computer, getting the software installed on your iPhone or iPad is a lot trickier. Unless you're pretty tech-savvy, you're probably not going to get KODI to work on your iPhone.
How I Picked the Best
Android TV Box
There are numerous differences that set Android TV Boxes apart. In this guide, I wanted to divulge our method of separating 'good' boxes from the very best, so without any ado, let's dive into it:
Hardware and Performance
One of the most important elements of every electronic device, especially Android TV Boxes, is its performance. It's directly affected by the quality of hardware, such as the central processing unit (CPU), graphics processing unit (GPU), read-only memory (ROM), random access memory (RAM), and available storage.
In simple terms, the CPU governs the smoothness and speed of the unit; the GPU affects all graphics elements, allowing you to run apps and games on higher settings (or preventing you from even launching them if the GPU isn't strong enough). ROM is essentially the storage you'll be able to use to store your apps while RAM affects how quickly stored data can be read (and used).
Pre-Installed Operating System
Simply put, if an Android TV Box model did not feature a pre-installed operating system, it didn't make it on the list. Now, for the models that had pre-installed software, we ranked them according to the OS version they were supplied with.
The latest Android version is 12, but only a handful of TV boxes (usually high-end models) are running on it. The importance of having an Android TV box with an up-to-date OS is huge if you plan on using the latest apps. For people who mainly enjoy watching YouTube content and movies, slightly dated Android systems aren't that much of a problem.
Supported Internet Services
Not every box can be used with Netflix, Hulu, or Spotify, let alone less popular streaming platforms. During my research, I was mainly focused on finding Android TV Boxes that were compatible with the most prominent platforms, such as Netflix, Peacock, Hulu, YouTube, Amazon Prime Video, HBO Max, Plex, and more.
Connectivity Options
There's a world of difference between an Android TV Box that can only be connected to your TV with an Ethernet cable and a model that supports Bluetooth, Wi-Fi, and LAN connectivity. In short, the more options you have at your disposal, the better the box fares in this particular field.
The emphasis is on 'options', as you'll probably mostly stick to one connection mode while using the box at home. However, let's say that you want to bring your Android TV box on your travels, or you're planning to visit a friend for a few days. In such cases, you'll be grateful to have a box that supports Bluetooth and Wi-Fi connectivity.
Alternatively, if you're a gamer and get invited to a LAN party, you won't need Bluetooth or versatile Wi-Fi connectivity – you'll need an Ethernet cable, and that's it.
The Best Android TV Boxes for 2023
| Product | Model | Video Resolution | Operating System | Price |
| --- | --- | --- | --- | --- |
| | MyGica ATV1960 | 4K UHD | Android 7.1 | |
| | Roku Ultra | 4K UHD | Roku OS 9.0 | |
| | Nvidia Shield TV Pro | 4K HDR | Android TV (9.0) | |
| | Xiaomi Mi Box S 4K HDR | 4K HDR | Android 8.1 | |
| | Yagala TV Box | 6K UHD | Android 10.0 | |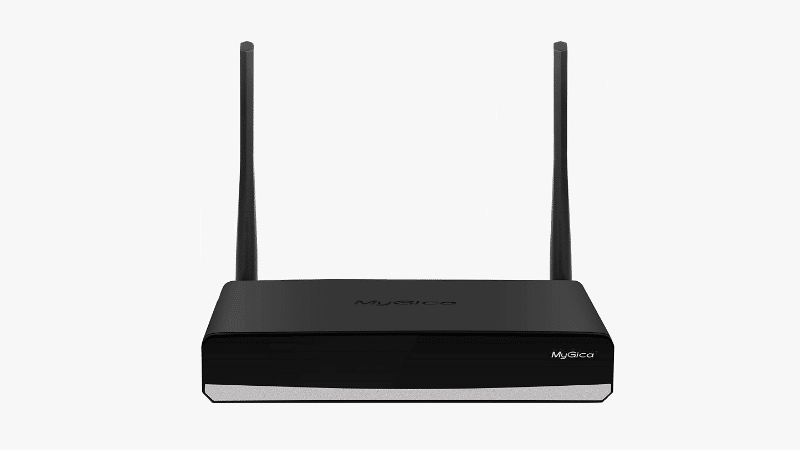 Our Editor's Pick recommendations are models that stand out from their counterparts in terms of the best value, performance, affordability, technical specifications, ease of setup, and more.
The MyGica ATV1960 Android TV Box is light years ahead of its similarly-priced counterparts in said fields of performance; even though most high-end models may be more versatile and equipped with stronger features, ATV1960 is best in its price range and suitable for nearly all wallets.
Powerful Cortex A53 Octa Core CPU and ARM Mali-T820MP3 GPU
3 GB of DDR4 memory and 16 GB of ROM
Supports 2.4 and 5.0 GHz WiFi settings
10/100 Ethernet interface
Latest Android 7.1 OS
Several USB ports
Compatible with the latest version of KODI and most tablets and smartphones
Bluetooth, HDMI port, and Wi-Fi connectivity options
Voice control remote
Best Android TV Boxes Under $75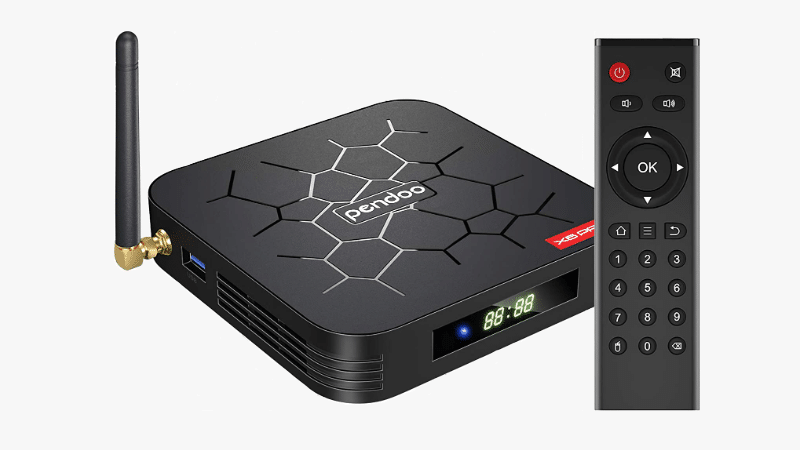 No two people are of the same mind about everything. This is as true of shopping preferences as it is of anything else. It's why one person buys off-brand peanut butter at Dollar Tree and another buys organic peanut butter sold in a glass jar from a health food store.
More often than not, though, you can pay less and still get a good product. Take the HKMLC Android TV Box, for example. It offers nearly all of the features you'd expect from a TV box: 4K resolution compatibility, H.265 hardware decoding, a 1.5 GHz quad-core processor, support for 2.4 GHz WiFi and Bluetooth BT 4.2, 4 GB of memory, and 32 GB of storage space.
It supports 3D imaging, unlike the vast majority of similarly priced products, and its storage memory is pretty great considering the price. There's much value to be had in a budget powerhouse such as the HKMLC Android TV Box, as it allows you to have numerous applications installed, especially if you're into gaming.
However, TV boxes that run on older versions of Android OS are fairly common in this price range, and that includes this particular model as well. There is a chance that certain newer apps won't be compatible with the HKLMC Android TV Box.
Unfortunately, KODI doesn't come pre-installed with this Android TV Box, which isn't overly surprising – most budget Android TV Boxes feature outdated versions of KODI, so you'd have to update to the latest software version in other cases anyway. Aside from these shortcomings, there shouldn't be any more surprises when you start using it.
Whether you're looking for an Android TV Box to watch clips on YouTube, games, or watch movies, if you're not too keen on paying a lot for your first box, HKLMC X6 will get you where you want to go.
Although HKLMC Android TV Box X6 Pro can't compete with the high-end models in this guide, it offers great value and doesn't cost a ton of bucks for you to reap its many advantages. If you're looking for a box to watch 3D movies, play video games, or enjoy your favorite Android apps without making a dent in your wallet, this may be the perfect choice for you.
Pros
Very affordably priced
Excellent processor and memory
Ideal for tablet and smartphone gaming, watching clips on YouTube, or enjoying your favorite movies
Supports 3D imaging
Remarkably simple setup
Great wireless connectivity, including both Bluetooth and Wi-Fi
Cons
Potential issues with performance may be caused by its dated OS
KODI does not come pre-installed
No USB Ports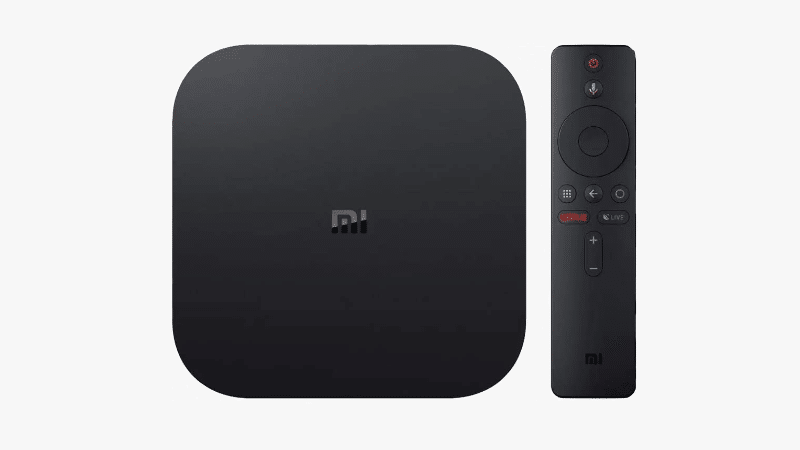 When shopping for a TV box, one of the things you should keep in mind is that most products prioritize certain features over others.
Some Android TV boxes aim, not to specialize in one area or another, but to generalize, providing a well-rounded overall experience. These boxes may not be the best of anything, but they're going to provide a well-rounded experience. The Xiaomi Mi Box S 4K HDDR Android TV Box is an icon among TV Boxes and arguably offers the best value considering how great its performance is in contrast to its low price tag.
As one of the most popular manufacturers of electronics, Xiaomi is known for producing quality products at affordable and approachable price tags.
It's actually one of the most popular Android TV box packages on the current market, with several thousand positive reviews from verified Amazon shoppers, as well as great reviews on other reputable online marketplaces.
Outfitted with the latest 8.1 Android OS, the Mi Box S is ready for 2023. The updated operating system ensures faster performance, improved software compatibility, and greater availability of the latest games and apps. The Xiaomi Mi Box S is ready for 4K video quality and compatible with 3D technology for an immersive cinema experience.
One of the key features of this Android TV Box is the ARM Cortex A53 quad-core processor. Basically, it offers exceptional performance with its Max CPU clock rate range being 957 MHZ to 2.65 GHz per core. It's fairly safe to say that not many budget TV boxes can boast about such a feature.
Regarding ROM, you'll have 8 GB of storage memory readily available for all of your apps, although you could upgrade it to 32 GB with an SD card if you want to install many applications or store your favorite videos and music tracks on this device.
While most entry-level Android TV Boxes support 2.4 GHz wireless connectivity, Xiaomi Mi Box S is compatible with 5G Wi-Fi. Again, only a handful of low-cost boxes have this feature.
To top it off, it also supports Bluetooth 4.2. Xiaomi Mi Box S also comes with an external remote control giving you control over your TV box.
This Android TV Box offers the benefit of exceptional-quality video encoding and its hardware is among the finest for the bucks you pay. Xiaomi Mi Box S is hands down, the best Android TV Box under $75. It certainly has a few issues, but given that it's inexpensive and packed with quality hardware, it's well worth the money.
Pros
Made by one of the most popular manufacturers of quality electronics
Runs on the latest Android OS (Android 8.1)
Caters to the needs of hardcore gamers, casual YouTube content watchers, and pretty much all internet users
Supports 3D and 4K compatibility
Cortex A53 Quad Core CPU
Built-in Google Assistant, works with most apps in Google Play App Store and Apple App Store
Compatible with 5G WiFi and Bluetooth 4.2
Supports 5.1 Surround Sound
Cons
On the very border with the next price point category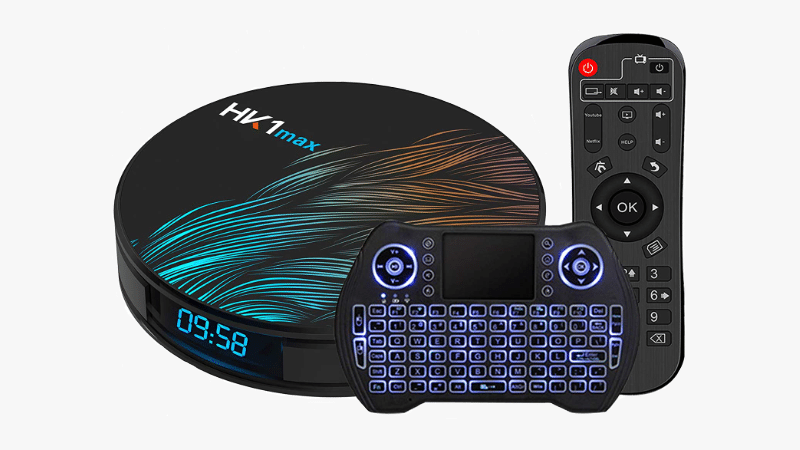 Next up we have the C Cosycost Android TV Box – a model that resembles Xiaomi Mi Box S in more ways than one, offering a similar level of performance and a set of features far above its price range.
One of the most important features to note is the operating system, and the ABOX is loaded with the latest Android 11.0 OS. The original packed the Android 10.0 OS, and C Cosycost recently upgraded it with the goal of allowing its customers to enjoy the latest Android apps. Although it doesn't have as many reviews as Xiaomi Mi Box S, the performance of this budget box allows it to go toe to toe with not just the Mi Box, but more expensive models as well.
Like the Xiaomi Mi Box S, the C Cosycost's Android TV Box sports native 4K resolution and supports 3D graphics, bringing a new dimension to your television viewing experience.
The hardware is pretty impressive for the price, as well. The TV box is powered by the same quad-core processor as Xiaomi Mi Box S (Allwinner Cortex A53), with the premium Mali G31 MP2 GPU to assist with 3D graphics acceleration.
The GPU is formidable by all accounts, and it does a nice job of improving the overall performance of the TV box. This Android TV Box also has 4 GB of DDR3 RAM and a 32 GB storage drive, which can be upgraded with an additional SD card to 32 GB.
Despite its perks, it is not a perfect product. Certain reviewers have said that the remote controller can't be used on a few apps. However, this is a fairly common problem for budget Android TV boxes, so it's not an immediate deal-breaker.
If you're looking for a decent Android TV box at a reasonable price, this is a good choice. It's not a home run, but it will get you to home plate eventually.
Pros
Runs on the latest Android 11.0 OS
Supports 3D and 4K compatibility
Great for tablet gamers
Robust CPU offers phenomenal performance and value for money
Versatile connectivity options
Cons
Remote controller can't be used on some apps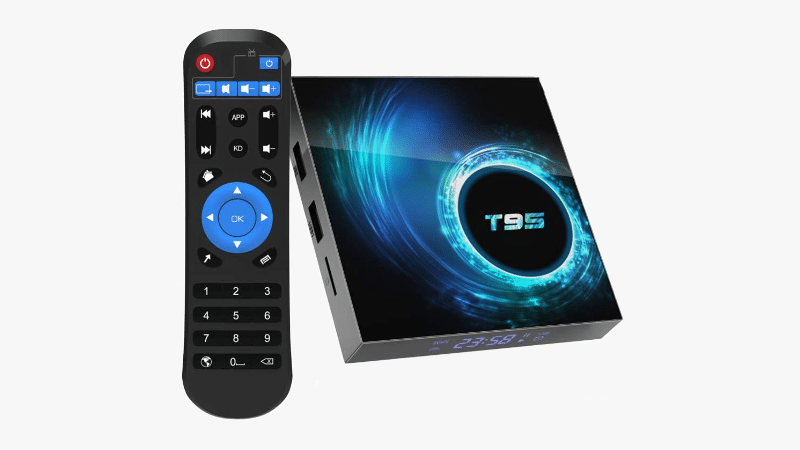 Let's wrap up the best budget Android TV Boxes section with Yagala's T95 Android 10.0 Smart Box. In a nutshell, it's a solid model that offers numerous advantages in comparison to its dirt-cheap counterparts, but its features and versatility leave room for improvement.
First of all, it should be noted that the fact that Yagala's TV Box has fewer reviews than the Mi Box doesn't necessarily mean that its four stars on Amazon aren't deserved. Both are budget boxes that offer tremendous value for the bucks, so let's dissect Yagala's box to see how it's different.
Starting with basics, Yagala's T95 Android 10.0 Smart Box runs on the Android 10.0 OS, which is pretty decent considering the price. Given that the latest Android version is 12, you probably won't be able to install the newest apps, but you'll still get to enjoy the classics, as well as titles that are compatible with older versions.
In terms of CPU, Yagala's T95 Android Smart Box is outfitted with the Cortex TM A53 processor and Amlogic's Allwiner H616 chipset. This means that premium-quality 4K decoding is the least you should expect at roughly 60 frames per second.
Memory-wise, this Android TV Box features 4 GB of DDR3, as well as 32 GB of eMMC Flash memory. Its internal storage is massive in comparison to the majority of low-budget Android boxes, allowing you to store various games, movies, clips, as well as tons of music albums.
It supports H.265 6K output, ensuring that your movie-watching experience at 4K is smooth and thoroughly enjoyable. Regarding connectivity, it packs integrated Bluetooth 5.0, while also supporting dual-band WiFi internet connection.
According to the top-rated reviews, this system works with Hulu, Spotify, Netflix, and Kodi perfectly, allowing you to enjoy your favorite shows. Sadly, it won't work with Comcast unless you're using an HDMI cable.
To summarize, its specs are far stronger and offer more value than you'd normally get from an inexpensive Android TV Box. Its connectivity options are pretty decent, and you shouldn't have any problems even though it doesn't feature too many USB ports. It works with the most popular apps and platforms due to its updated OS. Despite its small shortcomings, Yagala's T95 Android 10.0 Smart Box is the winner you're looking for.
Pros
Phenomenal hardware
Top value for money
Beautiful 4K resolution at 60 FPS
High affordability contrasts its excellent performance
Integrated Bluetooth 5.0
Superb storage and RAM
Cons
Won't work with certain newer apps
Best Android TV Boxes Under $100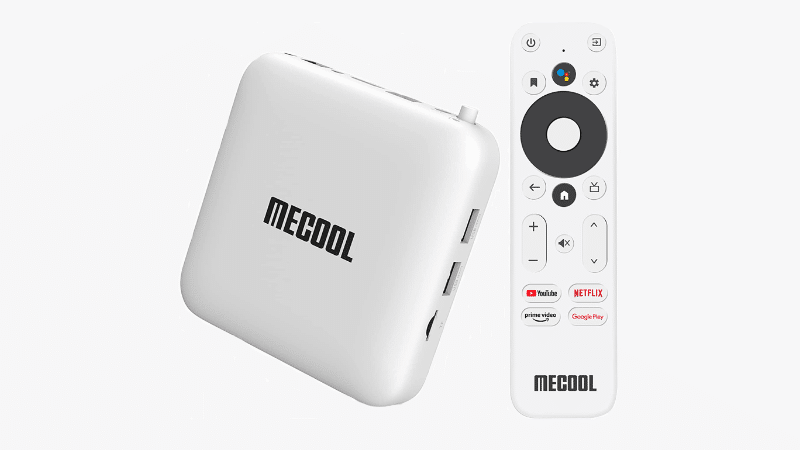 If you're looking for an Android jTV box, but want something with better hardware and more capabilities than the boxes listed above, then the MeCool KM2 Smart TV Box might be more your speed. In terms of hardware, software, and performance, the KM2 Smart Box blows less expensive Android boxes out of the water. Hundreds of Amazon reviewers have graced it with impeccable ratings, so let's see why everyone loves it so much.
MeCool runs the Android 10.0 OS. Although we've seen boxes with a more up-to-date operating system, this one is still capable of running the majority of the latest apps and games. Unfortunately, it does not come with pre-installed Kodi, but to compensate, it's both Google and Netflix-certified.
The hardware of MeCool Android Smart Box is comprised of 2 GB of RAM and 8 GB of storage memory. By inserting a memory card into the MicroSD card slot, you can upgrade it, but most users have reported that the memory-related issues were the biggest drawback of this TV box.
Additionally, MeCool sports an ARM G31 MP2 graphics card and the Allwinner Cortex A53 quad-core processor. The H.265 HEVC video codec, built-in Bluetooth version 4.2, and support for both 2.4G and 5G Wi-Fi are excellent additions to the already formidable catalog of features this smart box is equipped with.
As you might imagine, the MeCool KM2 supports both 4K and 1080p resolutions, as well as H.265 hardware decoding to minimize the pull on bandwidth. The TV box comes with a convenient remote controller, so you don't need to trouble yourself with all the buttons on your TV.
Overall, we've seen Android TV Boxes with stronger features that wouldn't burden your wallet as much, but the well-roundedness of MeCool is what makes it so great for the bucks. If you're looking for an Android box that will provide you with quality performance at all times, this may be what you are after.
Pros
Powerful Cortex A53 quad-core processor
Supports both 2.4G and 5G WiFi, as well as Bluetooth 4.2 version
Google and Netflix Certified
Can cater to the needs of all internet users
H.265 HEVC encoding support
Cons
Users may face issues with storage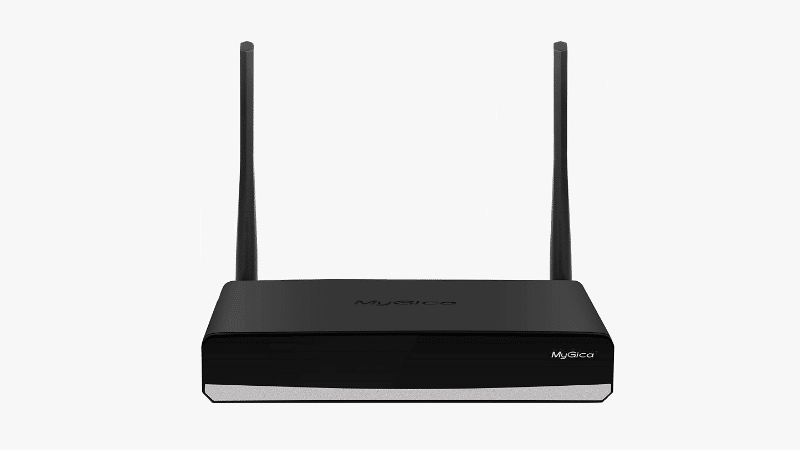 MyGica's ATV1960 is one of the strongest mid-tier Android TV Boxes available on the current market, sporting exceptionally powerful hardware, support for Dolby Vision and HDR10, versatile internet connectivity options, and much more. It's an excellent choice, whether you want to watch your favorite YouTube content, enjoy gaming all day long, or entertain yourself with your favorite apps.
Where the ATV1960 differs from the MeCool KM2 is in its RAM and ROM. The MyGica ATV1960 offers 3 GB of DDR4 RAM, whereas most others offer just 2 GB of DDR3. It also comes ready with 16 GB of storage, saving you from the hassle and expense of buying an SD expansion card. The extra RAM dramatically increases the speed and performance of the TV box for a better entertainment experience.
Due to the fact that it supports 4K2K Ultra HD video playback at 60 frames per second, it edges most of its similarly-priced counterparts out quite easily. It works best with HDR-enabled TVs, as its HDR10 playback support offers vivid graphics with pristine clarity.
Last, but certainly not least, MyGica ATV1960 features a voice control-enabled remote controller. You won't need to go through the hassle of clicking buttons whenever you want to launch another app – just use the voice control feature to activate it instantly via voice commands.
If you don't have any issues with paying a bit more, MyGica's ATV1960 offers superior value due to its outstandingly strong hardware; it offers more convenient movie-watching and app-using experiences with the voice control remote and the fact that you'll get the performance of a high-end Android TV box for the price of a mid-range one speaks volumes about its value for money.
Pros
Powerful 8-core processor
More memory and storage space
Voice Control Remote Controller eliminates the hassle of using buttons to switch between apps, allowing you to use voice commands instead
HDR10 support for superb graphics clarity
Cons
Slightly more expensive than most Android TV Boxes in this price range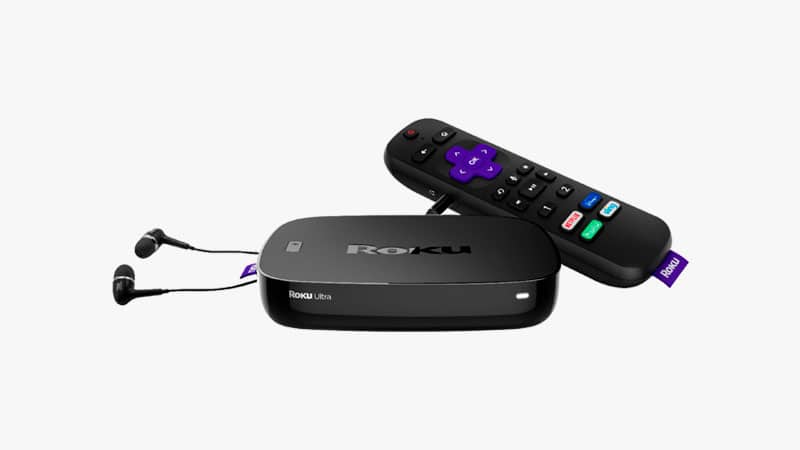 The hardware of the Roku Ultra doesn't begin to compete with that of the Xiaomi Mi Box S, let alone the MyGica ATV1960. So why is it on this list? It's simple: ease of use.
Unlike most Android TV boxes, which are all made by competing companies, Roku offers a refined, polished viewer experience.
One of the biggest differences between Roku and other Android devices is the software. Kodi is one of the most popular pieces of multimedia software, but its programming is not supported by Roku. Instead, Roku offers its own bespoke media channel, offering hundreds of movies and shows free of charge.
Android TV boxes tend to have problems supporting sports streaming apps. This is another area where Roku excels, working closely with sporting applications to provide a better experience. Roku also provides a dedicated mobile app, allowing you to refine and control your streaming and media experiences without using the remote control. Furthermore, it works with HBO Max, Showtime, Google, Hulu, Netflix, Disney Plus, Apple TV, and pretty much all live TV platforms.
As far as hardware goes, Roku isn't that impressive. Its quad-core processor works just fine, but at a mere 256 MB, its storage space is dangerously finite. It has just 1.5 GB of RAM, which is also substandard. While it supports dual-band WiFi, the Ethernet only goes to 10/100 MB.
If you're looking for a TV box with great hardware, Roku isn't the way to go. It is almost exclusively intended for video file streaming and doesn't offer a lot of options for playing games or streaming music. But when it comes to streaming movies or YouTube content, Roku is the current market's top-selling winner.
Pros
Wide variety of available channels
Comes with headphones for immersive listening
Great for streaming video files
Perfect for streaming YouTube content and movies
Access to over 500,000 movies and shows on your TV
Works with Google, Hulu, HBO Max, Disney Plus, Showtime, and Netflix and is ideal for watching content on YouTube
Cons
Limited hardware capabilities
Best Android TV Boxes Under $300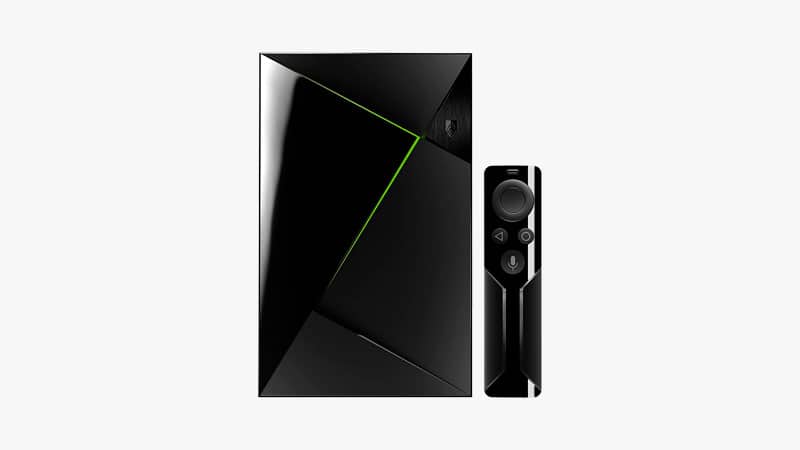 If you're looking for a way to connect your PC gaming with your Smart TV, the answer is the Nvidia Shield TV Pro Home Media Server. As one of the most popular companies in electronic products, Nvidia is constantly releasing top-tier products, and Shield TV Pro is a perfect example of this.
Nvidia Shield TV Pro TV box uses an advanced GPU and its potent wireless connection to cast your PC gaming to the screen of your television without any direct hardware connection, freeing you to play games your way.
The iconic Nvidia Shield TV Pro comes with formidable hardware. The innovative processor combines two different quad-core CPUs, relegating four cores to simple, low-power tasks and freeing the other four cores for advanced processes, leaving you with more processing power. Nvidia Shield TV Pro's 3 GB of RAM offers plenty of speed and an incredible 500 GB of storage that leaves other TV boxes in the dust.
One of the most exciting features of the Nvidia Shield TV Pro is an exclusive lineup of Android games designed exclusively for use with this model. Its advanced wireless architecture also allows for easy streaming of PC games from the cloud straight to your TV. Immersive audio technology includes full Dolby audio and surround sound passthrough.
In addition, the Nvidia Shield TV Pro is fully compatible with the Google SmartThings smart hub assistant, connecting your TV box with your smart hub to provide a clear visual interface with all of your smart devices to control your home. The Shield Pro is also compatible with a wide range of streaming services, including popular channels, streaming sports stations, PLEX, KODI, and more.
The Nvidia Shield Pro isn't cheap. It costs several times more than the average Android TV box, and for a lot of people, the extra RAM and powerful GPU won't be worth the additional cost. If you're mainly into watching content on YouTube, you can do so with any budget box, but if you're serious about gaming, the Shield Pro could revolutionize the way you play.
Overall, Nvidia's Shield TV Pro is a clear winner as it offers the full package – top performance, excellent hardware, plenty of room, and a fairly easy setup. In terms of RAM, ROM, and CPU, there are maybe a handful of TV boxes that could even come close. However, many people may have problems affording it, as it's also the most expensive model on the list.
Pros
Made by one of the most trustworthy companies in the field
Advanced CPU and 256-core GPU
500 GB of storage space
Built-in Google Assistant
Simple account setup
Stream video games from your PC to the TVs
Android TV boxes come in almost as many varieties as Android phones, and the abundance of choices can make it hard to separate the wheat from the chaff.
Whether you're looking for a simple budget-friendly model or a powerhouse giant that will revolutionize your home or anything in between, I hope that this guide will help you find what you're looking for.
Photo Credit: Unsplash