Picture this.
You're riding in a taxi, on your way to work.
You'll be pitching a business proposal to your manager in several hours. You've been mulling over how to present your idea for several days.
Suddenly, it hits you!
You reach into your briefcase, pull out a voice recorder and capture your thoughts before they have a chance to escape.
There are any number of reasons why you might need a digital voice recorder. Maybe you want to use it to capture ideas like the businessman in the story above. Or perhaps you're a journalist and you use a voice recorder to capture ideas for your next article.
Many famous songwriters use voice recorders to capture musical ideas away from the studio, and business professionals use them to record important points in a conference for easy reference down the road. Some students use voice recorders to capture important parts of a lecture or to help them study for a test.
If you are in the medical or legal industry, you may want to consider using a voice recorder as well. Doctors and nurses can use digital voice recorders to capture notes about their patients and record information during a procedure, rather than relying on written notes. Attorneys and lawyers may use voice recording to help them prepare for a case.
QUICK OVERVIEW: THE BEST DIGITAL VOICE RECORDERS IN 2020
Voice recorders can be especially helpful in criminal justice. Police investigators can use them to take notes when they're out in the field, and detectives rely on them to record conversations with witnesses and suspects away from the police station.
One of the more modern uses for a digital voice recorder is transcription. Advanced transcription software allows people to create digital documents by speaking into a microphone. Voice recognition programs record the audio data and convert it into text. You've probably seen this used on a small scale with text messages. Imagine how helpful it would be to transcribe reports and documents automatically with your voice instead of using a keyboard!
As you might expect, the quality of these devices varies dramatically with their price, and your needs will heavily influence the quality of recorder you require. The following guide will help you to select a digital voice recorder most suited to your individual needs.
Things to Consider
There are a number of factors to keep in mind as you weigh the strengths of various devices. These include recording quality, storage capacity, size of the device, versatility of the machine, systems compatibility, voice recognition software and more. Five of the most important items of consideration are listed below.
1. Memory Capacity
The available storage space, or memory capacity, available on your digital recorder determines how long you are able to record before transferring or deleting files. This is directly influenced by the recording file (mp3, wave) and by the fidelity, or quality, of the recording.
2. Recording Quality
The recording quality plays a major role in how clear your recordings are. While this is is also influenced by the quality of your microphone, the higher the bitrate, the better and clearer your recording will sound. Bear in mind that recordings at higher bitrates take up more data.
3. Interface
A voice recorder interface can be measured by two different standards: how easy it is to use, and how advanced and comprehensive the controls are. Some voice recorders have a simple user interface, ideal for those who don't need a lot of fancy bells and whistles. If you demand more out of your voice recorder, more expensive model often has more ways to fine-tune your recordings.
4. Operating System Compatibility
For many people, it is important that their voice recorder be able to transfer recordings from the device to a computer. This is typically done through a USB connection. Although most recorders will be compatible with both Windows and Apple software, it's a good idea to double check before you buy.
5. Transcription Technology
Some advanced voice recorders have transcription technology that can be used in conjunction with compatible software and computers to transpose audio files into word documents. The practical applications of this feature are almost limitless.
Editor's Pick
Choosing the best voice recorder was a challenge because many of the high-end voice recorders are designed with a specific audience or purpose in mind. We felt that the best all-around universal voice recorder was the Philips DPM6000 Digital Pocket Memo Voice Recorder.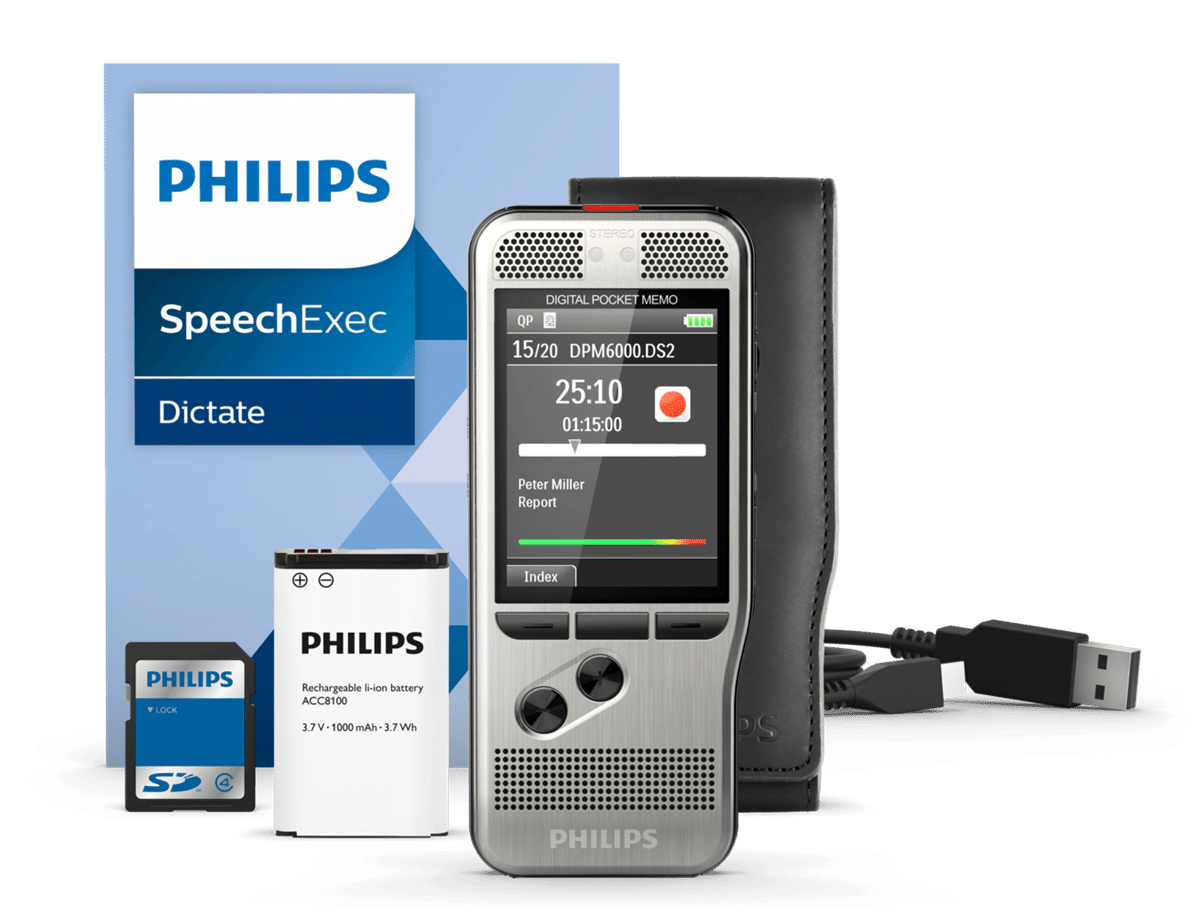 Two built-in microphones provide superior stereo audio recordings
Sturdy stainless steel casing offers extra durability
Records in DSS format compatible for dictation software
Includes a 4 GB microSD card
Uses a rechargeable lithium-ion battery
Includes USB cable for recharging
Check Price on Amazon or Directly Add to Cart on Amazon
.
Best Digital Voice Recorders Under $50
15. EVISTR Mini Digital Voice Recorder Black
If you're looking for an easy-to-use digital voice recorder, the EVISTR Mini is an excellent bargain. This recorder is packed with useful features and is available at an extremely reasonable price.


This is a very powerful and effective voice recorder. It has 8 GB of memory storage, allowing it to record up to 20 hours of continuous audio. The EVISTR Mini records in MP3/WAV format audio at 384 kbps, meaning you'll get MP3-quality recordings with strong fidelity. If you lower the bitrate, you could record even more. If quality isn't a concern, you could record up to 560 hours (over 23 days) at 32 kbps.
The voice recorder is easy to use as well. Its simple operation involves just four buttons – record, stop, play and menu – so you can use your recorder right out of the package. The recorder body is made out of metal, and it comes with a USB 2.0 cable that allows you to quickly and easily transfer your recordings to the computer.
The EVISTR Mini is compatible with both PC and Mac, but additional software is required for your Mac to play back the audio files.
Check Price on Amazon or Directly Add to Cart on Amazon
.
Best Digital Voice Recorders Under $100
14. Olympus WS-852 Digital Voice Recorder 
The Olympus WS-852 Digital Voice Recorder is another fine example of an inexpensive digital voice recorder with a fine performance. Although it is comparable to the EVISTR Slim, there are several significant differences between the two.


Although it only has 4 GB of memory, the Olympus WS-852 records audio in MP3 rather than Wave format. This leads to smaller file sizes, which means that the 4 GB of memory on the WS-852 can record far longer than the 8 GB of the EVISTR Slim. In fact the WS-852 can store over 1000 hours (41 days) of audio recordings.
The Olympus WS-852 has some exciting features. For example, it's Intelligent Auto Mode automatically adjusts the mic sensitivity to the volume of your voice. If you're in alone in a small room, it will turn the sensitivity down, and if you're trying to take notes in a lecture hall, it'll compensate for this as well.
The voice recorder also has two different information modes. It has a simple mode, that displays only the most pertinent information, which is helpful for anyone unaccustomed to the screen. It also has a normal mode that is suitable for advanced users who want more control over their recordings.
Thanks to its special design, you don't need a USB cable to connect the WS-852 to a computer. Rather, a direct USB port is built into the model, allowing you to plug the voice recorder directly into your computer. Thanks to an impressive memory life and convenient design, this is an excellent choice for a low-cost voice recorder.
Check Price on Amazon or Directly Add to Cart on Amazon
.
13. SONY ICD PX333 Digital Voice Recorder
Despite some aesthetic differences between this and the Olympus WS-852, the Sony ICD PX333 Digital Voice Recorder shares many of the same features and compares quite favorably to Olympus model.


Like the Olympus WS-852, the ICD PX333 comes with a 4 GB microSD memory card and records audio in MP3 format. It can record audio for up to 1073 hours (45 days), providing you with virtually limitless audio storage capacity. It has a noise removal feature that works to remove unwanted background noises, helping to make your voice recordings more clear.
The ICD PX333 is compatible with both Apple and PC computers and comes with a USB cable for file transfer. It is compatible with all modern operating systems. The recorder runs on two AA batteries.
If you're looking for an advanced voice recorder, this isn't going to blow you away. But if you just want a simple, no-frills device, you can't go wrong here.
Check Price on Amazon or Directly Add to Cart on Amazon
.
12. Zoom H1 Handy Portable Digital Recorder
Not all digital voice recorders look alike. The first thing you'll notice about the Zoom H1 Handy Portable Digital Recorder is that it looks nothing like a typical voice recorder. With it's red LED screen and stylish miniature microphone, this is one of the best-looking voice recorders on the market.


Although the recorder comes with just 2 GB of storage space, you can upgrade it up to a 32 GB microSD card. The devices has no on-board memory and records directly to the microSD, which makes it more convenient for transferring SD drives. It can record both MP3 and WAV audio formats with stereo sound and it has automatic level control. It runs on a single battery, which can be either alkaline or nickel-metal hydride.
Check Price on Amazon or Directly Add to Cart on Amazon
.
11. TASCAM DR-05 Portable Digital Recorder
The TASCAM DR-05 is another digital recorder with an innovative, modern design. It's not quite as stylish as the Zoom H1, but the interface is much better designed, so it's a wash.


Like most of the other voice recorders so far, the TASCAM comes with a 4 GB microSD card, but it can be upgraded all the way to 64 GB. One major difference between the TASCAM and other models is the length of the recording time, however. While most models with 4 GB can record for around 1000 hours, the TASCAM maxes out at around 150 hours, although that's still over six days of recording.
You can record in either MP3 or WAV formats, and you can choose from a wide range of quality, including 320 kbps MP3 and audio lossless wave files. It records audio clearly and offers noise reduction as well. This may not be the best voice recorder out there, but it's not disappointing either.
Check Price on Amazon or Directly Add to Cart on Amazon
.
Best Digital Voice Recorders Under $150
10. Sony ICD-UX533BLK Digital Voice Recorder
The Sony ICD-UX533BLK is a simple, easy-to-use voice recorder with large, buttons that are easy to read. In fact, the ICD-UX533BLK looks just like a remote controller, with a large menu button that lets you play your recordings and scroll through your menu with ease.


Like many other digital recorders I've reviewed, the ICD-UX533BLK comes with 4 GB of stored memory able to record up to 1073 hours of audio footage. It also has an expansion bay for a micoSD card, potentially allowing you to double or even triple your recording time.
This voice recorder is programmed to automatically adjust its sensitivity levels depending on your voice and on the environment. If you prefer to have more direct control over mic sensitivity, you can adjust it manually as well. Unlike a lot of cheaper models, this voice recorder utilizes stereo recording, providing richer and more detailed vocal recordings.
There are other things to like here. The ICD-UX533BLK has a built-in USB port, allowing you to plug the recorder directly into your computer. It provides 30 hours of life on a single battery, and works with rechargeable batteries, saving you money. You can choose to record in a variety of formats as well, including MP3, WAVE, Windows Media Audio and AAC.
The ICD-UX533BLK may not have a lot of advanced features such as audio transcription, but you would be hard pressed to find a better, more user-friendly voice recorder for the price.
Check Price on Amazon or Directly Add to Cart on Amazon
.
9. Olympus VN-8100PC Digital Voice Recorder
Like most digital voice recorders, the Olympus VN-8100PC has both advantages and disadvantages over comparable models. And, like most other voice recorders, those advantages and disadvantage are not necessarily directly connected with its price.


The VN-8100PC comes with 2 GB of internal memory storage, which allows for up to 843 hours (35 days) of recording time. It has a large LCD screen with extra large fonts, making it easier to read, and it can record in both MP3 and WMA (Windows Media Audio) formats.
The voice recorder uses a USB cable to connect directly to your PC for file transfer. It also comes with a headphone jack so you can review your audio recordings privately, perfect for settings where playback would be distracting to others. This isn't a perfect recorder and it does have some limitations, but it works very well for the price.
Check Price on Amazon or Directly Add to Cart on Amazon
.
Best Digital Voice Recorders Under $200
8. Zoom H2n Handy Digital Recorder
The Zoom H2n Handy Digital Recorder is stylish, compact voice recorder with a number of powerful features. Although it suffers from a lack of buttons which can make using it more complicated, the audio recording quality is top-notch.


The H2n comes with a 2 GB microSD capable of upgrading to 32 GB. It has five built-in microphones for superior audio and comes with four different recording modes, including 2- and 4-channel stereo recordings.
Although the controls are not the most intuitive, the audio recording quality of this recorder is absolutely excellent. Features such as Auto Gain and Data Recovery give it an edge over similar models, and it runs for up to 20 hours on just two batteries.
Check Price on Amazon or Directly Add to Cart on Amazon
.
7. Zoom H4N PRO Digital Multitrack Recorder
Recently released in 2016, the Zoom H4n Pro represents the latest in digital audio recording technology.


The advanced microphones allow you to record in either stereo or 4-channel audio, and the built in X/Y stereo microphones and can handle up to 140 dB SPL (sound pressure level). This is an extremely high threshold, allowing these microphones to accurately capture a wide range and volume of sounds.
Although it can support a microSD chip of up to 32 GB, there is one downside: the H4n does not ship with a microSD. That's hardly a dealbreaker, however: you can buy a 32 GB microSD for less than $15. Considering how cheap they are, I'm a little surprised they didn't just include one anyway. But there's no reason to nitpick; the H4n records superior audio.
Check Price on Amazon or Directly Add to Cart on Amazon
.
6. Sony Digital Flash Voice Recorder
The Sony Digital Flash Voice Recorder is another fine example of a digital voice recorder with a lot to offer. There's nothing flashy or innovative here, but the recorder does its job exceptionally well.


Although the screen overflows with enough information to be overwhelming, theis digital voice recorder delivers where it is expected. 4 GB of microSD storage provides over 1000 hours of quality stereo sound.
In addition to the already-supported flash memory, the Sony Digital comes with a bay for a microSD expansion, offers both automatic and manual level control, intelligent noise reduction and two different recording/playback modes.
Check Price on Amazon or Directly Add to Cart on Amazon
.
Best Digital Voice Recorders Under $250
5. Philips DPM6000 Digital Pocket Memo Voice Recorder
We're starting to get to some truly top-notch digital voice recorder, and the Philips DPM6000 is a great place to start. Ditching the unsightly text-heavy screens of less expensive models, the redesigned screen on the DPM6000 provides the same valuable data with a less distracting display.


The DPM6000 is the first voice recorder on this list to be able to record in Digital Speech Standard. Digital Speech Standard, or DSS, is a proprietary compressed digital audio format specially designed to work with dictation software, providing more accurate results than standard audio files.
Two microphones are incorporated into the high-tech design of the DPM6000, allowing you to record in high-fidelity stereo. The case is made of out stainless steel for extra durability. The DPM6000 comes with a 4 GB microSD and uses a rechargeable lithium-ion battery. The docking station for easy recharging can be bought separately.
Check Price on Amazon or Directly Add to Cart on Amazon
.
Best Digital Voice Recorders Under $300
4. TASCAM DR-100mkII 2-Channel Portable Digital Recorder
The TASCAM DR 100mkII is designed with an almost excessive proliferation of buttons, but this does mean that it is easy to use. Although it uses the same basic design as the TASCAM DR-05, the 100mkII is a far superior recorder.


Locking XLR inputs accept both line inputs and balanced mic channels. A set of microphones on each side of the digital recorder picks up sound from all directions and the voice recorder is set up with a dual battery system for improved lifespan, even out in the field.
The 2 GB microSD is nothing revolutionary, but it is perfectly adequate for virtually all recording purposes. The recorder also includes S/PDIF digital inputs, and is powered by rechargeable lithium-ion batteries.
Check Price on Amazon or Directly Add to Cart on Amazon
.
Best Digital Voice Recorders Under $400
3. Zoom H6 Portable Recorder Kit
If you need a serious voice recorder with a lot of professional features, the Zoom H6 Portable Recorder Kit is a great choice.


Not only does the H6 comes with four knobs allowing you to control various aspects of your recordings, but the H6 is built incredibly tough, with a windbuster that offers audio protection from the wind and a whopping 16 GB microSD card that can store thousands of hours of digital recordings.
The H6 is not cheap, and since it has a lot of audio customization and enhancement features, it can take a bit of time to become acquainted with all the various features. But if you're a journalist, musician or detective who works out in the field, the H6 is an invaluable tool.
Check Price on Amazon or Directly Add to Cart on Amazon
.
2. Olympus DS-3500 Professional Dictation Digital Recorder
Designed especially to use with professional dictation software, the Olympus DS-3500 is an exceptional voice recorder. Using DSS audio files, the DS-3500 offers unparalleled freedom over your dictation process.


This voice-activated digital recorder gives you the power to erase, either partially or completely, insert additions, overwrite existing information and even append your file, all by speaking into the microphone. No more typing and constant backtracking to remove typos or correct your grammar.
Best of all, the DS-3500 comes with password protection and file encryption. This means that no matter how sensitive your work may be, you can be sure your information will be safe. If you need a specialized DSS voice recorder, this is the one you want.
Check Price on Amazon or Directly Add to Cart on Amazon
.
Best Digital Voice Recorders Under $600
1. Roland R-26 6-Channel Digital Field Audio Recorder
The Roland R-26 is designed with professionals in mind, especially those working in journalism, music or film. This advanced voice recorder uses two different types of built-in in mics for incredible audio clarity and can record in up to six channels.


Although the mics built into the R-26 are quite capable in and of themselves, you also have the option of connecting an independent microphone and using the R-26 to control your recordings. You can choose to record in either WAV or MP3 formats.
The R-26 also includes software that will aid you when it comes time to transfer your files to a PC. Although the recorder is compatible with Mac computers, the software only works on PCs. Nevertheless, this is an excellent voice recorder perfect for the ardent professional.
Check Price on Amazon or Directly Add to Cart on Amazon
.
Conclusion
There is no shortage of voice recorders on the market, and this list is just the tip of the iceberg. Since we know you live busy lives, we hope this guide has helped you to find and pick the right voice recorder to suit your individual needs. If you have any comments, please let us know in the comment section below. We'd love to hear from you!