Picture this.
You're riding in a taxi, on your way to work.
You'll be pitching a business proposal to your manager in several hours. You've been mulling over how to present your idea for several days.
Suddenly, it hits you!
You reach into your briefcase, pull out a voice recorder and capture your thoughts before they have a chance to escape.
There are any number of reasons why you might need a digital voice recorder. Maybe you want to use it to capture ideas like the businessman in the story above. Or perhaps you're a journalist and you use a voice recorder to capture ideas for your next article.
Many famous songwriters use voice recorders to capture musical ideas away from the studio, and business professionals use them to record important points in a conference for easy reference down the road. Some students use voice recorders to capture important parts of a lecture or to help them study for a test.
If you are in the medical or legal industry, you may want to consider using a voice recorder as well. Doctors and nurses can use digital voice recorders to capture notes about their patients and record information during a procedure, rather than relying on written notes. Attorneys and lawyers may use voice recording to help them prepare for a case.
The Best Digital Voice Recorders for 2022
Voice recorders can be especially helpful in criminal justice. Police investigators can use them to take notes when they're out in the field, and detectives rely on them to record conversations with witnesses and suspects away from the police station.
One of the more modern uses for a digital voice recorder is transcription. Advanced transcription software allows people to create digital documents by speaking into a microphone. Voice recognition programs record the audio data and convert it into text. You've probably seen this used on a small scale with text messages. Imagine how helpful it would be to transcribe reports and documents automatically with your voice instead of using a keyboard!
As you might expect, the quality of these devices varies dramatically with their price, and your needs will heavily influence the quality of recorder you require. The following guide will help you to select a digital voice recorder most suited to your individual needs.
Things to Consider
There are a number of factors to keep in mind as you weigh the strengths of various devices. These include recording quality, storage capacity, size of the device, versatility of the machine, systems compatibility, voice recognition software and more. Five of the most important items of consideration are listed below.
1. Memory Capacity
The available storage space, or memory capacity, available on your digital recorder determines how long you are able to record before transferring or deleting files. This is directly influenced by the recording file (mp3, wave) and by the fidelity, or quality, of the recording.
2. Recording Quality
The recording quality plays a major role in how clear your recordings are. While this is is also influenced by the quality of your microphone, the higher the bitrate, the better and clearer your recording will sound. Bear in mind that recordings at higher bitrates take up more data.
3. Interface
A voice recorder interface can be measured by two different standards: how easy it is to use, and how advanced and comprehensive the controls are. Some voice recorders have a simple user interface, ideal for those who don't need a lot of fancy bells and whistles. If you demand more out of your voice recorder, more expensive model often has more ways to fine-tune your recordings.
4. Operating System Compatibility
For many people, it is important that their voice recorder be able to transfer recordings from the device to a computer. This is typically done through a USB connection. Although most recorders will be compatible with both Windows and Apple software, it's a good idea to double check before you buy.
5. Transcription Technology
Some advanced voice recorders have transcription technology that can be used in conjunction with compatible software and computers to transpose audio files into word documents. The practical applications of this feature are almost limitless.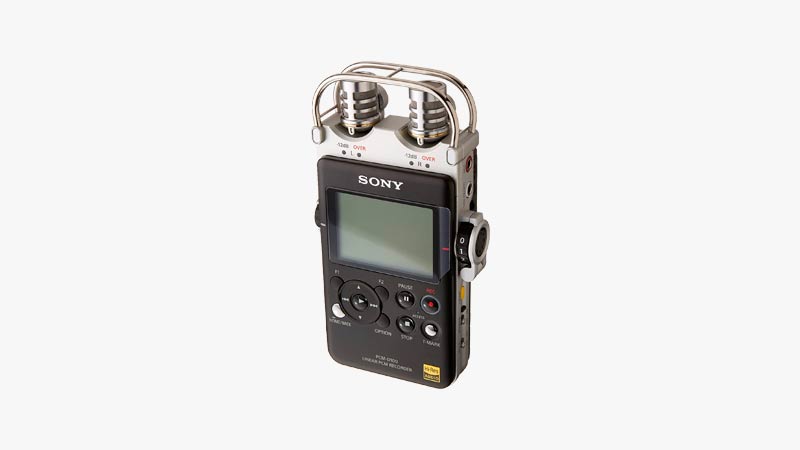 Choosing the best voice recorder was a challenge because many of the high-end voice recorders are designed with a specific audience or purpose in mind. We felt that the best all-around universal voice recorder was the Sony PCM-D100 Portable High-Resolution Audio/Voice Recorder.
2-position stereo microphones

Sturdy lightweight metal case

Records in multiple formats

32 GB of internal storage

Includes a wireless remote control
Check Price on Amazon Directly Add to Cart on Amazon
---
Best Digital Voice Recorders Under $50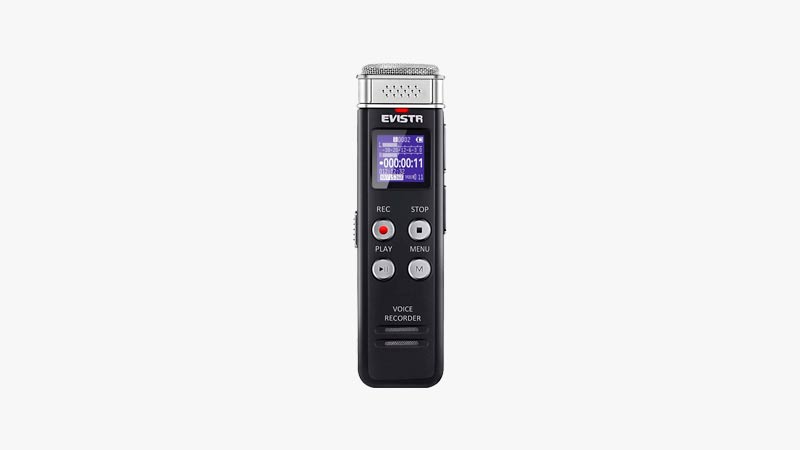 If you're looking for an easy-to-use digital voice recorder, the EVISTR 16GB Digital Voice Recorder is an excellent bargain. This recorder is packed with useful features and is available at an extremely reasonable price.
This is a very powerful and effective voice recorder. It has 16 GB of memory storage, allowing it to record up to 20 hours of continuous audio. The EVISTR 16GB Digital Voice Recorder records in MP3/WAV format audio at 384 kbps, meaning you'll get MP3-quality recordings with strong fidelity. If you lower the bitrate, you could record even more. If quality isn't a concern, you could record up to 560 hours (over 23 days) at 32 kbps.
The voice recorder is easy to use as well. Its simple operation involves just four buttons – record, stop, play and menu – so you can use your recorder right out of the package. The recorder body is made out of metal, and it comes with a USB 2.0 cable that allows you to quickly and easily transfer your recordings to the computer.
The EVISTR Mini is compatible with both Windows and Mac, but additional software is required for your Mac to play back the audio files.
Check Price on Amazon Directly Add to Cart on Amazon
---
Best Digital Voice Recorders Under $100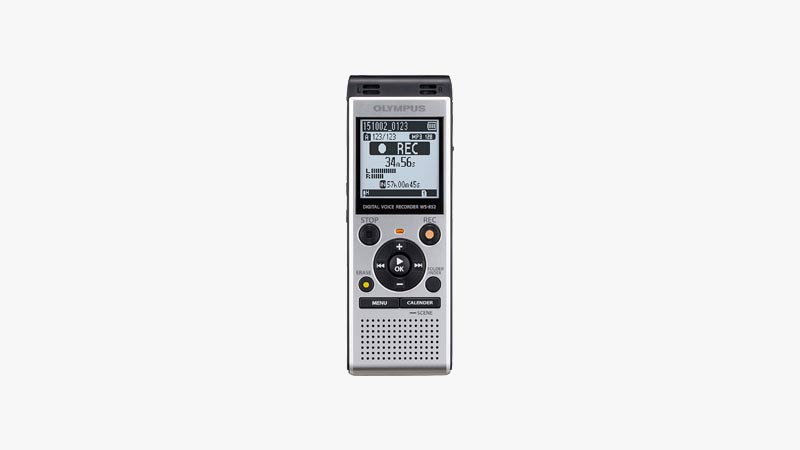 The Olympus WS-852 Digital Voice Recorder is another fine example of an inexpensive digital voice recorder with a fine performance. Although it is comparable to the EVISTR Slim, there are several significant differences between the two.
Although it only has 4 GB of memory,you can add up to 32 GB of external memory with an SD card. What's more, the Olympus WS-852 records audio in MP3 rather than Wave format. This leads to smaller file sizes, which means that the 4 GB of memory on the WS-852 can record far longer than some 8-GB recorders.
The Olympus WS-852 has some exciting features. For example, it's Intelligent Auto Mode automatically adjusts the mic sensitivity to the volume of your voice. If you're in alone in a small room, it will turn the sensitivity down, and if you're trying to take notes in a lecture hall, it'll compensate for this as well.
The voice recorder also has two different information modes. It has a simple mode, that displays only the most pertinent information, which is helpful for anyone unaccustomed to the screen. It also has a normal mode that is suitable for advanced users who want more control over their recordings.
Thanks to its special design, you don't need a USB cable to connect the WS-852 to a computer. Rather, a direct USB port is built into the model, allowing you to plug the voice recorder directly into your computer. Thanks to an impressive memory life and convenient design, this is an excellent choice for a low-cost voice recorder.
Check Price on Amazon Directly Add to Cart on Amazon
---

Another budget pick from Olympus, the Olympus WS-852 Digital Voice Recorder has, in comparison to the previous one, more memory and better performance.
The WS-853 is an 8 GB internal memory recorder that delivers high-quality MP3 recordings. It has 2 stereo microphones positioned at a 90-degree layout.
Moreover, this model from Olympus has the same Intelligent Auto Mode for adjusting the mic sensitivity, as well as the Simple Mode as the 852, but it has Noise Cancellation filter and Voice Balancer, which the 852 lacks.
You can add up to 32 microSD card external memory. If you should choose between the two, this Olympus version is slightly improved with a longer recording time of up to 2080 hours and the fact it features 2 AAA rechargable batteries.
Check Price on Amazon Directly Add to Cart on Amazon
---
Best Digital Voice Recorders Under $150

If you were ever looking for an easy-to-use digital recorder, the Zoom H1n is an excellent choice. This sci-fi-like voice recorder is packed with a variety of features that make it efficient even though it's cheap.
This device has a sleek design, with a round protective mic enclosure. It doesn't have internal storage, so you'll have to add a microSD card with up to 32 GB.
Moreover, the  H1n has one-touch button controls, making it simpler for you to record on the go. It supports alkaline batteries that give you 10 hours of continuous recording with the recorder's 44.1 kHz/16-bit microphone.
The input impedance on this recorder is 2 kΩ. It also has Playback Speed Control, Stereo overdubbing functions, and Voice Emphasize Filter which deliver a clear sound quality.
Check Price on Amazon Directly Add to Cart on Amazon
---

Tascam DR-05X Recorder is another digital recorder with an innovative, modern design. It's not quite as stylish as the Zoom H1N, but the interface is much better.
This model from TASCAM doesn't come with a microSD card, but you can add one of up to 128 GB. One major difference between this and other models is the length of the recording time.
Microphone sensitivity is quite good on this one. The DR-05X has 2 built-in omnidirectional microphones with a sound pressure level of up to 125 dB and a low-cut filter of 40/80/120 Hz. Plus, it has a timer function, overdub feature, and dictation mode for when you record human voice.
It has stereo speakers, a 3.5 mm mini-jack microphone/line input, and a USB 2.0 connection. You can record in either MP3 or WAV formats, and you can choose from a wide range of quality, including 320 kbps MP3 and audio lossless wave files. It records audio clearly and offers noise reduction as well.
The 2 AA batteries ensure you have a recording time of 19 hours. This may not be the best voice recorder out there, but it's not disappointing either.
Check Price on Amazon Directly Add to Cart on Amazon
---
Best Digital Voice Recorders Under $200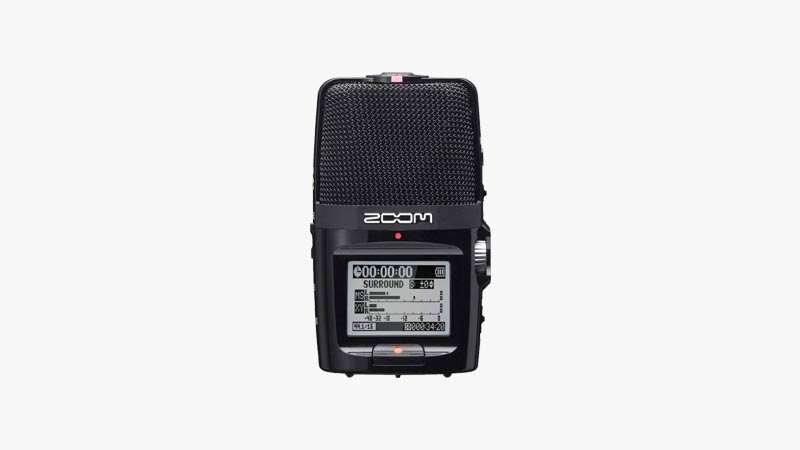 The Zoom H2n Handy Digital Recorder is stylish, compact voice recorder with a number of powerful features. Although it suffers from a lack of buttons which can make using it more complicated, the audio recording quality is top-notch.
The H2n comes with a 2 GB microSD capable of upgrading to 32 GB. It has five built-in microphones for superior audio and comes with four different recording modes, including 2- and 4-channel stereo recordings.
Although the controls are not the most intuitive, the audio recording quality of this recorder is absolutely excellent. Features such as Auto Gain and Data Recovery give it an edge over similar models, and it runs for up to 20 hours on just two batteries.
Although the whole recorder looks like the analog-type microphone, it records up to 24-bit/96kHz WAV audio files and the MP3 format.
Check Price on Amazon Directly Add to Cart on Amazon
---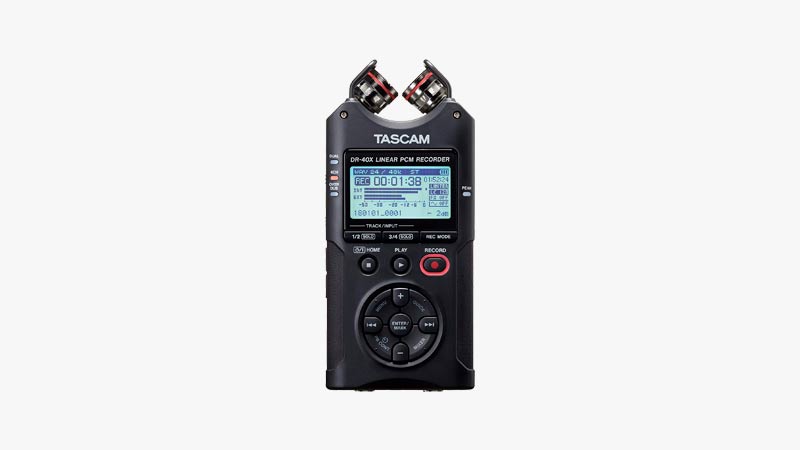 Tascam is known for producing high-quality recorders. One such is the DR-40X Four-Track, which can come in handy for podcasting, music, or professional voice recordings.
This model has no internal storage. You'll have to purchase an additional microSD card with up to 2 GB, an SDHC card from 4 to 32 GB, or an SDXC card of up to 128 GB.
The DR-40X has 4 channels and 44.1k/48kHz only built-In unidirectional stereo microphone and a USB Micro B-type port. The built-in speaker isn't good, but you can plug in headphones on an XLR/TRS Combo jack.
What's best with this recorder is its recording time. You can have up to 192 hours of recording time with a stereo file in 44.1kHz/ 16bit CD quality with a 128 GB SDXC card. On the other hand, when recording with a standard 2ch WAV, 44.1kHz/ 16bit, you can get up to 17.5 hours of recording time.
Check Price on Amazon Directly Add to Cart on Amazon
---
Best Digital Voice Recorders Under $250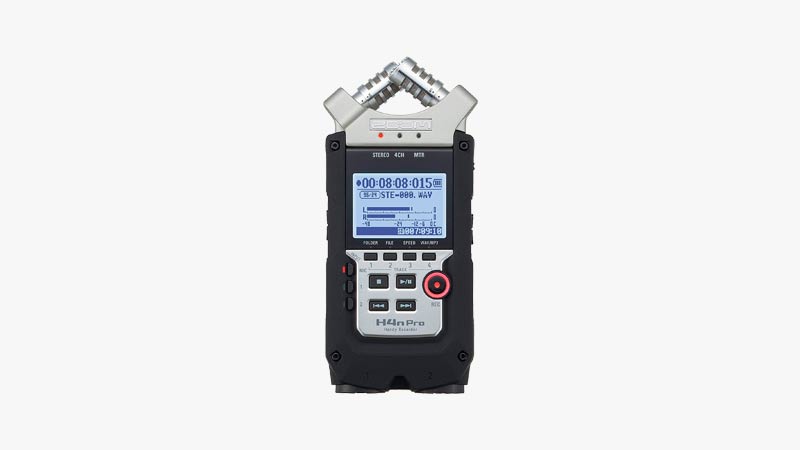 Recently released in 2016, the Zoom H4n Pro represents the latest in digital audio recording technology.
The advanced microphones allow you to record in either stereo or 4-channel audio, and the built in X/Y stereo microphones and can handle up to 140 dB SPL (sound pressure level). This is an extremely high threshold, allowing these microphones to accurately capture a wide range and volume of sounds.
Although it can support a microSD chip of up to 32 GB, there is one downside: the H4n does not ship with a microSD. That's hardly a dealbreaker, however: you can buy a 32 GB microSD for less than $15. Considering how cheap they are, I'm a little surprised they didn't just include one anyway. But there's no reason to nitpick; the H4n records superior audio.
Check Price on Amazon Directly Add to Cart on Amazon
---
Best Digital Voice Recorders Under $300

Sony's SX Series MP3 Recorder is the right recorder for business needs. It is compact and comes with NeeGo Lavalier Lapel Mic.
The SX Series MP3 Recorder comes with 16 GB  internal storage and can record up to 159 hours. If you think the internal storage won't be enough for your recordings, the device has microSD/SD HC/M2 expansion slot that can hold up to 32 GB of external storage.
Also, this recorder Intelligent Noise Cut feature to reduce the noise in your recordings, as well as A-B Repeat feature for playback convenience. The Lithium-Ion battery lasts up to 30 hours while recording.
The unidirectional microphone will catch every sound around you and fine-tune the stereo recordings, and you can use one mini jack to plug in the headphone, as well as one mini jack to plug in the microphone.
Check Price on Amazon Directly Add to Cart on Amazon
---
Zoom H5 4-Track is the perfect recorder for on the go, as well as professional recordings like music or podcasting. So, even if you have a podcast mic, it is always best to have an external recorder for backup.
This device has an extended signal capacity and handles noise quite effectively with 2 shock-mounted microphones and a detachable stereo capsule.
The H5 doesn't have internal memory, so instead, it records to SDHC cards of up to 32 GB. The recordings are 24-bit/96kHz in BWF-compliant WAV or MP3 formats.
This device runs on 2 AA batteries with a sound pressure input: 140 dB SP. The excellent feature of this portable recorder is that you can mount it to any DSLR camera for both mic- and line-level signals.
Check Price on Amazon Directly Add to Cart on Amazon
---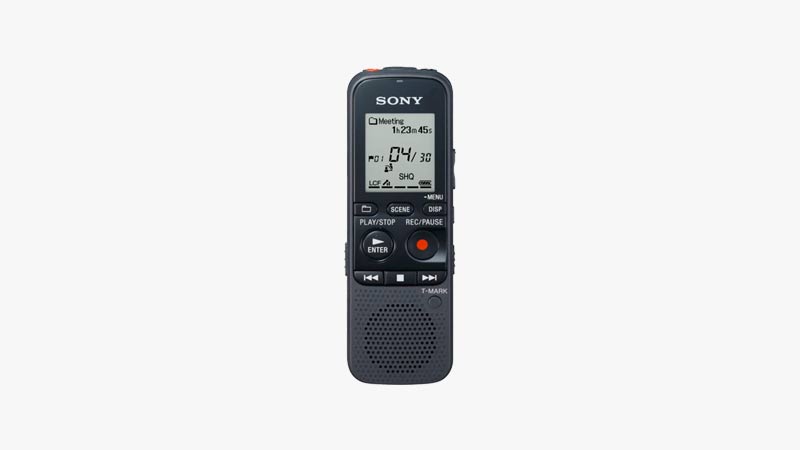 Despite some aesthetic differences between this and the Olympus WS-852, the Sony ICD PX333 Digital Voice Recorder shares many of the same features and compares quite favorably to Olympus model.
Like the Olympus WS-852, the ICD PX333 comes with a 4 GB microSD memory card and records audio in MP3 format. It can record audio for up to 1073 hours (45 days), providing you with virtually limitless audio storage capacity. It has a noise removal feature that works to remove unwanted background noises, helping to make your voice recordings more clear.
The ICD PX333 is compatible with both Apple and PC computers and comes with a USB cable for file transfer. It is compatible with all modern operating systems. The recorder runs on two AA batteries.
If you're looking for an advanced voice recorder, this isn't going to blow you away. But if you just want a simple, no-frills device, you can't go wrong here.
Check Price on Amazon Directly Add to Cart on Amazon
---
Best Digital Voice Recorders Under $400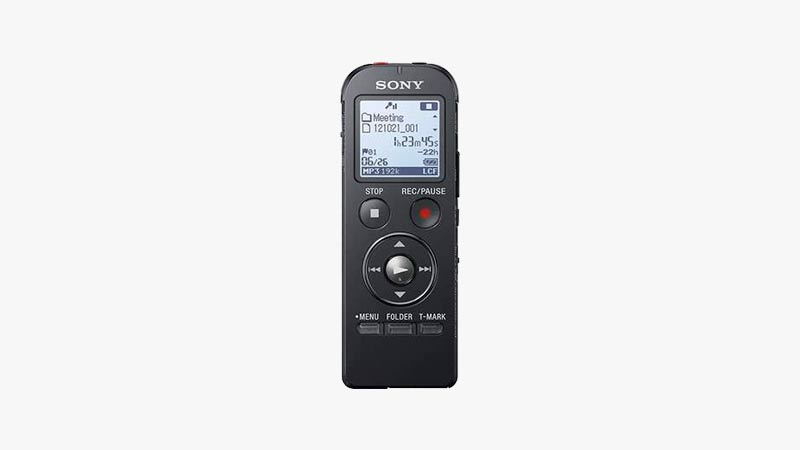 The Sony ICD-UX533BLK is a simple, easy-to-use voice recorder with large, buttons that are easy to read. In fact, the ICD-UX533BLK looks just like a remote controller, with a large menu button that lets you play your recordings and scroll through your menu with ease.
Like many other digital recorders I've reviewed, the ICD-UX533BLK comes with 4 GB of stored memory able to record up to 1073 hours of audio footage. It also has an expansion bay for a micoSD card, potentially allowing you to double or even triple your recording time.
This voice recorder is programmed to automatically adjust its sensitivity levels depending on your voice and on the environment. If you prefer to have more direct control over mic sensitivity, you can adjust it manually as well. Unlike a lot of cheaper models, this voice recorder utilizes stereo recording, providing richer and more detailed vocal recordings.
There are other things to like here. The ICD-UX533BLK has a built-in USB port, allowing you to plug the recorder directly into your computer. It provides 30 hours of life on a single battery, and works with rechargeable batteries, saving you money. You can choose to record in a variety of formats as well, including MP3, WAVE, Windows Media Audio and AAC.
The ICD-UX533BLK may not have a lot of advanced features such as audio transcription, but you would be hard pressed to find a better, more user-friendly voice recorder for the price.
Check Price on Amazon Directly Add to Cart on Amazon
---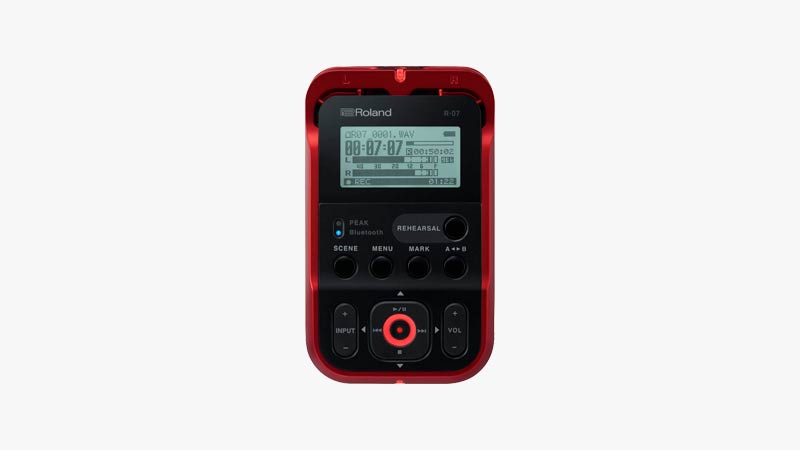 Roland High-Resolution Recorder is an excellent tool to capture musical performances. It delivers a clear sound with deep lows and crisp highs.
This recorder supports a microSD card of up to 32 GB. It comes with a built-in stereo microphone and a headphone jack. Plus, it has a built-in monaural speaker with high-resolution quality of sound of up to 24 bits / 96 kHz.
The Hybrid Limiter function prevents clipping noise, and the recording format is multiple MP3 formats. Scene function, on the other hand, allows you to record in any given situation and surroundings.
Roland Recorder has a USB 2.0 interface and has Bluetooth feature for Remote control with a smartphone, audio transmission, and output. Also, it works with 2 rechargeable AA batteries and has up to 15 hours of continuous use with a full charge.
Check Price on Amazon Directly Add to Cart on Amazon
---
Best Digital Voice Recorders Under $500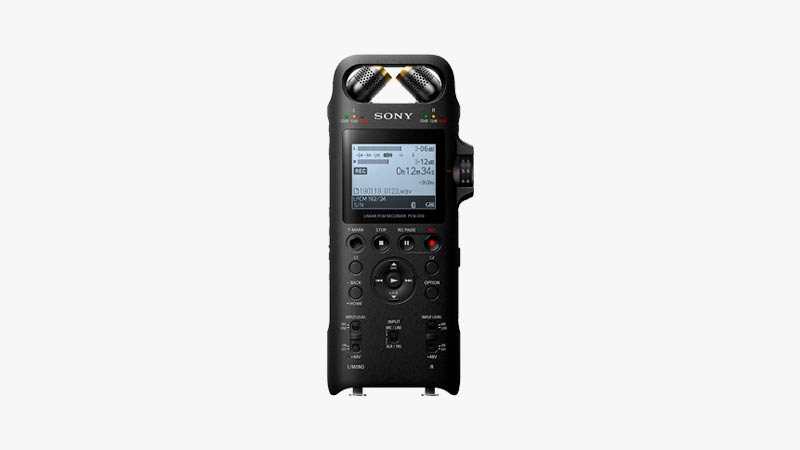 The last places are reserved for a few Sony recorders. You can use the PCM-D10 Recorder in a professional setting, as well as in an informal one. It's perfect for musicians, podcasters, and journalists.
It has the 16 GB internal memory, but the great thing about it is that you can extend it to 256 GB with SD/SDHC/SDXC cards. The built-in Bluetooth will help you stream playback and control it remotely from your smartphone, while the 5-band equalizer will enhance playback sounds.
The PCM-D10 comes with a built-In Electret Condenser Microphone that can record audio of up to 24-bit / 192 kHz. You also have stereo mini jacks for microphone and headphones, as well as USB Type-C terminal.
This high-quality device produces excellent sound for every user. It is powered by 4 AA alkaline dry batteries that come with the product or AA Ni-MH rechargeable batteries sold separately and comes with a carrying pouch.
Check Price on Amazon Directly Add to Cart on Amazon
---
Best Digital Voice Recorders Under $600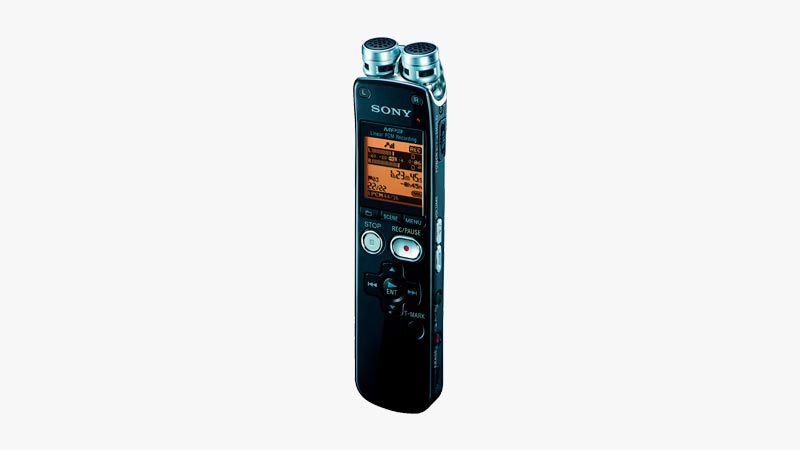 Sony ICD-SX712 is a compact recorder you can take with you on the road as it can fit in your pocket. This device is perfect for your business needs, student needs, as well as music recordings.
It comes with 2 GB of internal memory and an SD card slot which you can extend to 16 GB. The recording time goes up to 500 hours with the built-in memory, while adding 16 GB microSD adds up to 4000 hours of recording time to this model.
The ICD-SX712 has multiple language displays and a LED indicator. You can set it in different modes, like Easy Search and Noise-Cut while you record or playback and Continuous Play.
It comes with a USB port, a 3.5 mm stereo headphone output and a 3.5 mm stereo microphone input. You can power it with 2 AAA batteries that have a life of up to 25 hrs.
Check Price on Amazon Directly Add to Cart on Amazon
---
Best Digital Voice Recorders Under $800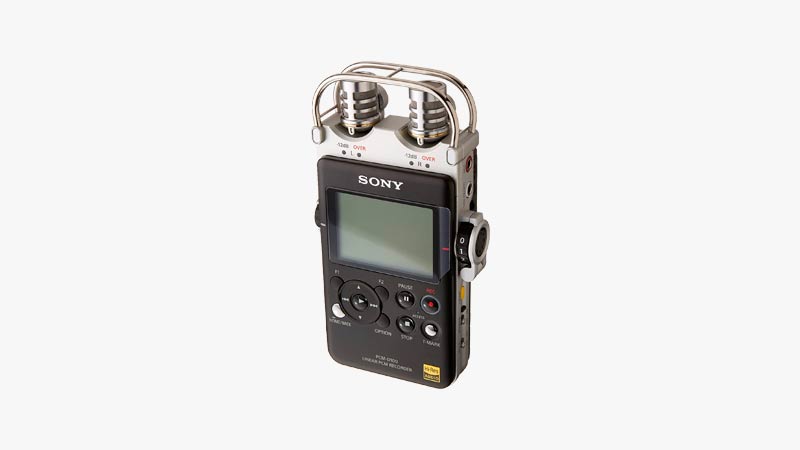 Sony PCM-D100 is an updated version of the previous PCM. Although in the highest price range, it surely has to offer more features than any other portable voice recorder we mentioned. If you're a musician, you can mount it to a stand and play away.
This model features 2-position stereo microphones that deliver the crisp-clear sound of 2.8MHz in any surroundings. It has multiple recording formats: a linear PCM (at 192, 176.4, 96, 88.2, 48 and 44.1kHz), a DSD (2.8224 MHz) and an MP3 (320 and128 Kbps). Moreover, it has playback support in FLAC, WMA, and AAC files.
The PCM-D100 can record plenty of audio files on this one since it has a 32 GB internal memory capacity and an SD-XC card slot with up to 96 GB.
You can power it with 4 AA alkaline batteries that give you 11 hours in DSD. The product includes a USB high-speed port, wireless remote control and transmitter, a carrying case, 4 AA batteries, an AC adapter, and a USB cable.
Check Price on Amazon Directly Add to Cart on Amazon
---
Conclusion
There is no shortage of voice recorders on the market, and this list is just the tip of the iceberg. Since we know you live busy lives, we hope this guide has helped you to find and pick the right voice recorder to suit your individual needs. If you have any comments, please let us know in the comment section below. We'd love to hear from you!
Disclosure: The product recommendations are not sponsored and are chosen by our editorial staff. We may earn an affiliate commission when you purchase an item through our links.
Photo Credit: Unsplash