You have a lot of options when it comes to choosing luggage for business travel. Many business travelers choose a rolling carry-on bag.
While carry-ons offer easy mobility through the airport, a duffel bag allows you to pack efficiently, move quickly, and maintain a professional appearance throughout your trip.
After all, the duffel bag was designed for short-term travel like short business trips and weekend trips.
Duffel bags can work as a functional checked or carry-on bag, depending on the size, yet remain small enough to carry with one hand or throw into the back of your trunk. Duffels are designed to hold as much as possible without excess weight.
Duffel bags designed for business travelers help you maintain a professional appearance with a design that resembles a briefcase.
If you are heading directly from the airport to an important meeting with investors or to make a presentation, a duffel or weekender allows you to quickly breeze into the conference room and get to work without tracking in a trail of sidewalk salt or water from the street.
Don't write off a duffel bag because you assume you can breeze through airports faster with a rolling carry-on. You can actually move faster while holding luggage because you can weave through crowds, race up stairs, and run if necessary to catch a connecting flight.
If you do want the ability to roll your luggage, there are also rolling duffel bags that give you the freedom to roll your bag when you aren't pressed for time with a size that can fit into an overhead storage bin if needed.
When choosing a duffel bag for business travel, think professional. A dark-colored or quality leather duffel bag is ideal for taking directly into meetings and conferences without giving you the appearance that you were running late from the gym.
If you have decided that a duffel is the way to go, here is our editor's pick and ten favorite weekenders to fit any budget.
The Best Duffel Bags for 2022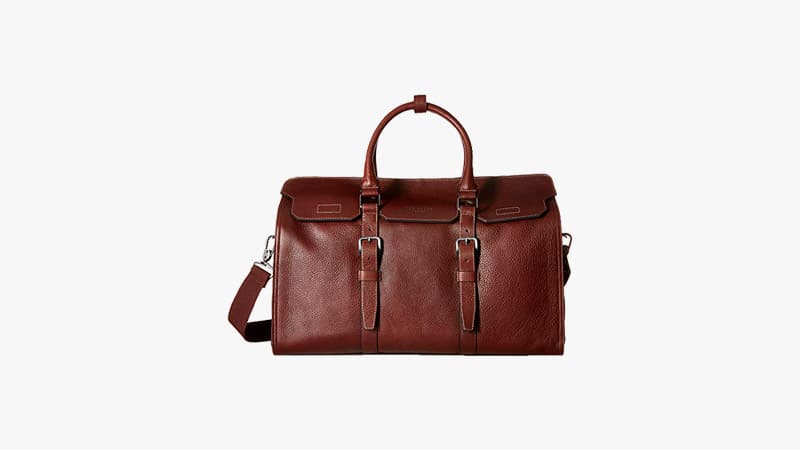 With a men's duffel bag it comes completely down to what you're going to use it for and how much you want to spend. Duffel bags can become expensive and quickly push into the thousands of dollars.
For our Editor's Pick, we decided to go with the Ted Baker Men's Victory Bag. The construction of the bag is beautiful both inside and out. It's also great both for business trips and weekend getaways.
Some of our favorite aspects of the Ted Baker duffel bag include:
100% leather exterior
100% polyester interior
Magnetic closure
Perfect carry-on size
Interior side compartment
Removable Shoulder strap and handles
Check Price on Amazon Directly Add to Cart on Amazon
---
P.s. If you don't have the budget to afford it right now, you can scroll down to see other duffel bags that fits your budget.
Best Duffle Bag Under $50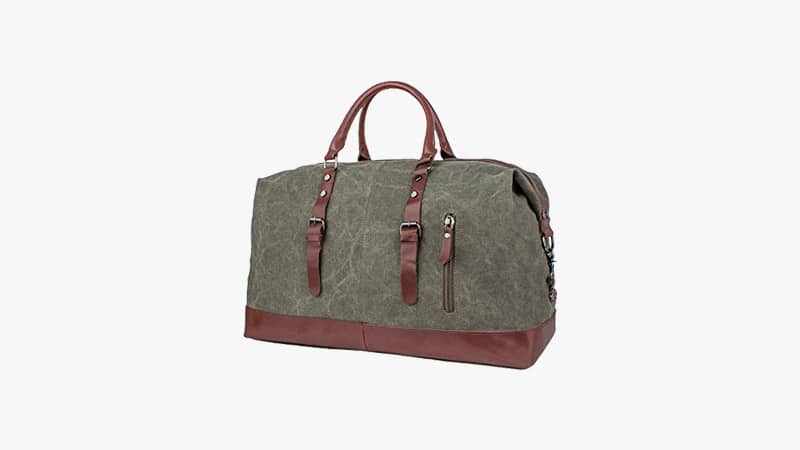 For over 15 years, Leaper has created a wide catalog of luggage such as outdoor bags, laptop bags, backpacks, and weekend bags. The Leaper Canvas Travel Duffel Bag is one of their most popular models with a classic military style designed for high packing volume without excess weight. This bag has heavy canvas construction with genuine leather straps with the base and handles leather sewn and attached by rivets for additional durability. The bag has a leather tip detail around the bottom with metal studs for feet.
The Leaper duffel bag is slightly larger than a typical gym bag but it meets maximum carry-on size with most airlines. The primary zipper is made with heavy-duty nylon teeth and a metal tab. The interior has a woven material with space for a laptop and clothing. There are two open exterior pockets for a phone and tickets and two zipper pockets inside for smaller items. The bag is easy to carry with a wide adjustable canvas strap to carry the bag over your shoulder, or the strap can be detached to use the handles.
The Leaper canvas bag comes in black, army green, coffee, dark blue, gray, beige, and khaki. Each color is available with faux or genuine leather, which is priced slightly higher.
Features:
Heavy canvas exterior with genuine leather straps (on some styles)
Smooth zipper closure
Classic military style
Approximate size of a maximum size carry-on bage
Two interior zipper pockets for small items
Two external pockets for phone, tickets, and essentials
21.6″ x 9″ x 16.5″
Check Price on Amazon Directly Add to Cart on Amazon
---
Best Duffle Bag Under $75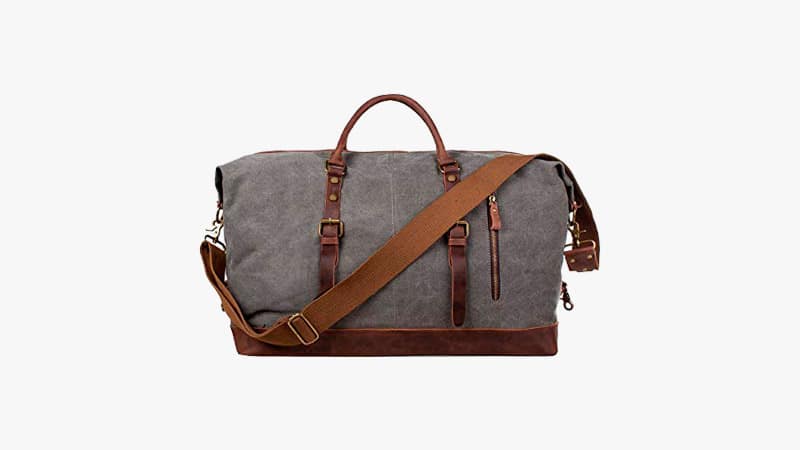 This S-Zone canvas weekender offers an excellent value with lightweight but very durable materials. The bag has high-quality stitching with heavy-duty canvas and real leather trim to avoid signs of travel wear and tear and maintain your professional image despite many trips. All leather trim is attached with thick rivets to prevent tears. The adjustable and detachable shoulder strap is made from thick leather and around two inches wide. The zipper closure opens completely from either end of the bag to easily access your belongings.
The S-Zone duffel bag is just small enough to meet carry-on guidelines for most airlines, but you may have trouble using this bag as a carry-on for international flights or with domestic carriers with strict international standards.
Features:
Soft canvas with genuine leather trim on the side straps, handle, and bottom lining
Lightweight but durable
Zipper closure
Large main pocket for clothing
Interior pouch pocket for wallet, phone, and other small items
Front pocket for ticket and passport
21.7″ x 14.8″ x 10.2″
Check Price on Amazon Directly Add to Cart on Amazon
---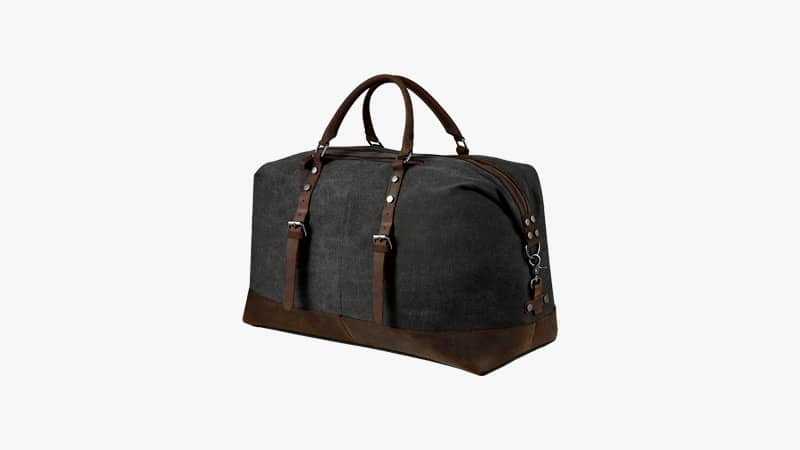 Looking for a duffel bag that won't break the bank but is constructed to last?
Check out the Canvas Overnight Bag.
This bag is made from a durable canvas with a leather base, handles, and strap. This way, it feels great in your hands yet will hold up in nearly any situation.
The build material also allows you to take it to the office, on a flight or the gym. And, with several different color styles, you can pick one out that fits your personal mood.
The bag is best as a carry-on, with dimensions at 21.2 inches by 9 inches by 16.5 inches. So it's a good size, as long as you need it for a weekend getaway and not a week-long business trip.
The shoulder strap is fully adjustable to meet your personal needs. Plus, as the handles and shoulder strap are made from leather, the material will form to your body type.
You'll also find several external features, like an easy access zipper compartment.
Some of the benefits of this men's duffel bag include:
Canvas with leather accents
Shoulder strap and handles
Perfect for long weekends and will fit as a carry-on
Several color options
Check Price on Amazon Directly Add to Cart on Amazon
---
Best Duffle Bag Under $100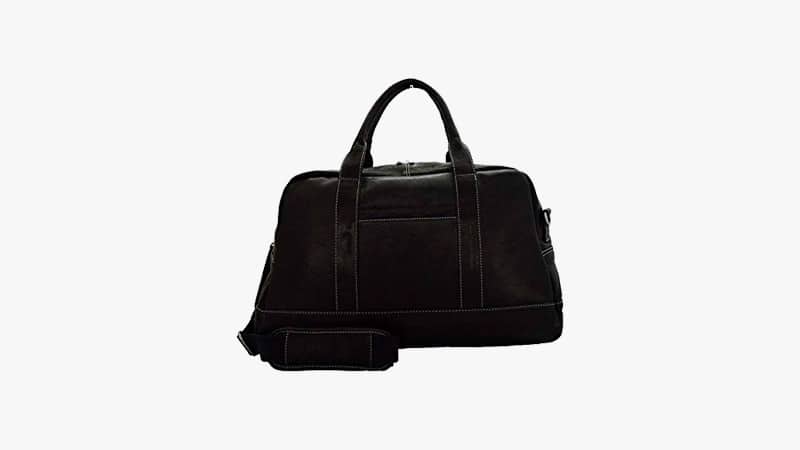 Kenneth Cole is one of the leading manufacturers of quality leather business travel bags with a reputation for sleek design and durability. This leather top-zip duffel bag is no exception. The bag is made from full grain leather in brown or black with a cowhide leather exterior body material and a fully lined interior. This duffel has a large main compartment with two zipper pockets and two open pockets to hold small items. The sturdy stitched leather handles are comfortable to carry.
The Kenneth Cole duffel can serve you well through many years of travel and it meets global carry-on standards so you will have no trouble on international or domestic trips. The bag will fit snugly under your plane seat or very easily in the overhead bin. Just be aware that the bag exterior is all genuine leather. It will show wear and get marked over time, despite the quality of the leather. If you want a bag that will not show wear, you may be better off with a canvas bag with leather trim.
Features:
Full grain cowhide leather exterior
Fully lined interior
Roomy main compartment with 2 open pockets and 2 zipper pockets
Comfortable handles
4.1 pounds
20″ x 9.5″ x 12″
Check Price on Amazon Directly Add to Cart on Amazon
---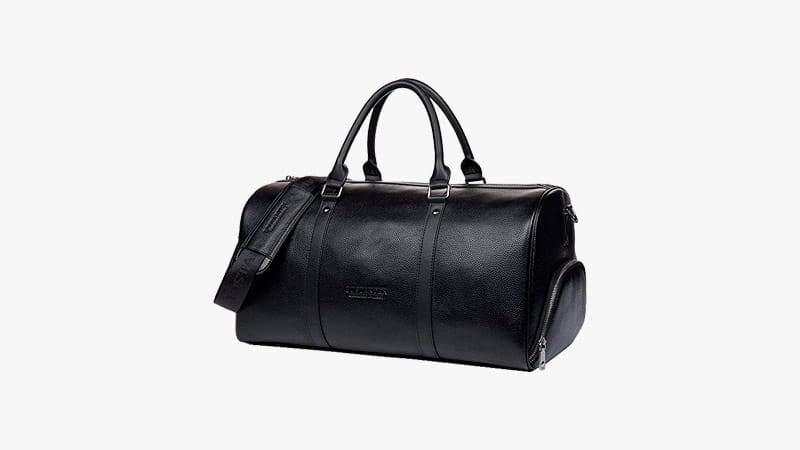 Made from high-quality leather, this weekender bag is great for a quick trip. Using genuine cow leather and heavy duty zippers, this is a bag that won't break down or tear.
Constructed with handles and a leather shoulder strap, you'll not only like the carrying options but you'll also enjoy the fold-down compartment, which makes pulling out shoes or another necessary object quick and easy (without digging through the main compartment).
The interior also isn't just one compartment. There is a side compartment for your tablet, plus several smaller compartments to hold items you want to be separated from the rest of the bag.
The bag doesn't have any external pockets, which is a bit of a downer, but other than this, the bag is a sleek design and looks much more expensive than it actually is.
Some of the benefits of this men's duffel bag include:
Genuine cow leather
Carry-on size
Several internal compartments
Access panel on the side
Dimensions measure out to 18.89 inches by 10.43 inches by 9.64 inches
Check Price on Amazon Directly Add to Cart on Amazon
---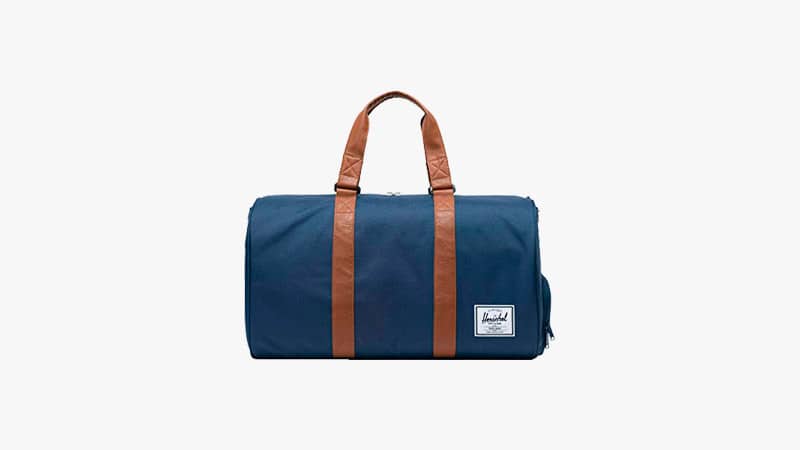 Here's a bag that comes in dozens upon dozens of color options.
So if there's a color style you're interested in, the Herschel Supply Co. Novel bag will likely have it.
This is a basic bag that works better for gyms and less professional settings.
It's also a no-frills, right to the point bag.
It has the two handles and a shoulder strap. There's a side access point so you don't have to dig through the bag (also referred to as a shoe garage). But there isn't any side compartments or partitions within the bag.
It's just that.
A single-compartment duffel bag.
If you're on the market for a gym or camping duffel bag, this is the option for you.
If you want something a bit more professional, you'll want to go elsewhere.
Some of the benefits of this men's duffel bag include:
Easy to clean exterior material
Shoulder strap and handles
Shoe garage
Dimensions of 20.5 inches by 11 inches by 11.5 inches
Check Price on Amazon Directly Add to Cart on Amazon
---
Best Duffle Bag Under $150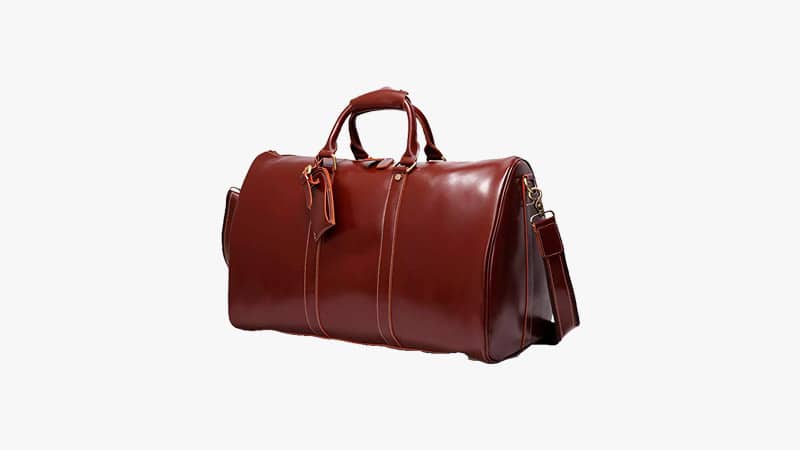 The Leathario duffel features a unique and eye-catching retro design. This bag is a good choice if you want a high-quality leather bag that will stand the test of time and offer several functions. The bag is designed for business trips and weekend getaways and it's made with eco-friendly, vegetable-tanned leather. While the bag is made from genuine leather, you will notice a glossy surface at first due to the treatment.
The bag has dacron lining with a smooth brass zipper that won't catch or get stuck. The size is perfect for holding a weekend of clothing with a laptop up to 14″. Leathario backs the weekender bag with a lifetime warranty.
One problem you may have with this duffel is the dimensions are slightly larger than standard international carry-on size. You may be stopped to check the size of your bag. If it isn't overpacked, you can likely push it into the size checker at the counter. You will also find the snaps attached to the top handle are very stiff at first due to the thick leather, but the bag will become more supple with time.
Features:
Genuine cowhide grade AAA leather
Leather exterior has environmentally-friendly vegetable tanned leather
Retro design
Leather shoulder strap backed with canvas
Roomy interior
Two interior side pockets for phone, charger, and other small accessories
Durable nylon thread stitching
Lifetime warranty
5.2 pounds
19.7″ x 9.4″ x 12.2″
Check Price on Amazon Directly Add to Cart on Amazon
---
Best Duffle Bag Under $200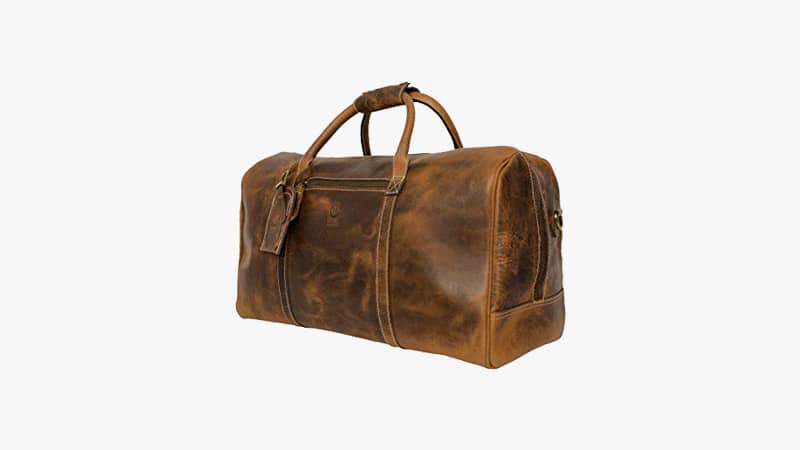 Rustic Town specializes in eco-friendly, handmade leather goods. Handcrafted by the desert people of Rajasthan, India, their products are made from goat and buffalo leather. The Crazy Horse duffel is made from high-quality buffalo leather with a beautiful brush stroke pattern that shows off the craftsmanship of the bag. The leather goes through a vegetable tanning process to retain its natural leather characteristics while making the material more flexible.
You'll notice the bag has very high-quality stitching with brass buckles, buttons, and YKK zippers on each side of the bag to hold essentials. The bag is the perfect size for short business trips with enough interior space for clothing, a laptop, and a book and a zipper interior pouch for your phone, charger, and ticket. It has an adjustable shoulder strap and carry handles.
The Crazy Horse leather duffel bag meets global carry-on standards. It can fit snugly under the seat or comfortably in the overhead bin.
Features:
Premium 100% genuine buffalo leather
Handmade by artisans
Vegetable tanning process increases leather flexibility
Brush stroke finish
Adjustable shoulder strap and carry handles
Spacious interior compartment
Interior zippered pouch
Lightweight yet durable
20″ x 11″ x 7″
Check Price on Amazon Directly Add to Cart on Amazon
---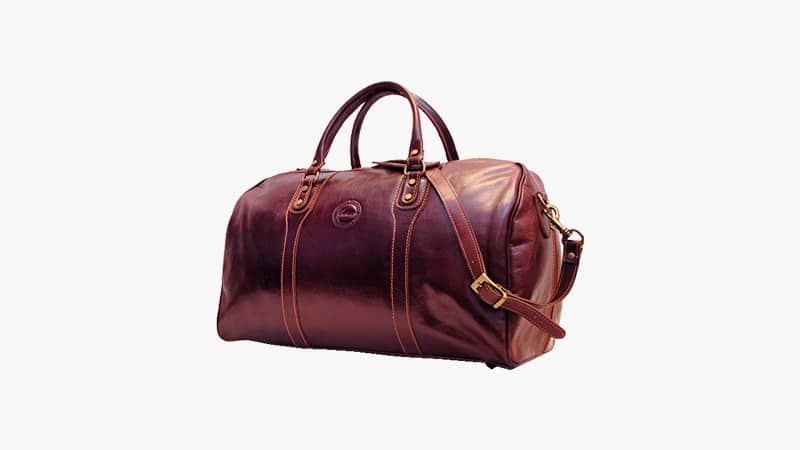 The Cenzo Italian Leather Duffel is the perfect choice for a blend of professional style, high-quality materials, and durability. This duffel is made from full-grain Italian calfskin leather with a heavy-duty 8-ounce cotton duck canvas lining. The beautiful calfskin leather has deep color tones and the bag will become more stunning as it ages. Its vegetable-based tanning brings out the rich red and brown tones while the semi-gloss finish fights stains. Over time, the exterior of the bag will develop a beautiful patina while softening like butter. You will have trouble finding another Italian leather bag at this quality for less than $200.
The bag is easy to pack with a floor-to-floor zipper closure and matching YKK zipper and brass hardware. It also has contrast stitching and a detachable and adjustable shoulder strap with comfortable carry handles secured with rivets. The bag meets carry-on standards for most domestic carriers, but it may be slightly large for international and strict carriers. You may be able to squash the bag slightly to fit a bag checker at the counter.
Features:
Italian calfskin leather
Vegetable tanning to bring out rich brown and red tones
Leather will develop a rich patina and soften over time
Semi-gloss leather finish to fight staining
Adjustable, detachable shoulder strap with carry handles
Matching YKK zipper and brass hardware
Contrast stitching
3.8 pounds
21″ x 10″ x 11″
Check Price on Amazon Directly Add to Cart on Amazon
---
Best Duffle Bag Under $250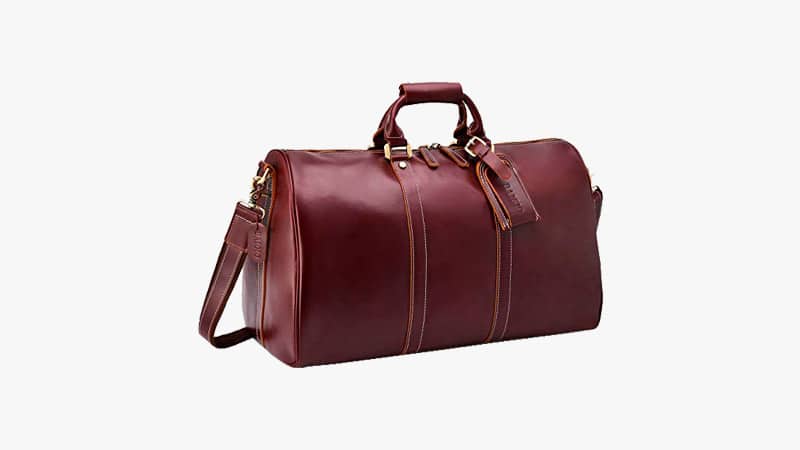 Looking for a beautifully constructed leather duffel bag?
Here's a fantastic option to start with.
There are three color designs, all of which are genuine leather. There is an aged, brushed leather if you want something that looks beaten and broken in (or you can pick up one of the other options and do the breaking in yourself).
The duffel bag doesn't have any external compartments, nor does it have a shoe garage. However, the handles and strap are exceptionally crafted and not directly stitched into the bag. This prevents tearing and buckling.
On the interior, there is a side compartment for your tablet or anything else you want to be separated from the main compartment.
The build material is exceptional, although outside of the material you won't find any real frills. It's just a quality bag with an excellent construction.
Some of the benefits of this men's duffel bag include:
Full grain genuine leather
Antique brass fittings
Canvas lining
Several color options
Interior side compartment
Dimensions of 23 inches by 10 inches by 14 inches
Check Price on Amazon Directly Add to Cart on Amazon
---
Best Duffle Bag Under $400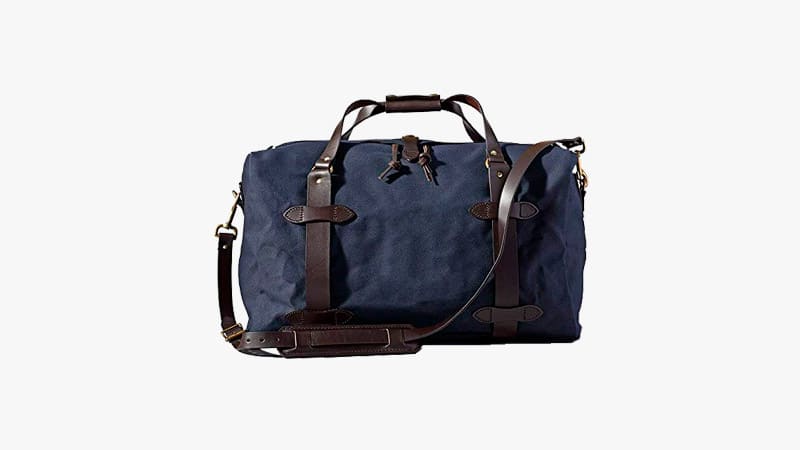 If you want a bag that looks a bit more down to earth but is still a quality duffel bag, consider the Filson bag.
This bag features leather handles and grips, plus solid brass zippers. It also has an added storm flat that snaps down over the zipper if it's raining outside.
Perfect airline carry-on bag.
There are two interior stow pockets, both of which are water and abrasion-resistant.
Some of the main benefits of this men's duffel bag include:
Twill construction with leather straps and brass buttons
Two interior stow pockets
Dimensions measure at 20 inches by 13 inches by 12 inches
Made in the USA
Easy to clean and maintain
Check Price on Amazon Directly Add to Cart on Amazon
---
Best Duffle Bag Under $500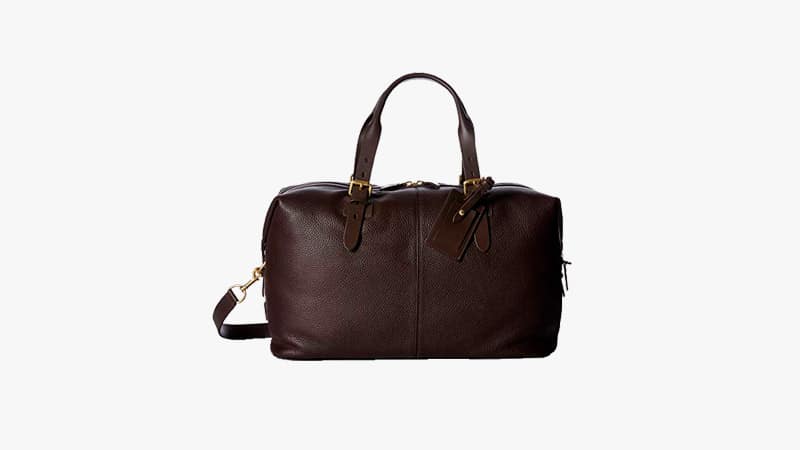 When you want a great bag made from 100% imported leather, this may be the design you're looking for.
Available in both java and black, the bag offers a quality construction of some of the highest grade material out there.
It uses a 100% polyester lining to keep everything dry on the interior as well.
For the most part, it is a single compartment bag. There are two card slots on the interior, but outside of a few random odds and ends, these card slots do not give much room for anything substantial.
This is the kind of bag you pick up if you want a beautifully constructed bag that doesn't go over the top with side compartments or added features. With this bag, simplicity is its selling point.
Some of the benefits of this men's duffel bag include:
Constructed from 100% genuine imported leather
Interior zipper pocket and card slots
Carry-on size
Available in both black and java brown
Check Price on Amazon Directly Add to Cart on Amazon
---
Best Duffle Bag Under $600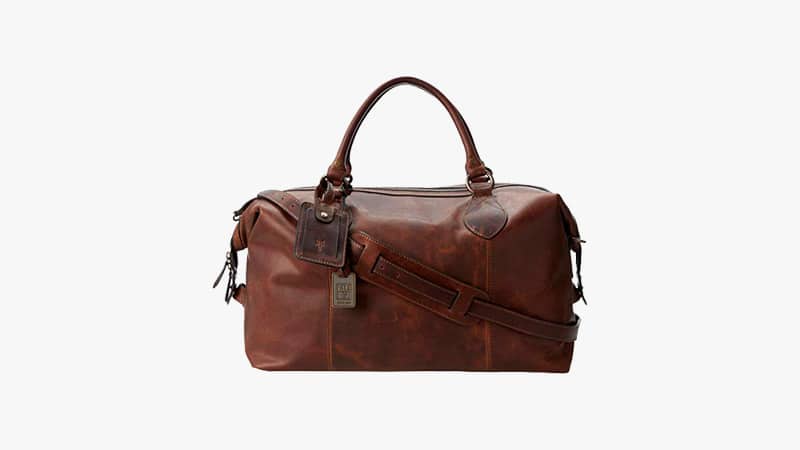 When selecting a leather duffel bag, there are two general options. The first is the shiny, brand new looking leather that seems to reflect light like a diamond. The other is the worn look. The soft, tanned leather that is as welcoming as a luxury leather sofa. With the FRYE Men's Logan Night Duffel Bag, you get the latter.
The bag, which comes in three different color and finish styles, gives off the look of sophistication and experience. It's the kind of leather bag your great-grandfather would give you after being in the family for decades. A beautifully worn look that holds the test of time and will continue to look good or decades to come.
The bag features handles and a shoulder strap.
it also has a metal frame, so you don't need to worry about the bag bending or being contorted in an unnatural way.
The bag is a zipper closure bag with an interior zip pocket and leather travel tag on the exterior.
The bag is a bit smaller than the other bags on this list, so keep that in mind. If you're looking for a larger bag that will fit more than a few days worth of items, you may want a different option.
Some of the benefits of this men's duffel bag include:
Beautiful leather
3 color options (cognac, dark brown, slate)
Zipper closure with interior zip pocket
Dimensions measure at 17.5 inches by 10.5 inches by 10.5 inches
Perfect carry-on size
Check Price on Amazon Directly Add to Cart on Amazon
---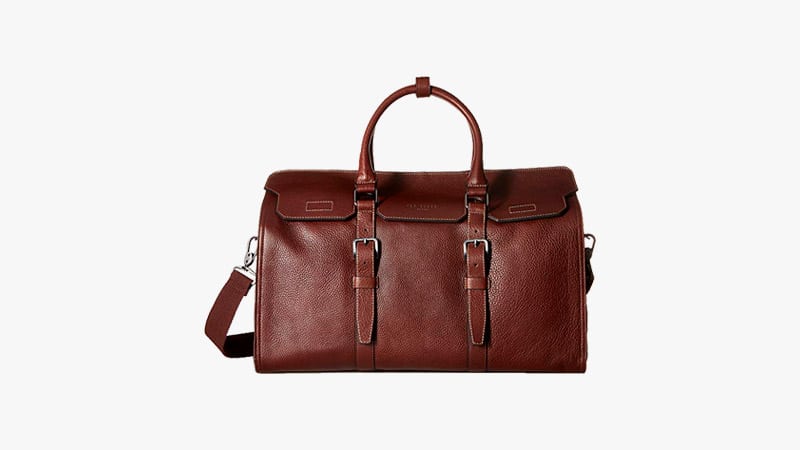 This bag is luxury both inside and out.
On the outside, it is made from 100% leather, with beautifully constructed leather handles and a leather strap.
In the interior, this bag features a polyester lining that pops when you open the bag. It makes it look like it was constructed from beautiful tie fabric.
There is also a side compartment within the bag for holding cards and other items you will want to keep secure.
Everything closes beautifully with magnetic closures. This way, you won't need to deal with zippers or buttons.
It is important to remember when dealing with magnets, you don't want to overpack the bag. Overpacking magnetic closures will prevent the two magnets from coming in contact with one another.
Some of the benefits of this men's duffel bag include:
100% leather
Beautiful polyester interior
Magnetic closures
Perfect carry-on size
Leather handles and shoulder strap
Check Price on Amazon Directly Add to Cart on Amazon
---
Conclusion
Those are just some of the best men's duffel bags you can grab. Of course, it all comes down to personal preference, what you're looking to get out of the bag, what you want to use it for and what you want to spend.
What kind of bag do you use right now?
Are you more likely to get a duffel bag for professional travel or for the gym and a weekend trip with the guys?
Make sure to let us know!
Save
Save
Save
Save
Save
Save
Save
Save
Save
Save
Save
Save
Save
Save
Save
Disclosure: The product recommendations are not sponsored and are chosen by our editorial staff. We may earn an affiliate commission when you purchase an item through our links.
Photo Credit: Unsplash