If you're in a hurry, check out our Editor's Pick: Ring Video Pro.
Do you remember a time before caller ID?
When someone called, you had no idea what voice would be on the other line.
It could be grandma or it could be a telemarketer (both seemed to call during dinner time).
That isn't a problem anymore. You can see exactly who's calling right away. But what about when someone knocks on the door?
Now, if an unexpected knock comes you're left wondering who it is, or whether you should answer the door.
How often have you snuck to the front door, trying to be as quiet as possible in order to look to see who it is? Wouldn't it be nice if there was some kind of caller ID for your front door?
There is, with a smart doorbell and video camera built in. You no longer need to be a millionaire with the front gate and camera security system to screen who's knocking at the door. You just need to have a smart doorbell and video camera installed.
But with so many options currently available, which is best for you? Here are eight of our favorite smart doorbells with video camera features. We're sure one of these will be the perfect fit for your personal and office needs.
The basics of a video doorbell are all about allowing you to see who is on the other side of your front door. However, not all video doorbells are created equal and there are different aspects to consider based on your personal and professional needs.
Here are a few of the top points to consider.
1. Digital Assistant Enabled
Some smart doorbells will be digital assistant enabled. This means you can ask Alexa, Google Assistant or Apple's Siri to show you who's on the other side of the door (you'll need a digital assistant enabled video device for this).
It's not completely necessary to be digital assistant enabled, but it's extremely helpful to have all of your smart devices controlled by one system.
Otherwise, you may end up with a half-dozen different applications and devices you need to flip between. One digital assistant helps keep it simple.
2. Price
The price tag of your smart doorbell is going to vary. You can pick one up for under $100. Or you can spend several hundred dollars on the device. In the world of technology, the price can vary all over the place.
Paying more doesn't automatically mean you'll get a better option though, so keep this in mind. While you should have an understanding of what you can afford before you buy a smart doorbell you do need to go with a device that addresses the features you're interested in.
3. Installation
You're placing a video camera right on your door, so naturally, you want it secured. It's a bit different from having a security camera installed in the corner of the roof looking down at the front door (although realistically you can go this way if you want).
You want something that is secure, but you should also consider whether the smart doorbell needs a current peephole to work, whether it needs to work through the physical doorbell and a number of other installation factors.
Many are easy enough you can install the smart doorbell on your own, while others might require some assistance from a professional. This may depend on how comfortable you are setting such a device up.
4. Video Quality (and Recording)
Most video cameras now are relatively high in video quality. It's still worth noting the resolution of the video and whether it shows the exterior of your front door in color or black and white.
It's also helpful to know how the video begins. Does it only start when someone rings the doorbell or is it motion activated? Motion activated gives you additional security features (after all, someone trying to steal a package will likely not ring the front door first).
On top of this, how is the video footage stored? Is it just a live stream that doesn't go anywhere, or does it automatically save for a set period of time? You may just want a video doorbell, or you may want something that offers you heightened security features and recording options.
The Best Smart Doorbell for 2023
| Product | Model | Video Resolution | Field of View | Price |
| --- | --- | --- | --- | --- |
| | Ring Video Pro | 1080p Full HD | 250° | |
| | Ring Video Doorbell 3 | 1080p HD | 160° | |
| | Wemo Smart Video Doorbell | 1080p Full HD | 223° | |
| | AOSU Doorbell Camera | 1080p Full HD | 166° | |
| | Kasa KD110 Smart | 2K | 160° | |
Editor's Pick
All of the smart doorbells on this list are great. However, when getting down to it, our favorite of the list was the Ring Video Doorbell Pro. This doorbell gives you just about everything you might want, including 1080 HD video, two-way audio, an excellent app that works on both Android and iOS devices, plus it connects with Amazon's Alexa.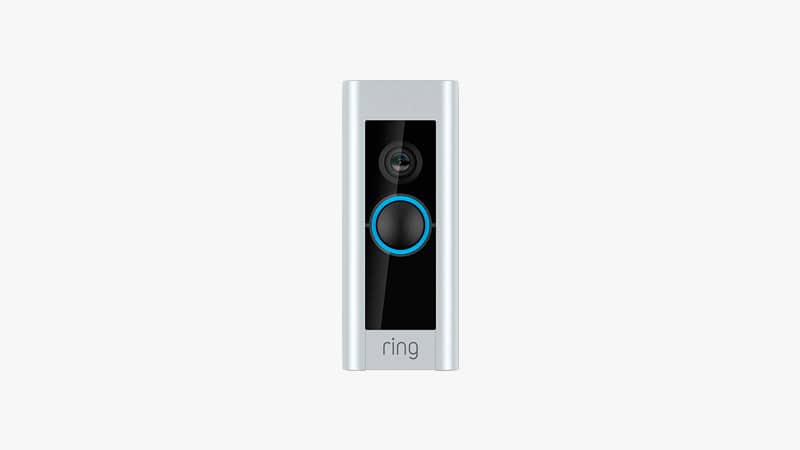 It is at the higher price point of the smart doorbells, but we believe the price is worth it for the features you're getting.
Some of the other features we like regarding the Ring Video Doorbell Pro include:
Adjust motion detection zones
Directly connects to your current doorbell line for continuous power
Interchangeable faceplates to best fit your design needs
Ability to order professional installation through Amazon
Smart Doorbells Under $75
1. Kasa KD110 Smart Video Doorbell Camera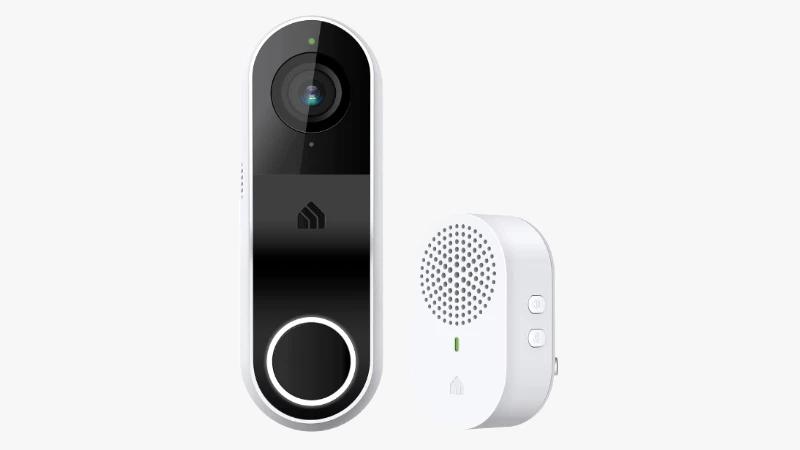 When it comes to entry-level smart doorbells, Kasa's KD110 model takes the cake. It's got all the bases covered in terms of video quality, relatively easy setup, utility, and obviously, price.
The main feature of this smart doorbell is the 3 MP camera capable of capturing high-resolution, 2K video. Given that 4K-res is the gold standard now, HD video capabilities may not seem too impressive. However, given that most similarly priced smart doorbells are equipped with far inferior cameras, KD110's 3 MP camera makes it stand out.
Furthermore, the camera supports a 160-degree FOV, allowing you to easily monitor the entire area surrounding your door. This feature is especially important for apartment residents, as it allows you to monitor wider hallways.
As I mentioned earlier, digital assistant compatibility is a good perk for any smart doorbell to have. KD110 works with both Amazon Alexa and Google Assistant, allowing you to stream its camera footage on larger displays. Utilizing the camera's broad field of view is much easier on a wide-screen TV or multi-monitor PC.
When it comes to protective features, the casing of IP64 is waterproof, protecting it from rain if placed outdoors.
Another huge advantage of Kasa's KD110 is its built-in night vision feature. It rocks integrated infrared sensors that will allow you to easily monitor people and objects that are up to thirty feet away, regardless of how dark it is outside.
Most smart doorbell models support 2-way audio communication and KD110 is no exception. At the tap of a button, you can talk to whoever is on the other side of your door from the safety of your home. What I really loved about this smart doorbell is that you don't even have to be home to answer – you can speak to the person in front of your door remotely, wherever you are.
Smart notifications ensure that you'll always know when someone on your property. KD110 will deliver a message to the connected device whenever the doorbell is pressed; you can answer or decline the call at your leisure if you have an internet connection.
Having said all of this, KD110 still has some room to improve. To summarize its drawbacks, the camera is a bit "over-tuned", so you'll need to adjust a couple of parameters to make it great.
Despite being just a 3 MP camera, KD110 produces super-sharp images. While the detailed photos are appreciated in most scenarios, they're impractical when it's sunny and clear out. The same can be said about the contrast, which only worsens the issue.
Overall, I failed to find a better, more versatile smart doorbell in this price range. I warmly recommend Kasa's KD110 and I think you'll find it extremely valuable after re-tuning its sharpness and contrast.
Highlight Features:
3 MP camera with a 160-degree field of view

2K HD video quality

Customizable image contrast, saturation, and sharpness

Instant notifications for remote communication

Compatible with Amazon Alexa and Google Assistant

Inbuilt Night Vision mode

IP64 waterproof casing

Mounting hardware included in the box
2. Kalogl Video Doorbell Wireless WiFi Doorbell Camera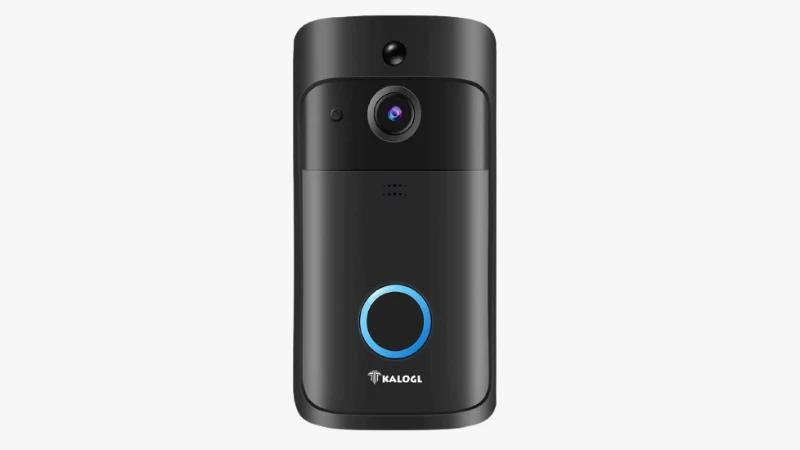 If you're on a cash-strapped budget and searching for a decent smart doorbell, this Kalogl model is sure to deliver. It offers excellent performance for the price, a set of decently well-rounded features, and a few innovative functions, such as free cloud storage and PIR-powered human motion detection technology.
Regarding its camera's strength, Kalogl's WiFi doorbell can capture HD videos and stream them live. It also sports an integrated night vision feature that offers decently sharp images and footage in dimly lit conditions.
I love that the Kalogl smart doorbell's camera has a 166-degree field of view. Compared to Kasa's model, the extra 6 degrees can be a game-changer for people living in floor-level apartments or houses.
One of the main benefits of Kalogl's video doorbell is that the company offers free cloud storage, as opposed to the majority of companies that typically charge up to $10 a month for this feature. This is a huge benefit considering this doorbell is so cheap, as you get the full package of advantages while staying under a $50 budget.
The IP65 waterproof casing is slightly more resistant to rain and water in comparison to Kasa's KD110; what truly separates it from other low-cost smart doorbells is that its doorbell housing is made of robust materials that can withstand years of use.
Just like my previous pick, Kalogl's smart doorbell supports real-time 2-way communication. Wherever you may find yourself, you can easily "answer" the door virtually, or take a peek behind it with its powerful camera.
Another outstanding feature offered by this model is the Human Motion Detection technology. By leveraging advanced PIR detection features, it is capable of accurately detecting people without sounding the alarm every time an animal walks by.
There are a lot of free goodies in the box too. With Kalogl's smart doorbell, you will receive three batteries, a micro USB cable, a set of screw tools, some sticky pads, and a convenient user manual to help you install it properly.
The only thing I didn't particularly like about Kalogl's doorbell is its weak battery life. You'll get three with the package, but make sure your stock is charged at all times.
Other than that, it offers great value for the money.
Highlight Features:
HD video quality

Wi-Fi-enabled video doorbell

PIR-powered (passive infrared) motion detection system

Customizable sensitivity and reports

Free cloud storage

IP66 waterproof housing

2-way audio and voice communication
Smart Doorbells Under $100
3. RemoBell WiFi Wireless Video Doorbell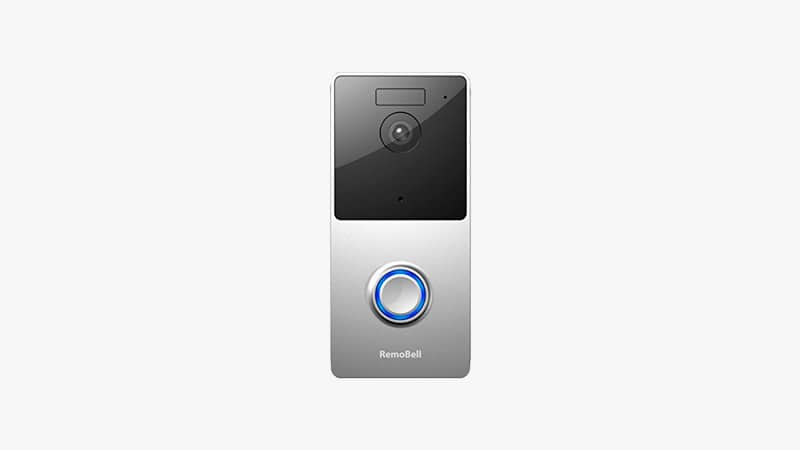 The RemoBell WiFi Wireless Video Doorbell almost looks like a cell phone attached to the front of your door. It has a clean, black and silver finish with a glossy black top featuring the camera and the doorbell on the bottom showing off a blue button so it's easy to spot even when lights are off.
The camera shoots at 720p HD and provides two-way audio so you can talk to whoever is on the outside of the door.
The RemoBell WiFi Wireless Video Doorbell uses motion sensing and infrared night vision so you can always see what is happening outside your front door, regardless of if you have a porch light on or not.
The device records videos to the cloud and gives you access to the videos via the RemoBell app (cloud activation is required for this feature) Installation for the RemoBell WiFi Wireless Video Doorbell is straightforward as you'll screw in a mount to the door or doorframe. The doorbell then installs into the mount. The doorbell is also battery operated with AA batteries. The six AA batteries required for the RemoBell WiFi Wireless Video Doorbell are included, so you have everything you need to be off and running with your smart doorbell.
The one downside to the smart doorbell is it does not come with a lifetime replacement option, which some of the other doorbells have. While it locks into place within the mount, someone with time on their hands can remove the doorbell (even though you'll see the entire process take place and sent to your app).
The smart doorbell is able to detect body heat. This makes it easier to identify when there's a person in front of your door and not a squirrel running past. This is done with PIR (passive infrared). Thanks to the PIR you won't have as many false alarms as you might with other security features.
Some of the RemoBell WiFi Wireless Video Doorbell to keep in mind include:
Easy mount installation
720p HD video
PIR heat detection
Easy access to stored video through the mobile application
Store videos on a home cloud network or subscribe to the RemoBell service
2-way audio for talking with anyone at the front door
Smart Doorbells Under $150
4. Amcrest 4MP Video Doorbell Camera Pro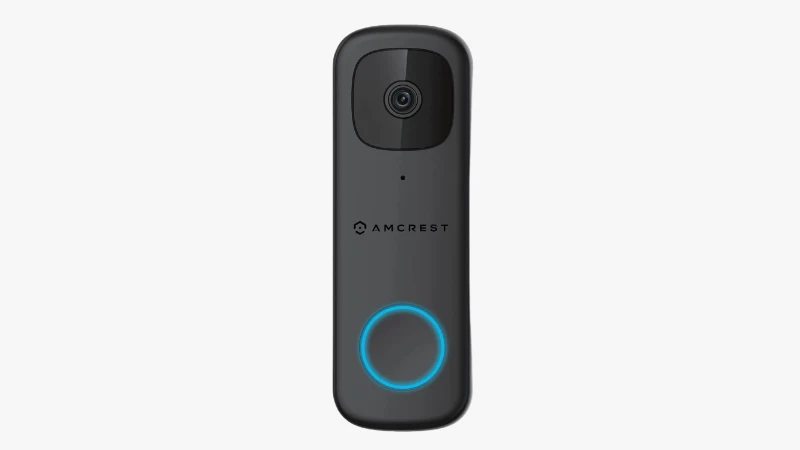 Amcrest's video doorbell is a huge step up from the smart doorbells I've listed above. It's significantly more portable, equipped with stronger features, and offers more flexibility regarding its mounting options.
The first feature I'd like to address is the 2K built-in camera with a broad field of view. Packing 4 MP and a 164-degree FOV, this smart doorbell is supplied with a robust security camera capable of covering virtually all angles in front of your home door.
Furthermore, it supports RTSP (real-time streaming protocol) technology: an app-level network protocol developed to enable and empower smooth multimedia streaming.
Just like Kalogl's smart doorbell, this model features the Human Motion Detection system, which works like a charm at eliminating false alarms while ensuring you don't have to rely on visual recognition alone.
Its motion sensors enable users to remotely preview footage from their smartphone while 2-way audio & video communication enable you to speak to your guests, wanted or otherwise.
Amcrest's smart doorbell has an integrated night vision feature, but its performance leaves room for improvement. Even though this function offers excellent image sharpness during nighttime, its mediocre contrast only works at a relatively close distance of roughly 16 feet.
I love how simple and streamlined the Amcrest Smart Home app is. It's available for free download and compatible with both Android and iOS devices, but what makes it truly special is that you can access all of the doorbell's features from here. This includes unlimited live streaming, receiving smartphone alerts, cloud storage, and recorded footage reviews.
Just like previous smart doorbell models, you'll receive a variety of complementary features. Aside from a range of installation tools, you will also get a corner bracket and a wedge bracket, which will enable you to install the doorbell at any angle and in any position.
There are no major technical drawbacks with Amcrest's smart doorbell, but there are a few things I didn't like so much. As I mentioned a second ago, its night vision is pretty good, but its range isn't that great. The 2K video quality is awesome, but the picture quality could've been better.
All things considered, I firmly believe that Amcrest's 4MP video doorbell is an excellent choice for people that want a dependable, portable, and most importantly secure WiFi doorbell system.
Highlight Features:
Can work with Wi-Fi or standard doorbell 16V or 24V wiring

2K video footage quality

Equipped with a 4 MP camera with a 164-degree field of view

Does not require batteries to work (but needs a Wi-Fi connection)

Night Vision mode with up to sixteen feet of visibility

Human Motion Detection system
Smart Doorbells Under $200
5. AOSU Doorbell Camera Video Doorbell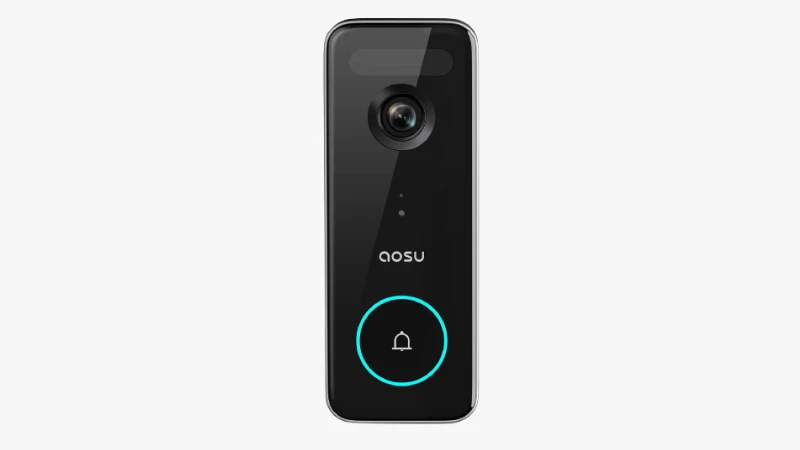 As far as mid-range smart doorbells go, AOSU's model is among the best ones I can recommend. Equipped with a host of advanced features, huge built-in memory, outstanding motion detection, and a 5 MP camera, it casts a long shadow over its cheaper counterparts.
The 2K smart camera with 5 MP is arguably its strongest feature. Several other doorbells I've reviewed boast HD 2K footage, but when compared, pictures and videos taken with this camera's 5MP are far more vivid and detailed.
Furthermore, the camera integrated into this smart doorbell features seven pristinely clear optical glass lenses. Regarding FOV, this camera captures everything within a 166-degree field of view, just like Kalogl's smart doorbell.
The feature of the AOSU doorbell I liked the most is its triple motion detection system. Leveraging the latest passive infrared motion sensors combined with robust human detection technology, this smart doorbell will almost never send a false report.
I've talked a bit about how important storage space is for smart doorbells. While most manufacturers partner with SaaS cloud storage companies, AOSU equipped its smart doorbell with 8 GB of onboard memory, ensuring that you get full control of at least two months' worth of recorded footage.
This doorbell is powered by an inbuilt rechargeable battery. Unlike its contemporaries, AOSU's battery boasts a significantly lower consumption rate. The doorbell will immediately send you a notification when the battery is about to run out so you can either charge or replace it with a new one.
At the end of the day, there are no pitfalls to this device. It's a highly versatile all-rounder, acclaimed for its triple motion detection, awesome storage, and great inbuilt camera.
Highlight Features:
Works with virtually all Wi-Fi home connections

2K video footage quality

Rocks a 5 MP camera with 7 optical glass lenses and 166-degree FOV

Night Vision mode

Passive Infrared motion sensors

Powered by a rechargeable battery

Triple Motion Detection system

8 GB of onboard storage
6. Ring Video Doorbell Pro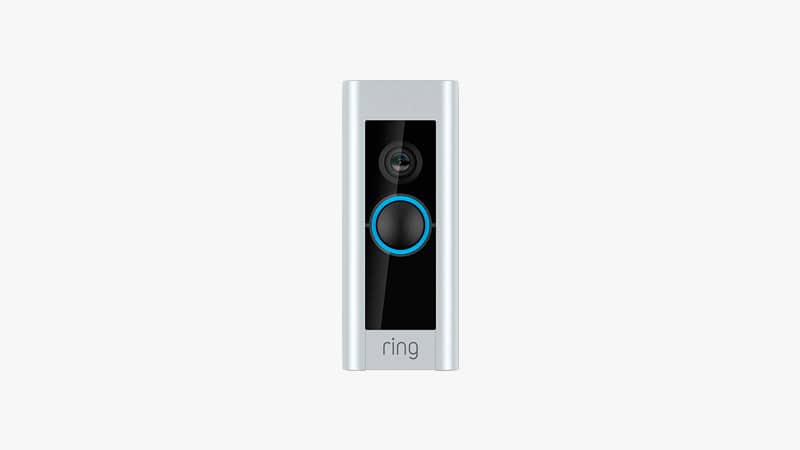 If you're looking for the cream of the crop in terms of smart video doorbells, the Ring Video Doorbell Pro is exactly that.
The sleek design gives it a solid, beautiful look to it. You can also request professional installation when ordering the doorbell from Amazon. It does come with installation guidelines should you want to go about it on your own, but this is always an option if you're not comfortable performing the installation on your own.
The Ring Video Doorbell Pro does require a current doorbell wiring to function as it pulls power from this connection. It does not use a battery pack unlike the Video Doorbell 2 or the entry Video Doorbell, which means installation will take a few minutes longer.
The Ring Video Doorbell Pro shoots video in 1080p HD while allowing you to check the video feed live. It uses both a 2.4GHz and 5 GHz wireless configuration. This way, it makes it possible to connect with a more powerful wireless network.
You do need a faster Internet connection speed to fully take advantage of the Ring Video Doorbell Pro. It recommends having an upload speed of at least 1Mbps (although 2 is desired for top performance). You may need to upgrade your home wireless network or install a mesh network to ensure the wireless signal is strong enough at your front door.
The Ring Video Doorbell Pro also works with Amazon Alexa (Ring has a contract with Amazon so all Ring devices will work with the Alexa digital assistant).
The device also comes with an application that works on both Android and iOS devices. This way, even if you're using an Apple phone you can control the doorbell through the installed application.
Some of the Ring Video Doorbell Pro features to consider include:
Four removable faceplates to give you the perfect look, no matter where you have it installed
Adjustable motion detection zones
Save and share video footage from the video feed
Can subscribe to a $10 Ring Protect Plus for 30-day video storage
Lifetime theft protection
Monitors video at 1080 HD and includes infrared night vision
Smart Doorbells Under $250
7. Ring Video Doorbell 3
Ring Video Doorbell 3 is the newest flagship of one of the most popular smart doorbell brands on the market. It's the ultimate piece of security technology on the market and to top it all off, it's not the most expensive one on the list.
This smart doorbell sports a 1080p high-display video camera that works great regardless of lighting conditions. Its superb sensors can detect human motion even if it's pitch-black outside and instantly send you a notification when someone's at your doorstep. The sensors also conveniently ignore any non-human passers-by such as pets.
The second-generation Ring Chime feature is one of the best functions Ring 3 comes supplied with. It's a fully-customizable alarm feature that you can set to ring at varying volumes; you can even designate where the alarms will be heard, though I recommend you always keep the option to send notifications to your smartphone active.
This doorbell model works on rechargeable batteries that boast long life and remarkably quick charging abilities. Furthermore, the setup is extremely simple and doesn't require any elements that don't come in the box.
It is compatible with both Google Assistant and Amazon's Alexa; these features can be accessed and customized via your smartphone.
The only less-than-ideal feature about the Ring 3 video doorbell is that you can access most of the footage you've taken with its camera, but not all of it. To do so, you'll need a separate Ring Protection subscription to review footage taken in the previous six months. This subscription is quite cheap though, and it allows you to share your photos or videos.
Overall, Ring 3 is the most valuable smart doorbell camera I found, despite its higher price range. Even though it is a bit more expensive than average, it's an excellent choice for all homeowners that won't settle for less-than-perfect quality.
Highlight Features:
1080p high-display camera

Dual-band Wi-Fi connectivity

Features inbuilt rechargeable battery

Advanced human motion detection sensors

Compatible with Google Assistant and Amazon Alexa
8. Wemo Smart Video Doorbell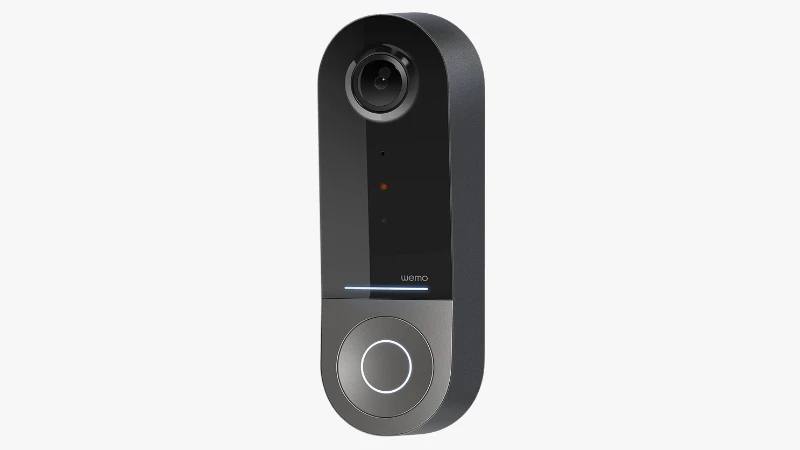 We have entered the boutique price range with its finest representative, Wemo's Smart Video Doorbell. If you're in the market for the best smart doorbell that money can buy and don't mind paying top dollar for it, look no further than Wemo's model.
This is the first smart doorbell that checks all the boxes I've listed in the "Things to Consider" section: it's compatible with digital assistants, it is remarkably easy to install, and its video quality is exemplary, to say the least.
What separates Wemo's smart doorbell from similarly-priced models is the advanced facial recognition technology. Many high-end doorbell models are equipped with human detection and infrared sensors, but Wemo goes a step further by being able to scan and recognize "familiar" faces.
To ensure your guests can't hide away from the camera, Wemo uses a special lens that supports a 178-degree field of view. This essentially means that the only blind spots are measured in millimeters, allowing you to survey everything beyond your doorstep.
All of its features can be accessed with Wemo's Home app. When you open any notification through the app, you can instantly activate the "live recording" mode and speak to whoever's on the other side.
Nighttime surveillance is not an issue for Wemo's smart doorbell, as its highly advanced infrared sensors work equally well regardless of the time of day while the camera sports a convenient night vision mode.
Connectivity-wise, Wemo's smart doorbell rocks dual-band Wi-Fi, enabling you to pick and choose between more dependable long-range connectivity and improved speeds at closer proximity.
There's just one catch, though. This smart doorbell system is only compatible with existing doorbell systems that support 16 or 24V AC outlets. This shouldn't be too big of a deal, as most home doorbells are powered by either of the two.
Unlike Kalogl's smart doorbell, Wemo's model does not offer a free storage plan. Fortunately, you can use any iCloud subscription and connect your Wemo doorbell to it, which will empower you with 10 days worth of footage space.
With the only real drawback being its hefty price tag, Wemo smart doorbell is easily one of the best choices on this list. Robust, versatile, and powered by some of the most advanced technologies in the field, if you have the money, I warmly recommend it.
Highlight Features:
Equipped with a premium quality HD camera with customizable sharpness, saturation, and contrast parameters

Advanced infrared motion sensors ensure dependable nighttime human detection

Compatible with all 16V and 24V electrical outlets

Dual Wi-Fi connectivity bands for even greater versatility

Superior 178-degree field of view
Smart doorbells offer an excellent opportunity to upgrade your home and office security without paying for a security service. It also makes it possible to view who's at the door.
Many of the smart doorbells on the list also provide two-way audio, so you can talk with the person on the other side of the door, whether you're at home or out.
You can't go wrong with any of these options. Currently, there are some smart doorbells that do work with Google Assistant and Apple's HomeKit, but the quality of those devices are not yet up to these options.
The editor's pick was difficult, although we decided to go with the Ring Video Doorbell Pro because not only the features but it comes with the Lifetime replacement option, which helps set it apart from other smart doorbell manufacturers.
If you're currently on the market for a smart doorbell, what are you looking for? What sets a doorbell apart for you?
If you've already bought a doorbell, what do you like about your current model? What do you wish it did differently? Let us know! We'd love to hear from you. Let us know in the comments.
Photo Credit: Unsplash