📷 Love taking photos but hate editing them afterwards? Check out Luminar AI. As the name suggests, it is a Super-Intelligent AI Photo Editor that will seamlessly integrate in your workflow and make taking photos fun again.
Want professional cinematography on a budget? If you've got a high-quality camera on your smartphone, you need one of the gimbal stabilizers below to produce your best work.
We have scoured the gimbal market to narrow down a list of the best smartphone gimbals to prevent camera shake or blur when capturing precious moments on your phone. Whether you're shopping on a budget or have very specific features in mind, you will easily find your best match in this article.
But before you start shopping, check out the important things to consider when deciding on the best gimbal stabilizer for phone use.
A smartphone gimbal does more than just keep your camera steady. Many of them have built-in features that elevate your cinematography game, even including utility software and Bluetooth capabilities that connect to your mobile app.
1. Axis Stabilization
The single most important feature of a gimbal is its ability to eliminate camera movements in videos and images.
There are two different types of gimbals – two-axis stabilizers and three-axis stabilizers. Two-axis gimbals stabilize your Tilt and Roll, and three-axis gimbals stabilize your Pan.
Two-axis stabilizers are generally more affordable, but three-axis stabilizers are better for shooting moving footage with an action camera.
2. Battery life
Battery-powered gimbals come in one of two ways. Some models use standard alkaline batteries which have to be replaced in regular intervals, while others use rechargeable lithium-ion batteries, but these tend to have shorter battery life.
3. Weight
Most gimbals don't weigh more than a couple of pounds, but even two or three pounds can get heavy if you have to hold it up for extended periods of time. As a rule of thumb, the lighter the gimbal, the better. But make sure you're not sacrificing performance just to save half a pound.
4. Software
Most smartphone gimbals come with installed utility software. This software can be a powerful tool, enabling you to get more out of not only your gimbal but your camera as well.
That said, the software often only works with a particular operating system, so make sure your phone gimbal is compatible with your device.
5. Compatibility
You need to make sure the gimbal you purchase is compatible with your camera or phone's camera, as well as your computer. If your gimbal doesn't work with iOS and you have an iPhone, you're going to be out of luck.
In addition, many mobile gimbals only work with specific phone models, regardless of the operating system, so keep this in mind.
The Best Smartphone Gimbal Stabilizers for 2023
| Product | Model | Weight | Battery Life | Price |
| --- | --- | --- | --- | --- |
| | Zhiyun Smooth 4 | 35.2 oz | 12 Hours | |
| | DJI OM 4 | 15.16 oz | 15 Hours | |
| | Hohem iSteady V2 | 9.28 oz | 9 Hours | |
| | Zhiyun Smooth Q2 | 13.4 oz | 17 Hours | |
| | Zhiyun Smooth X | 20.8 oz | 4 Hours | |
With so many different options in the marketplace, sometimes it can be difficult to know what to buy.
We're happy to recommend the Zhiyun Smooth 4 3-Axis Handheld Gimbal Stabilizer. This gimbal stabilizer is packed with innovative and helpful features that let you make the most out of your smartphone camera.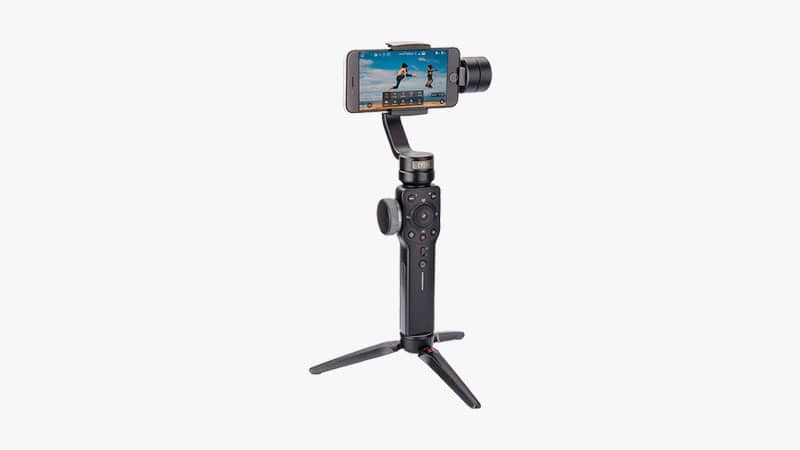 Best Smartphone Gimbal Under $100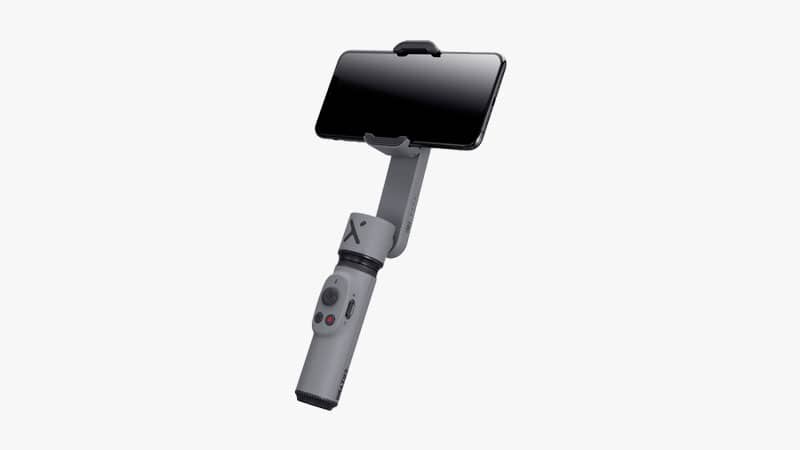 The first one on our list is Zhiyun Smooth X Gimbal Stabilizer, a smartphone gimbal that is flexible, packed with cool features, and smooths out the phone screen shake to help you film the perfect video every time. It has a joystick on the control board and comes with a tripod and travel case.
This affordable gimbal comes with the ZY Cami companion app, which allows you to control programmable filming techniques. What's more, the stabilizer has a few shooting modes, such as the Gimbal Mode, the Selfie Mode, and the Tripod Mode, which help you take professional shots.
It also has SMART modes like Face/Object tracking, Gesture Control, and Filmmaking Features, like slow motion and timelapse through the Cami app. This stabilizer has 2 arms, the Pan Axis and the Roll Axis. Its batteries last up to 4 hours of continuous use and it comes with a USB–C cable for fast charging.
The attention to detail when it comes to the design of this gimbal stabilizer is surprising considering how inexpensive it is. In terms of durability and reliability, at least in my opinion, Zhiyun Smooth X is the ultimate gimbal stabilizer for vlogging and shooting scenery photos. A lot of pros are using it, and for good reasons too.
The greatest feature of the Zhiyun Smooth X is its weight and compact design. At only 1.3 pounds, it can fit in any purse, backpack, or even a pocket.
You can extend its size with the built-in selfie stick, as well as rotate it to fold it. Zhiyun Smooth X is compatible with Android phones under 235 g, as well as with iOS phones.
Plenty of alternatives that come to mind are either far more expensive or too simplistic to compare.
However, out of all gimbal stabilization products, Zhiyun Smooth X could be considered the most basic product from this company. With a bit of extra money, you could buy the Zhiyun Smooth Q3 and benefit from its advanced inception mode, Dolly Zoom, increased battery runtime, and lower weight.
Although its selection of available effects isn't something you'd be amazed by, it's fairly great for the money. The dimensions of Smooth X beat the dimensions of Smooth Q3, so if you're searching for a portable, small-sized gimbal stabilizer, I would recommend the former.
I would also like to briefly mention Zhiyun Smooth XS as its successor and a slightly more expensive alternative. Weighing in at 8.7 ounces, Zhiyun Smooth XS packs a more aesthetically pleasing design, a 10-inch selfie stick that can extend up to 20 inches, and boasts plenty of similar features its predecessor comes equipped with.
Overall, Zhiyun Smooth X boasts durable plastic build quality and a sturdy frame while providing a variety of convenience-oriented advantages that revolve around its companion app and affordability. It's a value option for people on a cash-strapped budget given that its price tag is incomparably low.
Here's the review:

Features
2-axis stabilizer
Rechargeable battery lasts up to 4 hours
Weighs 1.3 pounds
Durable body
Folding design
Extendable selfie stick
Compatible with Pro Max iPhones and most Android smartphones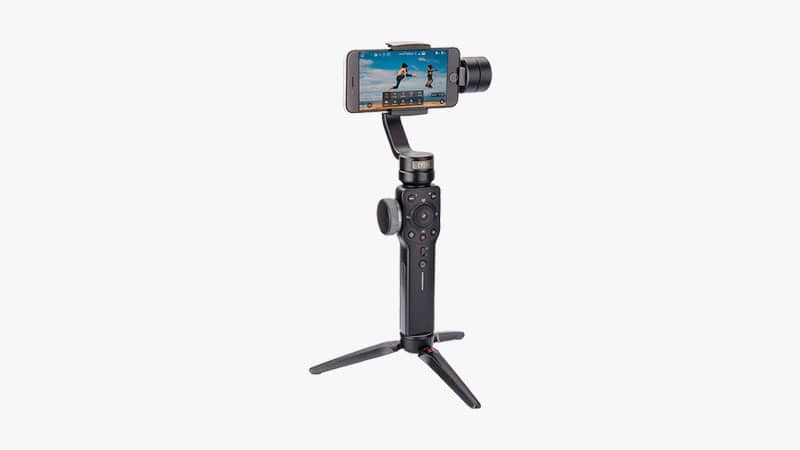 The second cheapest option on the list is from the same manufacturer. Zhiyun is a reputable company, and it wouldn't be fair to say which model of the two is better, but for the sake of comparison, I wanted to give you more options in the same price range, so let's see what Smooth 4 can do for you.
Zhiyun Smooth 4 3-Axis Handheld Gimbal Stabilizer comes with a variety of features that are impressive for the price range.
This portable gimbal has an integrated control panel with smooth instant controls that minimize the need for constantly touching the screen, as well as precise focusing with the handwheel. You can access the hotkey buttons such as the "Vertigo Shot" or "POV Orbital Shot" directly from the device. You can also zoom in and zoom out the footage easily.
Moreover, Zhiyun Smooth 4 has the PhoneGo mode when you need instant scene transition. Its top-grade plastic build quality and a solid frame are other things I really liked about this gimbal stabilizer, especially given the fact that it belongs to a low-tier price point category.
Zhiyun Smooth supports advanced shooting techniques like motion lapse, moving timelapse, and timelapse. Plus, it has an Object Tracking feature that helps you track human faces and objects and a Quick Standby mode, but it doesn't support Dolly Zoom.
The best thing about this cheap gimbal stabilizer is that it can run for up to 12 hours. You can charge it with a portable power bank and it also has a USB port on the tilt axis for phone charging.
However, you won't get a phone charger with the product. The Zhiyun Smooth comes with a TRM03 tripod, type-C USB cable, carrying case, and a user guide. You can find a lot of similar accessories on Zhiyun's official site and purchase them individually too.
This is not a perfect gimbal stabilizer product though, even though there's an abundance of things I was completely enamored by.
Although its supportive strength when it comes to smartphone weight is formidable, it amounts to little as its actual weight is above 2 pounds, which pretty much spells 'hand fatigue'. True to its name, its ergonomics support smoothness in filmmaking and photoshoots, especially when taking selfies, but I've noticed a few other issues with the ZY Play app as well.
Among its most obvious downsides, I'd like to mention that the app takes a while to connect to the gimbal, and it doesn't support geo-tagging on certain occasions. While you will get the user guide, it doesn't contain any details on how to use the ZY Play application.
I'd like to make a quick comparison between Zhiyun Smooth 4 and Ziyun Smooth Q3 so that you can understand why the latter wasn't featured in the review. Although their prices are relatively similar, and despite the fact that Zhiyun Smooth Q3 is Smooth 4's successor, the Smooth 4 packs a lot of features similar to Q3 at a decently lower price.
As I've mentioned above, the Zhiyun smooth Q3 comes equipped with the inception mode, Dolly Zoom, compatibility with an extended range of Pro Max iPhones, and it's a great choice for smartphone users that don't mind paying a premium price for it, but many enthusiasts will be more than satisfied with the cheaper options Zhiyun has to offer.
At the end of the day, you'll probably have to look far and wide to find a better value option than the Smooth 4.
If you're looking for lightweight products with premium stabilization technology and portability, I recommend you look elsewhere, but if you don't mind a 2-pound stabilizer that is both sturdy and intuitive to use while being available at a very low cost, look no further than Zhiyun Smooth 4.
Below is the review of the Smooth 4:

Features
3-axis stabilizer
Rechargeable battery life of up to 12 hours
Weighs 2.2 pounds
ZY Play App
USB Charging
Folding design
Works with iPhones and Androids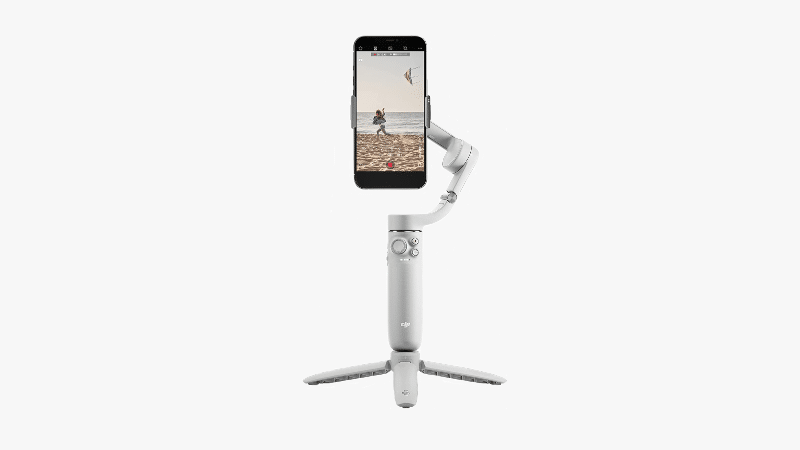 DJI OM 5 is one of Amazon's Choices in the DJI stabilizers category. Even though DJI is among the most popular brands, the fact that this particular model has won over more than 3,000 Amazon reviewers speaks volumes about its quality.
Though the competition is stiff, I think Zhiyun Smooth 4 might still be a better choice for the money, depending on the features you are on the hunt for. So, let's elaborate a bit further.
Let's start with the basics. This is a portable hand-held smartphone gimbal stabilizer equipped with three ultra-strong motors that largely contribute to smoothness, portability, and reliability in the stabilizer's performance.
In comparison to earlier DJI gimbal stabilizer models, the DJI OM 5 is both lighter and packs a brand-new foldable design. It's also compatible with FiLMiC Pro software, just like most Zhiyun 5 successors.
Another brand-new feature of DJI OM 5 is the built-in extension rod, which drastically increases its versatility. It's approximately 8.5 inches tall, and it complements the stabilizer's ergonomics perfectly.
An important feature of the DJI Pocket 2 is its locking mechanism. Its clamps are coated in quality rubber, preventing slipping. This is not exactly a rare feature in this price point, but sturdy, efficient clamps are not as common as some gimbal users may think.
One of the most amazing features of this gimbal stabilizer is the ShotGuides feature, which adapts to its surroundings and provides users with tips and a variety of templates. It's remarkably helpful for beginners in the photo industry, filmmakers, content creators, vloggers, and pretty much anyone who wants to use a smartphone camera like a pro.
Portability is easily one of the biggest advantages of using DJI OM 5, as its ergonomics, low weight, and excellent portability are hard to beat in this price range.
Another interesting feature is the fourth edition of the ActiveTrack technology. When pitted against earlier editions, the ActiveTrack 4.0 is packed with advanced recognition abilities, superior face tracking, and improved selfie-tacking capabilities.
An array of shooting modes is available with the OM 5, with the two most prominent ones being Panorama and CloneMe Pano. In terms of video modes, filmmakers, vloggers, and content creators will get to use the Story Mode, Dynamic Zoom, Timelapse, and SpinShot modes.
Features
3-axis stabilizer
Battery runtime: 6.4 hours of continuous use
Weighs 11,5 ounces
Folding design
Selfie Stick
Compatible with FiLMiC Pro software
Works with iPhones and Androids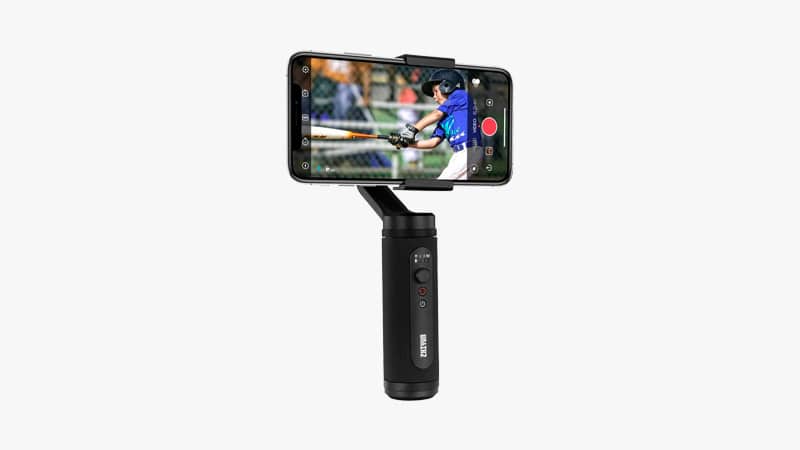 Given that we're nearly halfway through the reviews of gimbal stabilisation products, I'd like to point out that every model from here on is great for pretty much anyone in need of a quality gimbal.
Zhiyun Smooth Q2 offers a balance between price and performance, a relatively shallow learning curve, and a set of outstanding features. It's something that will help owners of action cameras, vloggers, and DSLR users benefit from substantially increased accuracy right out of the box.
The sleek, lightweight design of this gimbal stabilizer makes it portable and easy to use. Its three-axis stabilization offers 360° rotation and 360° Vortex, 360° POV, Vertigo, or timelapse pro modes. It also has a number of special features that will elevate your filming experience.
The Zhiyun Smooth Q2 works with Android and iOS native phone cameras through direct camera control. Plus, it has a new portrait gesture feature that requires less effort to manage.
In terms of portability, Zhiyun Smooth Q2 is something that you won't be disappointed in, but it's not something you'll be too thrilled about either.
It connects directly to your phone's micro-USB port for constant charging, and it comes with an app that adds a variety of filming features, such as automatic zooming, face tracking, panoramic filming, and time-lapse photography.
The impressively long battery life provides up to 17 hours of continuous running time, which is quite impressive and enables you to shoot without having to worry about production coming to a halt.
The product comes with a phone holder, a wrist strap, a USB type-C cable, and a quick start guide.
Features
3-axis stabilizer
Rechargeable battery life lasts up to 17 hours
Weighs 13.4 ounces
Micro USB port for charging
Extendable selfie stick
Multiple shooting modes
Works with iPhones and Androids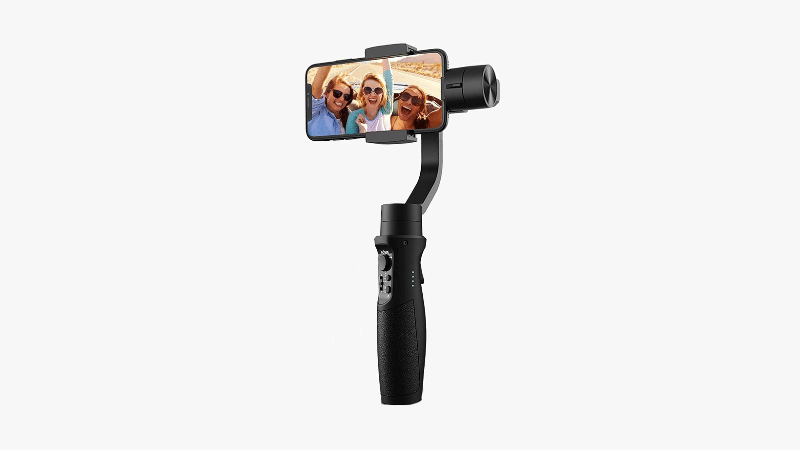 Hohem is a company that specializes in gimbal products, unlike DJI for example, which also offers camera drones, professional cameras for videographers, and a variety of accessories. The iSteady Mobile Plus is a mid-tier gimbal with everything to prove, and I'm here to break down its advantages and features.
This lightweight gimbal is one of the best and most affordable gimbals that transform shaky motion videos into clean, clear, and smooth videos. The Hohem iSteady Mobile Plus has different capture modes that make it perfect for shooting sports videos, documentaries, and vlogs.
It supports different stabilization modes like Pan follow and All follow, and shooting techniques like motion lapse, track lapse, and timelapse. It also has a vertical 360° spontaneous rotation and an object-tracking feature which gives you even more shooting flexibility. The freedom to snap stills or capture clips from a variety of angles is what makes this stabilizer so great for the money.
Aside from the different available modes, you'll also be able to attach other filming accessories like a tripod stand for better coverage. No matter the kind of videography or sports that you're into, or your level of expertise, Hohem iSteady Mobile Plus gimbal will do the trick for you.
The best feature of the Hohem iSteady Gimbal is the mobile application that gives you multiple video editing options. With all the features of this gimbal stabilizer, you can become a captivating and inspiring storyteller within a short time.
Features
3-axis stabilizer
Weighs 1.07 pounds
Compatible with iPhones and Androids with screen size less than 6 inches
Rechargeable battery life lasts up to 12 hours
Sturdy extendable selfie stick
Sturdy body made of high-quality materials
It can serve as a power bank for vlogging cameras and action cams
Best Smartphone Gimbal Under $150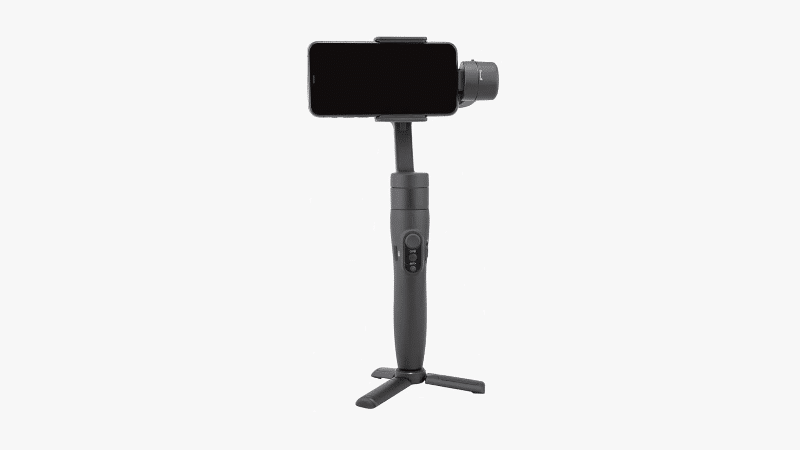 FeiyuTech is among pretty popular brands, and even though FeiyuTech Vimble 2S may not have as many reviews as DJI or Zhiyun gimbal stabilizers, it's one of the finest products in this category, offering exceptional FOV, mobility, phone weight support, and versatility at a fairly approachable price tag.
First and foremost, this gimbal stabilizer weighs around 15 ounces. In my research, I've found plenty of products that were far lighter; however, FeiyuTech Vimble 2S's super-strong clamps allow it to hold heavier phones in place, which is more than enough to compensate for this little drawback.
As a 3-axis stabilizer, FeiyuTech Vimble 2S offers a 320° range of motion on each axe, providing the much-needed flexibility to snap stills, selfies, and clips from different angles, even while moving. You can wave goodbye to tilting, rolling, and panning, as the motors will keep lighter action cams, vlogging cameras, smartphones, and even DSLRs in place.
Its gimbal stabilization technology is powered by a motor-locking system, which ensures that the clamps grip the smartphone reliably and firmly. Another thing I loved about the Vimble 2S is the 0.25-inch thread that enables users to attach additional accessories for an even higher level of versatility.
Features
3-axis stabilizer
Rechargeable battery life lasts up to 4.5 hours
Weighs 1.1 pounds
Works with iPhones and Androids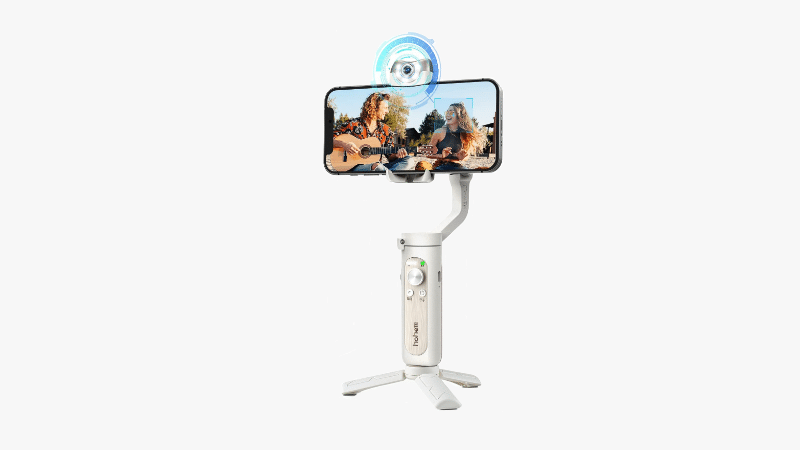 Let's start with the basics of Hohem iSteady V2. It's a mid-tier gimbal stabilizer with excellent battery runtime, a sturdy frame, durable arms and clamps, and high adjustability.
The Hohem iSteady V2 gimbal is an ultra-lightweight, compact gimbal. It is the lightest option on this list, foldable, and the perfect definition of portable and compact. On the move or at home, it is easy to set up and ready to serve.
This light gimbal for smartphones has a comfortable leathery texture on the handle that complements its size. This means you can create video content all day without feeling any unpleasant friction or weight on your hands. You can also control the capture modes using hand gestures directed at the gimbal as you make your video.
Hohem iSteady V2 has different shooting modes that you can access through the Hohem Pro App. You can create different custom videos for YouTube, Instagram, and TikTok and prompt as many reactions as you can imagine.
The best feature of this gimbal is the AI tracking sensor that eliminates the need for a mobile app (even though it has an app) and gives you full camera control for social media video creation. If you're a dancer, a chef, or a producer that prioritizes a reliable face-tracking technology, look no further, as this may be the best choice for you.
Features
3-axis stabilizer
Rechargeable battery life lasts up to 8 hours
Weighs 1.17 pounds
Hohem Pro App
AI Tracking sensor
Works with iPhones and Androids

The DJI OM 4 is one of the newest smartphone handheld gimbals on the market. It enhances your smartphone camera with a wide variety of features that take your videos to the next level, giving it a series of advantages over other smartphone gimbals.
One of the things that excite us the most is the Hitchcock effect, a creative zoom shot that gives your videos a Hollywood feel. The OM 4 lets you play around with time like never before, with 8 different modes: ActiveTrack, Gesture Control, SpinShot Mode, 240° Pano, and 3×3 Pano, DynamicZoom, CloneMe Pano, and Timelapse.
Needless to say, using these effects and the advanced features of DJI OM 4 will give you the freedom to not only take top-quality pictures and videos but to also play around with various effects and use your creativity to whittle down the editing chores.
The gimbal can charge a phone with the USB port on the right side. Other cool hardware features on this gimbal are the magnetic mounting system and the ring holder to attach your smartphone wherever you are.
What's more, the OM 4 has an incredible 15 hours of battery life, which enables it to serve as a charging station for your phone, letting you film for longer than ever before. This means that with your Bluetooth connection, you can stream live from your phone for long, uninterrupted live streams. It is more than enough for you to capture all special moments.
I'd also like to recommend checking DJI OM 4 SE out – OM 4's successor is fairly light and equipped with upgraded features. Although there are more similarities than differences between the two, DJI OM 4 SE features enhanced tracking, improved gesture control, and offers vivid smoothness.
No wonder it's one of Amazon's best-selling video stabilizers for pros, as nearly 10,000 reviewers have awarded it 5 of 5 stars. Even though DJI is among the most popular tech companies around, some of their most iconic flagships don't have half such an array of positive reviews, which paints a pretty clear picture of the value and performance of this remarkable stabilizer.
In my opinion, the OM 4 does a slightly better job in terms of performance, even though it's a bit heavier and more expensive. It can support increased phone weight, it offers an extended range of available shooting modes, and subjectively speaking, I feel like its clamps are a bit stronger.
It does an excellent job at keeping attached smartphones steady, and it's an incredible choice for videographers filming on a budget.
Check out the 5 reasons to love this model:
Features
3-axis stabilizer
Rechargeable battery life lasts up to 15 hours
Weighs 1.1 pounds
Works with iPhones and Androids
A plethora of effects
Robust body made of exceptionally durable materials
Magnetic mount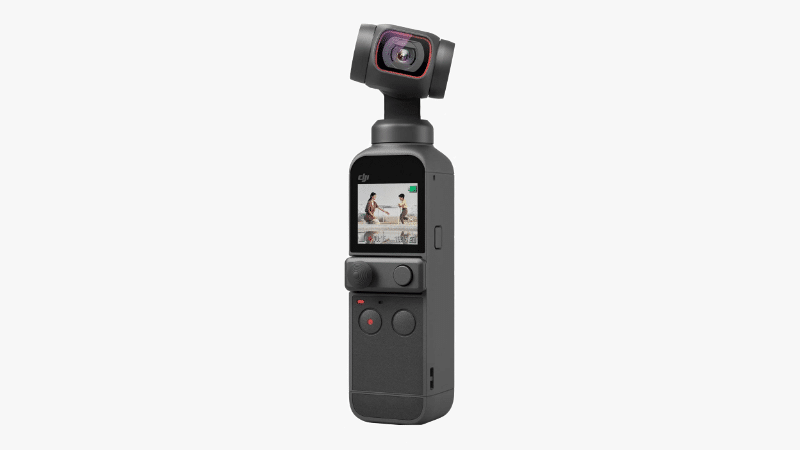 The DJI Pocket 2 is a bit too expensive for most people, which is the reason why it didn't make it to the final selection in the first place. It's hard to compare it to other gimbal stabilizer reviews, as everything it's packed with is different – from the features, to its design, to its hefty price tag. However, it's an amazing alternative for people that don't mind paying a bit extra money for superb quality and performance.
This is a 3-axis stabilizer that boasts over 2 hours of battery runtime. Handheld and pocket-sized, hence the name, the main advantages of Pocket 2 revolve around practicality and convenience. Tilting, panning, and rolling won't trouble filmmakers, vloggers, camera users, and pretty much anyone that uses this gimbal stabilizer. Its learning curve is shallow, so you don't have to think twice about buying it if you're new to the world of gimbals.
In terms of dimensions, it's the smallest stabilizer on the list, and true to its name, it literally can fit inside a pocket.
Furthermore, with barely above 4 ounces of weight, Pocket 2 is easily the lightest smartphone gimbal stabilizer we've covered today. It also comes equipped with a 4K camera, allowing you to take 4K videos without further investing in your filmmaking setup. If you have a keen eye for details, this is the stabilizer you are looking for.
Its DJI Mimo app works with most iOS 11 smartphones or Android 7.0 phones. If you are using a newer edition of iPhone Pro Max or Android Galaxy with an up-to-date operating system, the DJI Mimo app will most likely be compatible with it.
The main downside is obviously the hefty price tag. DJI Pocket 2 costs nearly twice as much in comparison to the first several reviews in this guide. That wouldn't be too much of an issue were it not made mainly for beginners.
There's an abundance of positives and only a handful of shortcomings when it comes to DJI Pocket 2's performance and value. Overall, it does an amazing job when it comes to getting quality pictures and clips with minimal effort. I didn't include it in the main picks because of its expensiveness, but it offers tremendous value for the money for filmmakers and vloggers that can afford it.
Features
3-axis stabilizer
Rechargeable battery life lasts up to 140 minutes
Weighs 4.1 ounces
Works with iPhone editions up to the latest Pro Max versions and most up-to-date Android OS phones
Magnetic mount
Supports a variety of effects
4K camera
Ultra-strong grips
How We Picked the Best
Gimbal Stabilizers
Whether you're shooting pictures for your Facebook account or simply enjoy filming your neighborhood area, you'll want a gimbal stabilizer to make your content stable.
Phone screen shake is a common problem that anyone can encounter, no matter how stable your hands are. In many cases, people try to find a balance between a high-quality image or clip and stability, which inevitably ruins both. A gimbal stabilizer can help with that, but not every model is up for the job.
Many stabilizers are too expensive, and in many cases, even too heavy to be considered practical. There are obvious differences between 'good' and the 'best' stabilizers, even though their price tags won't tell you that right out of the gate.
To help you avoid these issues, I've made this little guide for you to understand the basic elements I've searched for in every gimbal stabilizer I've reviewed:
1. Price
The amount of money doesn't necessarily reflect the full value of any product, and this obviously applies to gimbal stabilizers as well.
However, the amount of money required for a model may be reflective of the quality of materials that were used for its construction, the quality of technologies, and so on.
There's a world of differences between a $60 budget gimbal stabilizer and a $1,000 boutique one. For example, the $60 models are mainly for beginners, offering a shallower learning curve at the expense of performance and versatility; pros that can afford a $1,000 stabilizer already know how to use it, so they wouldn't really benefit from the main selling points of budget models.
Although there are more than a few gimbal stabilizers in the high-tier price points, we've mainly narrowed the selection down to products that cost less than $200 for several reasons.
First of all, action cameras, smartphones, and camera setups, in general, are quite expensive to begin with. Add to that the cost of camera bags, cases, and accessories, and you probably won't have much left to afford a premium gimbal stabilizer kit.
Finding the right balance between price and performance is hard, especially if this is the first gimbal stabilizer you're buying. As a good rule of thumb, starting out with a cheaper model is generally better, as certain features of more expensive products can be quite complicated to use for beginners.
The price point of $200 and below is then optimal for pretty much everyone, regardless of the budget. If you're new to this type of technology, you can simply get a $50 stabilizer to get familiar with the features. If you're looking for an upgrade, pitch in another $50 to get yourself a quality 3-axis one. With another $50 bill, you could easily afford some of the best picks on the list.
2. Versatility
Although I was mainly focused on smartphone gimbal stabilizers, I didn't want to neglect the users of 4K cams, action cameras, and everyone that could benefit from these products. That's why my picks are versatile products that could cater to the needs of beginner content creators, experienced vloggers, videography pros, filmmakers, veteran users of action cameras, and pretty much anyone using filming devices.
There's a distinctive difference between smartphone gimbal stabilizers and models designed for action cameras, DSLRs, and such. However, if you get a model with flexible clamps, you can use it with nearly all devices in your setup.
Zhiyun Smooth X is an excellent choice that is both versatile and comes at a cheap price. However, most models included in the selection above are not only more versatile but more stable and packed with superior features.
3. Standalone Stabilizers versus Bundles
I've mainly focused on standalone gimbal stabilizer products for a very simple reason – bundles are not only more expensive, but the chances are that you have a camera bag at home, and that's usually the best accessory that comes in the box.
Although a gimbal stabilizer kit may be a good choice for people that have only just begun building their camera setup, this amounts to little if you don't know how to use the accessories; this is especially true if you're on a cash-strapped budget, as you'll have to pay drastically higher amounts of money for something that you can purchase at a later date.
The easiest way to determine whether you need a bundle or a standalone stabilizer is to check with different manufacturers and compare the prices. Try to narrow down the individual prices of each accessory, and see whether it's worth buying them as a part of the kit.
4. Learning Curve
Gimbal stabilizers aren't the easiest pieces of technology to use. A lot of these devices feature an abundance of control buttons and functions, and plenty of them feature gimbal apps with different methods of operation.
What adds to that is the fact that the stiff competition between different manufacturers has led to each brand upgrading their models and gimbal apps to extremes, sacrificing the ease of use for more versatility and utility.
A lot of people don't pay too much attention to this aspect and end up hating electronic devices they don't understand.
That's why it's important to pick in accord to your experience in terms of the gear used in your field.
That being said, I would also like to note that the learning curve of a gimbal stabilizer should not be mistaken for its versatility or complexity of features alone. It's a balance, or better said, a combination of factors that contribute to how easy or difficult it is to use a specific model.
While feature complexity contributes the most, the way the features and apps are designed, the structure of the grips, and the sheer intuitiveness of a product are also factors that play certain roles when it comes to the learning curve. Pros typically don't bother with how difficult a stabilizer it is to set up and use, but that's one of the biggest issues for beginner videographers, vloggers, content creators, and filmmakers.
5. Quality of Clamps and Arms
The strength of the stabilizer's clamps and arms encompasses a lot of things – the maximal weight capacity that it can support, the strength of the grips, the sturdiness of the product, and so on.
I recommend gimbal stabilizing devices with robust arms to everyone and anyone, regardless of whether you're a seasoned videographer or have just started out shooting stills or scenery pictures in your backyard. This is a feature that you can't overpay for, as you'll be investing in both reliability and durability.
Now that you have a greater idea of your personal needs and the available options, it is time to step up your video quality.
The best smartphone gimbals will enable you to take smooth, clear footage and can provide a bevy of features to enhance your videos.
Please let us know in the comments below which smartphone gimbal stabilizers you'd suggest and how they've improved your personal filming experience.
If you are looking for a gimbal stabilizer for your camera instead of your phone, check out our article on the best DSLR and mirrorless camera gimbals of 2023.
Photo Credit: Unsplash