📷 Love taking photos but hate editing them afterwards? Check out Luminar AI. As the name suggests, it is a Super-Intelligent AI Photo Editor that will seamlessly integrate in your workflow and make taking photos fun again. If you are a professional and want more control over the editing, check out Luminar NEO.
Want professional cinematography on a budget? If you've got a high-quality camera on your smartphone, you need one of the gimbal stabilizers below to produce your best work.
We have scoured the gimbal market to narrow down a list of the best gimbal stabilizers to prevent shaky or blurry footage when capturing precious moments on your phone.
Whether you're shopping on a budget or have very specific features in mind, you will easily find your best match below.
But before you start shopping, check out the important things to consider when deciding on the product for you.
Things to Consider
Gimbals do more than just keep your camera steady. Many of them have built-in features that elevate your cinematography game, even including utility software and Bluetooth capabilities that connect to your mobile app.
1. Axis Stabilization
The single most important feature in a gimbal is its ability to keep your camera steady. There are two different types of gimbals – two-axis stabilizers and three-axis stabilizers. Two-axis gimbals stabilize your Tilt and Roll, and three-axis gimbals stabilize your Pan. Two-axis stabilizers are generally more affordable, but three-axis stabilizers are better for shooting moving footage.
2. Batteries
Battery-powered gimbals come in one of two ways. Some models use standard alkaline batteries which have to be replaced in regular intervals. Others use rechargeable lithium-ion batteries, but these tend to have shorter running times.
3. Weight
Most gimbals don't weigh more than a couple of pounds, but even two or three pounds can get heavy if you have to hold it up for extended periods of time. As a rule of thumb, the lighter the gimbal, the better. But make sure you're not sacrificing performance just to save half a pound.
4. Software
Most gimbals come with installed utility software. This software can be a powerful tool enabling you to get more out of not only your gimbal, but your camera as well. That said, the software often only works with a particular operating system, so make sure your gimbal is compatible with your computer.
5. Compatibility
Even more than your computer, you need to make sure the gimbal you purchase is compatible with your camera or smartphone as well. If your gimbal doesn't work with iOS and you have an iPhone, you're going to be out of luck. In addition, many gimbals only work with specific phone models, regardless of operating system, so keep this in mind.
The Best Smartphone Gimbal Stabilizers for 2022
With so many different options in the marketplace, sometimes it can be difficult to know what to buy.
We're happy to recommend the Zhiyun Smooth 4 3-Axis Handheld Gimbal Stabilizer is packed with innovative and helpful features that let you make the most out of your smartphone camera.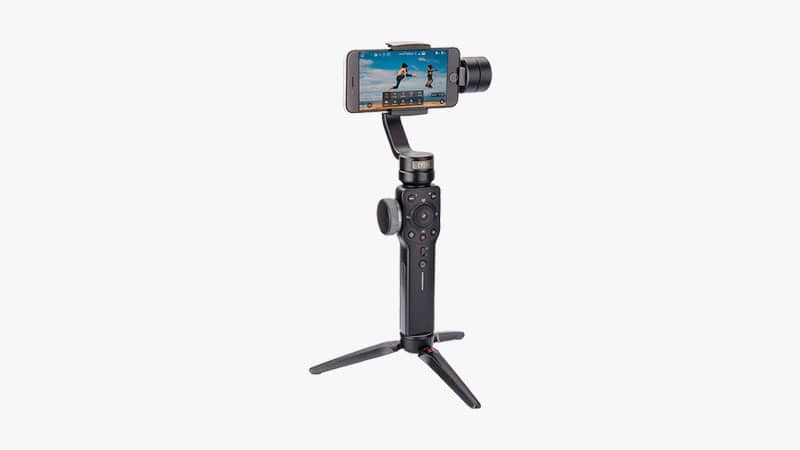 Check Price on Amazon Directly Add to Cart on Amazon
---
Best Smartphone Gimbal Under $100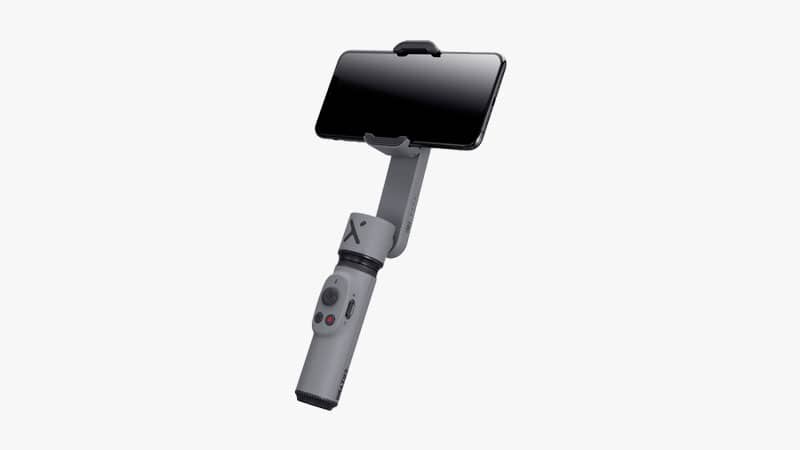 The first one on our list is Zhiyun Smooth X Gimbal Stabilizer, a smartphone gimbal that is flexible, packed with cool features, and smooths out the shakes to help you film the perfect video every time. It has a joystick on the control board and comes with a tripod.
This model comes with the ZY Cami app, which allows you to control programmable filming techniques. What's more, the stabilizer has a few shooting modes, such as the Gimbal Mode, the Selfie Mode, and the Tripod Mode, which help you take professional shots. It also has SMART modes like Face/Object tracking, Gesture Control, and Filmmaking Features, like slow motion and timelapse through the Cami app.
This stabilizer has 2 axes, the Pan Axis and the Roll Axis. Its batteries last up to 4 hours of continuous use. It comes with a USB–C Cable for fast charging and a travel case.
The greatest feature of this gimbal is its weight and compact design. At only 1.3 pounds, it can fit in any purse, backpack, or even a pocket.
You can extend its size, as well as rotate it to fold it. Zhiyun Smooth X is compatible with Android phones under 235 g, as well as with iOS phones.
Here's the review:
Features:
2-axis stabilizer
Rechargeable battery lasts up to 4 hours
Weighs 1.3 pounds
Works with iPhones and Androids
Check Price on Amazon Directly Add to Cart on Amazon
---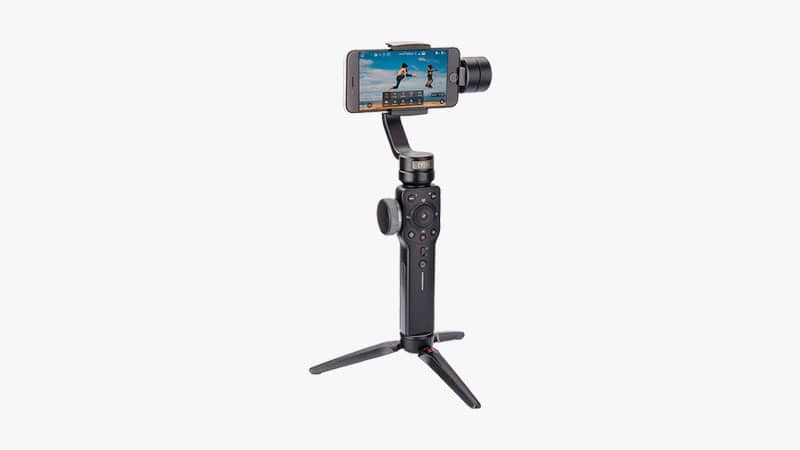 The second cheapest option on the list is from the same manufacturer. Zhiyun Smooth 4 3-Axis Handheld Gimbal Stabilizer comes with a variety of features that are impressive for the price range.
It has an integrated control panel with smooth instant controls that minimize the need for constantly touching the screen, as well as precise focusing with the handwheel. You can access the hotkey buttons such as the "Vertigo Shot" or "POV Orbital Shot" directly from the device. You can also zoom in and zoom out the footage easily. Moreover, Zhiyun Smooth 4 has the PhoneGo mode when you need instant scene transition.
Zhiyun supports advanced shooting techniques like motion lapse, moving time-lapse, and timelapse. Plus, it has an Object Tracking feature that helps you track human faces and objects and a Quick Standby mode by expanding or folding the horizontal arm.
The best thing about this cheap gimbal stabilizer is that it can run for up to 12 hours. You can charge it with a portable power bank and it also has a USB port on the tilt axis for phone charging. However, you won't get a phone charger with the product. This gimbal stabilizer comes with a TRM03 tripod, type-C USB cable, carrying case, and a user guide.
Below is the review of the Smooth 4:

Features:
3-axis stabilizer
Rechargeable battery lasts up to 12 hours
Weighs 2.2 pounds
Works with iPhones and Androids
Check Price on Amazon Directly Add to Cart on Amazon
---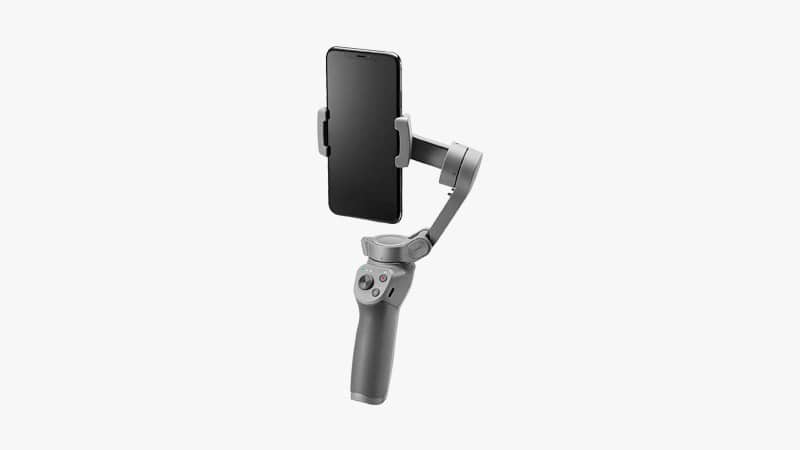 This budget buy, the DJI OSMO Mobile 3 Gimbal Stabilizer, is the perfect ergonomic stabilizer with great features for the price.
This gimbal stabilizer has intuitively placed buttons, making it easy to use with just one hand. The 3 axes reduce any possibility of shaky footage while the convenient foldable design of this product makes it perfect for travel.
Moreover, the EIS (electronic image stabilization) and the stabilization on the gimbal allows you to shoot Hyperlapse videos, panoramas, timelapse, and slow motion. It also has a Sport mode.
The ergonomic grip enables you to hold the stabilizer for long periods and the weight of only 405 g makes it extremely lightweight. This means you can put it in your pocket or in your backpack without worrying about how heavy it is.
Mobile 3 also comes with Gesture control. Both front and rear cameras have this feature and it helps you to enable recording with a simple gesture.
Features:
3-axis stabilizer
Rechargeable battery lasts up to 15 hours
Weighs 14.3 ounces
Works with iPhones and Androids
Check Price on Amazon Directly Add to Cart on Amazon
---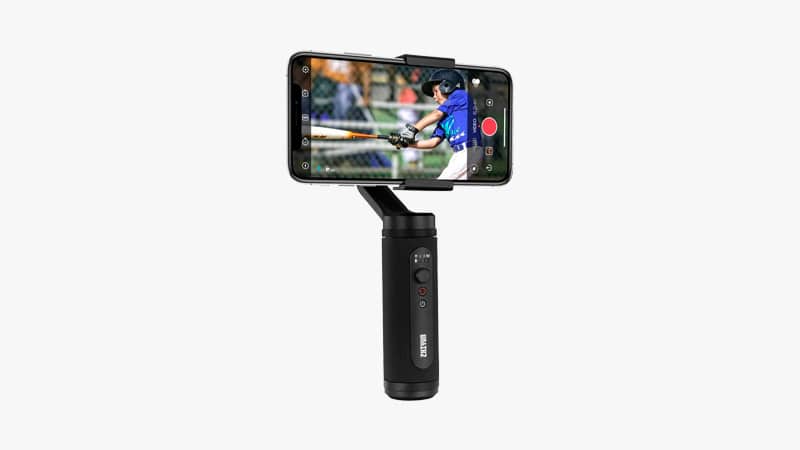 The sleek, lightweight design of this gimbal stabilizer makes it portable and easy to use. Its three-axis stabilization offers 360-degree rotation and 360° Vortex, 360° POV, Vertigo, or timelapse pro modes. It also has a number of special features that will elevate your filming experience.
The Zhiyun Smooth Q2 works with Android and iOS native phone cameras through direct control. Plus, it has a new portrait gesture feature that requires less effort to manage.
It connects directly to your phone's micro-USB port for constant charging, and it comes with an app that adds a variety of filming features, such as automatic zooming, face tracking, panoramic filming, and time-lapse photography.
The batteries provide up to 17 hours of continuous running time, which is quite impressive and enables you to shoot without having to worry about production coming to a halt. The product comes with a phone holder, a wrist strap, a USB type C cable, and a quick start guide.
Features:
3-axis stabilizer
Rechargeable battery lasts up to 17 hours
Weighs 13.4 ounces
Works with iPhones and Androids
Check Price on Amazon Directly Add to Cart on Amazon
---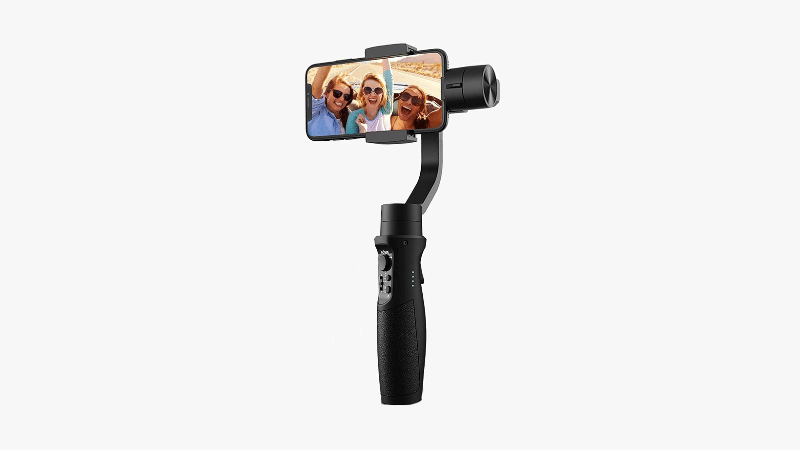 This lightweight gimbal is one of the best and most affordable gimbals that transforms shaky motion videos into clean, clear and smooth videos. The Hohem iSteady Mobile Plus has different capture modes that make it perfect for shooting sports videos, documentaries, and vlogs.
It supports different stabilization modes like Pan follow and All follow, and shooting techniques like motionlapse, tracklapse, and timelapse. It also has a vertical 360-degree spontaneous rotation and an object-tracking feature which gives you even more shooting flexibility.
Aside from the different available modes, you'll also be able to attach other filming accessories like a tripod stand for better coverage. No matter the kind of videography or sports that you're into, or your level of expertise, Hohem iSteady Mobile Plus gimbal will do the trick for you.
The best feature of the Hohem iSteady Gimbal is the mobile application that gives you multiple video editing options. With all the features of this gimbal stabilizer, you can become a captivating and inspiring storyteller within a short time.
Features:
3-axis stabilizer
Weighs 1.07 pounds
Compatible with iPhones and Androids with screen size less than 6 inches
Rechargeable battery that lasts up to 12 hours
It can serve as a power bank for cameras
Check Price on Amazon Directly Add to Cart on Amazon
---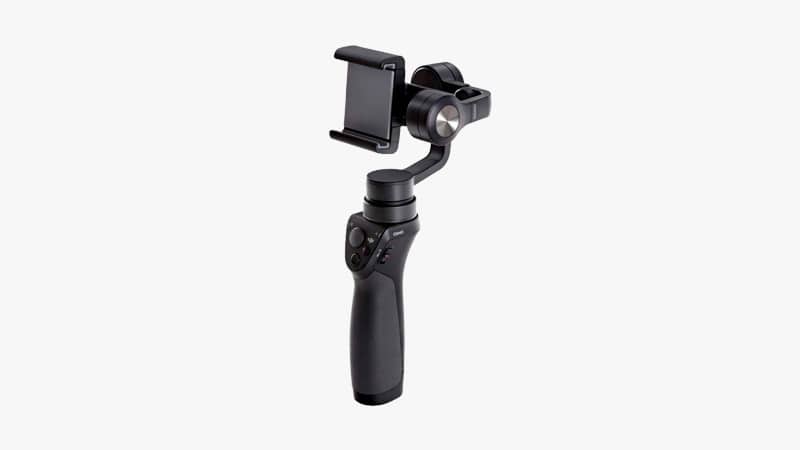 The Osmo Mobile DJI Smartphone Gimbal is one of the best smartphone gimbals on the market. Sleek, lightweight, easy to use, packed with great features and affordably priced, the DJI Osmo Mobile has everything you need.
The Osmo Mobile gives you creative control over your film footage, with a number of advanced features that customize and personalize the way you shoot footage.
Active face tracking lets your smartphone track the subject even when they move, moving the camera automatically so you don't have to.
Ultra-smooth control eliminates shaking and wobbling for sharper, clearer footage. And you can connect with your mobile app for even more features, such as time-lapse, long exposure, slow motion, and live streaming. The Osmo Mobile will even filter your film footage so it looks as good as possible.
If there's a problem with the Osmo Mobile, it's that it automatically records all of your videos onto the Osmo Mobile app. Normally this would be fine, but since you have to transfer each video one by one, it can get rather time consuming.
Below is a test footage of DJI Osmo Mobile paired with iPhone 7 Plus:

Features:
3-axis stabilizer
Rechargeable battery lasts up to 4.5 hours
Weighs 1.1 pounds
Works with iPhones and Androids
Check Price on Amazon Directly Add to Cart on Amazon
---
Best Smartphone Gimbal Under $150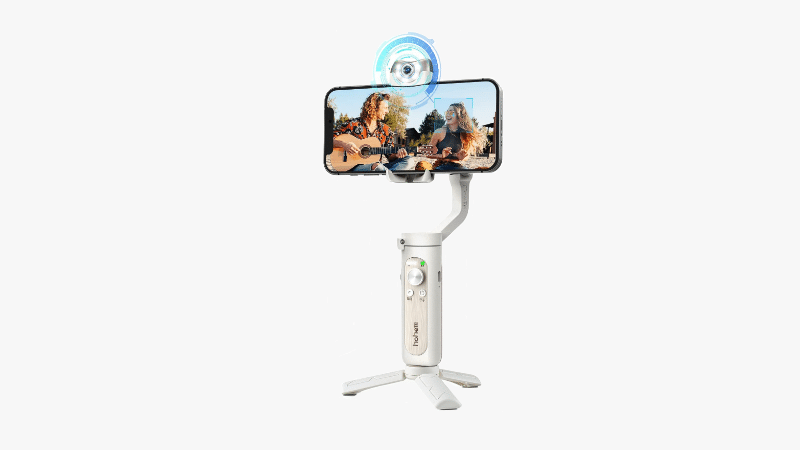 The Hohem iSteady V2 gimbal is an ultra-lightweight foldable stabilizer. It is the lightest option on this list and the perfect definition of portable and compact. On the move or at home, it is easy to set up and ready to serve.
This gimbal for smartphones has a comfortable leathery texture on the handle that complements its size. This means you can create video content all day without feeling any unpleasant friction or weight on your hands. You can also control the capture modes using hand gestures directed at the gimbal as you make your video.
Hohem iSteady V2 has different shooting modes that you can access through the Hohem Pro App. You can create different custom videos for YouTube, Instagram, and TikTok and prompt as many reactions as you can imagine.
The best feature of this gimbal is the AI tracking sensor that eliminates the need for a mobile app (even though it has an app) and gives you full control for social media video creation. If you're a dancer, a chef, or a producer that prioritizes a reliable face-tracking technology, look no further. This is the one.
Features:
3-axis stabilizer
Rechargeable battery lasts up to 8 hours
Weighs 1.17 pounds
Works with iPhones and Androids
Check Price on Amazon Directly Add to Cart on Amazon
---
The DJI OM 4 is one of the newest smartphone handheld gimbals on the market. It enhances your smartphone camera with a wide variety of features that take your videos to the next level.
One of the things that excites me the most is the Hitchcock effect, a creative zoom shot that gives your videos a Hollywood feel. The OM 4 lets you play around with time like never before, with 8 different modes: ActiveTrack, Gesture Control, SpinShot Mode, 240° Pano, and 3×3 Pano, DynamicZoom, CloneMe Pano, and Timelapse.
The gimbal can charge a phone with the USB port on the right side. Other cool hardware features on this gimbal are the magnetic phone grip and the ring holder to attach our smartphone wherever you are.
What's more, the OM 4 has an incredible 15 hours of battery life, which enables it to serve as a charging station for your phone, letting you film for longer than ever before. This means that with your Bluetooth connection, you can stream live from your phone for long, uninterrupted live streams. It is more than enough for you to capture all special moments.
Check out the 5 reasons to love this model:

Features:
3-axis stabilizer
Rechargeable battery lasts up to 4.5 hours
Weighs 1.1 pounds
Works with iPhones and Androids
Check Price on Amazon Directly Add to Cart on Amazon
---
Conclusion
Now that you have a greater idea of your personal needs and available options, it is time to step up your video quality.
These products enable you to take smooth, clear footage and, in the case of smartphones, can provide a bevy of features to enhance your videos.
Please let us know in the comments below which smartphone gimbal stabilizers you'd suggest and how they've improved your personal filming experience.
Disclosure: The product recommendations are not sponsored and are chosen by our editorial staff. We may earn an affiliate commission when you purchase an item through our links.
Photo Credit: Unsplash