There was a time when you needed a video camera in order to shoot good video footage. But that's not necessarily true anymore.
While professional video cameras and stabilized OSS Lenses will always deliver the best video performance, the cameras on your smartphone are more capable than ever before.
Since most people have a smartphone, using the camera on your phone is a great way to start filming without spending hundreds or even thousands of dollars on a camera. But that doesn't mean there aren't problems with doing that.
Have you ever tried to take a cute video with your phone, only to have it ruined by blurry or shaky footage? That might be fine if you're capturing footage of your baby's first steps, but if you're trying to produce Youtube videos or film viral content, you want your videos to look their best, even if it is just a video of a cat being silly.
You may have heard of gimbal stabilizers for DSLR cameras. Well, there are also gimbal stabilizers available for your smartphone or GoPro camera as well.
A gimbal stabilizer will always be more steady than your hand, and they can eliminate shaky or blurry footage to help your videos look better than ever before. Gimbals use brushless motors that keep your smartphone or camera steady during action shots.
This guide will cover ten of the best gimbal stabilizers and will cover both gimbals for smartphones as well as those designed to work with budget-friendly GoPro cameras.
Things to Consider
Gimbals do more than just keep your camera steady. Many of them have built-in features that elevate your game, even including utility software and Bluetooth capabilities that connect to your mobile app. When shopping for a gimbal for your smartphone, here are some features to keep in mind.
1. Axis Stabilization
The single most important feature in a gimbal is its ability to keep your camera steady. There are two different types of gimbals – two-axis stabilizers and three-axis stabilizers. Two-axis gimbals stabilize your Tilt and Roll, and three-axis gimbals stabilize your Pan. Two-axis stabilizers are generally more affordable, but three-axis stabilizers are better for shooting moving footage.
2. Batteries
Battery-powered gimbals come in one of two ways. Some models use standard alkaline batteries which have to be replaced in regular intervals. Others use rechargeable lithium-ion batteries, but these tend to have shorter running times.
3. Weight
Most gimbals don't weigh more than a couple of pounds, but even two or three pounds can get heavy if you have to hold it up for extended periods of time. As a rule of thumb, the lighter the gimbal the better, but make sure you're not sacrificing performance just to save half a pound.
4. Software
Most gimbals come with installed utility software. This software can be a powerful tool enabling you to get more out of your not only your gimbal but your camera as well. That said, the software often only works with a particular operating system, so make sure your gimbal is compatible with your computer.
5. Compatibility
Even more than your computer, you need to make sure the gimbal you purchase is compatible with your camera or smartphone as well. If your gimbal doesn't work with iOS and you have an iPhone, you're going to be out of luck. In addition, many gimbals only work with specific phone models, regardless of operating system, so keep this in mind.
QUICK OVERVIEW: THE BEST SMARTPHONE GIMBAL STABILIZERS FOR 2020
Editor's Pick: DJI Osmo Mobile Phone Gimbal
With so many different options in the marketplace, sometimes it can be difficult to know what to buy.
We're happy to recommend the DJI Osmo Mobile Phone Camera Gimbal is packed with innovative and helpful features that let you make the most out of your smartphone camera.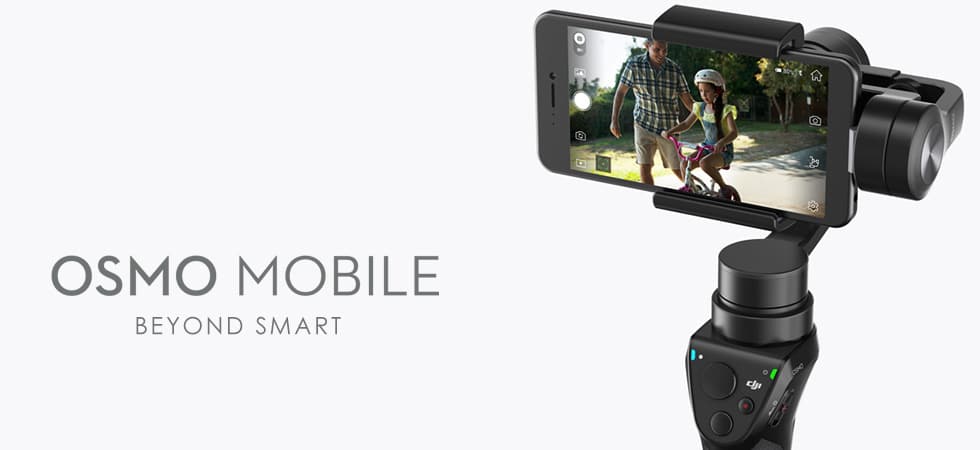 Automatic motion tracking follows your subject closely
Eliminates bouncing and shaking camera footage
Timelapse feature lets you capture stunning images
Adjustable settings process your videos and photos
Three-axis stabilization allows for one-second time-lapse footage
Blends photographs to create large, panoramic images
Check Price on Amazon or Directly add to Cart on Amazon
Best Smartphone Gimbal Under $25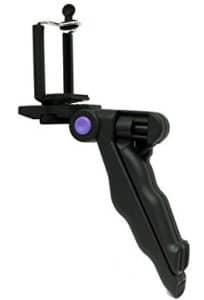 How much money you're willing to spend on a smartphone gimbal will depend heavily on what you're filming, and possibly on how profitable your videos are as well. If you mostly rely on stationary camera angles and only occasionally use moving footage, you might enjoy this budget-friendly stabilizer.
The ChargerCity Pistol Grip Stabilizer doesn't offer many of the features you'd expect in more expensive models. It doesn't come with any software, and there are no advanced apps either.
The gimbal has a basic pistol grip that is easy to hold, and a simple, easy-to-assemble latch that hooks around your smartphone and holds it securely in place. The gimbal can also be modified to a tripod for stationary use.
The best feature of this particular gimbal is that it comes with a ChargerCity micro USB card reader, which allows you to store all of your videos on the card for easy transfer to your computer.
The other feature I enjoy is the direct manufacturer replacement warranty on the gimbal. Since there aren't any compatibility requirements to meet, this gimbal should work with all smartphones 3.25" or smaller. This gimbal won't blow you away, but it's perfect for a quick shoot because it's small, easy to set up, and it weighs less than four ounces.
Check Price on Amazon or Directly add to Cart on Amazon
Best Smartphone Gimbal Under $50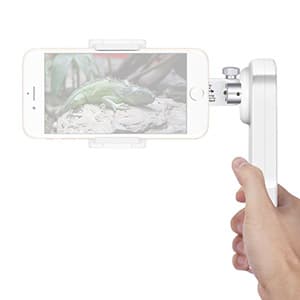 The Neewer NW-2AG200 2-Axis Smartphone Gimbal Stabilizer is the perfect illustration of how much of a difference $30 can make.
Where the ChargerCity gimbal was a simple mechanical tripod with a micro USB card reader, the Neewer NW-2AG200 is a fully-fledged electronic gimbal with Bluetooth capabilities and remote-controlled dual-axis motors.
This gimbal is suited to work with phones with up to 5.5 inches of screen size, including iPhone, Samsung and Galaxy, and is compatible with both Apple and Android OS.
The two-axis gimbal adjusts both tilt and roll, with a horizontal shaft angle of +- 55 degrees and a pitch axis control angle of +- 45 degrees.
The gimbal uses Bluetooth 4.0 and runs on a 1000 mAh lithium-ion battery. The gimbal has a run time of up to five hours, depending on the size and weight of the phone, and charges up in about two or three hours.
It has a Bluetooth-enabled remote control, so you can adjust the tilt and roll, and it comes with a travel pouch for convenient storage when not in use. It weighs 6.7 ounces.
Below is a video review of Neewer NW-2AG200 2-Axis Stabilizer:
This gimbal lacks the control and versatility of a more expensive model, but it's a good entry level stabilizer.
Check Price on Amazon or Directly add to Cart on Amazon
Best Smartphone Gimbal Under $100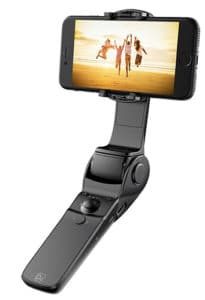 The simple design of the Hohem Handheld Gimbal Stabilizer is a just one of the many appealing qualities of this gimbal.
Unlike the last two gimbals, the Hohem Handheld Gimbal Stabilizer works interdependently with your smartphone.
It connects directly to your smartphone and does not function without it.The Hohem is a three-axis gimbal, giving you added stability as well as flexibility while you're filming.
Once the gimbal is connected to your smartphone, it opens up a variety of features. It has visual auto-tracking that adjusts the camera angle to follow the subject.
With a single click, you can adjust the film radius from 180 degrees to 360-degree panoramic views. And the gimbal connects directly to the app on your smartphone through Bluetooth, giving you access to more customization options.
What's also striking about the gimbal is its design. It has an innovative folding mechanism that makes it exceptionally compact and easy to store. It also features a 3600 mAh power bank that charges your phone while it is connected.
In addition, a four-way joystick lets you adjust the direction of your phone to get the perfect angle while filming. The gimbal comes with a carrying bag and a micro-USB cable, and it weighs just under 11 ounces. The gimbal works with smartphones up to six-inch screens.
Check Price on Amazon or Directly add to Cart on Amazon
Best Smartphone Gimbal Under $150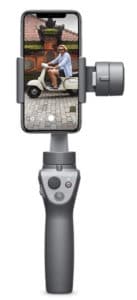 The DJI Osmo 2 Mobile Handheld Stabilizer is one of the newest smartphone handheld gimbals on the market. IIt also enhances your smartphone with a wide variety of features that take your smartphone camera to the next level.
One of the things that excites me the most are the different styles of time-lapse filming available.
The Osmo 2 lets you play around with time like never before, with time-lapse, motion lapse, hyper-lapse all approaching the same concept with a slightly different twist.
In addition, the Osmo 2 also lets you take slow-motion photography, incorporates zooming and makes it easy to assemble beautiful panoramas by assembling multiple shots.
What's more, the Osmo 2 has an incredible 15 hours of battery life, which enable it to serve as a charging station for your phone, letting you film for longer than ever before. This means that with your Bluetooth connection, you can stream live from your phone for long, uninterrupted live streams.
Below is the hand-on video of DJI Osmo Mobile 2:
The gimbal is very lightweight, weighing just under a pound, and has several interface buttons that make operation a cinch. Perhaps the most attractive feature of the Osmo 2 is its competitive price. At under $150, this is one of the best smartphone gimbals you can buy.
Check Price on Amazon or Directly add to Cart on Amazon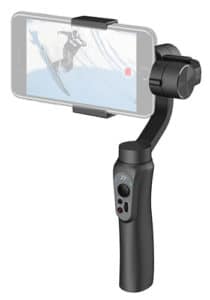 There's a lot to like about the Zhiyun Smooth-Q Handheld Gimbal Stabilizer. It's sleek, lightweight design is portable and easy to use. Its three-axis stabilization offers almost 360-degree rotation. And it has a number of special features that will elevate your filming experience.
The Zhiyun Smooth-Q works with phones with screen sizes up to six inches and weighing 7.7 ounces.
It connects directly to your phone's micro-USB port for constant charging, and it comes with an app that adds a variety of filming features, such as automatic zooming, face tracking, panoramic filming and time-lapse photography.
Batteries provide up to 12 hours of running time, and a four-way joystick built into the handle lets you control the pan, tilt, and roll for unlimited 360-degree rotation.
Below is the footage of Zhiyun Smooth-Q Gimbal paired with iPhone 5s:
In addition to working with most smartphones, the Zhiyun Smooth-Q is compatible with GoPro action cameras. However, the GoPro adapter is sold separately. Also available are tripod extensions that allow you to use the gimbal hands-free.
At 15.5 ounces, however, the gimbal is light enough to use for long periods of time with limited strain. Thanks to its competitive pricing, this gimbal makes an attractive purchase.
Check Price on Amazon or Directly add to Cart on Amazon
Best Smartphone Gimbal Under $200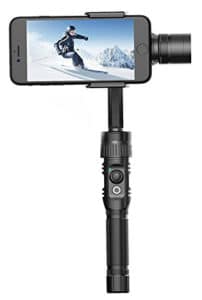 The Hohem 3-Axis Handheld Stabilizer is made with heavy-duty aluminum and is compatible with most mainstream smartphones. Due to its heavier metal frame, it offers excellent balance for your camera without any additional counterweights.
Like many other gimbals, the Hohem offers 360-degree rotation in pitch, roll and pan, allowing you to film from almost any angle. A five-way joystick makes it easy to control the movements.
Alternately, the gimbal uses Bluetooth 4.0 to connect to an independent app on your smartphone, letting you control the gimbal remotely from your phone or to adjust the video settings. The gimbal also has a micro-USB port that allows you to charge your camera while in use.
Like many gimbals, you need to install the camera before you turn on the gimbal in order for it to register the camera and work correctly. In addition, powering up the gimbal without the camera is not recommended.
The gimbal runs on a 3.7V rechargeable battery and runs for around six hours, and there are several ¼ inch screw ports on the bottom for attaching different film tools.
Below is the footage of Hohem 3-Axis Gimbal Stabilizer:
This is a solid gimbal for a smartphone, and it is available at a very attractive price. It weighs almost four pounds, so it's a little heavy, but it's still a great gimbal at a competitive price.
Check Price on Amazon or Directly add to Cart on Amazon
The Osmo Mobile DJI Smartphone Gimbal is one of the best smartphone gimbals on the market. Sleek, lightweight, easy to use, packed with great features and affordably priced, the DJI Osmo Mobile has everything you need.
The Osmo Mobile gives you creative control over your film footage, with a number of advanced features that customize and personalize the way you shoot footage.
Active face tracking lets your smartphone track the subject even when they move, moving the camera automatically so you don't have to.
Ultra-smooth control eliminates shaking and wobbling for sharper, clearer footage. And you can connect with your mobile app for even more features, such as time-lapse, long exposure, slow motion, and live streaming. The Osmo Mobile will even filter your film footage so it looks as good as possible.
If there's a problem with the Osmo Mobile, it's that it automatically records all of your videos onto the Osmo Mobile app. Normally this would be fine, but since you have to transfer each video one by one, it can get rather time consuming.
Below is a test footage of DJI Osmo Mobile paired with iPhone 7 Plus:
If you can look past some frustrating software, however, this is easily one of the best gimbals on the market.
Check Price on Amazon or Directly add to Cart on Amazon
Best Smartphone Gimbal Under $300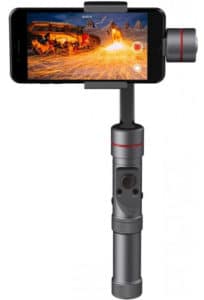 The last smartphone gimbal on this list, the Zhiyun Smooth3 Handheld Gimbal packs in a lot of powerful features. Its excellent balance, superb battery life, and helpful features combine to make an excellent tool.
The Smooth3 excels both in its design and its software. For example, it has a telescoping arm for precision balancing, an intuitive handwheel on its control panel that allows for easy and precise control over various functions, such as exposure, focus and shutter speed.
A two-way mobile clamp lets you instantly adjust the direction of the camera mount either horizontally or vertically for more filming options.
The software is just as comprehensive. Bluetooth technology instantly connects you with the mobile app, giving you control over exposure compensation, ISO, and white balance, letting you apply various filters to your camera, and also providing support for various functions such as time-lapse and long exposure.
Here is a test footage from the Zhiyun Smooth 3 Gimbal with iPhone 8:
The Zhiyun app transforms your smartphone into a video powerhouse, dramatically improving the range and quality of videos your smartphone can take. It may not equal the results of a professional film camera, but it can dramatically improve the filming and video quality of your online content.
Check Price on Amazon or Directly add to Cart on Amazon
Conclusion
If you're looking to elevate the movies you take with your smartphone, a gimbal is the way to go. They enable you to take smooth, clear footage and, in the case of smartphones, can provide a bevy of features to enhance your videos. If you're ready to improve your movies in a simple and affordable move, a gimbal is the way to go.