📷 Love taking photos but hate editing them afterwards? Check out Luminar AI. As the name suggests, it is a Super-Intelligent AI Photo Editor that will seamlessly integrate in your workflow and make taking photos fun again.
There had always been a drastic difference between films made by large studios and small media production companies.
Whether you're a professional filmmaker, aspiring blogger or amateur YouTube artist, you understand that great content is what drives your fan base and keeps them hungry for more.
But producing great video content is more than just what you say or what you do: it's how great everything looks when you put it all together.
One of the most challenging aspects of filming is keeping your camera steady while you're moving. The homemade feel was used to great effect in The Blair Witch Project, but shaky camera effects are a niche approach. A shaky camera or a sudden bump can ruin perfectly good footage, forcing time-consuming and potentially expensive reshoots.
Whether you're an up-and-coming filmmaker or a Youtube content artist fighting for visibility in a crowded market, you don't want your content to look amateurish.
A great way to improve the quality of moving film footage is by using gimbal stabilizers.
Vloggers, Travel YouTubers and famous Instagrammers, all use tools like drones, gimbals, and stabilized cameras to improve their video production quality.
Gimbal stabilizers provide the support of a tripod with the maneuverability of your own feet, improving the film quality while you walk and shoot. They are ideal for all kinds of filming project and bring an added level of professionalism and quality to your productions that you are sure to appreciate.
That said, there are quite a few features you need to be mindful of before you invest in a camera gimbal stabilizer.
We'll discuss some of these points in the next section, and help you to find the right gimbal stabilizer for your camera.
Not everyone is working with the same cameras, the same equipment or the same goal in mind. That said, there are a number of things that are important in picking a gimbal, no matter what camera you're using. Here are a few things to keep in mind:
1. Weight
I don't really need to explain why this is important. The heavier the gimbal (and the camera), the more weight you'll be carrying with you. Most camera stabilizers are fairly light, but some of them weigh around 10 pounds, and maybe as much as 13 or 14 pounds with the camera secured.
2. Balance
The balance of a camera stabilizer is also of paramount importance, perhaps even more so than its weight. Balance is measured by both how well it balances your camera and how easy it is to balance. A balanced stabilizer will be less clumsy to use, making your job easier.
3. Batteries
While some cheap gimbals don't use batteries, most models require batteries to power the brushless motors. Some gimbal stabilizers use standard alkaline batteries, but most models employ lithium-ion batteries instead.
4. Versatility
Unlike gimbals that are designed for smartphones or action cameras, DSLR gimbal stabilizers have to be versatile enough to accommodate cameras of various sizes, as well as accommodate different shooting styles. The most desirable gimbal stabilizers can be set up in multiple ways to accommodate various shooting styles.
5. Price
Gimbal stabilizers can vary in price dramatically. Most models are a few hundred dollars, but it's not uncommon to find gimbals priced fat $500 or more. Higher-priced gimbals are more likely to have advanced features, and will generally employ better warranties.
The Best DSLR & Mirrorless Camera Stabilizers for 2023
Product
Product
Battery Life
Weight Capacity
Price
DJI RS 2 Combo
12 Hours
3.3 lbs
DJI Ronin-SC Pro
11 Hours
2 lbs
ZhiYun Weebill 2
Pro Plus
8 Hours
3 lbs
FeiyuTech G6
9 Hours
3.3 lbs
Fantaseal DSLR
None
0.9 lbs
Best DSLR Gimbal Stabilizer Under $50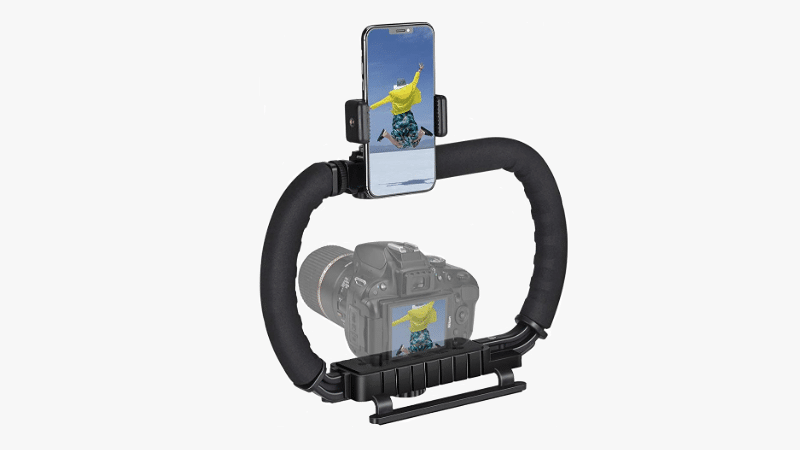 Video bloggers! The details and beauty of the Fantaseal DSLR stabilizer is in the name. It is a 2-handed hydra stabilizer that you can use for indoor and outdoor professional videography. This lightweight stabilizer is also perfect for shooting low-angle action moves including skateboarding, snowboarding, and even boating experiences.
At only 15 ounces, you can attach a camera, a smartphone, or both at the same time and capture while holding with the fully ergonomic grip. No matter how long you plan to shoot, you can be rest assured that your hands will not be strained. The mini ball head hot shot makes it pretty handy for other video-making accessories. Things like microphones and LED flash lights can be fixed in any position that best suits you.
One slight setback to this stabilizer is that the payload is quite low due to its own size.
So, if you have a very heavy and professional camera, it's advisable to go for a sturdier product.
However, the Fantaseal DSLR Hydra Stabilizer is for you if you're a videography beginner or a hobbyist looking to improve the quality of your video production. If you also need something portable for small video projects with your mobile phone or camcorder, look no further.
Features
Weighs 0.9 pounds
Supports a wide range of smartphones, DSLR cameras and camcorders
Strong ergonomic grip with a rubberized finishing
Versatile accessory attachment
Best DSLR Gimbal Stabilizer Under $100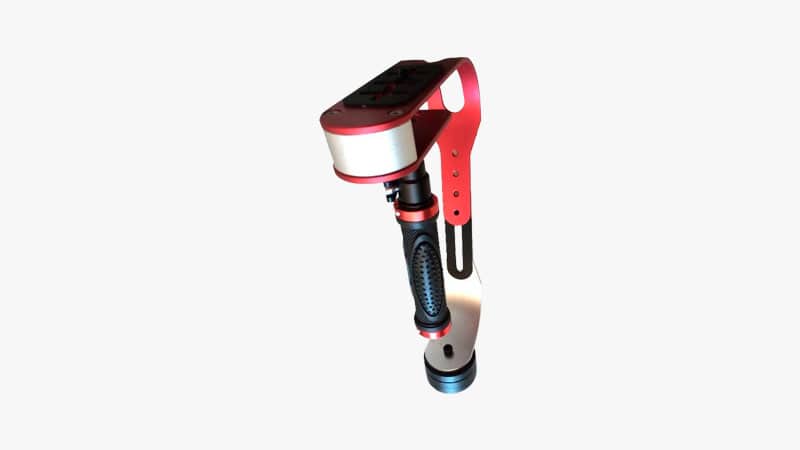 Since the Roxant Pro Video Camera Stabilizer is similarly priced with the Neewer Adjustable Stabilizer, the two gimbals invite comparison. And the Roxant Pro Video comes up almost ahead every time. First of all, the Roxant Pro weighs less than two pounds, making it a lot easier to handle for long periods of time.
The comfort grip handle is a much higher quality than the simple foam handle on the Neewer. The Roxant Pro has excellent balance, and you receive a lifetime warranty on your purchase. This is the #1 gimbal stabilizer on Amazon because it offers solid performance at a reasonable price.
That said, there is one major flaw with this gimbal: it can't support large cameras.
While the Roxant Pro is perfect for an action camera, it isn't rated for anything over two pounds, so you'll do just fine if you have a mirrorless camera like the Sony a6500 or entry level DSLR's with prime lens.
Features
Weighs 0.83 kg (1.83 lbs)
Maximum payload: 0.95 kg (2.1 lbs)
Mechanical stabilizer
Suitable for GoPros, smartphones, Point and Shoot, DSLR, and video cameras
Best DSLR Gimbal Stabilizer Under $200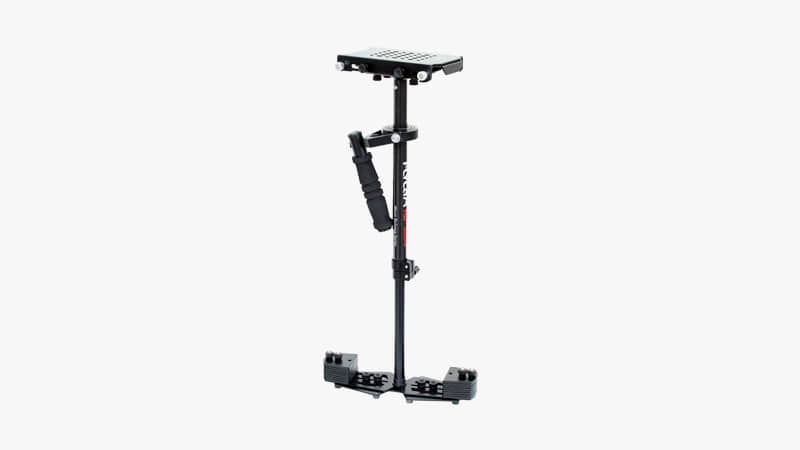 Although the FlyCam HD-3000 24" Handheld Stabilizer bears a striking resemblance to the Neewer 24" Handheld Stabilizer, there are a couple of important differences. This is a higher-quality gimbal, and it features an adjustable three-axis plate that allows you to adjust the pan and tilt without ever having to touch the camera.
Like the Neewer gimbal, the Flycam HD-3000 is strictly mechanical, and the three-axis gimbal is adjusted by moving a cushioned handle. A large number of counterweights on the bottom make it easy to adjust the vertical balance, accommodating larger, professional-quality cameras as well as smaller ones.
That said, this gimbal is probably better suited for working with standard film-industry cameras over smaller handheld models. The Flycam is made of solid aluminum, which makes it quite durable. Unfortunately, that also makes it quite heavy.
Weighing just under nine pounds, this is not something that's going to fit in your pocket and is better suited for prolonged film shoots than quick videos.
This is a durable, high-quality gimbal, but its hefty size means it's not for everybody. It is mostly meant to use for lilightweight cameras like vlogging cameras or  smaller DSLR's.
Features
Weighs 3.99 kg (8.8 lbs)
Maximum payload: 3.5 kg (7.7 lbs)
Mechanical stabilizer
Suitable for DV, HDV, DSLR Video Cameras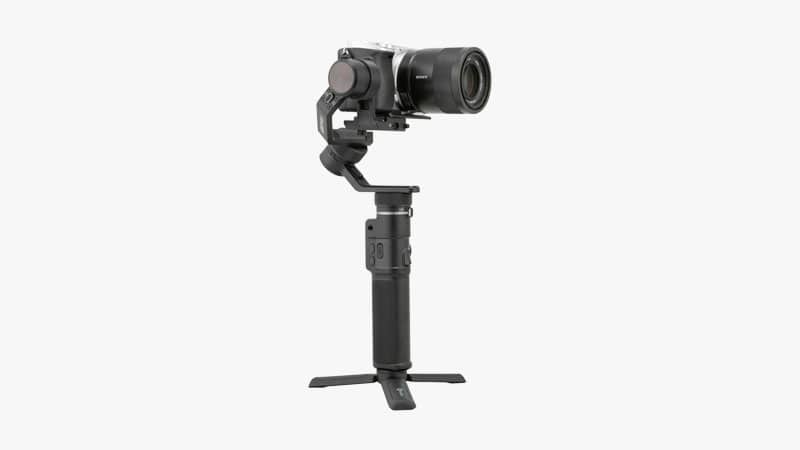 All the gimbals I've written about to this point are mechanical stabilizers. But the FeiyuTech G6 Max represents a major step forward, incorporating Bluetooth to connect with your smartphone and utilizing advanced adaptation technology that automatically adjusts to different cameras. It's an upgrade on the G6 Plus.It weighs only 1.5 pounds and has the features that make this a gimbal well worth considering.
The G6 is compatible with a wide range of pocket video and action cameras, mirrorless cameras with short lens, and it can even connect with smartphones, making it one of the most versatile gimbals on the market. Even though it's compact, the G6 has a maximum payload of 1.2 kilograms (2.64 pounds.)
The gimbal features automated rotation and shutter control functions that make your time-lapse photography easier and look more professional. The "Magic Focus Ring" enables you to control the three-axis rotation, zoom, focus, and adjustment of parameters such as IS0, WB, and exposure value.
An ingenious three-axis design allows for 360 degrees vertical and horizontal rotation. Bluetooth connectivity lets you control the gimbal from your smartphone, or you can use the dedicated Magic Focus Ring as well. The frame of the G6 Max is also highly adaptable.
The model has four different modes; The Horizontal Follow, which locks the tilt access, The Tilt Follow, which enables you to use the tilt and the panning option simultaneously, and The All Follow, which is the combination of the last three. The batter will last you around 9 hours on one charge if the payload is 600 grams. It comes with the USB-C charging cable.

The only issue with the gimbal is that the Inception mode will make some cameras hit the edge of the gimbal. So, it's best suited for the APS-C cameras and below.
Features
Weighs 1.5 kg (3.3 lbs)
Maximum payload: 1.2 kg (2.64 lbs)
Battery life: 9 hours
Suitable for APS-C cameras and below
Best DSLR Gimbal Stabilizer Under $400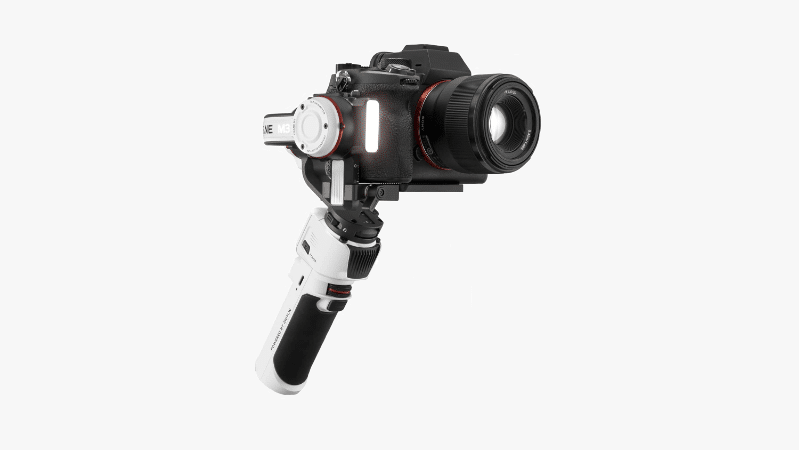 The Zhiyun Crane M3 is yet another lightweight gimbal stabilizer that is perfect for adventure and nature shooting. At just 2.2 pounds, you can attach your camera to the quick release plate and move around like you're holding a bottle of water. The attractive design and ergonomic grip is an added bonus.
It has a touchscreen interface similar to smartphones where you can control your camera movement and switch between shooting modes. Supported modes include vortex, timelapse, and panorama.
It is very versatile and supports filming with cameras of different sizes. There's also a LED fill light and controls for temperature and brightness.
This helps to manage image noise and further define the sharpness of the resulting video. It also means this gimbal stabilizer is perfect for on-the-move shooting without any potential for blurriness.
Fluid is the best word to describe the camera movement on the Zhiyun Crane M3 gimbal stabilizer. The joystick close to the upper part of the stabilizer is easy to adjust with your thumb as you move.
Enjoy the powerful battery capacity of 1150mAh that needs only 2 hours to full charge and lasts as long as 8 hours. If the need arises, you can charge the stabilizer with a power bank as you work, but this might affect the fluidity and stealth that Zhiyun Crane is supposed to provide.
Features
Weighs 2.2 pounds
Supports different models of Sony, Canon, Nikon, FUJIFILM, Panasonic, Sigma and GoPro Hero cameras
Touchscreen interface
Battery life of 8 hours
Compatible with mirrorless and DSLR cameras as well as smartphones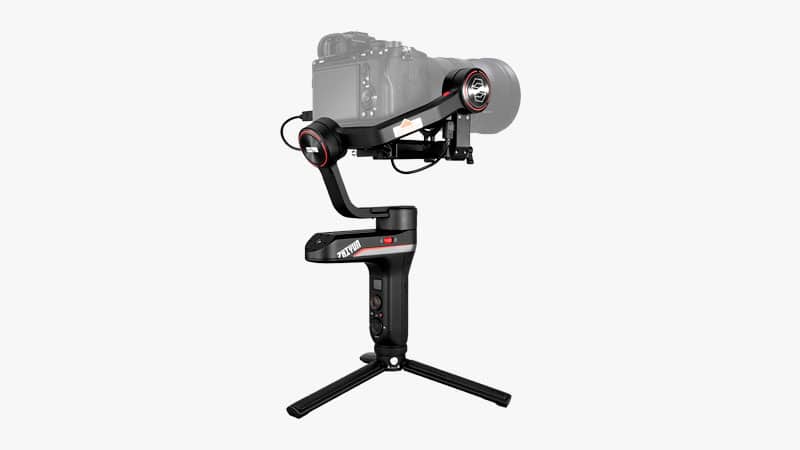 Another in line of lightweight stabilizers, the Zhiyun WEEBILL S Gimbal Stabilizer is the perfect companion for your shooting adventures. It weighs only 2 pounds (0.92 kilograms) and has a maximum payload of 5 kilograms (11 pounds).
This compact stabilizer with locking arms has an improved torque and gives you up to 14 hours of work on a single charge. It has both mechanical and electronic focus control, as well as mechanical zoom control. It packs even more in its compact body.
The model has the motion control option to move it as you move your smartphone. One of the best features is that it balances big cameras, and you can easily put Sony A7Ⅲ+FE 24-70mm F2.8 or Canon 5D4+EF 24-70mm F2.8 without worrying about whether it's stable enough.
Weebill S' OLED display shows you some parameters like motor strength, follow speed, key customization, smoothness, deadband, and so on, which you can control with the handle without entering the app on your smartphone.
The 6 creative shooting modes ensure you're prepared for any kind of filming. Apart from its extremely diverse and functional handle, the packing is also a breeze. When you want to pack it, it can lock in a specific position that doesn't take up much space in your bag.

The only downside to it is that the software isn't exactly user-friendly and responsive. However, this is the right gimbal for you if you own a camera with a bigger lens.
Features
Weighs 0.9 kg (2 lbs)
Maximum payload: 5 kg (11 lbs)
Battery life: 14 hours
Suitable for most Mirrorless and DSLR cameras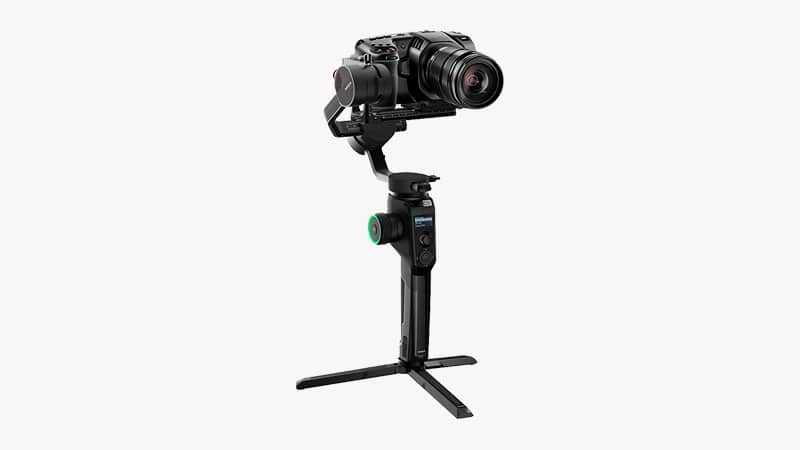 The MOZA ACGN01 Aircross 2 3-Axis Gimbal Stabilizer is a bit more expensive than the previous model, and it has similar features. At 1.9 pounds, it weighs the same as the DJI Ronin-SC model, and it can support cameras up to 3.2 kilograms (7 pounds), giving it a much broader range of compatibility.
Like most high-end gimbals, Bluetooth is built in so you can connect to your smartphone. It does a great job stabilizing your camera, and it comes with tripod base for hands-free use and stabilization. It can mimic the movement of your smartphone like the previous gimbal.
The gimbal has an excellent battery life of up to 12 hours on a full charge. The control panel features smart wheel, OLED screen and smart trigger, while the biggest addition in comparison to the previous Moza AirCross model are the Timelapse, Motion Timelapse, Motion Control, and Panorama shooting modes.
The Inception mode 3.0 enables you to no longer manually control the joystick when shooting and gives you automatic rotation, angle control, and speed adjustment. It's extremely responsive in sport and action sequences.

The only downside to it is the feel to it. It's a bit plasticky, and some dials are a bit flimsy but otherwise this is a gimbal worthy of your consideration.
Features
Weighs 0.9 kg (2 lbs)
Maximum payload: 3.2 kg (7 lbs)
Battery life: 12 hours
Suitable for most Compact cameras
Best DSLR Gimbal Stabilizer Under $500

DJI Ronin-SC Pro is another premium model in high-tech gimbal stabilization. With its modern, space-age design, you can tell immediately that this gimbal means business.
Its carefully manufactured magnesium frame is one of the most durable you will ever find. The Ronin-SC Pro weighs just 0.9 pounds, which is surprisingly lightweight for all its size and capabilities. It can support cameras weighing up to 1.8 kilograms (4 pounds.)
The battery will last you up to 11 hours on a full charge, which is slightly less than you could get on the model's predecessor, the Ronin-S. The centered joystick, the M button and the record button, as well as the DJI Focus control enable you to easily switch between controls.
The new feature is the switch with which you can lock all army and axes. A single USB-C lets you charge the stabilizer or connect to your camera. The gimbal can also replicate the movement of your smartphone via the Bluetooth. It's extremely useful for vlogging along with The Active Track 3.0, a new feature that lets you track objects with the camera and the smartphone.
The gimbal comes with a tripod base has a variety of modes of operation, and you can switch between them seamlessly at the push of a button. The camera plate is mounted on a movable arm that allows for incredible precision and control when filming, opening your possibilities tremendously.

The one downside to this marvelous gimbal that is in the hardware is the lack of the photo button. Also, you can't execute some of the modes without having to turn them on in the app. Otherwise, this is one stable and reliable gimbal made for vlogging.
Features
Weighs 0.9 kg (2 lbs)
Maximum payload: 1.8 kg (4 lbs)
Battery life: 11 hours
Suitable for most Mirrorless and vlogging cameras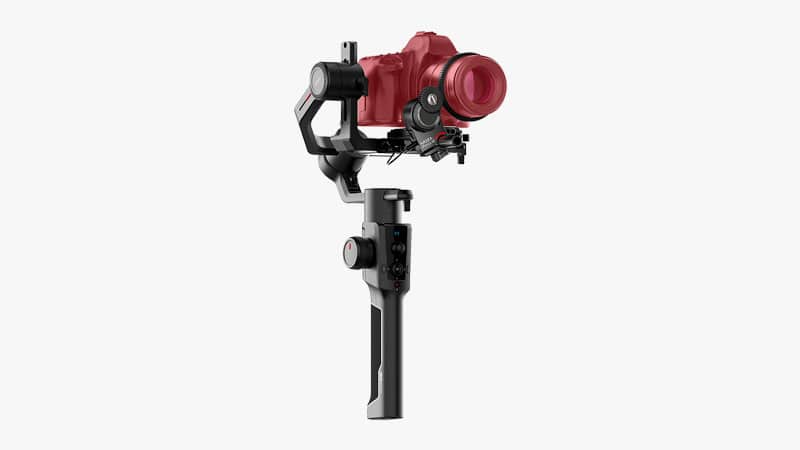 Another Moza model on this list is the MOZA Air 2. It's heavier than the Moza AirCross 2, at 3.53 pounds (1.6 kilograms.) This model can handle various mirrorless, DSLR, and pocket cameras that weigh up to 4.2 kilograms (9 pounds) and its high-torque FOC technology motor gives you the balance you need for your professional shots.
That same motor is lower than the gimbal itself, so no more viewfinder blocking when you're shooting. The autotuning system recognizes how heavy your camera is to help with the movement.
The Li-ion 18650 replaceable batteries will last you up to 16 hours, but what's even more impressive is the 4-axis on the Air 2. Except for the standard 3 axis, this one has the fourth axis, the iFocus. This new addition enables you to control focus and zoom. The 8 Follow modes let you have the full control of your subject.
It comes with a detachable base that you can connect to the handgrip. When you're not using the tripod base, you can use it as an additional handgrip to hold it with both hands. The handle has an OLED screen on the back, a joystick, a wheel to control features such as ISO, a record button, aperture and shutter speed on left and right side. The Roto Wheel on the side lets you customize it to perform several various tasks, such as adjusting the focus.
The handle also has one VDC input and 3 VDC outputs and you can charge the gimbal if you have the right adapter. The finger trigger on the front sets the camera back into the center. With the easy-to-use quick-release plate, this gimbal is definitely one of the best ones on the market.

The Air 2's downsides are entirely in its size and weight. It is a slightly large gimbal, and a heavy one, too. Still, for all those features it offers, it's still a great option.
Features
Weighs 1.6 kg (3.53 lbs)
Maximum payload: 4.2 kg (9 lbs)
Battery life: 16 hours
Suitable for DSLR, mirrorless, and pocket cameras
Best DSLR Gimbal Stabilizer Under $750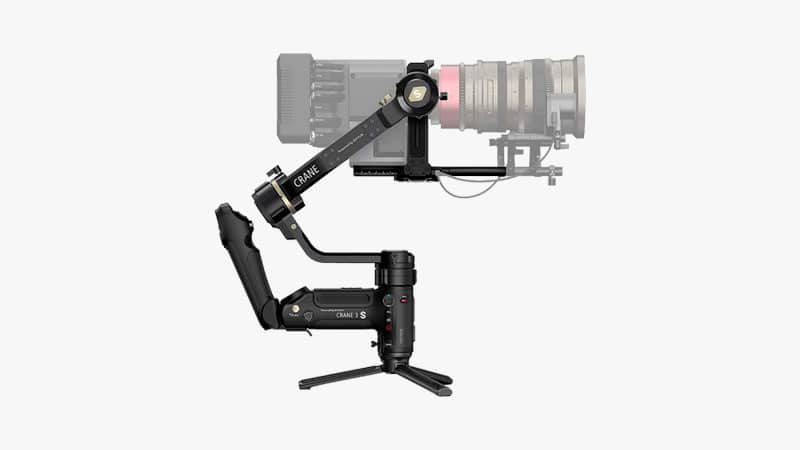 With a nice runtime of up to 18 hours with the PowerPlus battery unit, the Zhiyun Crane 3S is one of those gimbals you can use to film your short feature. It is packed with several incredible features and connects directly with the Zhiyun App to give you more freedom and control over your creative enterprises. This is a heavy-duty gimbal, but also one worthy of a professional filmmaker.
One of the most impressive features is the payload. It can handle up to 6.5 kilograms (14.3 pounds), which is more than any other stabilizer on the market can. That means you can put a mid-size to large-size camera on it to record. The ergonomic back handle or the SmartSling handle enables you to hold the gimbal with two hands.
The SmartSling handle has a few controls and a tiny OLED screen. There is also an "F" button on the front, which re-centers the camera and serves as a function button or a selfie button. The gimbal weighs 3.7 kilograms (8.1 pounds), so it's probably not the best option if you need a gimbal for frequent and longer use.
The big locking switch makes the setup easier. The focus wheel is on the left and there's a bunch of different switches and buttons that look daunting with the first impression, but they're intuitively placed. On the right-hand side, there are the power switch with other controls, like the point of view, as well as the record button below. The joystick is in the center behind the lower handle.
The Crane 3S has a selection of different modes, like Vortex, for creating a spinning shot with the continuous roll of the camera. There are also the "standard" modes such as Follow, Pan Follow, POV, or Go, for a better motor speed responsiveness in action and sport filming.

It's a bit awkward to pick it up and to set it up, but once you get the hang of it, it shouldn't be an issue. As said, this is one heavy-duty stabilizer and it isn't for everyone, so check it out before purchasing.
Features
Weighs 3.7 kg (8.1 lbs)
Maximum payload: 6.5 kg (14.3 lbs)
Battery life: 12 hours, 18 hours with the PowerPlus battery unit
Suitable for mid-sized cinema cameras, and large DSLR, or mirrorless cameras
Best DSLR Gimbal Stabilizer Under $1,000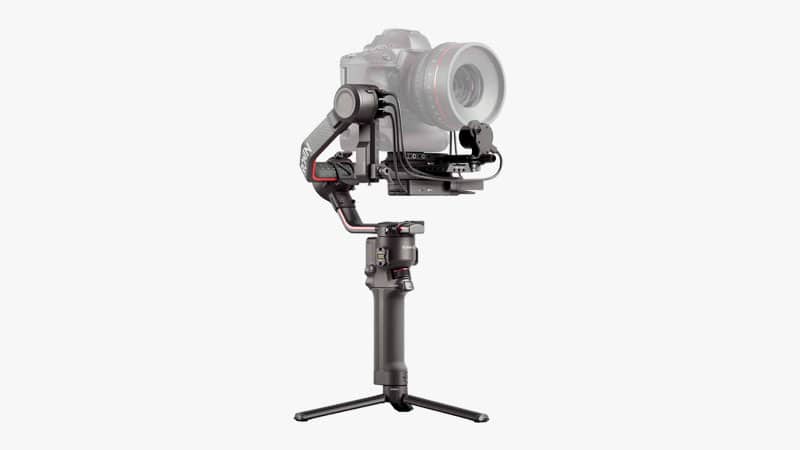 From the world of professional DJI filming equipment comes one of the rare camera stabilizers that can compete with the Zhiyun Crane 3S. The DJI RS 2 Combo is another heavy-duty gimbal that is extremely light considering the features. The professional shots will be easier to make since it weighs 3.3 pounds (1 kilogram) and can hold up to 4.5 kilograms (9.9 pounds.)
What differentiates the RS 2 from the S are the carbon fiber arms found in higher-end camera gimbals, as well as the improved knobs to set the balance. The quick release works much better, also. The handle has a large touchscreen compared to other models we mentioned, which is a big plus. You can change virtually any setting from the screen. You can find the joystick, the record and the "M" button below the screen. You can lock the screen to avoid turning on features when running, for example.
The re-designed focus wheel isn't going up or down anymore but instead from left to right and the trigger button below it. The detachable tripod is a standard feature. There are NATO rails for attachments like smartphones or handles on the side.
The RavenEye image transmission is a feature that enables you to use your smartphone to control the camera's movements. This model is the perfect tool for all your motion-based filming. There are no unwanted shakes as the Titan Stabilization Algorithm and the SuperSmooth mode let you film while running without worrying about the blurs and the shaky image.
The battery lasts up to 12 hours and it has a fast-charging option.  It is in a cartridge to mount the battery securely.
The case is one of the more compact ones if we compare it to the last few models. It has individual pockets for each part, and it can fit in your suitcase.

Its only downside is that purchasing additional accessories for the gimbal will hike the price up extremely fast. Still, if you're a professional DSLR or mirrorless filmmaker, this is an excellent investment.
Features
Weighs 1 kg (3.3 lbs)
Maximum payload: 4.5 kg (9.9 lbs)
Battery life: 12 hours
Suitable for mid-sized and larger DSLR and mirrorless cameras
Best DSLR Gimbal Stabilizer Under $1,500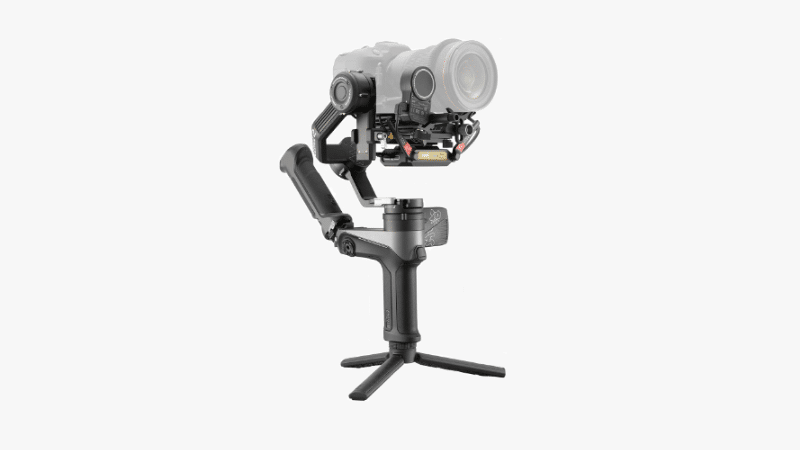 The Zhiyun Weebill Gimbal stabilizer was designed strictly for professional video shoots. It supports all kinds of cameras, and no other video recording devices. To adjust the settings parameter for smooth recording, quick responses, and sleek transmission, the LCD touch screen is your go-to area.
With a nine-hour runtime and the ability to use while plugged into a power bank, this gimbal stabilizer is an ideal choice for shooting tasks that last for long hours. You can even get NP-F batteries and install to the external battery slot for an extended runtime. It has a motion sensor and zoom control feature powered by an integrated infineon chip and facial recognition system. This means the chances that you'll miss critical moments in your video subjects are zero.
The handle on the stabilizer is extendable and comfortable for strong grip and easy maneuver. It is also easy to set up and operate. With a single touch on the screen powered by an AI system, and subtle adjustments on the wheel control, you can switch from portrait to vortex mode and back within seconds.
The package has an additional feature called the Zhiyun MasterEye Visual Controller which encourages and supports teamwork and collaboration. You can adjust settings in real-time to get the best angles and video sharpness. You can also connect this gimbal stabilizer to iPads and smartphones where every member of the team can observe the video creation process and make instant comments for improvement.
With the Zhiyun Weebill gimbal stabilizer, you'll have the power to see differently and transform your entire video-making process.
Features
Weighs 3 pounds
Maximum runtime of 9 hours
Compatible with a wide range of DSLR and mirrorless cameras
High-level technology integration
If you're looking to elevate your filmmaking game, a gimbal is the way to go. Your filmed footage will look better and more professional, giving your videos the polish they need to stand out from the competition.
Please make sure to leave a comment and share which Gimbal Stabilizer you'd buy.
Photo Credit: Unsplash