Digital voice recorders come in all shapes and sizes, but they also come equipped with vastly different features and technologies. 
If you've spent some time browsing through models available on Amazon, eBay, or any other online marketplace, you've probably encountered recorders that cost less than $50, as well as those with a price tag well above $500. Given that all voice recorders, regardless of type, are designed to serve the same purpose, you may be wondering why there's such a huge difference in price between the two extremes.
While I was researching digital voice recorders, I realized that some of them are pretty advanced; some are pretty easy to use while some of the most expensive models are so powerful that you practically don't need to bother with editing after you've recorded.
With that said, let's have a quick look at the criteria I've used to draw lines of comparison between different digital voice recorders.
I wanted to dive deep into the differences between budget, mid-tier, and high-end voice recorders so that you know what you are getting for your money. I've already reviewed the 16 Best Digital Voice Recorders, so, if you are searching for quality models, I recommend checking these reviews first.
The criteria I'm using for the evaluation of the performance of budget, mid-tier, and high-end digital voice recorders revolves around affordability, memory capacity, recording quality, UI, and the usual features of voice recorders in their respective price points.
It's almost impossible to pinpoint the 'most' important element of performance, as these devices can be used in different settings and by people from all walks of life. While I was researching digital studio recorders, I had to come up with a system that would cater to everyone's needs.
Therefore, the most important elements that I've used to gauge and compare the performance of digital voice recorders at these three price points include:
Microphone Quality
While having a direct impact on the audio recording capabilities of all digital recorders, microphones play another role – they allow or prevent users to make stereo recordings based on how well they're built, and based on their number.
In the budget price point category, most models are equipped with a single microphone that only permits mono recordings. There usually aren't any outstanding features to speak of, such as ambient noise reduction or a function that would crop 'dead air' (silence) from the recording.
In the mid-tier price range, dual and quad microphones are pretty common. Stereo recordings are usually supported by the vast majority of mid-priced recorders, and their audio recording capabilities are pretty decent.
As for boutique digital voice recorders, they're usually supplied with microphones of unparalleled quality. They offer an extended frequency response range, a host of automatic features, and the ultimate audio recording capabilities.
Supported Bitrates
In my reviews of the 16 Best Digital Voice Recorders, I pointed out that recording quality is closely related to the bitrate. Essentially, high bitrate is synonymous with pristinely clear recording, but that's not what we're looking at here.
While I was comparing different digital voice recorders, I noticed that certain models supported multiple bitrate formats while others supported only one.
It's almost impossible to group models with this criterium, as there are many budget recorders that support up to three different bitrate formats while there are also quite a few boutique models that work exclusively with 24-bit.
User Interface and Display
The UI design is always important, as you don't want to spend weeks learning how to use your new digital voice recorder. There are several things that I'd like to discuss, so let's begin with the budget price range.
Good-quality interfaces aren't uncommon at this price point, but I wouldn't call them 'intuitive' by any stretch. Small buttons, a petite display, and virtually no features that would enable you to use the recorder in poorly-lit environments can be considered a standard for these digital voice recorders.
As far as an average mid-tier digital voice recorder is concerned, you'll notice that they are typically equipped with a more visible display, and the buttons aren't as clunky to use. Speaking of which, it's normal for mid-tier recorders to feature an expanded range of controls, and they are usually self-explanatory.
The boutique, high-end digital voice recorders sport highly advanced user interfaces. The menu navigation keys are typically separated from the basic recording functions, and it's also fairly common to see LED indicators that can tell you which mode is currently active.
Connectivity
When you take audio recordings with a recorder, you'll need to connect it to a PC or laptop to process, edit, and finally, use the sound. The type of connectivity describes how this can be done. Furthermore, the types of devices that can be used with the recorders depend on supported connectivity options.
Budget-level digital voice recorders typically offer USB connectivity exclusively. You can't use headphones or attach external microphones to them.
Mid-tier recorders normally support 3.5mm jacks, which means that you can connect them to earbuds and headphones. This is quite a big deal for interviewers and journalists that typically work in noisy environments; the ability to hear exactly what the device is recording allows them to adjust the noise levels accordingly.
Boutique digital voice recorders feature the broadest range of connectivity options, offering dedicated ports for external microphones and headphones, as well as USB inputs.
Budget Digital Voice
Recorders
The bottom-end digital voice recorders are plain, equipped with basic features and can sometimes be easy to mistake for toys. The buttons are small and the base is usually flimsy, and the audio recording quality often leaves a lot to be desired.
Although they typically support low bitrates, this also means that the files they create aren't as large. Normally, low-end digital voice recorders offer around 4-8 GB of internal storage, and more often than not, you can't expand their memory.
If there's one thing that budget voice recorders are excelling at, it's portability. Most of the models in this price range are tiny, but they're also very flimsy.
In terms of interface, you shouldn't expect a big, bright, and visible display, since an average budget recorder isn't even 4 inches tall.
However, I do have to point out that if you find a model of decent quality, it will get the job done. As far as I'm concerned EVISTR's mini digital voice recorder is a decent choice for journalists, musicians, and business people that don't want to invest too much in a voice recorder.
By investing a couple of extra bucks, you can get Olympus's WS 852 – a formidable budget digital voice recorder that offers better audio recording quality, a slightly wider display, and a better user interface.
EVISTR Mini and Olympus WS 852 – Top-quality Representatives of Budget Digital Voice Recorders
I wouldn't call EVISTR mini and Olympus WS 852 'true' representatives of the low-end recorders, as they're a league above the rest at this price point. In my humble opinion, these two are the top-quality representatives, meaning that you'd have to search far and wide for better-performing, more versatile, and more valuable digital voice recorders with a similar price tag.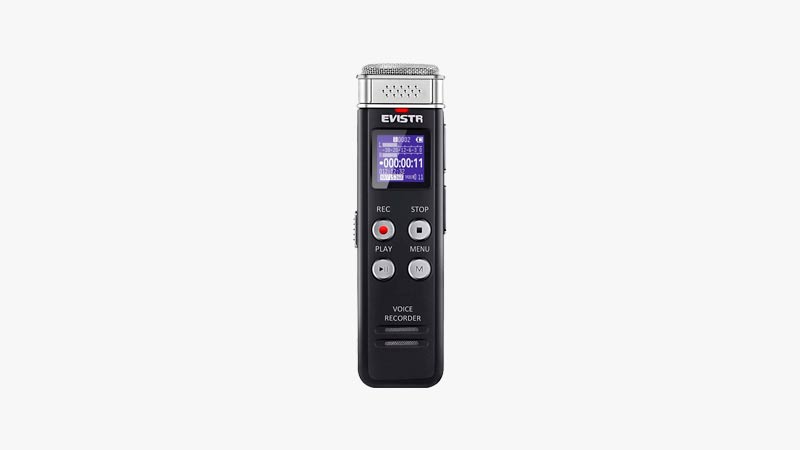 Starting with EVISTR's Mini voice recorder, it's the number one best-selling digital voice recorder on Amazon for a good reason. It's remarkably small, yet it was designed to be super-easy to use. With large buttons sitting in highly intuitive positions and a decently large display, it casts a long shadow over the majority of similarly-priced models.
USB connectivity is a huge plus, but its capability of recording both MP3 and WAV files at decent bitrates is what drew me the most. The menu buttons it's outfitted with are simple and include the play, pause, stop, record, and menu options. One of its most prominent features is the voice-activated mode; when activated, this model will record only when the speakers are talking, saving the battery life.
Let's switch over to Olympus WS 852 for a second. Although it is slightly taller than EVISTR's Mini, it's still remarkably compact, slim, and lightweight.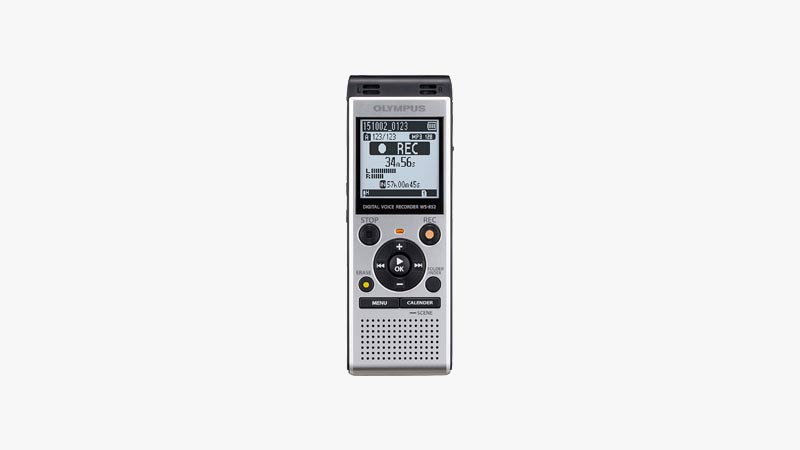 Performance-wise, it beats the Mini in pretty much all aspects; from connectivity options, to internal storage, to battery life. It packs 4 GB of internal memory, which can be upgraded with Micro SD cards. It can only take MP3 recordings, but its sampling frequency is far stronger (128 kbps).
The WS 852 is also equipped with a good built-in microphone for the price, although its frequency range isn't exactly great. However, with a battery life of 110 hours, it's easy to look past the various small imperfections.
I wanted to briefly mention a model that I did not include in my reviews of the 16 Best digital voice recorders. It's one of the recorders that I think will be more useful to certain people (journalists and interviewers that work long hours, especially students), but it's not perfect for everyone.
The YICFIS digital voice recorder doesn't really excel in any field of performance, which is the reason it didn't make the final cut, but it offers outstanding internal storage and battery life.
There are quite a few models like this that trade quality for quantity. Its recording capabilities are basic, and its built-in microphone leaves plenty of room for improvement. However, with 72 GB of internal memory and batteries that can last up to 24 hours, it's certainly useful in some situations.
Mid-tier Digital Voice
Recorders
The mid-tier category is home to a somewhat narrower range of high-quality digital voice recorders in comparison to the budget range. Models boasting high levels of performance and versatility are far more common, and you will be able to spot more distinct differences between different recorders.
In my research, I've found that most mid-tier recorders can be used for professional purposes, which is not something I would say for low-end ones. There's a nearly palpable difference in terms of audio quality, and I encourage you to expect more in terms of more advanced features, such as noise-canceling microphones, expanded frequency range, a more detailed UI, larger displays, and so on.
I would also like to point out that the mid-tier price range features different brackets. For example, there are numerous differences between a $100 recorder and a $300 one. The latter is still far from being a boutique, high-end recorder while the performance of an average $100 recorder is closer to budget models than anything.
Whichever model you decide to buy from the middle price point category, you can rest assured that you will be rewarded with a quality, dependable recorder.
Sony ICD PX333 – Top-quality Representative of Mid-tier Digital Voice Recorders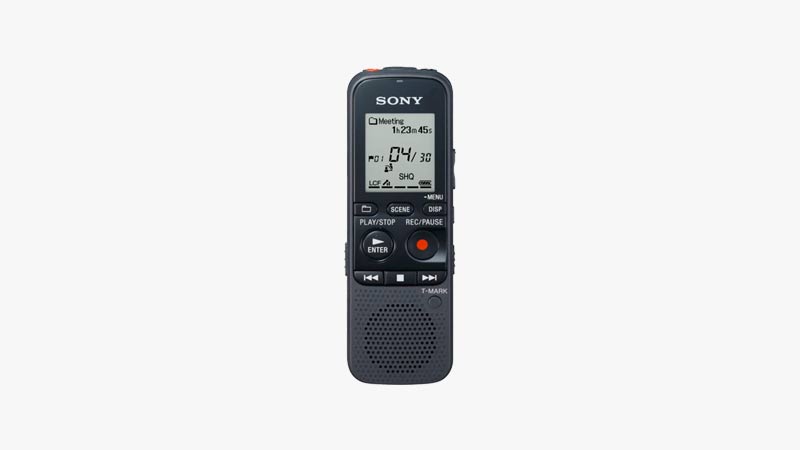 After careful consideration, I've decided to label Sony's ICD PX333 as the finest mid-tier digital voice recorder. It's not the priciest model in this price range, nor is it the cheapest one. My reasoning behind this decision was simple – if you're already committed to investing a bit more money into a quality recorder, why not shoot for the best value?
That's precisely what separates ICD PX333 from most similarly-priced digital voice recorders. It's a pocket-sized recorder that offers a range of advanced features, excellent audio recording quality, decent battery life, and more importantly, using it is a breeze.
Starting from the top, it packs a sleek, lightweight design and it's fairly durable to withstand several years of use. It's made of sturdy plastic and features buttons that are both durable and intuitive to use. These include play, record, stop, rewind, forward, menu, and scene.
One of the things I really loved about this digital voice recorder was its intelligent display. It offers detailed information about where the file will be placed, the currently active mode, recording time, and remaining battery life. Simple and streamlined, it does everything it needs to do.
Another interesting feature supplied to this model is the INC (intelligent noise cut). By enabling it, the recorder will balance the sounds it picks up, creating a smoother audio file that is easier to edit afterward.
I wasn't too thrilled when I found out that ICD PX333 has only 4 GBs of internal memory. However, you can upgrade it with additional SD cards up to 64 GB.
The voice-operated recording (VOR) feature exists, but unless you've read the manual, you probably won't be aware of it. It can be accessed by clicking the Menu button and then tapping 'VOR'.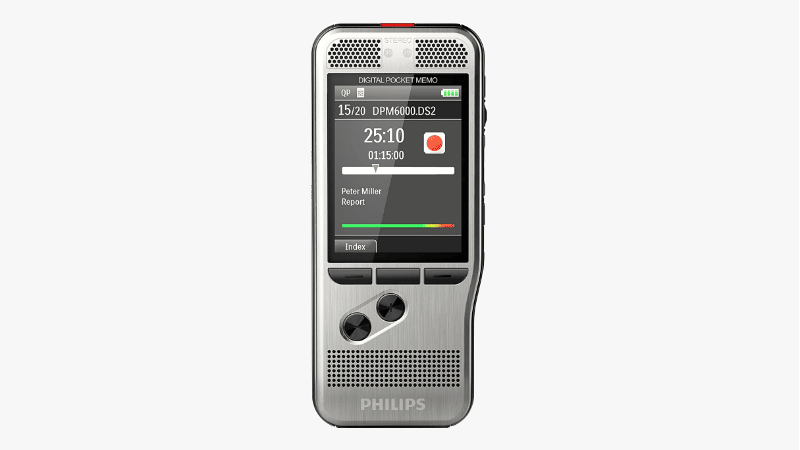 Once again, I wanted to touch base on a digital voice recorder that wasn't included on my 16 Best Digital Voice Recorders list, despite being an awesome model in itself. I wanted to use it as a reference for an average mid-tier digital voice recorder because it's a truer representation of models in this price range.
First of all, the DPM6000 digital voice recorder sports two microphones, which is fairly common for mid-tier recorders. Although it doesn't offer exemplary audio recording quality, it enables you to make stereo recordings.
It's not as slim and light as Sony's ICD PX333, but that's mainly because it features a casing made of stainless steel. Though heavier, it's much sturdier and designed for long-term use.
One of the reasons why this model didn't make the cut was its learning curve. The onboard buttons aren't labeled and you'll need to consult the instructions manual until you memorize what each one does.
The display of the DPM6000 recorder is great. Unlike Sony's ICD PX333 display, the one DPM6000 is equipped with is in color. It resembles the display style of older cellphones, displaying the remaining battery in the upper right corner, the file name in the top-middle, and the memos below the file time.
Overall, its price tag, steep learning curve, and added weight have dissuaded me from including it in the top picks. It is, however, among the better mid-tier digital voice recorders.
High-end Digital Voice
Recorders
The cream of the crop of digital voice recorders can be found in the boutique price point category. While they may be the best of the best, they are obviously the most expensive ones on the market, so the question here is – are they worth it? Let's discuss a typical high-end recorder so that we can get a better picture.
The top-quality recording is the least you should expect at this price point. Superb bit-rates, outstanding microphones, and speakers, as well as a myriad of technologies that were specifically introduced to augment the performance of the recorder.
In terms of the interface, the most advanced LCD and LED displays are supplied to high-end recorders, as well as sturdy buttons organized in such a fashion that using them should feel like second nature to you.
Connectivity-wise, most high-end recorders support external microphones and headphones, as well as USB connectivity. What really separates boutique models from mid-tier, and obviously budget ones is the ability to support multiple tracks.
With at least four tracks available, you can easily switch between different recordings. One of the main problems with single-track recorders is that when you stop recording, the file is made and you can't resume the process. This is huge for interviewers, journalists, as well as musicians that want to record their thoughts (or music) in segments.
Superior frequency range is also something reserved for high-end digital voice recorders. The ability to pick up on the lowest of the low, as well as the highest of the high frequencies, works in synergy with superb-quality microphones to deliver the clearest, best-sounding audio recordings.
Sony PCMD100 – Top-quality Representative of High-end Digital Voice Recorders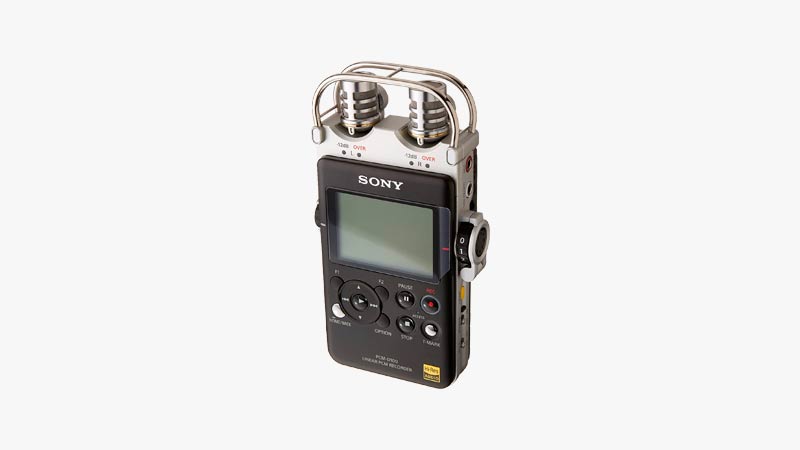 I'll be honest, it's almost impossible to top the performance of the PCMD100. It covers all the bases in terms of performance, starting with superb portability, to unparalleled recording quality and supported audio formats, to the exquisite SSD storage that offers faster boot-up time.
This model is equipped with an integrated condenser microphone. Its flat frequency response makes all recordings neutral-sounding, but more importantly, its frequency range is also phenomenal.
As far as connectivity is of concern, its hardware interface supports USB type 2.0 while it also sports a 3.5mm headphone jack and a port for an external microphone, should you need it.
The PCMD100 has one of the largest, most advanced display screens that are remarkably handy regardless of lighting conditions. Below the screen, you'll see almost spherical buttons that are both responsive and feel great to the touch. These include pause, stop, record, play, rewind, and fast-forward, as well as menu navigation keys, and the 'option' button.
Its solid-state drive is probably one of the most interesting features; aside from rapid boot-up time, you will be able to store up to 32 GB of audio files on it.
Overall, this is easily one of the best-rounded digital voice recorders on the current market. It represents its price range well, even though its performance is superior to nearly all models in the category.
Not all budget recorders are flimsy, but most of them can't record high-quality audio. While there are quite a few multi-track recorders in the mid-tier price point, single-track models with a superb versatility level are a bit more common. As for the boutique price range, all I can say is that they're in a league of their own.
Hopefully, after reading this article, you'll know exactly what to expect by simply taking a glance at the price tag of the recorders you browse. If you're searching for the best of the best, I warmly suggest taking a look at my reviews of the 16 Best Digital Voice Recorders – some of the models I've referenced in this article are there as well.
If you've found this article helpful, feel free to comment and share. I'd like to hear your thoughts on what a budget, mid-range, and boutique recorder should be like below!
Photo Credit: Unsplash