Did you know that most of your med spa business customers found you through mobile searches?
Whether you have already implemented SEO for your medical spa or you started thinking about doing so recently, it's a tactic you should implement in your digital marketing strategy as soon as possible.
Running a business can be difficult in itself, so many medical spa owners fail to look at how to optimize their websites to bring in new customers. Not only do you have to have fresh content, but also use search engine optimization to ensure your is discovered by newe patients.
Every potential customer will land on your medical spa company website either through paid advertising, search engines (PPC), or through organic search. The latter requires a meticulously-planned search engine optimization strategy for which you should outsource an SEO marketing company.
The best way to place your site higher on the search result pages is by using med spa SEO. It can help you in your journey to dominate local search results, boost website traffic, and give you the appointments you need to grow your med spa business.
Let's first dive into the meaning of the medical spa SEO term, why it is crucial to start using it, and what the surge of the medical spa industry in the last few years has to do with it.
What Is SEO for
Medical Spas?
SEO (search engine optimization) for medical spas is a digital marketing strategy that consists of optimizing your medical spa web pages to increase your visibility on the search engine results pages (SERPs) and improve conversion rates.
SEO optimization is a form of digital content marketing which results in higher website positioning on organic search results on search engines. In terms of providing value, medical spa SEO has far greater importance to your potential patients than paid marketing efforts.
People will land on your site wanting to find out something about medical spas as an industry or how specific medical spa services work. Your job is to give them the information they're looking for.
Why Is Med Spa SEO
Important?
Medical spa SEO is an invaluable practice for your local business. Every medical spa business owner should consider hiring an expert healthcare SEO agency to implement SEO for the following reasons:
1. Better med spa website design and content equals a trustworthy site
SEO agencies will aid in optimizing your website design and ensuring it is easily accessible through methods such as including a mobile-friendly layout. This, in turn, creates a trustworthy platform where both returning and potential customers can easily find the information they need, like knowing what services you offer or how they can contact you to book an appointment.
2. Higher position on the SERPs
When the medical spa SEO plan is drawn up and an SEO company of your choosing starts implementing it, little by little, the site's position on the search engine results pages (SERPs) goes up. In other words, the site will most likely appear higher on the search result pages. Since most people only click on the links from the first page of Google, the goal is to move the site to the first few results.
3. Stand out from the competition
The last benefit of medical spa SEO is crushing the competition. There are hundreds of medical spa services available today, but you have to become visible to the searchers to stand out from the rest.
Here's an example of the sites from your competitors who rank for the keyword "medical spa services" on the first page of Google search results.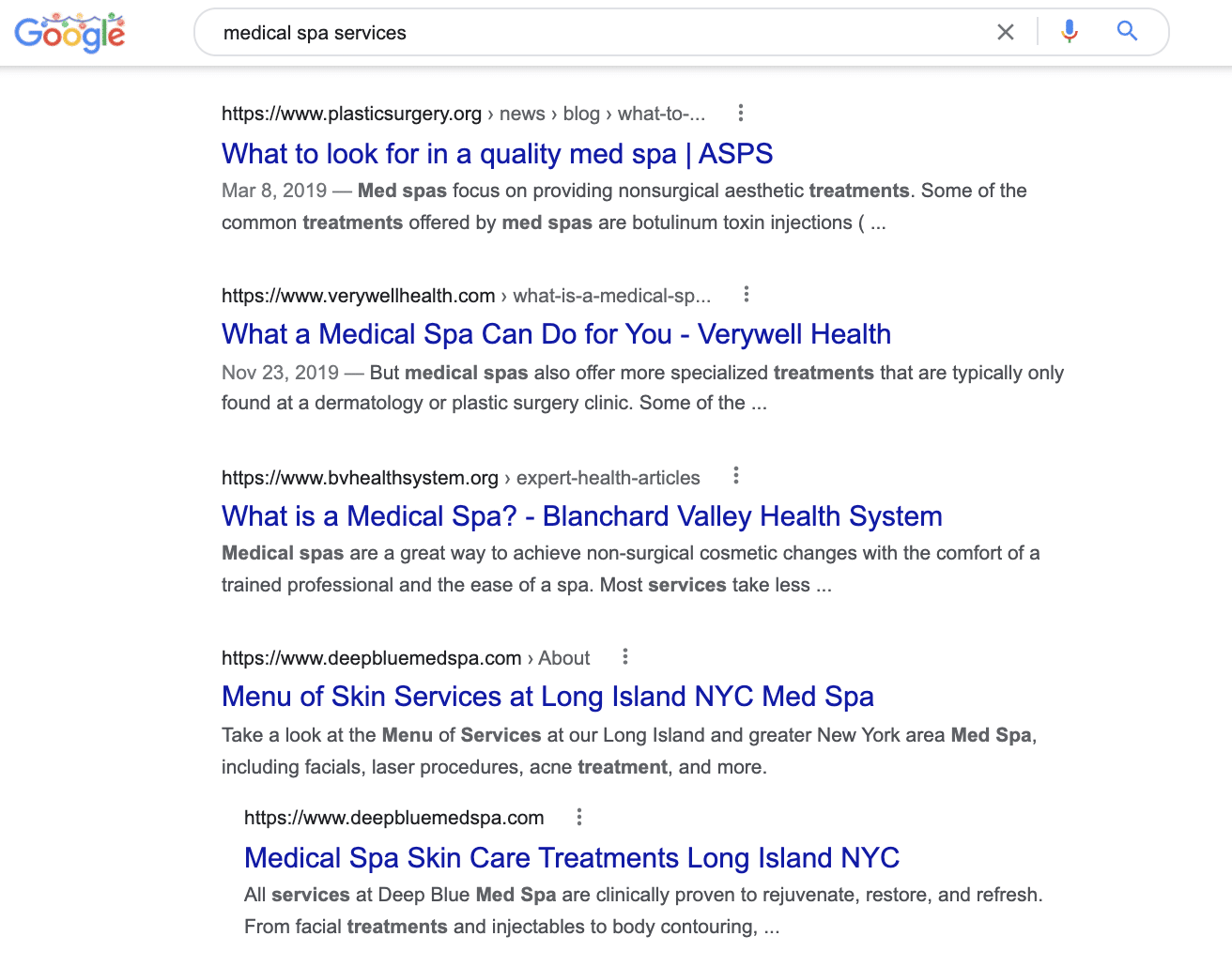 If the agency you hire updates your site with fresh and useful information, people will recognize it as a center of knowledge and regard you as an expert in the field. This will give you an advantage over your competition.
Medical Spa SEO Strategy:
Our Approach
Starting a medical spa SEO journey seems daunting if you're a business owner who's never done it before. To make things a bit easier, here's a checklist of little SEO strategies to consider when carrying out search engine optimization for medical spas.
On-Page SEO
On-page SEO is the process of optimizing the content on your med spa website. This type of optimization is still crucial in 2023, so our company's approach always includes the components we're about to explain.
Keywords have always had and will always have an important role in all things SEO, medical spa SEO included. Google algorithms may not look at your keywords like they did ten years ago, but if you strategically place them throughout the on-page content and metadata (information about the content) and do proper keyword research, it will give you bonus points in the search engine optimization game.
In the following paragraphs, we'll explain what role keywords have in content and metadata and why it's important to first optimize for mobile and then look at what we can do for on-page SEO on desktop.
Site Content
The old-school rule of thumb that still applies today is to place the primary keyword somewhere within the first hundred words of the page content. For instance, if the article's name is "How to Care for Undereye Bags," the keyword "undereye bags" should appear somewhere in the first paragraph.
In case we want to target the keyword "best medical spa services" on the Services page, we would simply put the keyword at the beginning of the text.
We also have to disperse the keywords naturally within the text with content optimization tools like SurferSEO or WordPress plugins like Yoast SEO.
The most crucial rule for site optimization is to always produce high-quality content. Instead of filling the page with a few hundred-word articles for the sake of filling space, we have to make sure to consistently add knowledgeable pieces that will provide value to the reader each time they land on the site.
Metadata
Metadata is information about the content and often takes the form of descriptions Here we'll go through the metadata elements that need to be optimized in medical spa SEO.
Title tags
Title tags are the first element to look out for. These titles should be limited to 50-60 characters since Google will crop the rest of the phrase in the search results. We often use the Meta Tags checker to see if the title is within limits.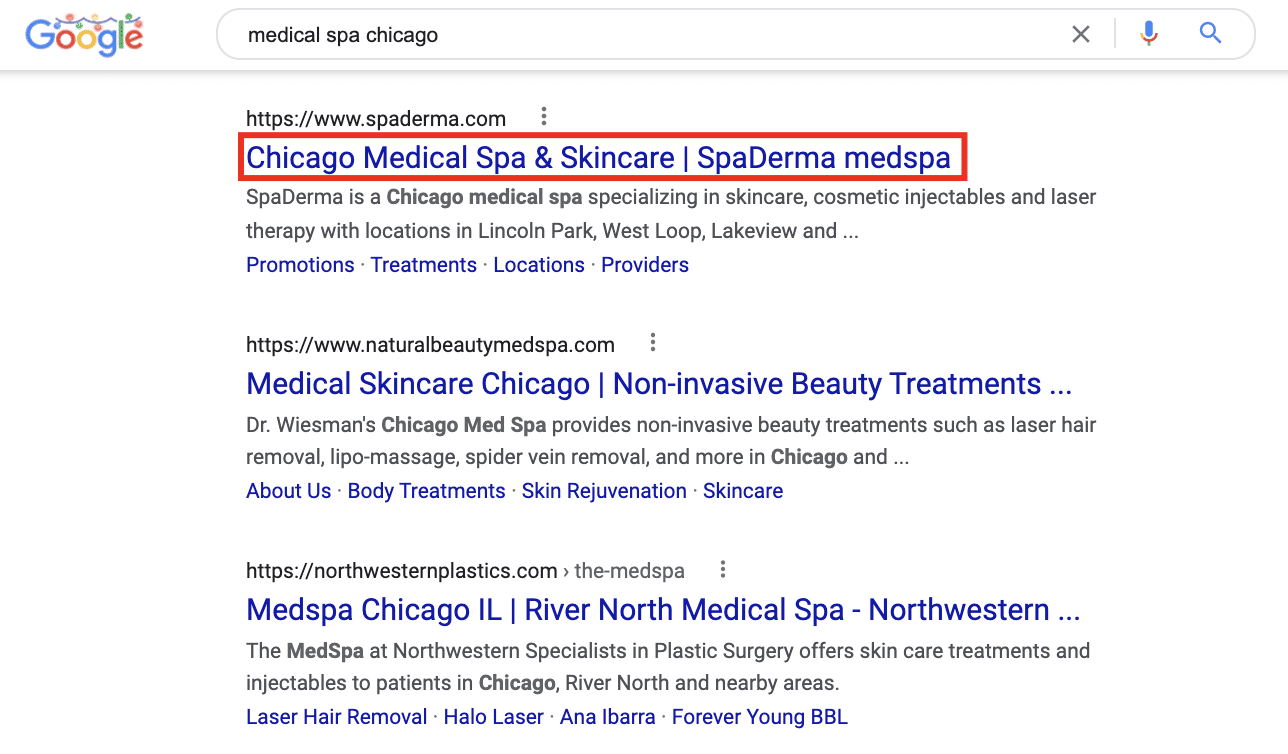 Another useful trick is to use pipes to split the name of the page from your company name.
Headings
On-page headings introduce the content of the text below and have a certain hierarchy.
For instance, it's recommended to use only one H1 with the primary keyword in it. We should treat it as either an article or page topic.
H2s are reserved for subheadings that indicate the main concepts within the page. It's good to include the main keyword in a few H2s throughout the page.
H3s, H4s, and H5s divide the text further and improve readability. What's important about headings is that, if used properly, Google recognizes the structure of the page and gives you SEO points.
Meta Description
A meta description is the little piece of text that appears in the search results and tells the viewer what the page is about.
The best practice includes limiting the description to up to 160 characters. Otherwise, Google will cut a part of it from the search results, as it did in the example below.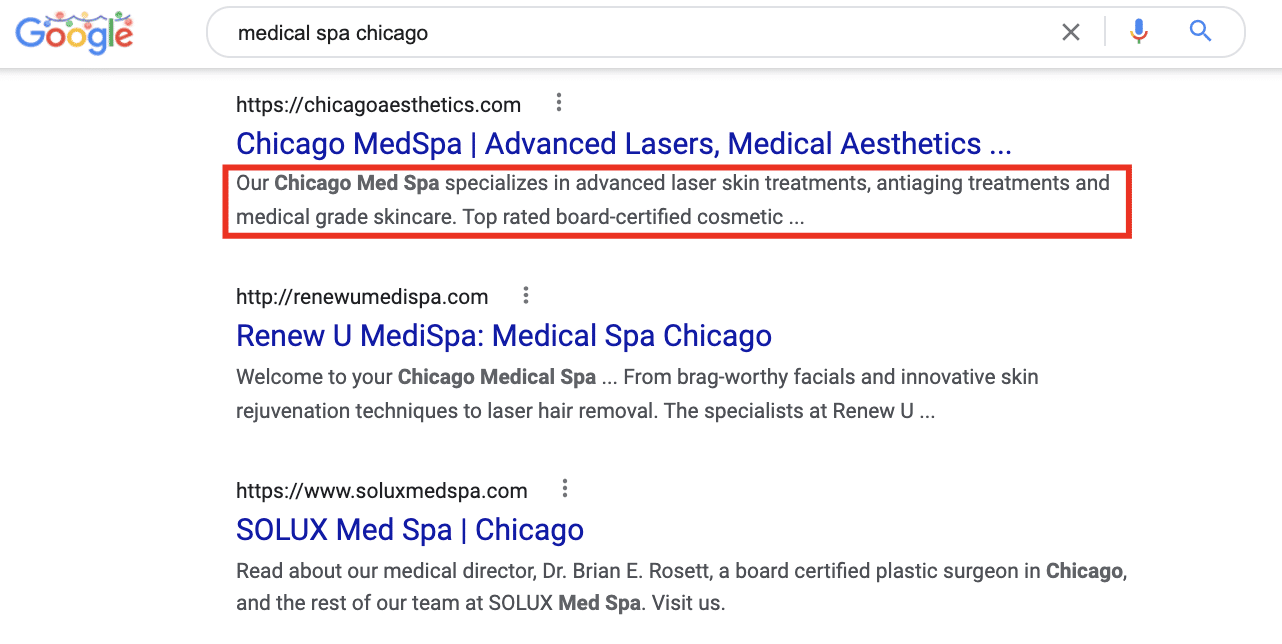 Mobile
Mobile search engine optimization doesn't always rely on the on-page elements, but it's crucial for your local medical spa business.
For now, let's emphasize the three most important mobile-first indexing practices:
Using the same content on desktop and mobile

Letting Googlebot access the content on your pages

Using mobile-appropriate design and images to create a mobile-friendly website
Most people looking for medical spa services will come to your business through their phones when searching for a specific med spa-related keyword. This part dives into the local SEO aspect of med spa SEO.
Off-Page SEO
Off-page SEO for medical spas involves all the steps you take outside of your page content to improve SEO performance.
Local SEO
The first off-page SEO component is local med spa SEO. This makes your site visible on local searches.
For example, if potential patients are searching for "medical spa services," the first results will come from Google My Business pages and show on Google Maps to make it easy for potential customers to find you locally, depending on where they are (and where your business is).
So, in order to rank in similar searches, we'll have to create a Google My Business profile with up-to-date information.
Reviews
The second crucial off-page SEO element is the reviews. Places like Yelp or Google Customer Reviews are full of real-life comments about medical spa businesses and owners.
Reviews not only boost the local SEO for medical spa but enhance the feeling of trustworthiness in your future customers.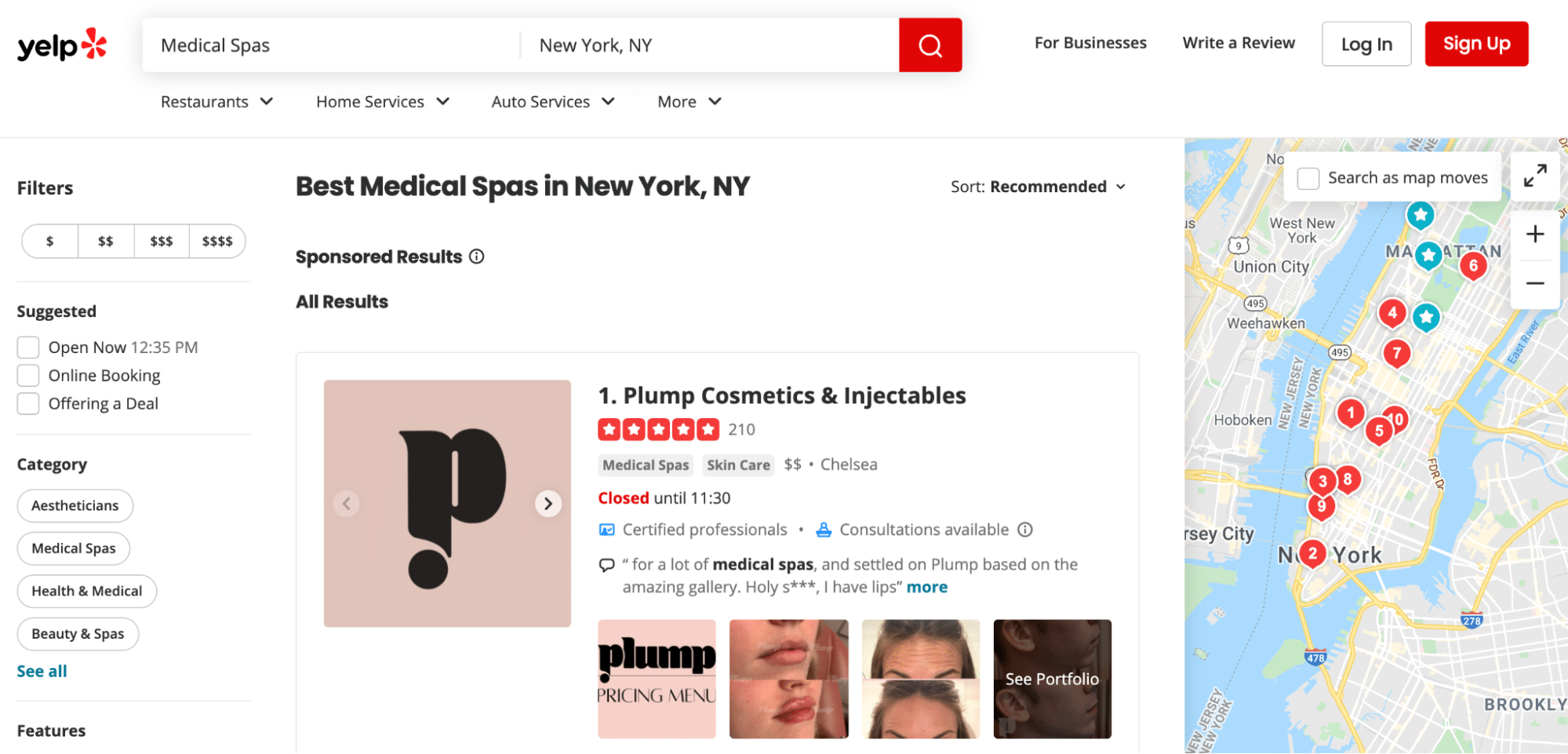 Here we would send out newsletters asking former patients to leave reviews about your practice. Five polite requests for reviews will bring you one good review online and enhance your chances of getting that next appointment booking.
See also: How to Open a Med Spa
Final Tips for Med
Spa Marketing
Medical spa marketing is something your business needs to succeed in the highly-competitive market. The last tip we have is to outsource this job to an SEO company like Omnicore Agency to ensure SEO success.
A team of SEO experts will plan and execute the optimization process tailored to your business needs. This way you can rank higher on search engines and attract new clients.
How Long Before Medical Spa SEO Works?
Search engine marketing helps your brand become visible online and stand out from the competition.
However, medical spa SEO is a process. Sometimes, it's a long process. It's not unusual to not see growth in the first days.
Once you've hired an SEO company, the best thing you can do to help the process is to have patience and faith in the company of your choosing. Make sure you hire a company you trust and explain to them exactly what you expect from their service before starting.
How to Do SEO for Med Spa Business?
Outsourcing medical spa SEO services isn't always an easy task. You can begin by learning what SEO marketing is and what SEO services you think you need. Check the internet for the best rated medical spa SEO services and hire the best candidate for the job. We would suggest contacting Omnicore Healthcare Marketing today.
What is the difference between a Med Spa and a Medical Spa?
"Med spa" is a shortened version of the term "Medical spa." It is an aesthetic medical center that provides different services, like ageing skin therapy, stretch mark therapy or botox therapy.
How is SEO used in the Med Spa industry? 
SEO strategies for medical spas vary from business to business. Some medical spa owners focus more on on-page SEO, while others are looking to use local SEO to target local area searches.
What is the most important ranking factor for a Med Spa? 
The most important ranking factor for a medical spa site is informative and optimized content on the site, followed by a mobile-friendly web design. When people land on a page, a mobile-friendly website with valuable content is what will make them stay.
What is the average cost for SEO for Med Spa? 
The average cost for SEO service is from $3,000 upwards. There are cheaper medical spa SEO services you can hire, but most fall under this pricing category.
What is the main goal of SEO for Med Spas? 
The main goal of SEO for Med Spas is positioning your website higher on the SERPs with different SEO strategies. Once you get to the first page of Google, you can compete with other high-ranking businesses in the field.
What are some of the more common keyword phrases for SEO for Med Spas? 
Here's a list of the keyword phrases and questions with low keyword difficulty to use on your site to help people get the information they need:
Are medical spas safe

Medical facial before and after

Top medical spas in the world

Best spa treatment for wrinkles

Medical spa treatment

What is a medical spa

Medical spa about us

Medical health spa

Medical spa info

Medical day spa

Medical spa industry

Medical spa vs dermatologist
SEO for medical spas is a service that you'll have to outsource from a credible SEO marketing company with extensive experience. By targeting local keywords and combining on-page SEO with off-page SEO, you can get on top of the first search engine results page and drive more organic traffic to your site.
Still in doubt?
Get in touch with us, a healthcare digital marketing agency that will turn your target audience into paying customers.