Recently, we published a guide on best podcast microphones where we featured both entry level and professional level microphones with price range from $50 to $500. We receive a lot of  requests to share other essential podcasting equipments too that are required for a podcasting studio setup.
We took that into consideration and decided to create a complete podcasting equipment guide that will show you everything you need to setup your own podcast recording studio.
What do you really need to Start a Podcast?
There are many components that go into creating a podcast from content to systems and structure but the podcast equipment is the core element of it without which you cannot create anything. There is expensive equipment that gives a recording studio-level control and quality, and then there are affordable and less expensive options for those who are just starting out and don't want to invest a lot.
The first thing you should do before you start to put together your podcast studio is to decide how much money you're going to put into it. This will depend on a few factors.
First, you should decide whether you are going to podcast as a casual hobby, or if it is something that you are going to want to grow and potentially make money from.
You should also consider how often you are going to be podcasting, and what sort of quality you are looking for and what you can afford.
If you are looking to podcast casually or not often, you can get by with some of the beginner and intermediate level equipment. However, if you are going to take it seriously and believe that it will impact your business bottom line, it is recommended that you invest in higher quality equipment so that you can produce the best quality podcasts.
If you are new to podcasting, the best advice is to get the bare essentials and start making podcasts consistently.
Once you gain some experience, you will have a better idea of what you need and how to upgrade your equipment as you go but it is always better to have the best systems in place so you can just focus on expanding and scaling.
Starting from the best podcast hosting site where you'll host your content and then selecting the right equipment for your work from home setup.
The Best Podcast Equipment for 2022
Glossary
Now that you have a direction for your podcast, it is time to go over equipment that you will need. The three things that you will need at an absolute minimum are microphones, headphones and recording software. Below, we will list all types of equipment you might want, and then later, we'll go in more depth about which items we recommend for how serious you want to be with your project.
1) Microphones
You will need one microphone for yourself and if you are going to interview people, a second microphone for them. There are a few factors to consider when it comes to microphones such as the style, quality and cost. We went over podcast microphones in great detail in a previous article which you can find here.
For a quick review, we would recommend Blue Yeti or Audio Technica microphones which will run you about $150 each. For advanced podcasters, you can go with Rode Podcaster or Heil pr 40 microphones which will provide you with better sound quality.
2) Headphones
Headphones are easy to overlook but they are a critical component of putting together a solid podcasting studio. A good pair of headphones will allow you to cancel out noise in your environment so you can focus solely on the audio that is being recorded through them. Headphones are essential because without them, you will be blind to any noise issues or audio level drops and changes that may be too difficult to fix in the post-production stage.
3) Software
You have a ton of options at your disposal when it comes to podcast editing software. There are a lot of great options and to best one for you is usually the one that you can learn how to use the fastest. If you are new to podcasting, you should stick with a simplistic program. As you get more experience, you can work your way up to more advanced editing software.
4) Microphone Arm
Unless you and your guests want to hold their microphones up throughout the entire podcast, you should invest in microphone arms. In fact, they are an essential part of any podcasting studio. Microphone arms are important to keeping a consistent sound level throughout the podcast as your guest moves around. It also allows them to be more comfortable throughout the recording.
5) Shock Mount
A shock mount is used to fasten the microphone to the microphone arm and helps eliminate any noise that comes from vibrations or contact with the microphone or mic arm. For example, if you hit the arm with your hand, the vibration will travel through the arm and into the microphone without a shock mount.
6) Pop Filter
A pop filter is used to prevent the loud popping sounds that are caused by fast-moving air that blows onto the microphone. This will commonly occur during speech when people are breathing in the direction of the microphone or pronouncing the letter "P" in particular. A pop filter is basically a layer of fabric that is placed in front of the microphone to block the airflow from reaching it without blocking any of the sound. They are fairly affordable. The important thing here is to ensure that it is large enough and can be positioned at different angles so that it can block all of the airflow to the microphone. Other names for a pop filter include a windscreen, or if you are using a hand-held mic, a foam ball.
7) Audio Interface
You can have the highest quality microphones, headphones and best software around, but you will always have to battle the external audio interface that leaks into your podcast recording. If you want to produce the highest quality podcasts, you have to be able to manage or eliminate this external noise. Noise like this will distract the listener from your content and make your otherwise great podcast difficult to listen to. You can reduce audio interface using shock mounts, pop filters and a good mixer.
8) Audio Mixers
Mixers allow you to have a lot more control over producing your podcasts. With a mixer, you can increase or decrease the volumes of different frequencies and produce an overall great a podcast that has the best possible sound quality. It takes a little time to learn how to use a mixer, however, it is a must have tool for any serious podcaster.
9) Portable Digital Recorder
If you are going to do any podcasting on the road, you should invest in a portable digital recorder. You can also get away with using your smartphone; however, digital recorders will be able to last longer before running out of batteries and provide you with a higher quality recording.
Best Podcast Equipment for Beginner Setup
As mentioned, if you want to start podcasting to see if it is something you enjoy and would like to put time and resources into, it would be best to start out with a very basic beginner setup.
The bare minimum this studio would include are a low-level USB microphone with a pop filter, headphones, and recording software, but we also suggest using a portable digital recorder, a shock mount, and a mic arm/boom arm. Our recommendations are below.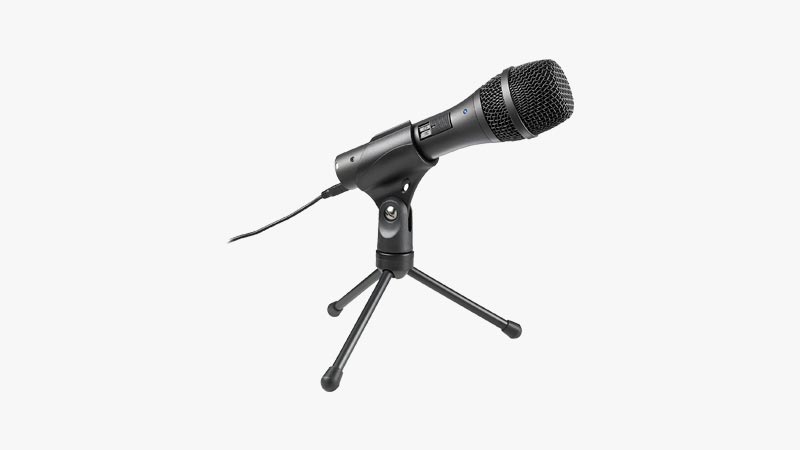 At just below $80, this is a solid little microphone and, as a bonus, it already comes with a tripod desk stand, a stand clamp, and a mini USB cable. The tone is warm and pleasant to listen to, and it competes with some other more expensive microphones out there. For a low price, it has an excellent frequency response and reduces background noise.
Check Price on Amazon Directly Add to Cart on Amazon
---

The Yeti is somewhat expensive for complete beginners, at $130, but it is considered by many to be the standard podcasting microphone. It has four different sound settings, a headphone jack for monitoring, and works with a large variety of computer operating systems. Bonus: it also comes in a couple of really slick color choices! The only downside is that it is rather larger and heavier than many microphones, so it is less portable if you go on the road. 
Check Price on Amazon Directly Add to Cart on Amazon
---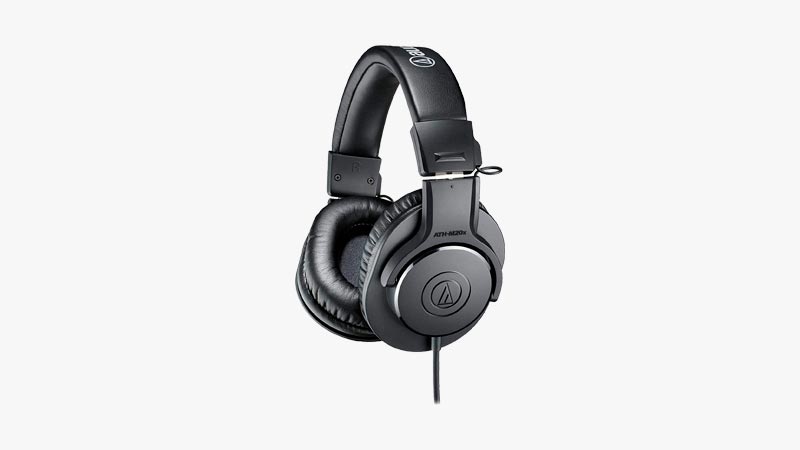 The Audio Technica M20x headphones will be able to provide you with the best sound quality for the price. These circumaural headphones are designed for studio tracking and mixing and have a 4.5 out of 5-star rating on Amazon. The M20x headphones offer a frequency range of 15-20,000 Hz and great bass response which is perfect, especially if you want to incorporate music into your podcast.
Check Price on Amazon Directly Add to Cart on Amazon
---

Soundblaster K3+ from Creative is an excellent addition to every musician and streamer's equipment. This is an affordable option for those who use audio effects in real-time and like to have crystal-clear audio playback. This 2-channel digital mixer offers a variety of audio features and a professional recording interface for any user. Note that you can only use it when using XLR cable with the microphone.
Check Price on Amazon Directly Add to Cart on Amazon
---

Roar XLR from Silverback is a microphone cable rated 4.7 out of 5 on Amazon. When you're recording your podcast, the microphone is almost always above the table. Connect it and record instantly with this 6-feet long, durable and good looking cable that gives you a crisp sound of studio setup quality.
Check Price on Amazon Directly Add to Cart on Amazon
---

The Adjustable Boom Arm from NEWEER is a great item if you're at the start of your podcasting career and want your mic to stay still or need to adjust it to a specific height. The microphone clip diameter can be adjusted up to 1.26″/32mm and you can adjust the clamp opening up to 1.85 inches/4.7 centimeters. It can be turned clockwise or counterclockwise and adjust to the height that you are most comfortable with. You can purchase it on Amazon for less than $15. This is a great starting microphone arm to use until you are ready to upgrade.
Check Price on Amazon Directly Add to Cart on Amazon
---
Best Podcast Equipment for Intermediate Setup
Have you decided that you do enjoy podcasting and find it worth it, but don't want to spend a whole lot for a better sound? You might be surprised at how a small jump in price may make a large difference in quality. This equipment can be a little pricey, and a little more complicated, but if you put in the time, you can make it work well and will hear the difference.

Audio-Technica's AT2020 is a great choice as an affordable studio microphone. It has a frequency response from 20 to 20,000 Hz and delivers excellent sound quality. The audio is very rich and bright, while the mic easily handles high SPLs. Note that is it not a USB mic and it doesn't come with an XLR cable.
Check Price on Amazon Directly Add to Cart on Amazon
---

At an excellent 4.6 star rating on Amazon, and included in Amazon's Choice, the Focusrite Scarlett 2i2 Studio Bundle is a set that includes Knox Gear Microphone Boom Scissor Arm with 5/8-27 Threading, Knox Gear Basic Microphone Shock Mount, and Knox Gear Pop Filter. It also comes with the software tools to plug in and start recording without hassle.
Check Price on Amazon Directly Add to Cart on Amazon
---

This amplifier is Apple MFi, Hi-Res Audio and aptX certified, and it supports decoding for iPhones, iPads, computers, and WM-PORT Sony Walman players. It has interchangeable amp modules and plays loud and clear with a crisp sound. The amp comes with Lightning-Micro USB cable, optical adapter, coaxial adapter, and a carrying pouch. It's a little expensive at just over $300, and it surely is an excellent upgrade to your old DAC/AMP.
Check Price on Amazon Directly Add to Cart on Amazon
---
Accessories

This affordable shock mount with pop filter prevents microphone movement and vibrations when recording, as well as adjust the angle of the mic. The pop filter delivers smooth audio. This shock mount comes with a universal connector adapter and it's perfect for studio broadcasting and studio voice-overs.
Check Price on Amazon Directly Add to Cart on Amazon
---

Since the AT2020 Microphone doesn't come with a mic arm, Samsom Boom Arm is a perfect choice as an accessory to your studio equipment. You can adjust it up to 30 inches with a 3-inch maximum clamp grip. It holds up to 5 pounds and at just below $80, it is an extremely affordable option for intermediate podcasters.
Check Price on Amazon Directly Add to Cart on Amazon
---
Best Podcast Equipment for Professional Setup
Maybe you know you like podcasting, or perhaps you want to jump in seriously with professional-quality audio, but don't know how to go about upgrading or want to hear a variety of opinions. Below, we list industry standards for podcasting that are used often by professionals in the field.

The Shure SM7B comes in at $399, and is small and mighty. This microphone boasts a smooth, wide-range frequency response, and has great shielding against electromagnetic hum. Plus, it features 150 ohms for connection to the mic and it is designed in a cardioid pattern to reject off-axis audio.
Check Price on Amazon Directly Add to Cart on Amazon
---

The Sennheiser HD 650 Open Back Headphones are specially designed for precision damping over the entire frequency range. They reduce THD to an incredible 0.05 percent and have an improved frequency response of 10 39,500 Hz. They are lightweight and come with a 118-inch cable. You can get them at a discounted price for $369.93 on Amazon.
Check Price on Amazon Directly Add to Cart on Amazon
---

Zoom LiveTrak is perfect for advanced podcasters and experienced audio mixers. It offers more precision and options to customize audio levels exactly how you want them. This 8-channel is mainly used for musical mixing but has anything you could ever need to use for an audio podcast with a full range of adjustments for tone, gain, pan, and everything else. It is being sold on Amazon for $399.99 and has a 4.5 out of 5-star rating.
Check Price on Amazon Directly Add to Cart on Amazon
---
Accessories

The Samson MD5 Mic Stand measures 5 inches and you can mount your Shure SM7B mic on it for professional studio podcasting needs. It features a weighted metal base to add maximum stability to the mic and it is designed to hold and standard microphone.
Check Price on Amazon Directly Add to Cart on Amazon
---

EBXYA XLR 3-feet microphone cords come in 10 different colors, so there's no hassle in recognizing which is which. They can be used as DMX cables, stage cables, microphone cables, or patch cables for instruments. They are shielded with Oxygen-Free Copper (OFC) and Aluminium Foil for maximum isolation.
Check Price on Amazon Directly Add to Cart on Amazon
---

The Cloud Microphones Cloudlifter activator gives your microphone an inline boost of up to 25 dB of ultra-clean gain. Moreover, they properly load the microphones' transformer for optimal performance. In other words, it solves your common audio problems for less than $155.
Check Price on Amazon Directly Add to Cart on Amazon
---

Zoom H6 is a great recorder for live podcasts. It comes in handy when you don't want to record on their computer using the amp. It offers four mic/line inputs and six tracks of simultaneous recording. You can get it at a discounted price of $328 on Amazon.
Check Price on Amazon Directly Add to Cart on Amazon
---
Conclusion
Overall, there is a whole lot of variety when it comes to quality, nuance, and price. These recommendations are generalized for what sort of podcasting you would like to produce, as well as the taste of your projected or actual audience. Ultimately, it's a personal decision to determine how much you would like to spend and which items you believe interact best with each other — sound is extremely subjective! Go forth and podcast. And good luck!
Disclosure: The product recommendations are not sponsored and are chosen by our editorial staff. We may earn an affiliate commission when you purchase an item through our links.
Photo Credit: Unsplash