Online course platforms or online learning platforms have become popular tools for marketers and teachers across the world.
 Whether they're using them to teach their target audience a new skill or make money by selling the courses, online learning platforms have proven to be an effective marketing tool for various industries.
In this article, we are going to be reviewing the features of the two course platforms: Kajabi and Teachable.
Numerous content creators and consultants are turning to online teaching platforms to package the knowledge they possess into a form of a course. It is especially useful now when it's more convenient to access information from the comfort of your own home.
Luckily, there's a whole untapped market of people wanting to get expert opinion on a specific topic.
If you're selling courses, there are multiple tools available. But which one is the right choice for your type of business and which offers the features you need? Let's find out.
Kajabi vs. Teachable:
An Overview
Kajabi and Teachable are two of the best learning platforms out there. Even though they are similar in the basic features, one of which being content hosting, there are slight differences that we'll cover below.
There are other learning platforms to sell online courses, but here we tackled the most important features on Kajbi and Teachable.
| | | |
| --- | --- | --- |
| | | |
| | | 3 paid plans, 1 free plan |
| | | 14-day free trial for the Pro plan |
| | Multiple website building themes | Customized website building |
| | Restrictions on the number of online courses based on pricing plans | Unlimited number of online courses on all plans |
| | | |
| | Comment area and Community feature for students, Coaching, Assignments | |
| | Automated email marketing campaigns, pipelines, integrations | Limited marketing features and integrations |
| | Several membership options | Several membership options |
| | PDFs, images, videos, text, etc. | PDFs, images, videos, text, etc. |
| | Multiple video uploads at once | Multiple video uploads at once |
| | 24/7 live chat, phone, or email support | Email ​​between 10 am and 6 pm EST; live chat between 10 am and 5 pm EST; knowledge base, support tickets |
If we look at both Kajabi and Teachable, these online course platforms have similar features.
However, there are slight differences in their features.
Kajabi is an all-in-one platform for professionals who like to have all in one place and aren't on a tight budget. It allows the creation of a limited number of courses depending on the plan, website building with a customized builder, email marketing campaigns and pipeline creation, and versatile student experience tools for your students.
Teachable, on the other hand, is an online course creation platform for those on a budget who want to customize the website, create unlimited courses, and market them with more limited advertising features and student experience features.
The main feature of every online learning platform is the way in which the courses are made, structured, and the tools that the course creator has at their disposal.
Here, we'll see what the process of course creation on Kajabi and Teachable looks like and see what content can be uploaded there, as well as what teaching tools you can use when hosting a course.
Kajabi
Kajabi's course creation starts under "Products" on the homepage. There are six content templates to choose from, depending on what type of a course you want to build and how you want to release it.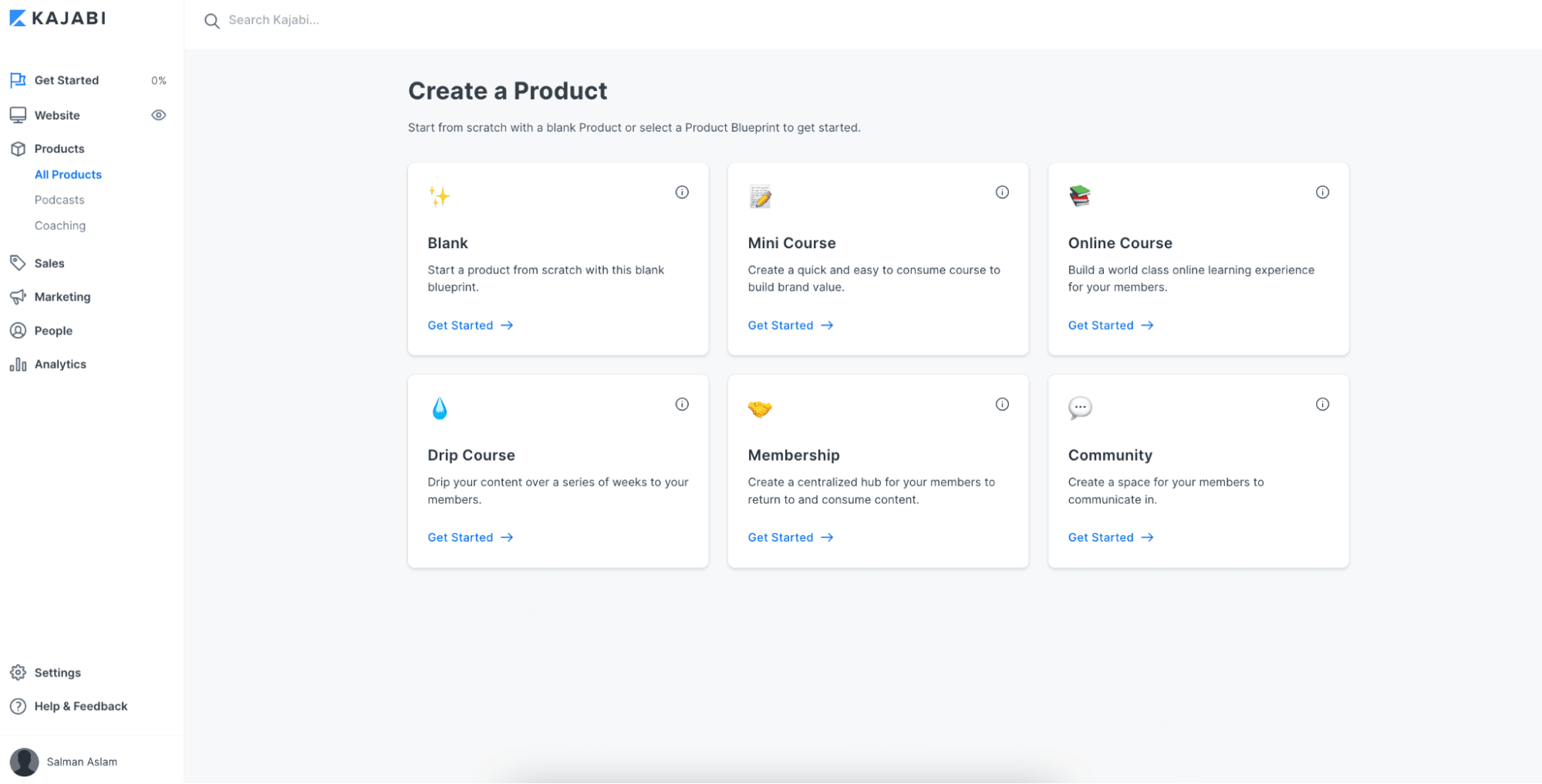 Source: Kajabi
You can select Blank Product to start the course from scratch.
Mini Course is the right choice if you have an audience that loves shorter content or you want to build brand value.
You'll choose Online Course if you prefer making longer courses and if your online learning platform has educational content or instructional content designated to teach your audience about your products.
Drip Course, on the other hand, is a sitcom-type of a course, where you set up courses to  release them weekly, bi-weekly and so on.
Membership is a hub for your members, and the Community is the space for your audience – a forum-like page where they can communicate, share ideas, ask questions etc.
To create one of the products, you will have to go through four different steps before "packaging" it.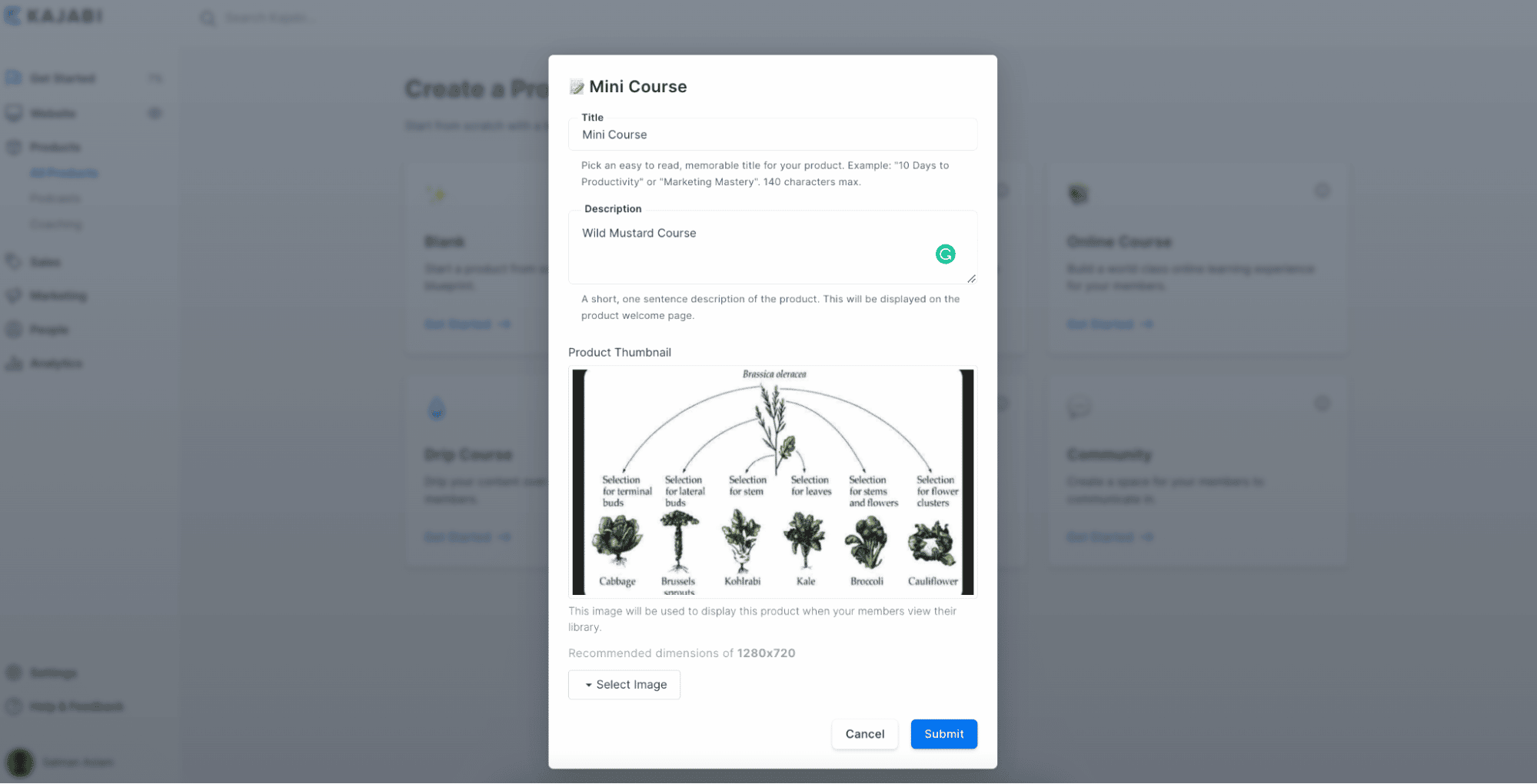 Source: Kajabi
Once you're done with all the steps, there will be a page where you can upload the content (lessons) in the Course Content folder.
From there, you'll be able to choose the status of the folder (Draft, Publish, Drip, or Lock) and each lesson (Draft or Published.)
This is a standard feature in online learning platforms since it enables you to easily manage your lessons.
The best part? Under "Add content" you can add multiple videos at once if you decided to create a few videos in one sitting or if you have them ready for publishing.
Lastly, you can add Assessments when clicking on specific course content. It enables you to add quizzes that can be customized (images and different formatting.)
Teachable
Teachable has a similar course creation interface to Kajabi but it's a little more interactive than Kajabi's.
You can go directly to Courses on the sidebar to create your first course.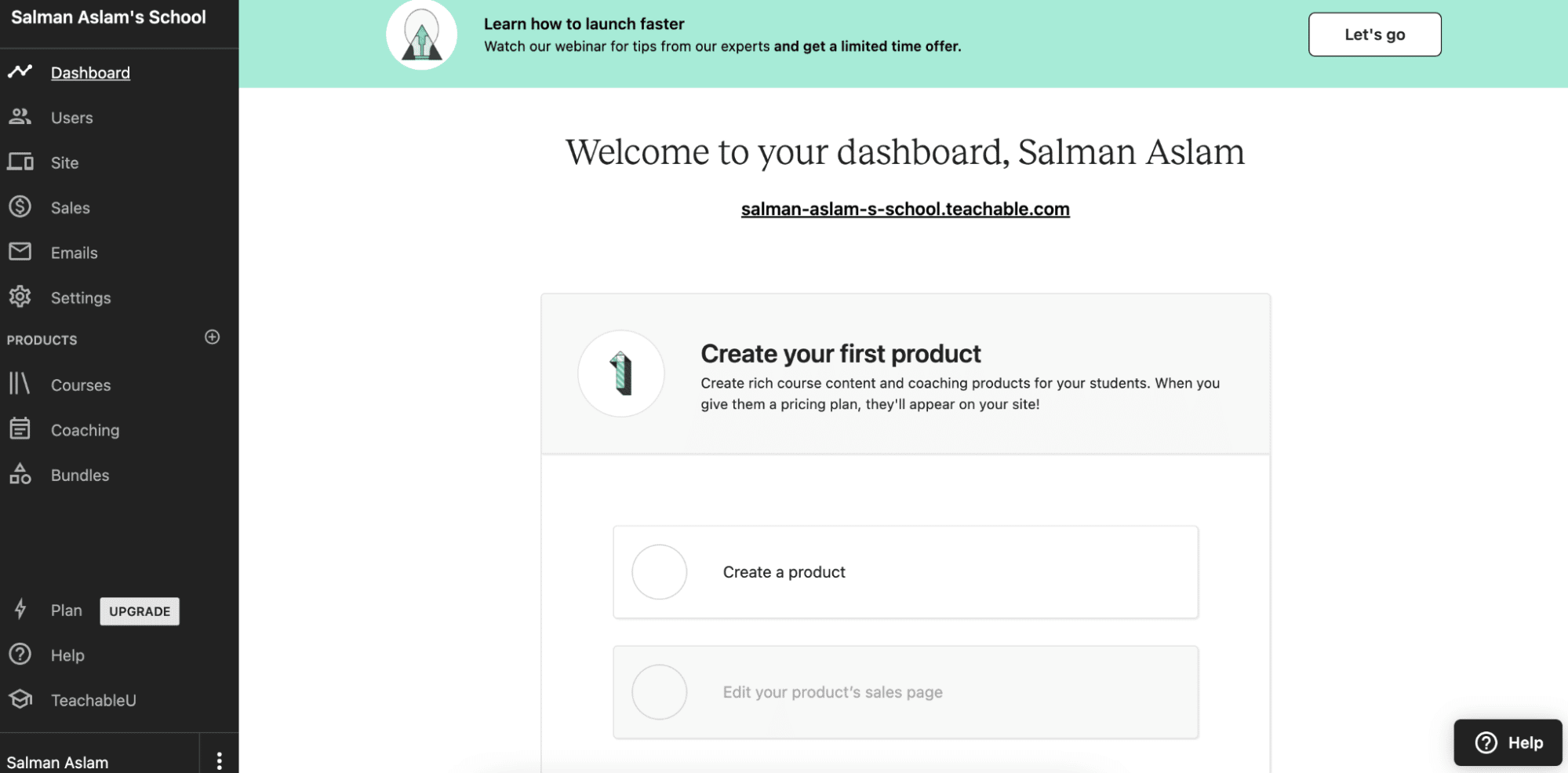 Source: Teachable
Once you make your first course, you'll fill out the Information about the course, Pages, upload files to Curriculum, as well as decide which Design Templates to choose.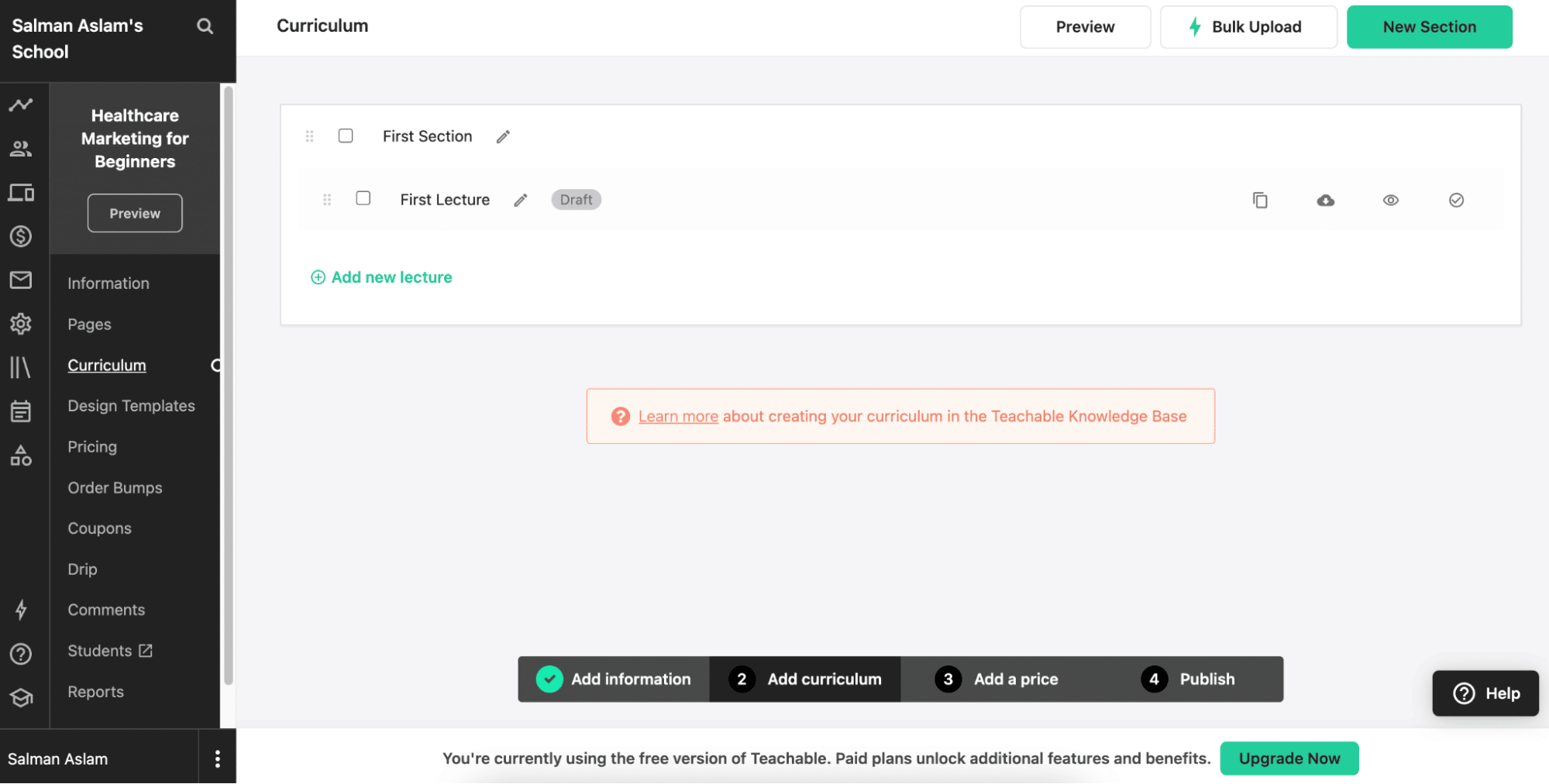 Source: Teachable
Under "Curriculum," there will be Lectures where you'll upload videos to your online courses or supporting media like PDFs and audio.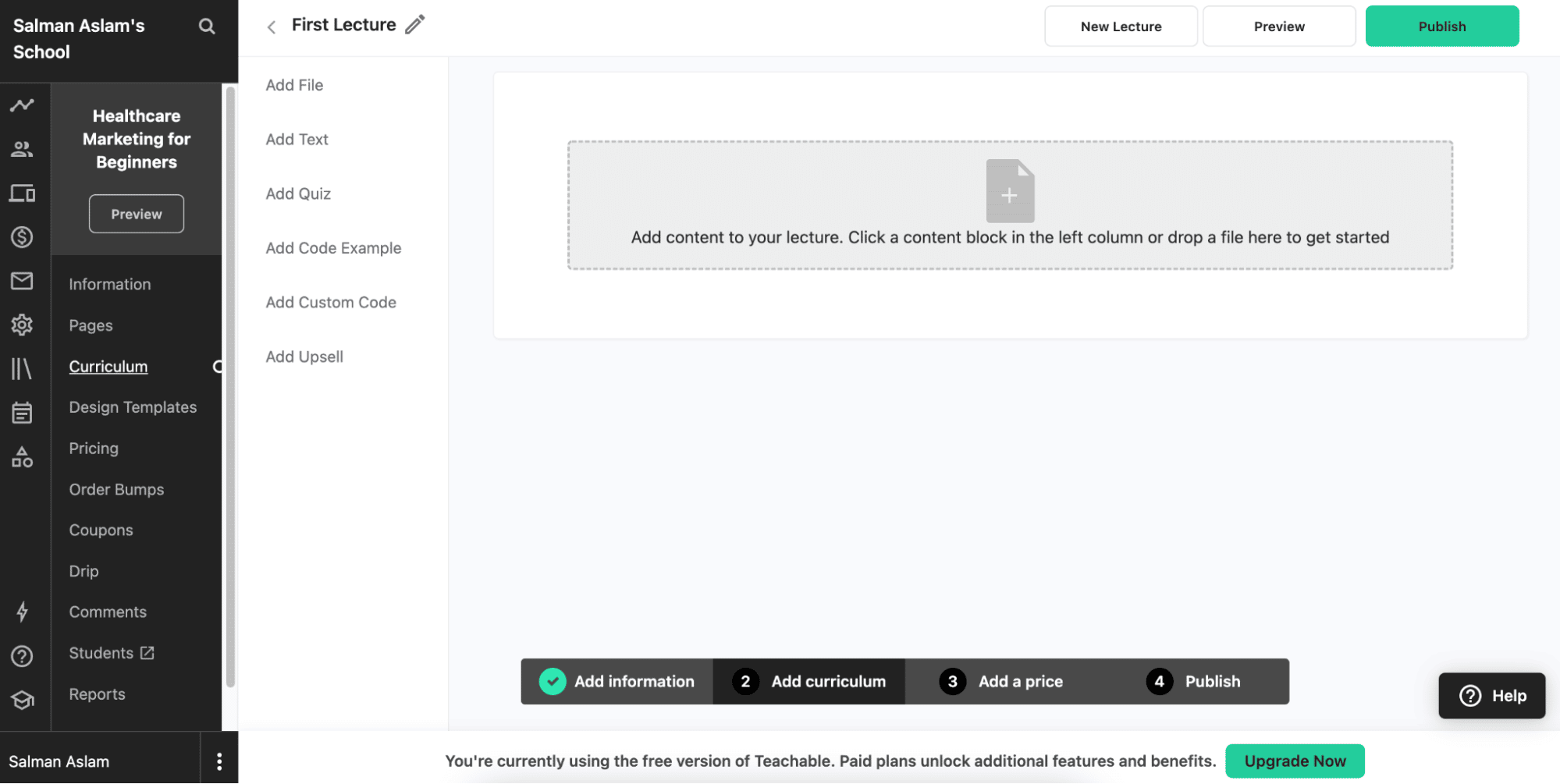 Source: Teachable
You'll be able to add text next to your lecture, quizzes, code example, custom code, or upsell the coaching sessions within lectures.
Verdict
Kajabi's online course creation is packed with customization perks like different templates and different types of products you can add there but lacks the intuitiveness that Teachable has.
2. Content Hosting and Best Lesson
Practices
Kajabi
Except for video files, you can upload course materials like audio, text, and .pdf files to Downloads when clicking on each lesson to customize it.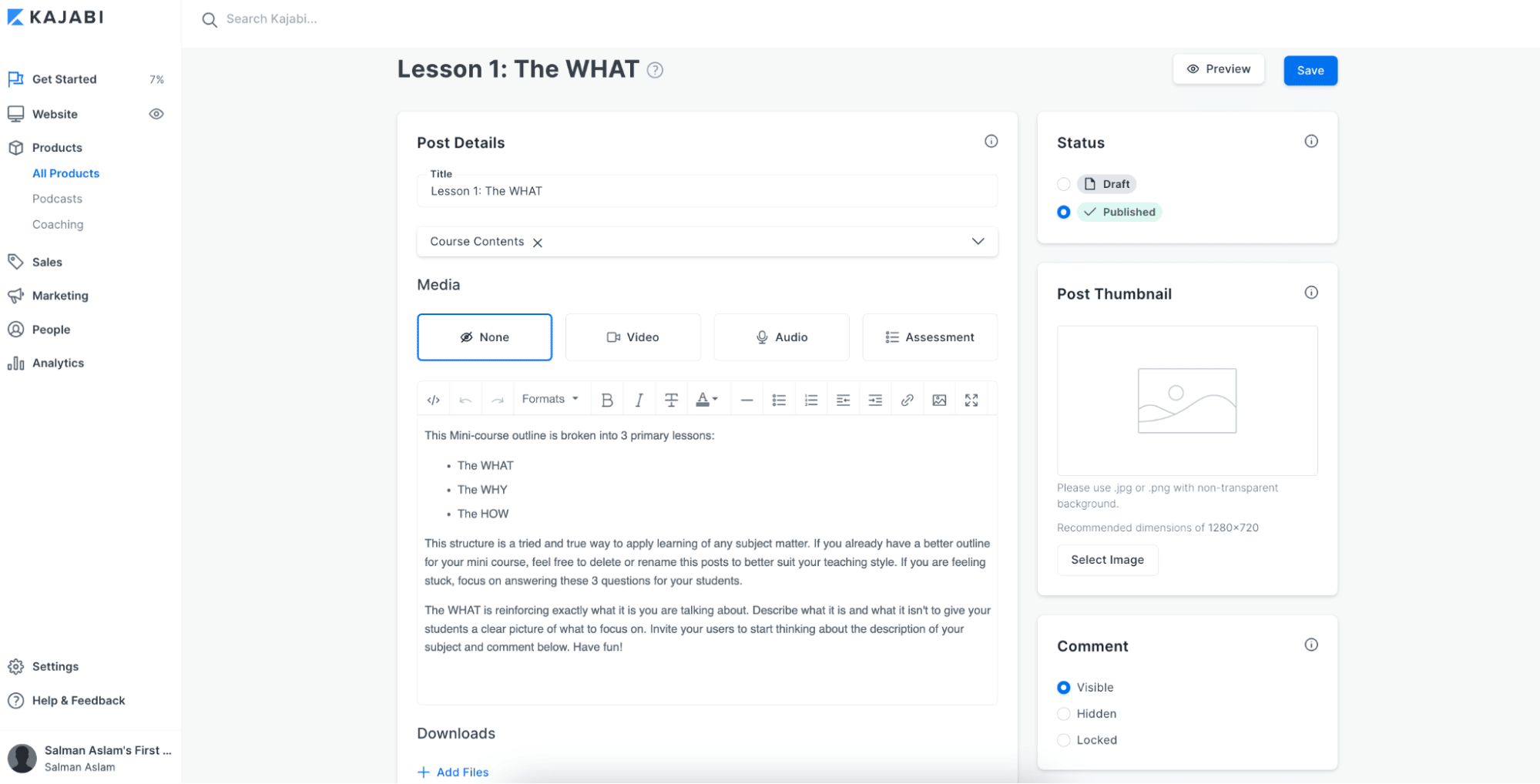 Source: Kajabi
Make sure to always add a thumbnail to your lesson. Online learning is easier when the students recognize what the lesson is about before clicking on it.
Also, try to follow "the WHAT, the WHY and the HOW" structure in your descriptions so that the subject matter is more clear to the students. This tip applies to all descriptions of online courses since it helps the audience get a better grasp of what they're about to learn.
Teachable
On Teachable, you can also add audio, text, and .pdf files under the Courses section.
It's also important to add as much information to the course so that it's recognizable.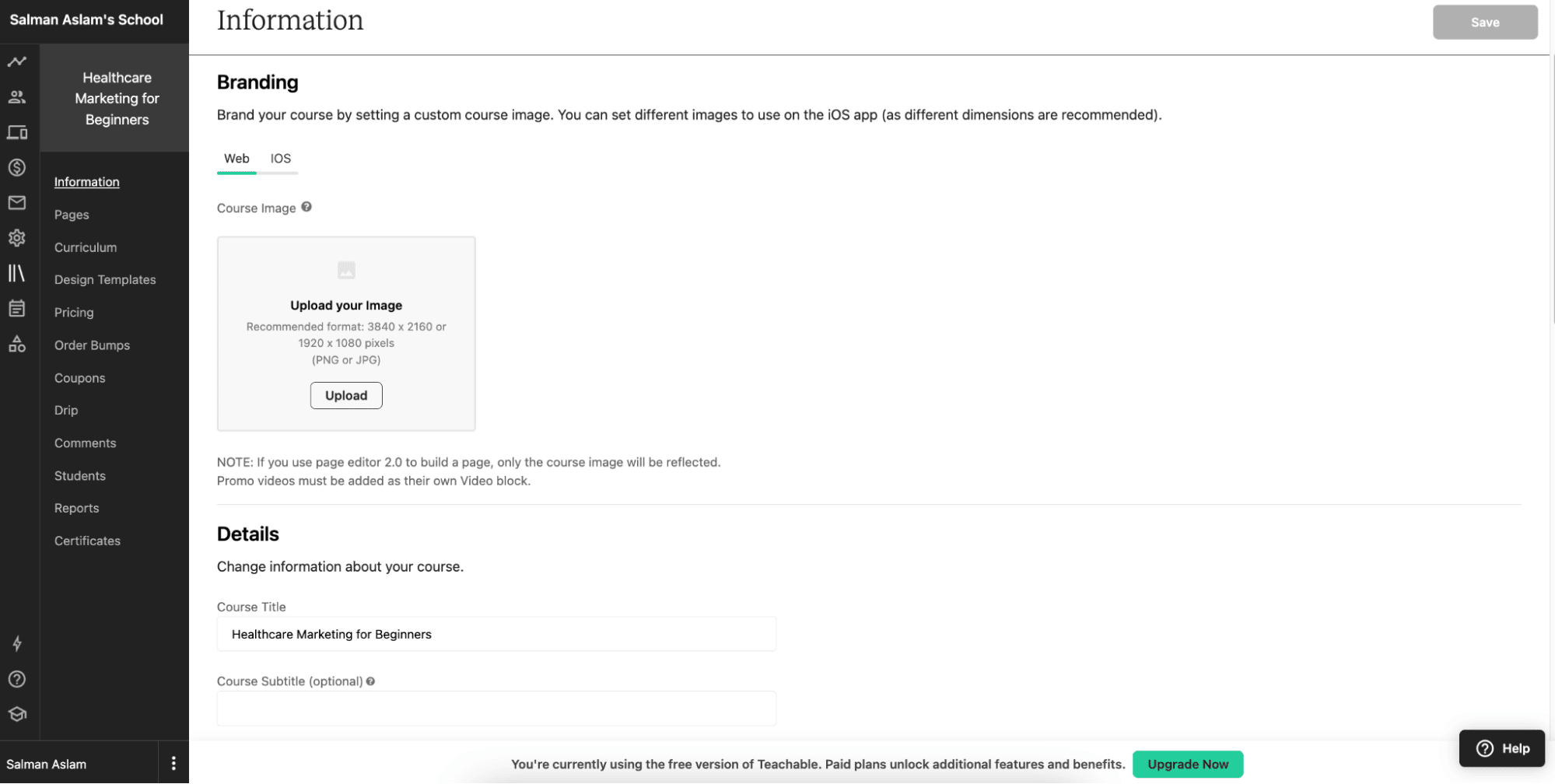 Source: Teachable
You can add an image and details like subtitles and categories to the online course.
Verdict
Kajabi and Teachable both support different file types and features for the best student experience. But as far as optimizing the courses, Kajabi does a better job since you can add descriptions and the placeholder text helps you to focus on what's important to describe.
Kajabi
After you customized the lessons, you can add Automations to the courses. There are options to add Offers, Email Sequences, Events, Tags, Emails, or Coupons.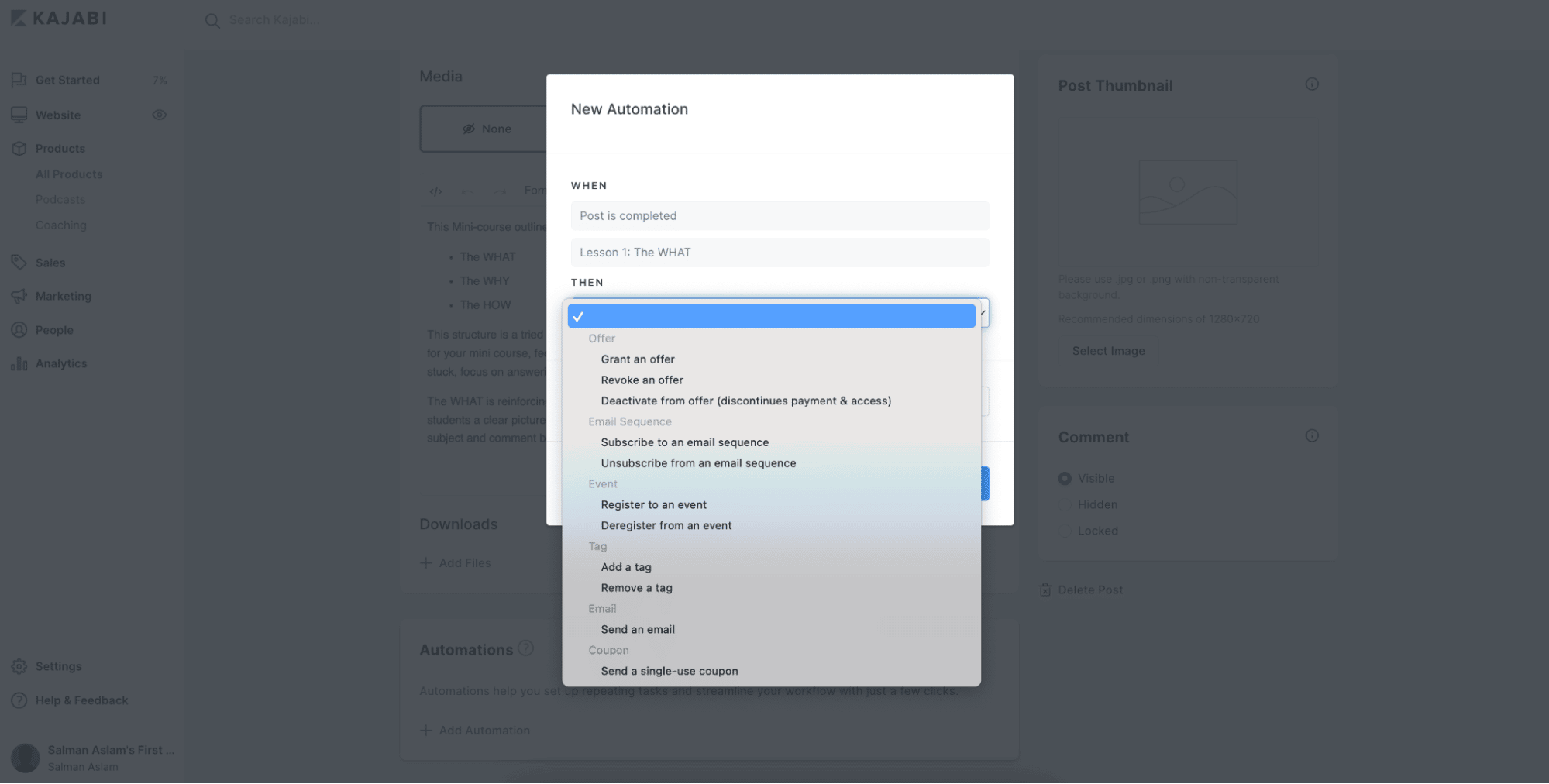 Source: Kajabi
For instance, you can grant or revoke an offer, add the option of subscribing or unsubscribing from an email sequence, or registering/deregistering to an event.
These automations enable your students to become more involved, to get incentives, and get various offers.
Another type of automation is the email automation feature which we'll mention later since it is a whole section under Marketing features. It also enables you to handle emails from within your Kajabi account, which is specific to this online learning platform.
Teachable
The automated perks of Teachable are more limited than Kajabi's: You can set up order bumps when customizing the courses or add Coupons.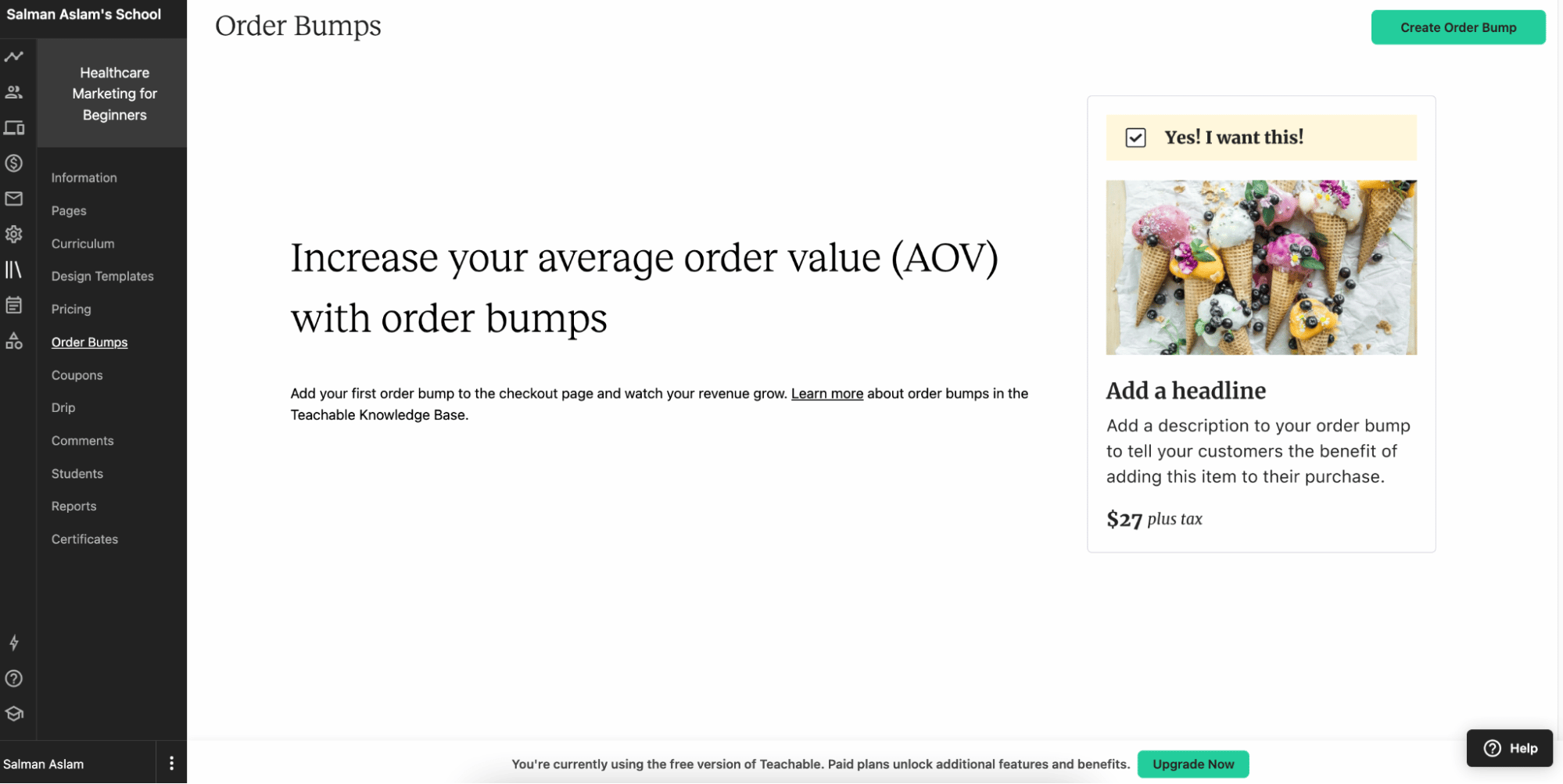 Source: Teachable
Another automated feature has to do with email notifications and certifications.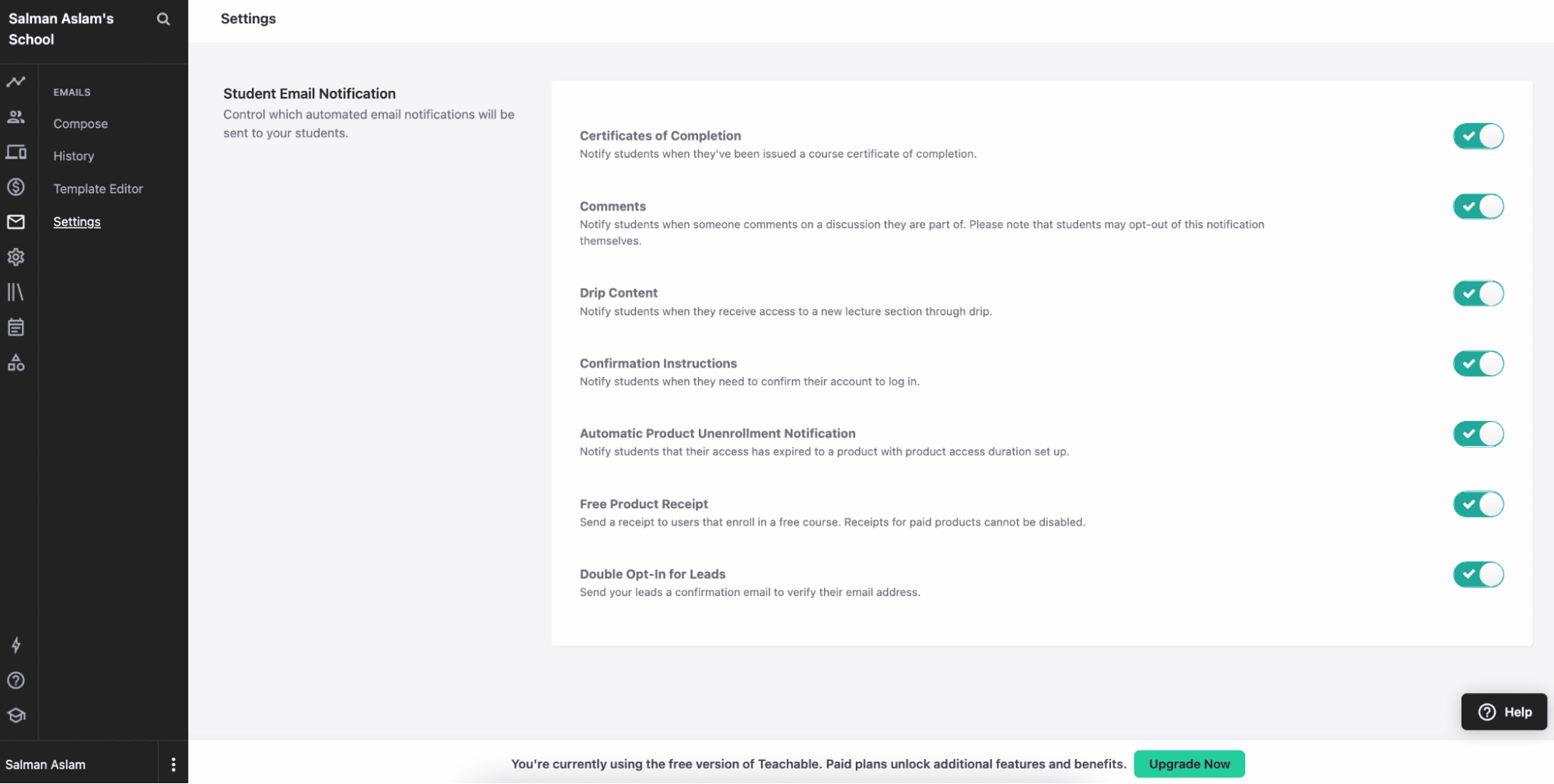 For example, you can set up a certificate of completion notification or notify students about a new lecture section.
Verdict
Automations are an essential part of every online teaching platform but Kajabi does it like a pro: not only you can automate offers or coupons but email sequences due to its integrated email features.
4. Marketing, Sales, and
Integrations
Once you made your online courses, you have to market them. Marketing and Sales are the second most important feature in every online learning platform and they enable you to market your lessons, create offers, and sell your courses.
Kajabi and Teachable have different marketing and sales features but they also support different integrations with third-party apps. So, let's dive into the details of each one.
Marketing and Sales Features
Kajabi
Under Marketing Settings, you can change the Company address and logo, as well as set up an automated email campaign, which is the most convenient feature and makes this one of the best online learning platforms out there.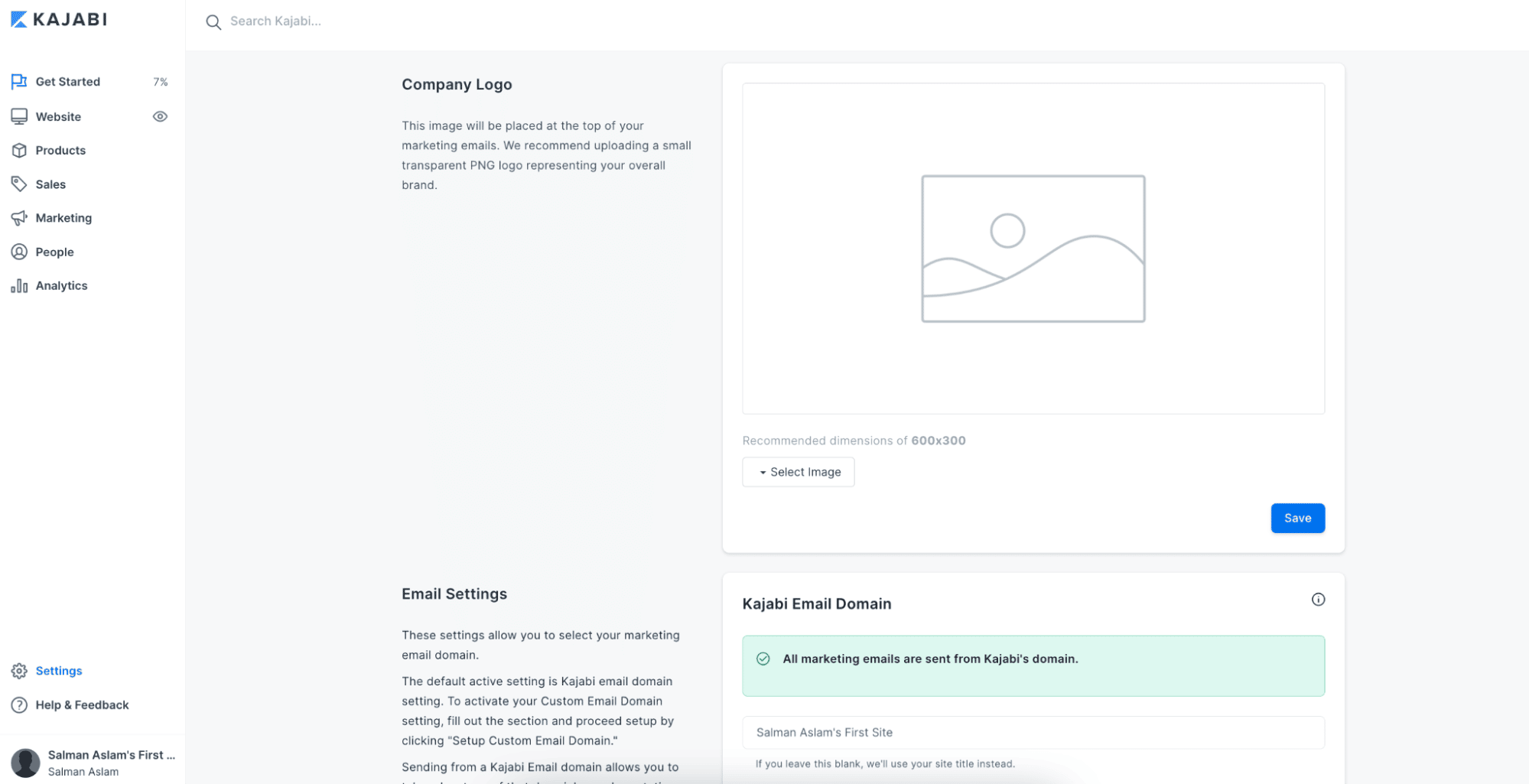 Source: Kajabi
The email can be made with the Kajabi email domain or with the custom email domain. Kajabi is focused more on providing the tools necessary for marketing.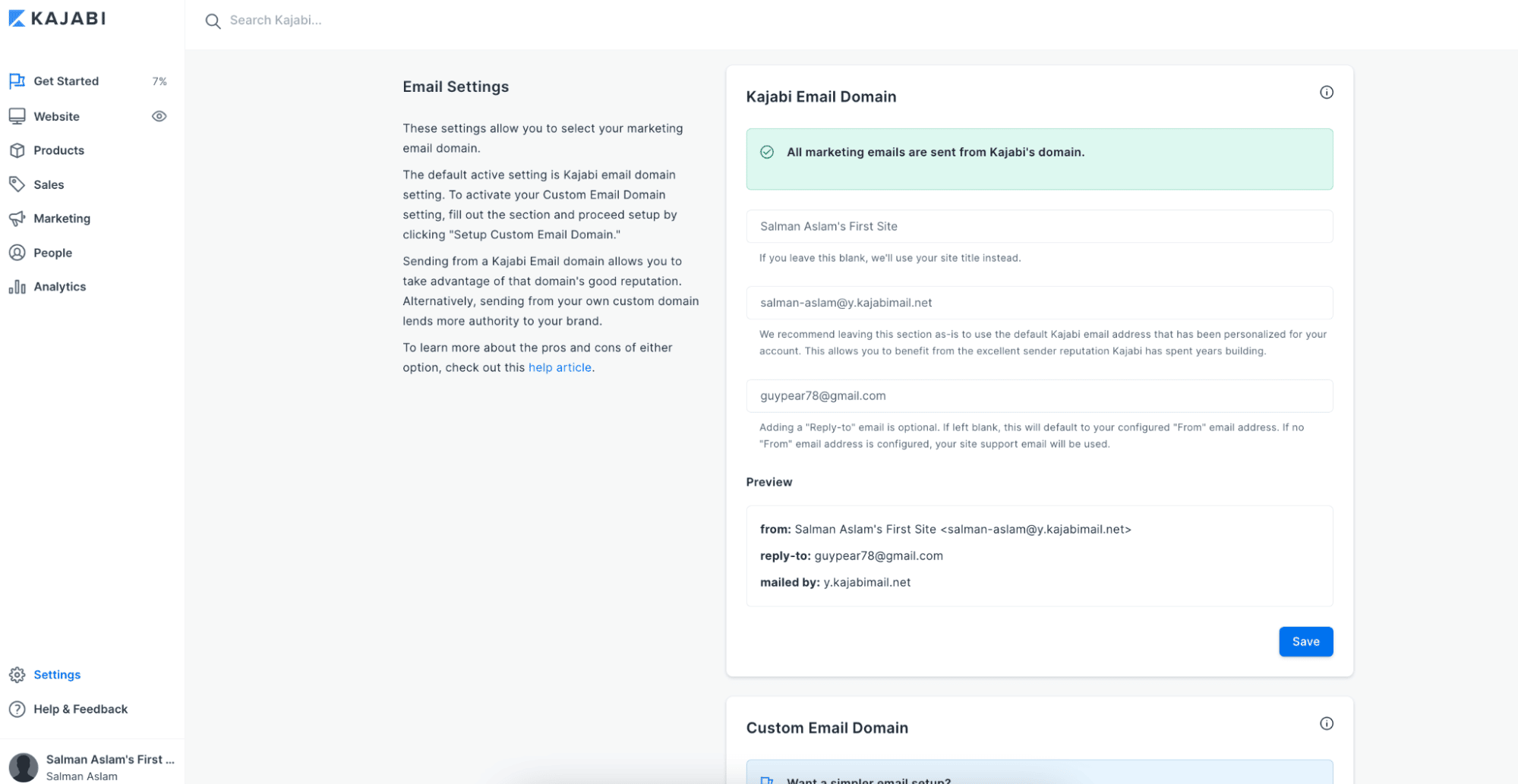 Source: Kajabi
The rest of these tools are found in Sales, where you can set up Offers, Coupons, and manage Affiliates.
With Coupons, for example, you can entice students with a new offer for your newest course.
With Affiliates, you can create affiliate signup and login links. Note that you can make payouts to the affiliates directly from the payment option you chose.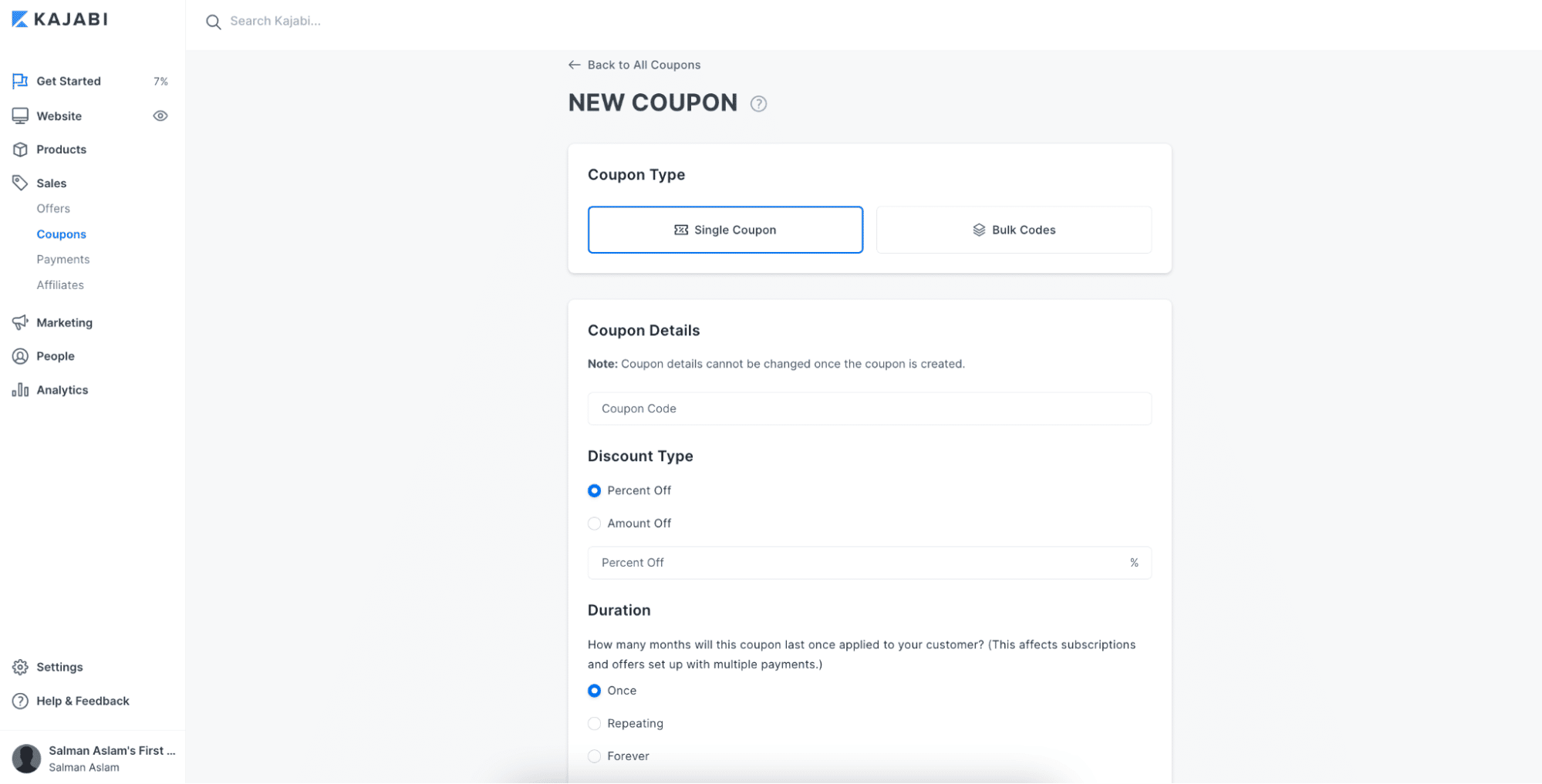 Source: Kajabi
Sales also enable you to set up one of the two Payment providers, but you won't be able to sell on Shopify from within the platform.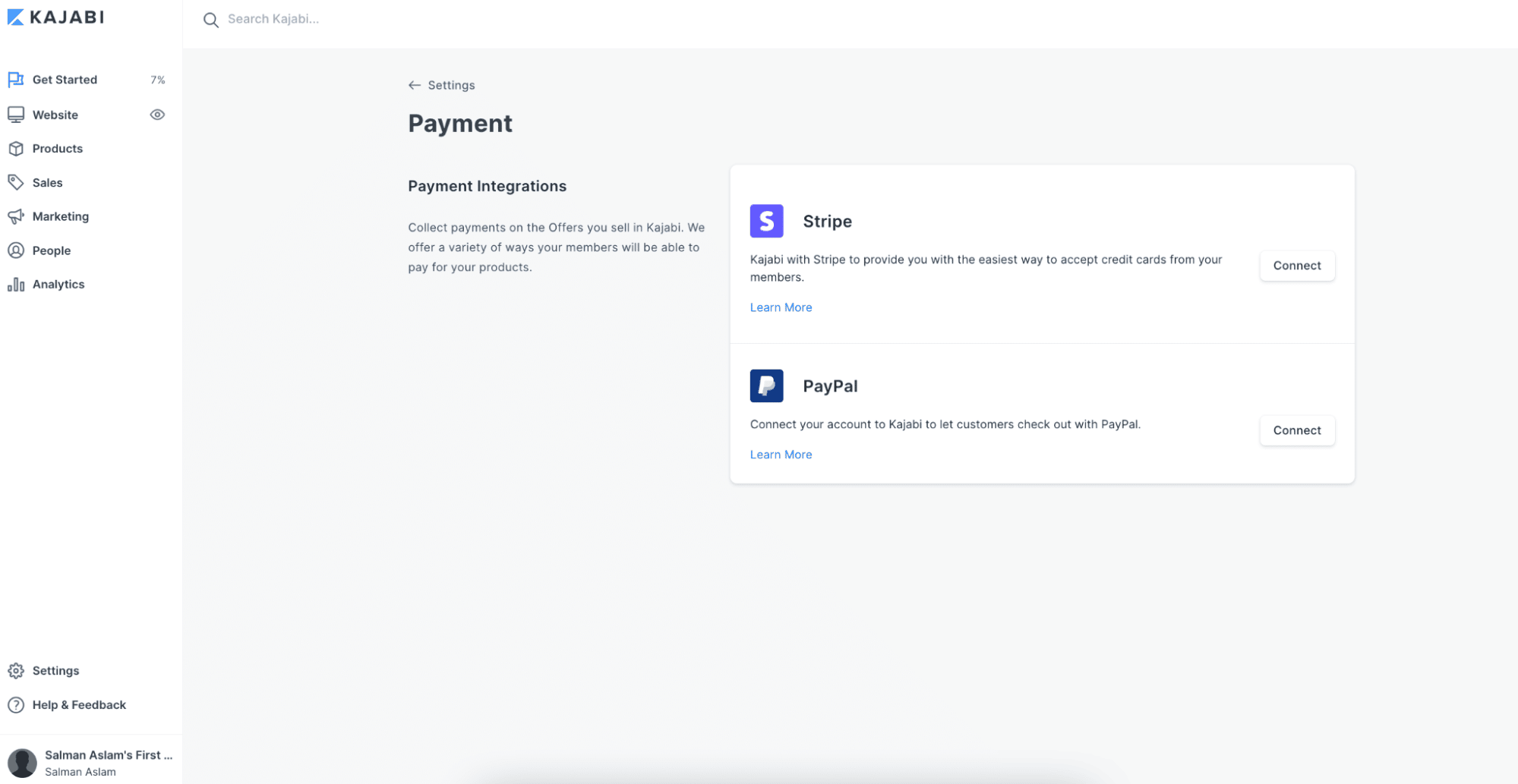 Source: Kajabi
The customers can pay with PayPal or with their credit card. You get payouts via PayPal or Stripe, and you can pay the Affiliates directly from these integrations.
Kajabi can integrate with software like Google Analytics, Segment, Deadline Funnel, Zapier, etc.
As far as email marketing goes, Kajabi can integrate with MailChimp, ConvertKit, Aweber, Active Campaign, and Drip.
Teachable
There's no specific Marketing section in Teachable – this online learning platform has marketing features under the Courses section (Pricing, Order Bumps, and Coupons) and under the Email section, where the native emails feature is available on Basic plan upwards.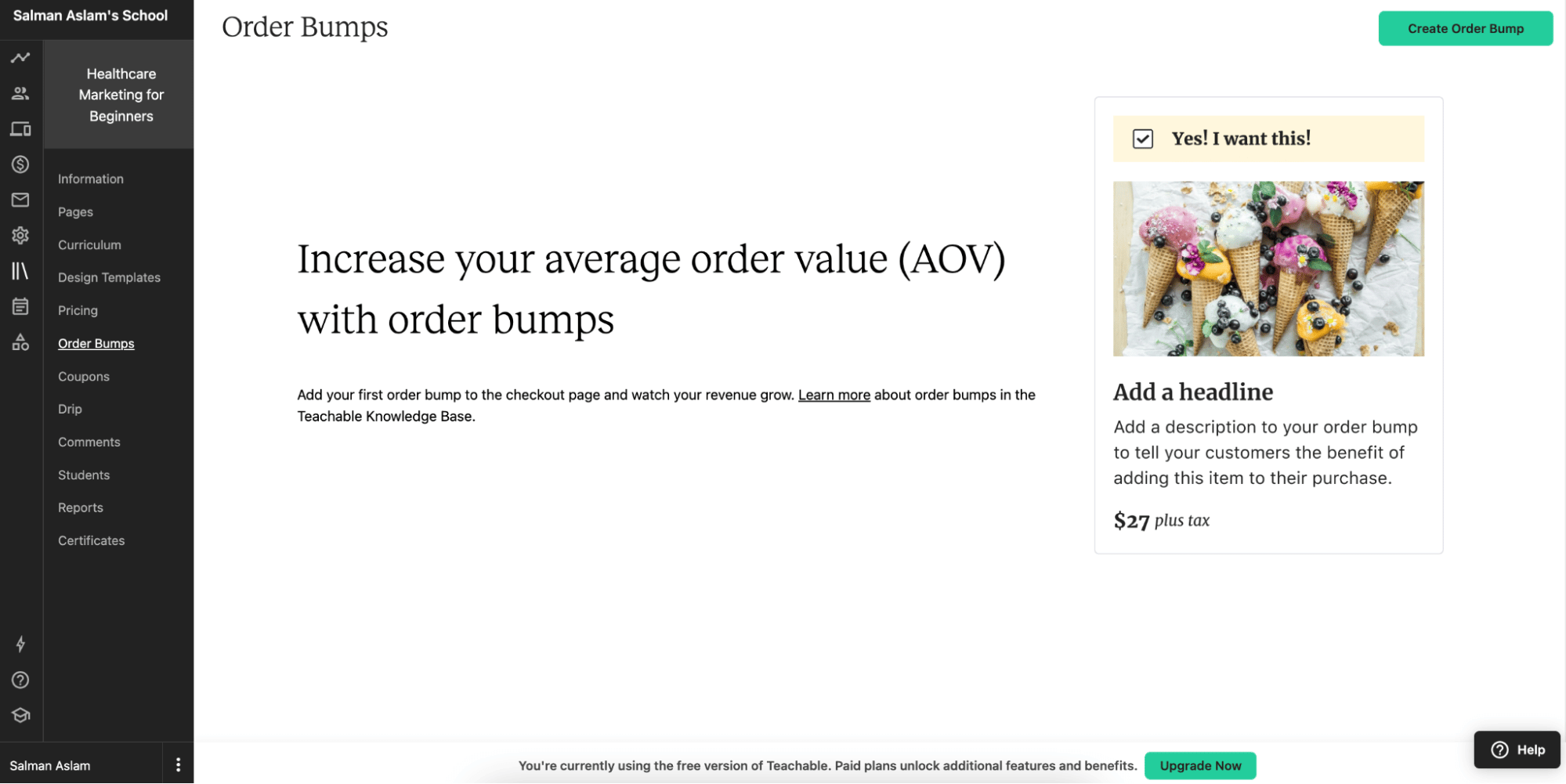 Source: Teachable
Under Pricing, you can create a pricing plan to sell online courses, while Order Bumps and Coupons are used for increasing average order value and for selling your products at a reduced price for a limited time or to offer free courses.
Other marketing settings, like Payment providers, are in the "Settings" section.
Teachable, as opposed to Kajabi, only integrates with Convertkit and MailChimp for email marketing purposes. If you want to use any other app, you'll have to use Zapier.
Apart from Zapier, this online course platform can integrate with the same third-party apps like Kajabi: Google Analytics, Segment, Deadline Funnel, and so on.
Verdict
As for the marketing and sales features, Kajabi does a better job with its integrated email marketing, while you can also access Teachable's email feature with paid plans. If you're looking for a platform that supports more integrations, then Kajabi is the right choice.
Online course creation platforms usually vary from one company to another and you usually get more features if the plan is more expensive.
Payment plans for these two online learning platforms are quite different since Kajabi is the more expensive one.
Teachable, however, has a Free plan which is an excellent starter for those who don't yet have the budget allocated for their course creation project but want to sell online courses as soon as possible.
Kajabi
Kajabi offers three different payment plans that are billed annually.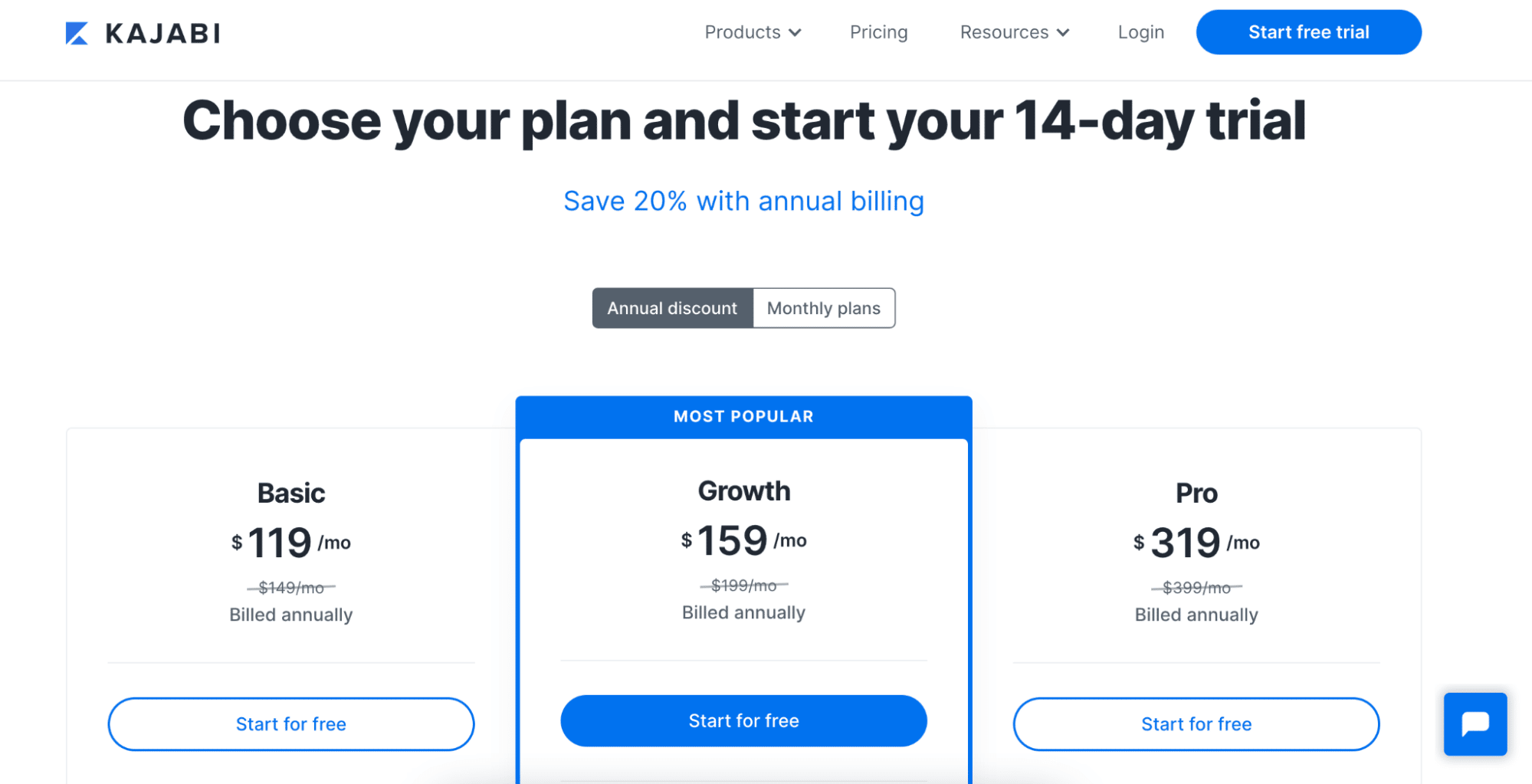 The Basic plan costs $119 per month and you get:
3 Products
3 Pipelines
Unlimited Landing Pages
Unlimited Marketing Emails
10,000 Contacts
1,000 Active Members
1 Website
1 Admin User
Kajabi University
0% Transaction Fee
Webinars & Events
Ready to Use Templates
Assessments (Quizzes & Surveys)
1 Customer Success
Activation Call
Chat Support
Automations
The Growth plan costs $159 per month and features:
15 Products
15 Pipelines
Unlimited Landing Pages
Unlimited Marketing
Emails
25,000 Contacts
10,000 Active Members
1 Website
10 Admin Users
Kajabi University
0% Transaction Fee
Webinars & Events
Ready to Use Templates
Assessments (Quizzes & Surveys)
1 Customer Success
Activation Call
24/7 Chat Support
Advanced Automations
Ability to Remove Kajabi Branding
Affiliate Program
The Pro plan costs $319 per month - it offers all Basic and Growth features with an added code editor and more:
100 Products
100 Pipelines
Unlimited Landing Pages
Unlimited Marketing Emails
100,000 Contacts
20,000 Active Members
3 Websites
25 Admin Users
Teachable
Teachable offers four different plans: three paid ones and one free plan that are billed annually.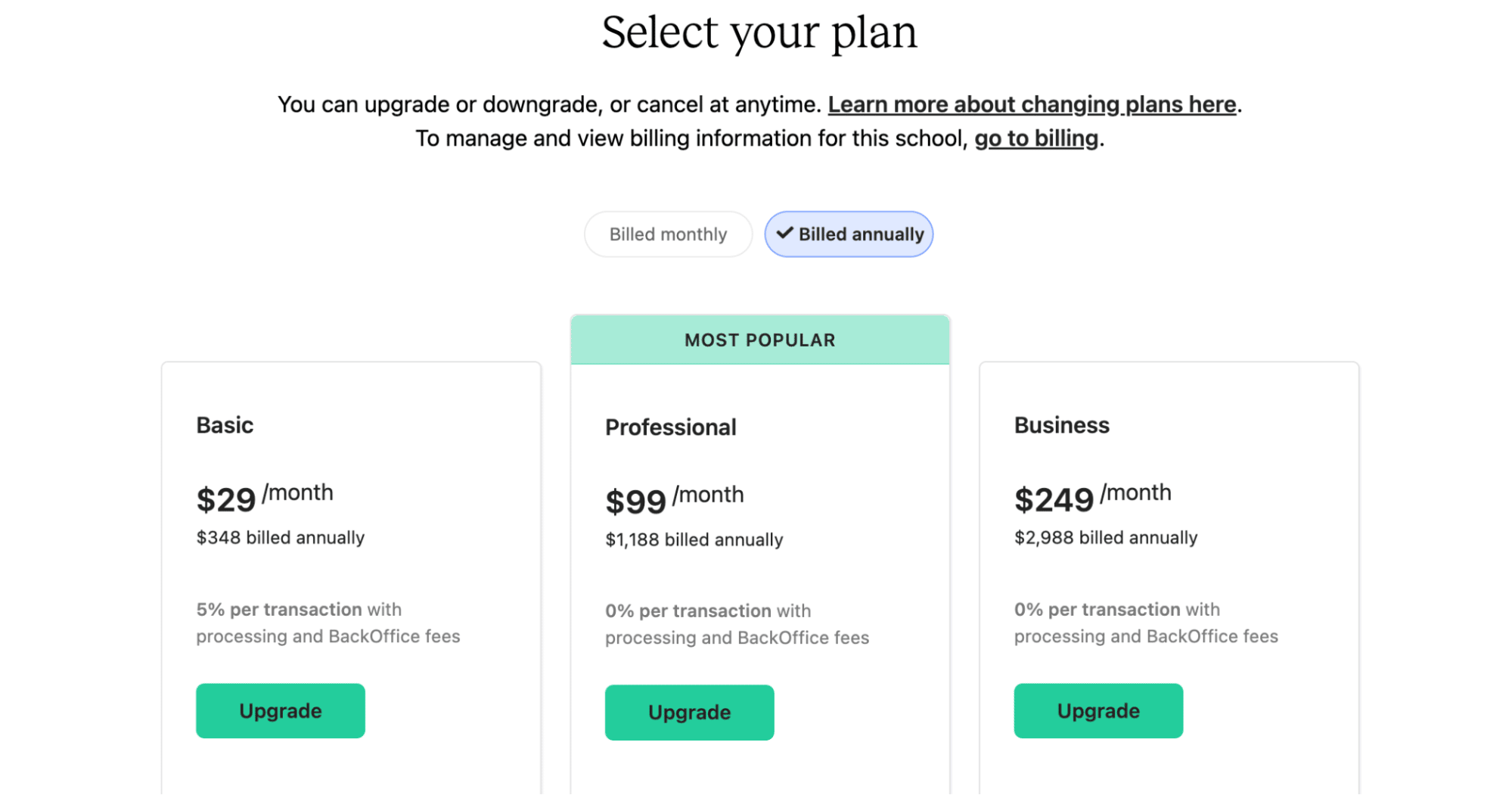 This online learning platform's Free plan has $1 + 10% per transaction with processing & Backoffice fees and its core features are:
Unlimited products (courses, coaching & bundles)
Unlimited students
Only 1 Admin
User Email Support
Course Building Features: Course Design Templates
Basic Quizzes
Customization Features: CSS Snippets
Selling Features: Email Lead and Capture Order Bumps
The Basic plan costs $29 per month ($348 billed annually), has a 5% per transaction with processing and BackOffice fees and offers:
Unlimited courses
Integrated payment processing
Basic quizzes
Unlimited hosting
Comments
VAT (value-added tax) for EU
Basic student reporting
Student management & email
Unlimited students
Coupons
Extra owner/author
Drip content
Custom domains
Third-party integrations
The Professional plan costs $99 per month ($1188 billed annually), has 0% per transaction with processing and BackOffice fees, and its features consist of all Basic features plus:
Unbranded website
5 authors/owners
Affiliate program
Advanced reports
Graded quizzes
Priority support
Native Certificates
Course compliance
Group coaching calls
Teachable's Business plan costs $249 per month ($2,988 billed annually), has 0% per transaction with processing and BackOffice fees, and has all Basic and Professional features along with:
Bulk student imports & management
Advanced theme customization
20 authors/owners
Custom Roles
All pricing plans on Teachable will give you access to unlimited products (courses), an unlimited number of students, videos, and hosting for your learning platform.
Moreover, you won't have any fees on free courses.
There's also a useful VAT calculation, which Kajabi doesn't have.
Verdict
Teachable is the definite winner in the payment plan domain since it has more affordable plans than Kajabi and boasts a free plan. Although this free plan is limited, it's an excellent choice for those venturing into the online course business and those who want to see how these types of platforms work.
6. Website Design and
Customization
Another crucial feature for optimal course distribution is website building – its design and customization.
All online course platforms have certain website building features – some with more elaborate systems than others. Let's see how Kajabi and Teachable compare.
Kajabi
Kajabi's website design begins on the "Website" tab, where you can pick one of the eight different themes. It has a dashboard from which you can customize the theme according to your online courses and your liking.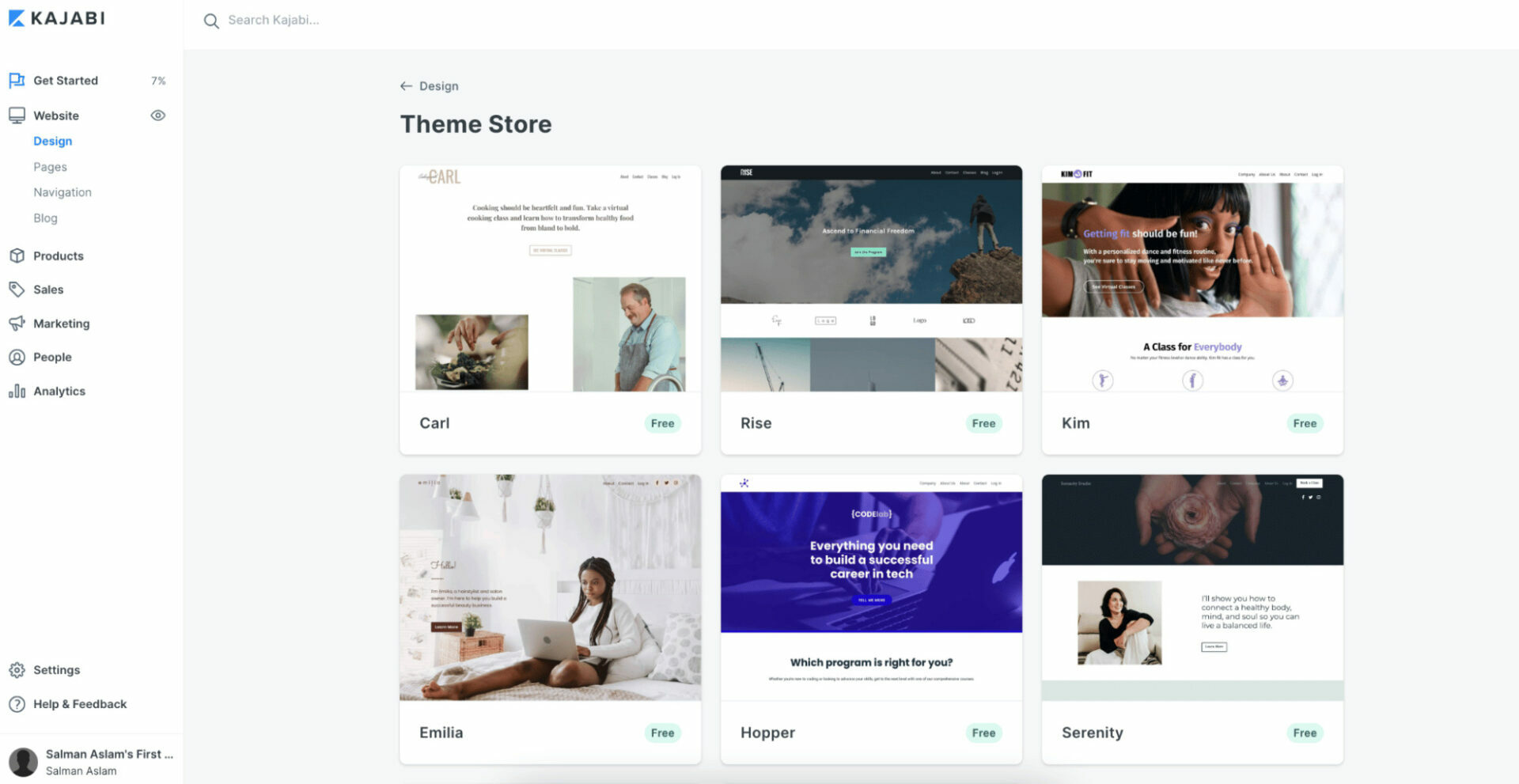 Source: Kajabi
Simply install the theme and change the content with the help of the sidebar and the drag and drop builder.
The customization requires no coding and although the dashboard is a bit confusing at the beginning, you'll find that the perks like an unlimited number of pages or using old sites as templates come in handy when you deal with multiple courses.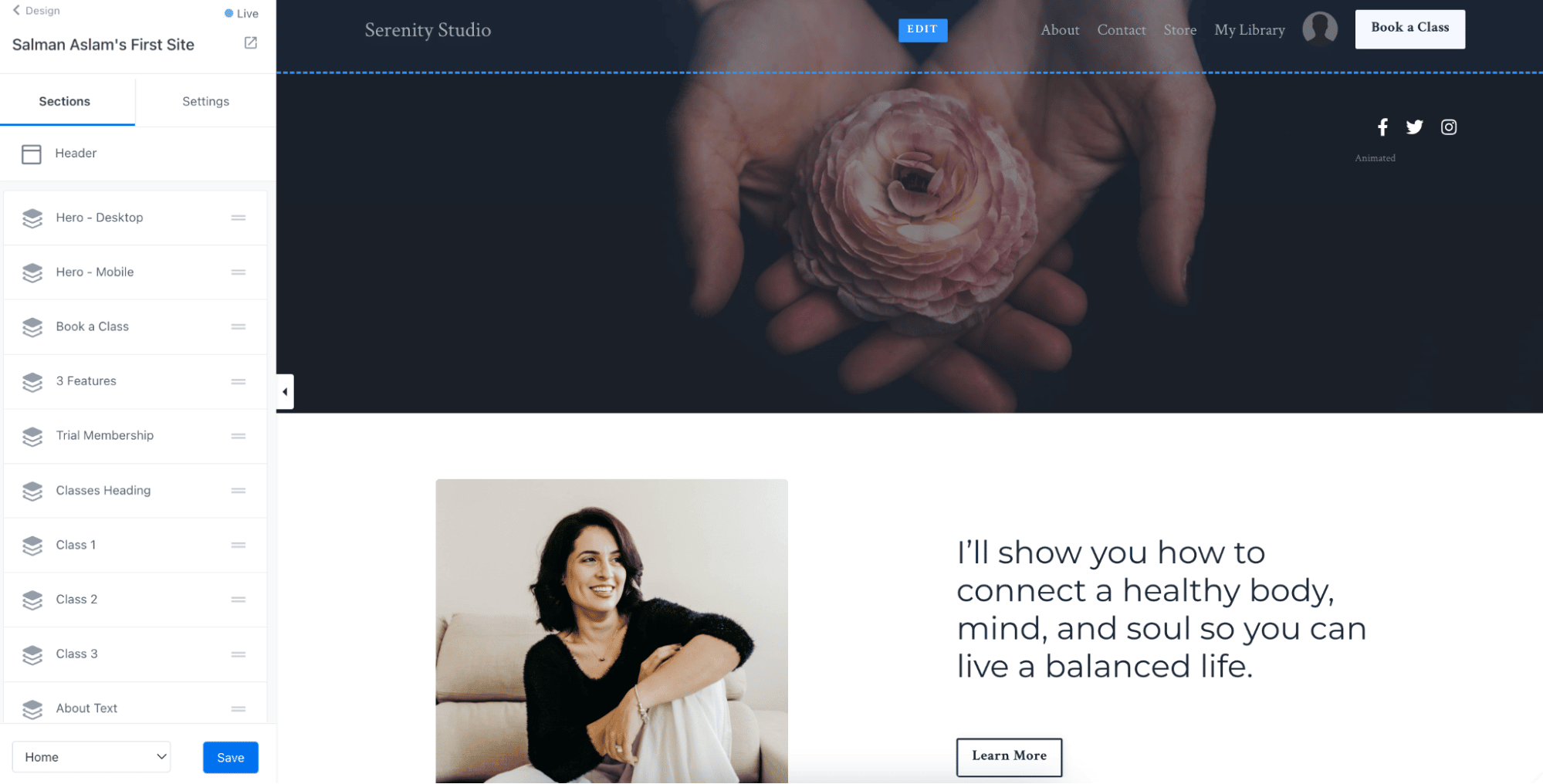 Source: Kajabi
Lastly, you can modify the design even more by going into the backend and changing the code or importing new custom themes.
Teachable
You can access Teachable's website design through the "Site" section. Unlike Kajabi, it doesn't have designated Themes to choose from but a place where you can add a logo or a favicon and adjust your school thumbnail.
There's also a dropdown menu with a dozen fonts where you can pick out one to be used across your online school.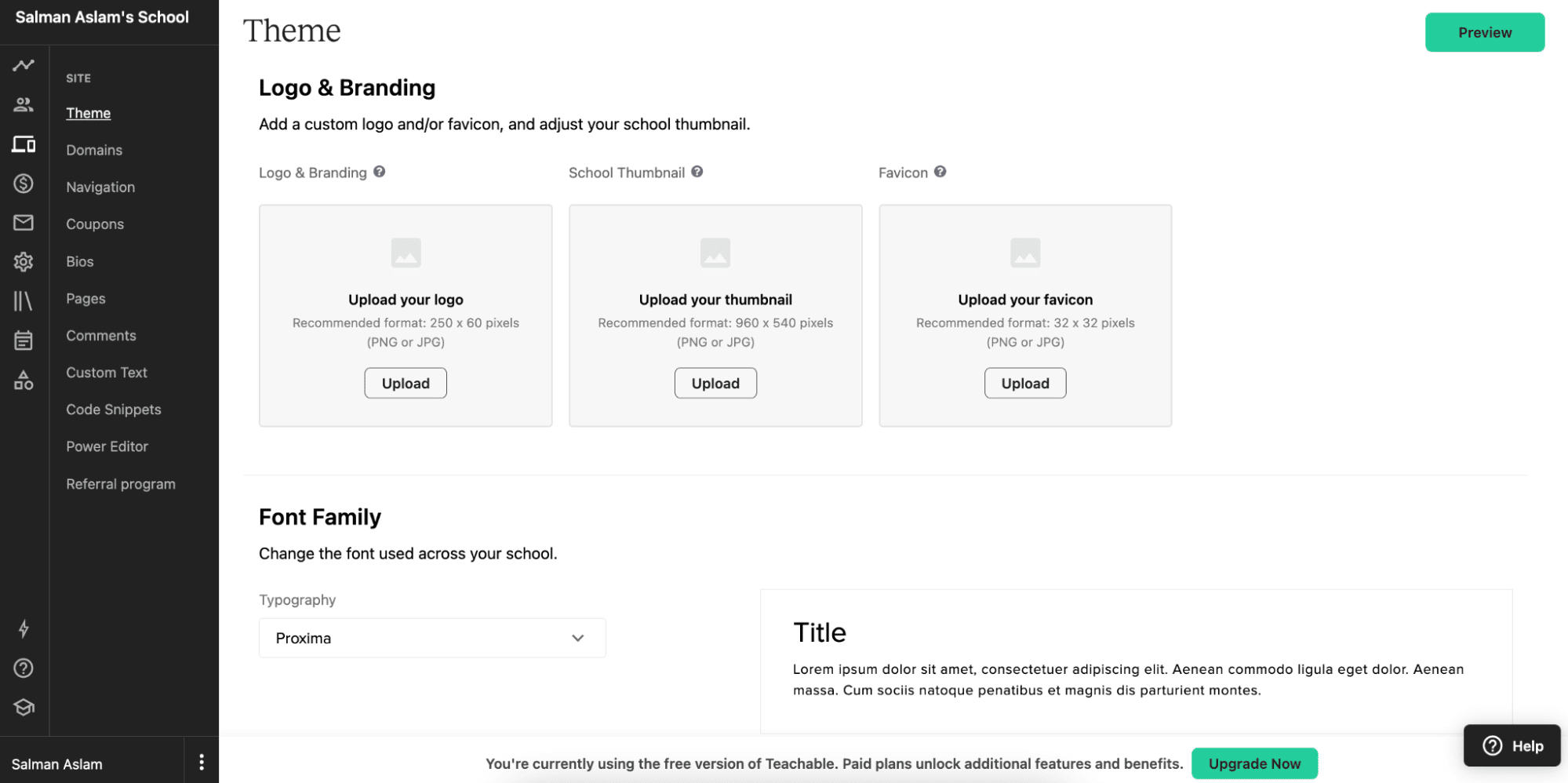 Source: Teachable
Except for branding features and fonts, you can choose a specific colour palette that is essentially like building a theme for your online learning courses site.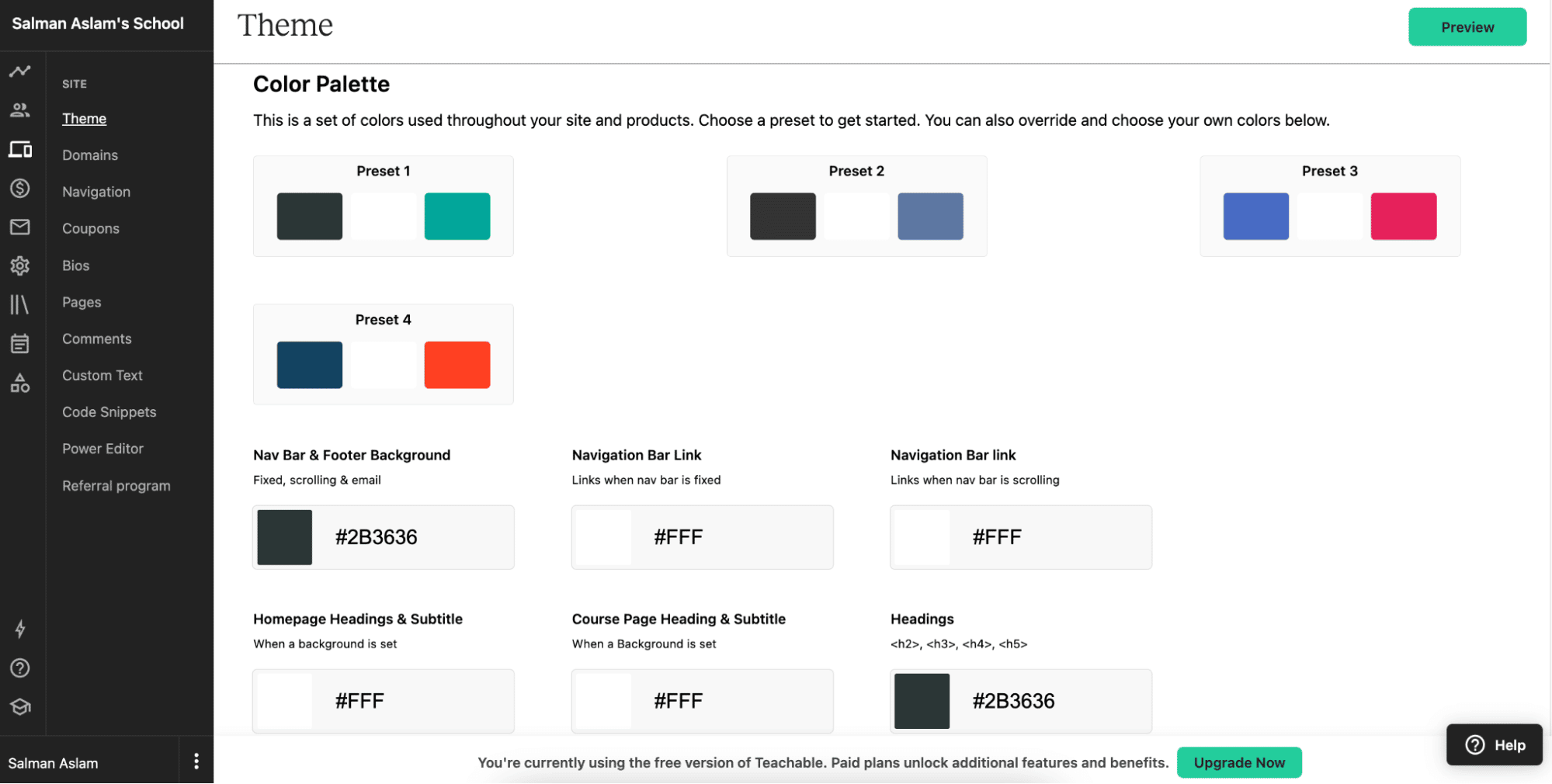 Source: Teachable
Once you pick the palette, you can also use the drag and drop builder when accessing the "Pages" part in the Site section.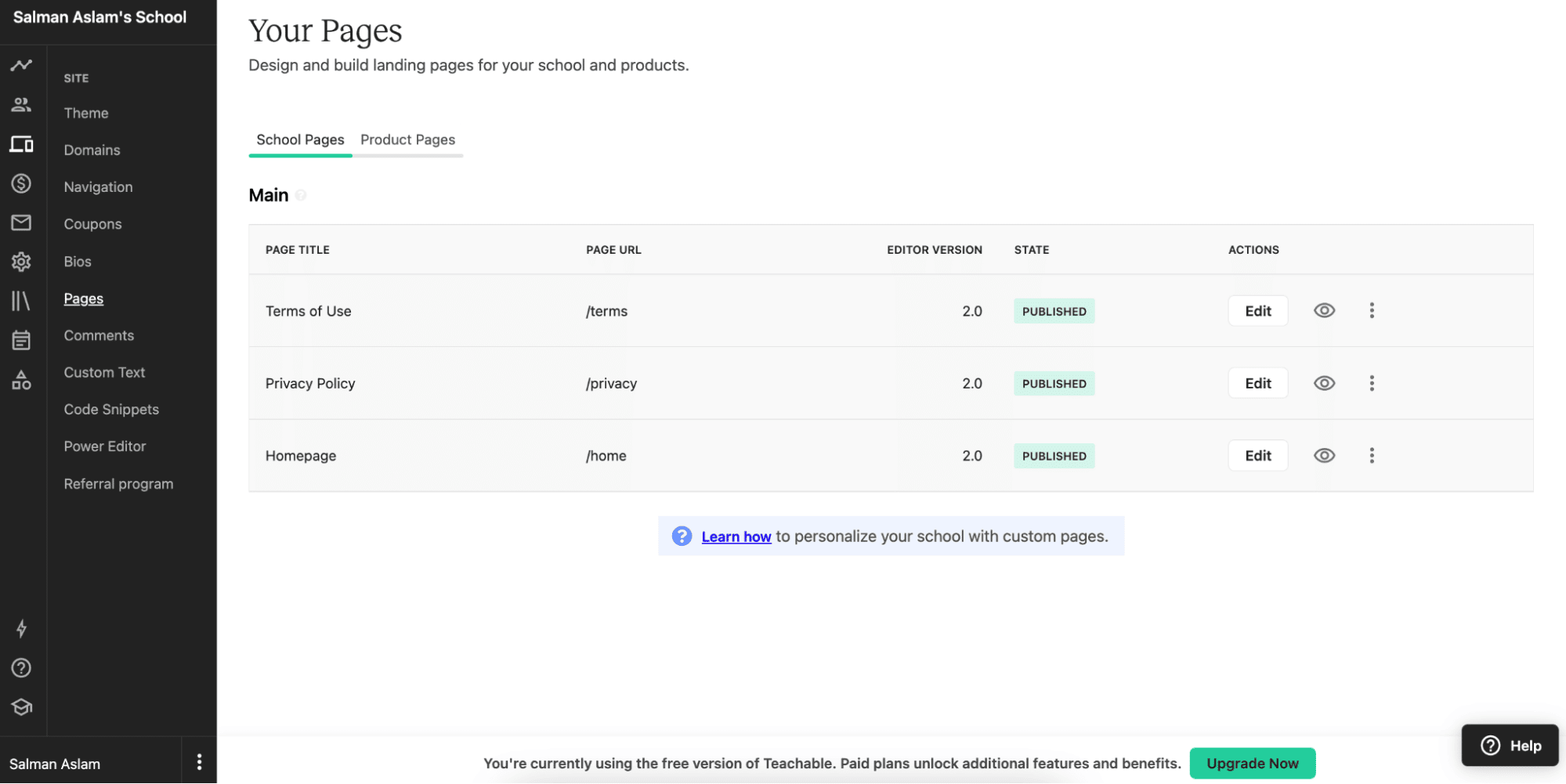 Source: Teachable
The builder is simple to use but has limitations when it comes to the number of options if we compare it to Kajabi.
Note that these are all changes that you can do without going into the techy stuff but you can customize even more by changing the code from the backend.
Verdict
Kajabi's theme picks and additional customization within each theme make it a valuable tool for professionals who care about details, but if your goal is having a simple website with little customization, then Teachable is the better option.
A factor that is vastly different across online learning platforms is the student experience.
Except for the website design, coupons, videos, and other teaching material, features that will help immensely your students are forums and discussions.
Best online learning platforms boast various community discussion forums and other similar features so that the students can discuss the material they just saw and ask questions.
Kajabi
Kajabi has a "Community Product" feature, where you can build a forum on the site. It enables the students to engage more and chat with others about the course topic. This option can be a separate paid option in the membership or you can include it in the offer.
Moreover, the online course player has a comment feature where the students discuss the video topic directly.
Another feature is called "Coaching" and it lets you book clients, track their progress, and more in a single session or in a package.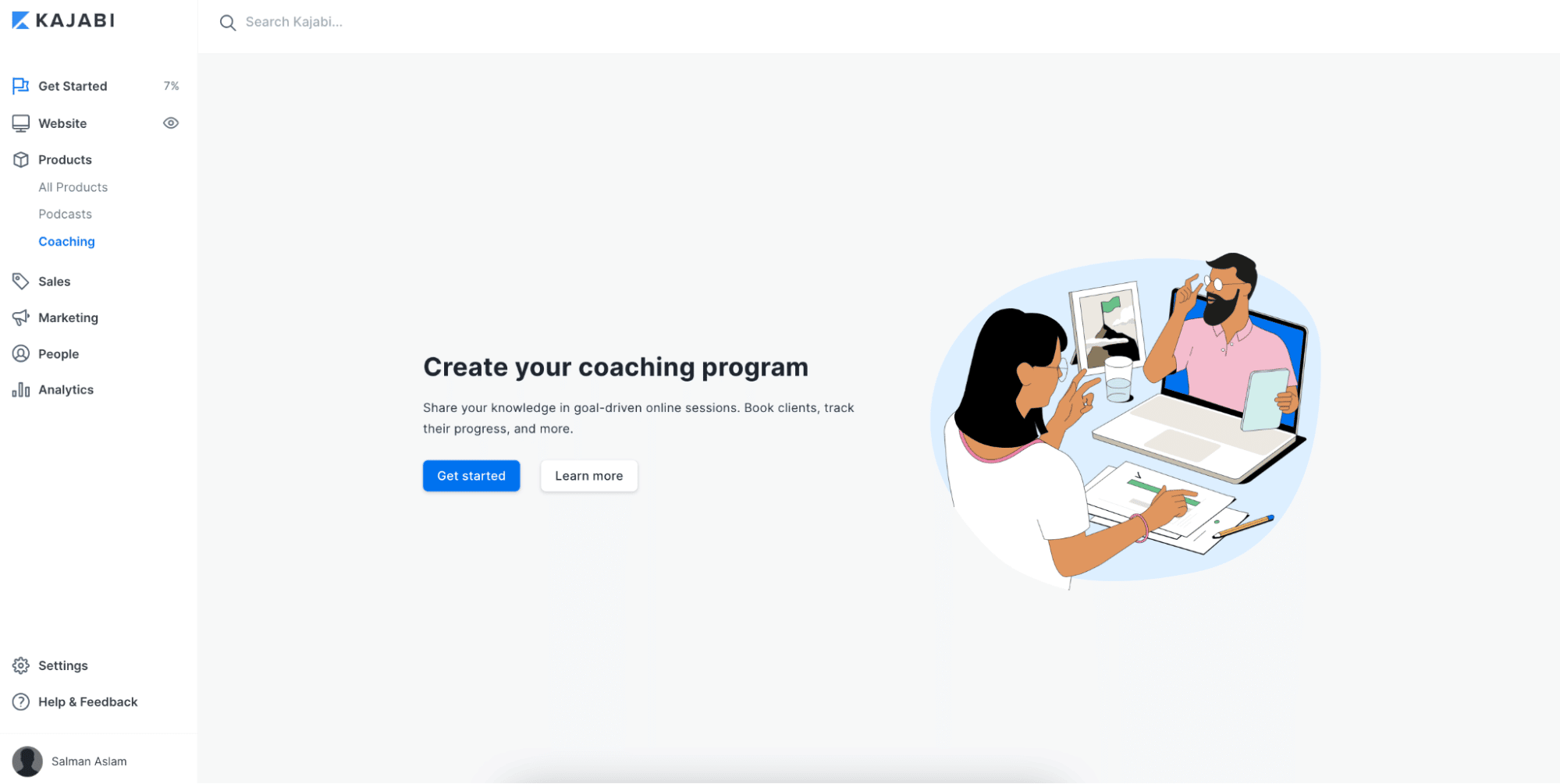 Source: Kajabi
Teachable
On Teachable, there isn't a forum-like feature but there's a section called "Coaching", where you "create and manage coaching experiences to develop one-on-one relationships with your students."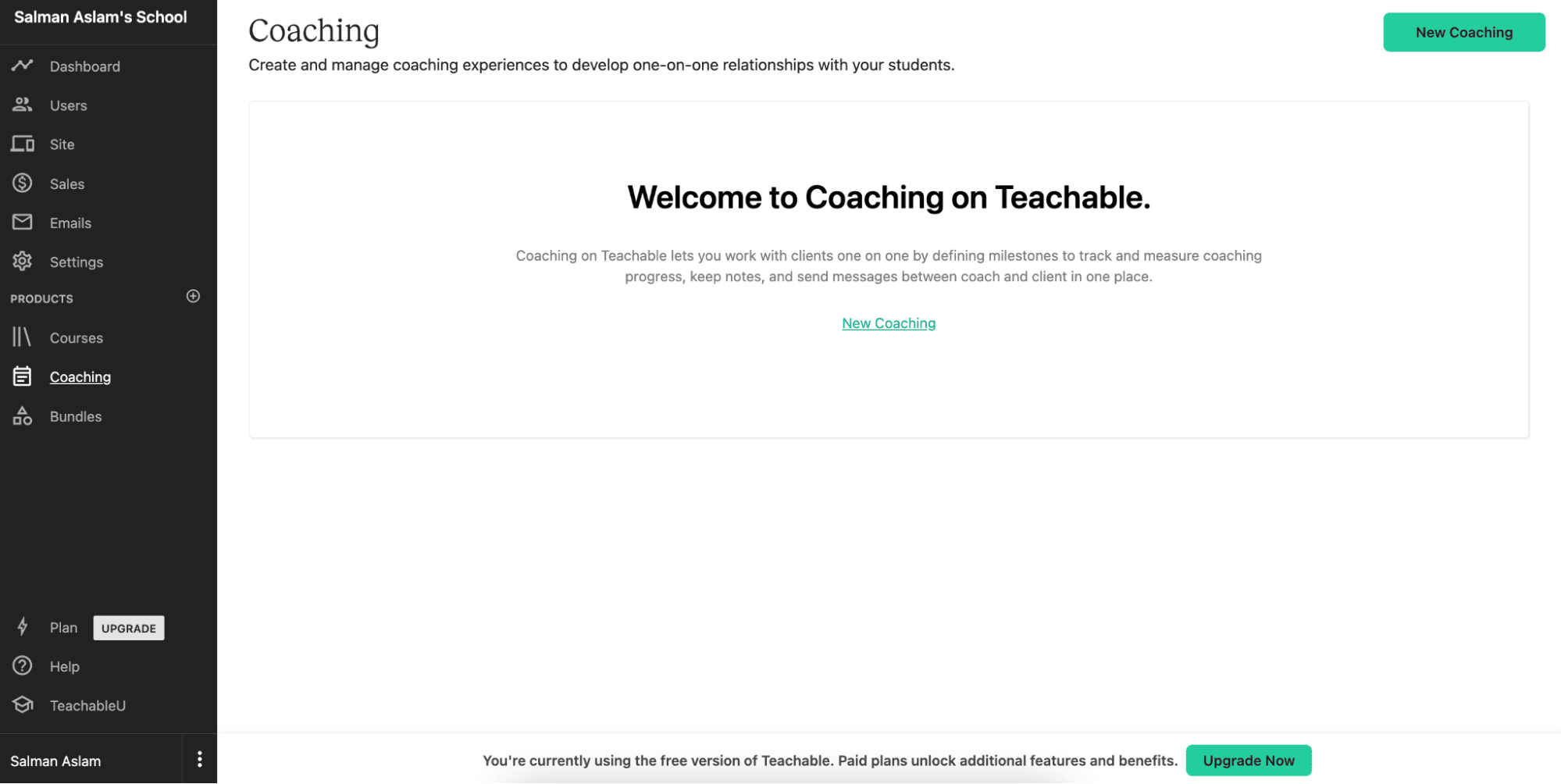 Source: Teachable
In other words, Coaching enables you to set different pricings, create specific programs with milestones, or communicate with students directly to facilitate their self paced learning.
Verdict
A great student experience is one of the most crucial goals you can have when releasing online courses. Kajabi offers more features geared towards students, so if you ask us, it's a definite winner.
Kajabi vs. Teachable: Which Would You
Choose?
Which of the learning management systems do you like more?
When comparing Kajabi vs. Teachable, both are in the best online learning platforms lists. However, each one suits different types of online courses and has distinct features that you can't find in other online learning platforms.
If you're new to online course creation and if you're looking to find the best learning management systems on a budget, then Teachable is the right choice since it comes with a decent number of features in a free plan and it's simple to navigate when building a course.
For us, the big winner is Kajabi because it has the most customizable features and enables you to create online courses easily. Plus, it comes with smart perks like the Community feature and the option to create automated email campaigns from within the software.
It's time to get into the online learning platform game and sell online courses!
Photo Credit: Unsplash