Managed WordPress Hostings are all the rave right now.
But which one is right for your business?
If you're undecided between WP Engine's plan vs WP Engine's plan, you've come to the right place.
As a former user of WP Engine vs current user of Kinsta, we're sharing our experience below to help those on the fence.
A lot of readers and customers ask us, which managed hosting provider is better among these two as on the surface both are priced fairly similarly and have extraordinary features.
In this guide, we'll go through five key features of each WordPress host to find out which one better suits your high traffic needs. You'll find out about Kinsta and WP Engine:
Features

Performance

Security

Pricing

Support
Let's see which of the two hosting platforms win the showdown.
Disclosure:  This article contains affiliate links, by clicking on links on this page and by making a purchase, we will earn an affiliate income at no cost to you. We have been a customer of all these services reviewed below and our recommendations come from our years of testing the product and service. We are independently owned and the opinions expressed here are our own.
As with anything you are considering to buy, you'll probably first look at features. Since managed hosting providers have a ton of different characteristics, it is important to do your research to decide which one is the better option. 
Kinsta features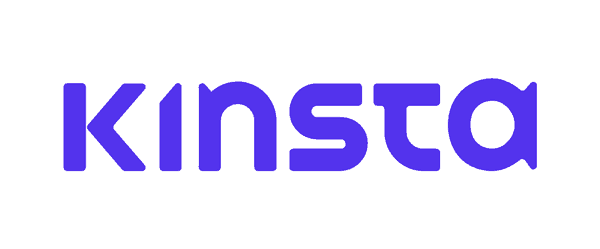 Although there are many different features to mention and we already dissected them in our Kinsta review, it's best to note which ones stand out the most from Kinsta:
Hosting on Google cloud platform

A unified dashboard with details like bandwidth usage or the number of unique visits

Management of your site through a centralized dashboard

Multi-user features which enable your coworkers to have different access and handle different tasks 

Tracking and analytics with data such as performance monitoring, resource usage, visitor and response analysis

LXD container technology, SSL support, firewalls, and uptime monitoring for security

Developer options: access to the SSH, using HeidiSQL and Sequel Pro

Free site migration

Daily backups.
WP Engine features

To be able to see how the two managed hosting providers differ, let's see which are WP Engine features:
Performance tool where you track different site metrics

Gives you access to the

Genesis Framework

and the themes that go with it

Security features like two-factor protection, proprietary firewall, and Host Intrusion Prevention System

Automatic WordPress updates

Production, Staging, and Development environments

Free site migration

Managed upgrades and offsite backups.
Winner: Kinsta
Both managed hosting platform rivals offer excellent features, and you can decide which features you like the most. If it were up to us, it's safe to say that the gold medal goes to Kinsta.
We found their offer better dashboard, analytics, performance and security features than WP Engine.
Next, there's the performance. There's no use in having every possible feature if your website is not performing at its best.
Kinsta Performance
Kinsta manages high amounts of traffic easily due to Google cloud hosting and avoids sharing resources with the help of LXD technology for each site. You will get the same core infrastructure that performs well on any plan.
This is one of the reason why our website performs smoothly even at more than 500,000 visitors ever month.
WP Engine Performance
WP Engine, as the managed hosting pioneer, on the other hand, offers a seamless performance through an entire server for each website. The service for the site comes from the VPS nodes, while the glitches are spread through different servers. These three performance features ensure an excellent load time.
Winner: Tie
To be honest, it is hard to select a winner based on performance alone as both hosting providers did provide excellent infrastructure and allowed us the platform where we could grow our business.
Security is the metric that (even today!) most people often forget. Still, it's a crucial element of your WordPress hosting, whether you have a site about Barbie dolls or sell top-tier banking solutions to high-level clients. All data matters and the classified one should be secured anytime and anywhere.
It's important to note that Kinsta and WP Engine offer extraordinary security features but only one of them takes a slight lead.
Kinsta Security
Kinsta platform makes it almost impossible for anyone to penetrate in. What's more, it uses LXD technology, the biggest isolation security feature that localizes the hacking attempt only to the website. Plus, as already mentioned, Kinsta offers SSL support, uptime monitoring, and firewalls. Fort Knox like security as they call it.
WP Engine Security
Even though both providers offer excellent security solutions, WP Engine has a more direct way of protecting your site. It prevents malicious codes to get into file-systems of your themes. In other words, it drives the enemy away by not letting them penetrate into the code. Also, it offers two-factor account protection.
Winner: Tie
Both WordPress hosting systems use scanners against compromised plugins, so there's no doubt that you'll benefit in the security domain with the two. Here in the security realm, the game is tied.
When looking to get something of higher quality, you'll close one eye to the price tag. Still, some people will look at pricing as a decisive feature for purchasing. Kinsta and WP Engine differ slightly in terms of pricing.
Kinsta Pricing

Kinsta isn't very cheap. In the annual plan arrangement, their Starter plan costs $30 per month. After the Starter plan, there's the Pro plan, for which you'll have to double the monthly fee, at $60.
Next, four types of Business plans go from $100 to $400, while the four Enterprise plans cost $600, $900, $1200, and $1500 per month.
Note: We are on the Enterprise 1 plan.
WP Engine Pricing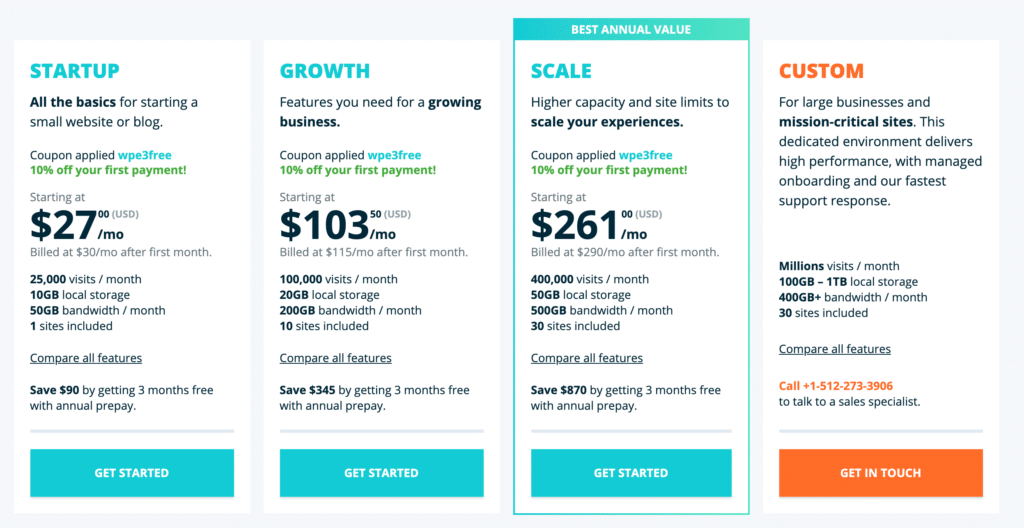 On the contrary, WP Engine's plan starts with a lower price on the bottom spectrum of the plan, while the costs go up more than Kinsta's on each upgraded version.
For example, in annual plans, you'll pay $25 per month for the Startup plan, $95 per month for the Growth plan, $241 per month for the Scale plan.
As a previous customer of WP Engine, it was a surprise when we peaked our Scale plan limit, the next plan offered to us cost around $900/month. Not very transparent I'd say.
Every plan that's not in the annual paying system is more expensive for both host management rivals. But what about the overage charges?
Overage Charges
We noted in the previous article that Kinsta will keep running if you exceed the plan allowance. Once you exceed your visitors count for 1,000 in the plan, you will have to pay $1.
Moreover, you'll have to pay $0.1/GB if you go beyond the CDN bandwidth. When you continue to exceed the limits of your plan, don't be surprised when Kinsta hosting reaches out to you telling you to upgrade the plan. 
WP Engine will charge the same for exceeding the visitors count on Personal, Professional, or Business plan, but this managed hosting platform will charge you $2 for every additional 1,000th visitor on Startup, Growth, or Scale plans.
WP Engine plans are more expensive and (in our experience) not upfront. Once we maxed out the Growth plan, the next plan was $900 even though we were going up marginally from our allotted visits. This was one of the reasons why we switched to Kinsta.
Winner: Kinsta
Here you will have to know more about the traffic spikes on your site and what area to target to see which platform is the better choice.
Since WP Engine has limited geo presence, you will get less for your money than with Kinsta.
Moreover, if you usually experience or hope to experience high spikes in traffic, then Kinsta is definitely a better option.
Last, let's talk about support. It is a major factor when you have issues with the two WordPress managed providers. 
Kinsta Support
Kinsta offers a 24/7 support via email and chat. You can access its chat option, Intercom, from any part of the site. The support team replies within minutes and stores all chat transcripts so you can get to them later if you need to.
Also, Kinsta's Knowledge Base will give you the answers to the most important questions you might have.
WP Engine Support
WP Engine offers 24/7 support with different support teams for each support level. If you call for one specific issue, WP Engine will assign you the agent who resolves only your type of issue.
Another way to get support is to open a support ticket.
Winner: Kinsta
If you ask us, Kinsta is much more efficient in their support channels because there is no redirecting back and forth between the customer and the agent.
An independent survey of over 6500 respondents rated the support of both providers as follows:
Kinsta's overall support rating: 4.9
Kinsta's WordPress-specific support rating: 4.9
WP Engine's overall support rating: 4.7
WP Engine's WordPress-specific support rating: 4.7
This does not, in any way, mean that WP Engine's support is poor. In fact, both Kinsta nd WP Engine provides better support than most providers but according to our experience, we preferred Kinsta's support more as you feel you get an instant solution to your problems.
Both Kinsta and WP Engine offer great managed WordPress hosting platform where businesses can scale. In our head to head comparison of Kinsta vs WP Engine, though, Kinsta takes the lead because of their transparent pricing, tight security, better support, more comprehensive platform.
Choosing the right managed WordPress provider is vital for your site's performance and with managed hosting providers, where you're handing over the responsibility of maintaining daily backups, server and security monitoring, it gets even more important to choose the right provider.
After using both WP Engine's and Kinsta, we came to the conclusion that Kinsta is an unmatched rival. 
Photo Credit: Unsplash