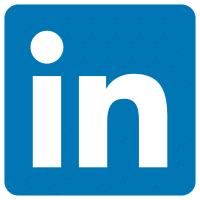 URL: https://www.linkedin.com/
Founded: May 5, 2003
Founder: Reid Hoffman
CEO: Ryan Roslansky
Parent company: Microsoft Corporation
Headquarters: Sunnyvale, California, United States
Employees: 21,000 (source)
Quick LinkedIn Statistics
Total Number of Linkedin Users:
900 million (Source) 
Last updated: 30/01/23
---
Total Number of Weekly Active Linkedin Users:
49 million (Source)
Last updated: 30/01/23
---
Total Number of Active LinkedIn Users in the U.S.:
199M+ (Source)
Last updated: 30/01/23
---
Total Number of Active LinkedIn Users in Europe:
236M+ (Source)
Last updated: 30/01/23
---
Total Number of Active LinkedIn Users in the Asia Pacific:
254M+ (Source)
Last updated: 30/01/23
---
Total Number of Active LinkedIn Users in Latin America:
161M+ (Source) 
Last updated: 30/01/23
---
Total Number of Active LinkedIn Users in Middle East & Africa:
52M+ (Source)  
Last updated: 30/01/23
---
Total Number of Companies Listed on LinkedIn:
58.4M+ (Source) 
Last updated: 30/01/23
---
Total Number of  Applications Submitted Every Second on LinkedIn:
90(Source) 
Last updated: 30/01/23
---
Total Number of Schools Listed on LinkedIn:
129K+ (Source) 
Last updated: 30/01/23
---
LinkedIn's Q3 2022 Revenue
4.2B (Source) 
Last updated: 30/01/23
---
Linkedin Demographics
Number of LinkedIn users per year
| | |
| --- | --- |
| | Number of LinkedIn users (In millions) |
| | |
| | |
| | |
| | |
| | |
| | |
| | |
| | |
| | |
| | |
| | |
| | |
| | |
LinkedIn Usage Statistics 
LinkedIn Business Statistics 
Number of companies listed on LinkedIn per year
| | |
| --- | --- |
| | Number of companies (In millions) |
| | |
| | |
| | |
| | |
| | |
| | |
LinkedIn Content Marketing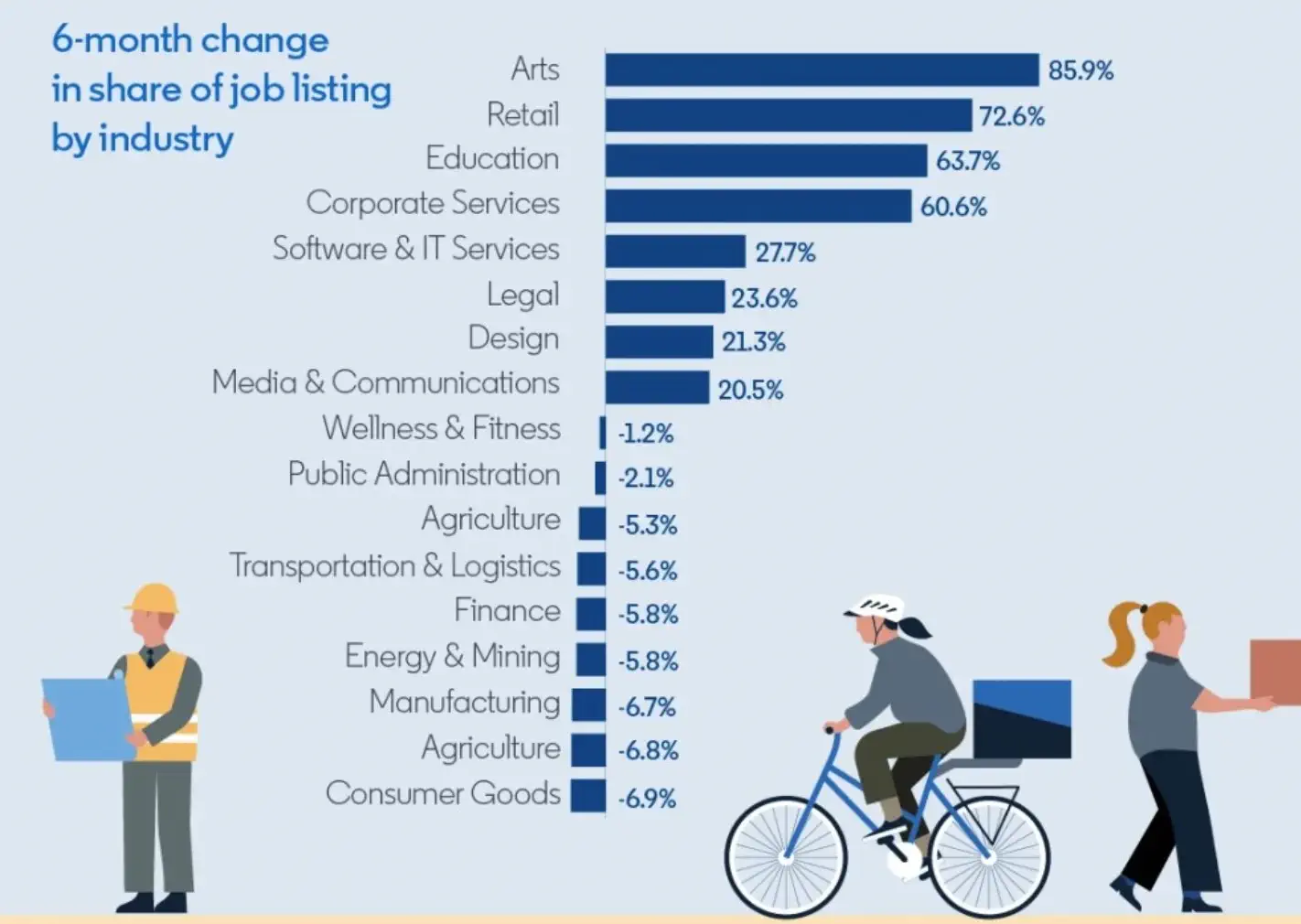 Marketing skills that are currently in-demand on LinkedIn. Source: LinkedIn
LinkedIn Advertising Statistics 
LinkedIn annual revenue per year
LinkedIn turns 20 years old in 2023.
Microsoft paid $26 billion for LinkedIn.
Executives rate LinkedIn as their best choice for professionally relevant content.
LinkedIn is rated as the most trusted social media platform.
You are 7x more likely to be found if you have a profile picture on LinkedIn.
You are 12x more likely to be found on LinkedIn if you include at least two past working experiences.
A complete LinkedIn profile will get you 21x more profile views and 36x more messages.
There are 35,000 skills listed on LinkedIn.
LinkedIn is currently available in 26 languages.
The top soft skill that companies need the most on LinkedIn is creativity and the top hard skill required is Blockchain followed by Cloud computing.
There are 100 million job applications on LinkedIn every month.
2 million posts, articles, and videos are published on LinkedIn every day.
There are 6 million IT decision-makers on LinkedIn.
There have been 11 billion endorsements on LinkedIn.
The average CEO has 930 connections.
More than 72% of recruiters use LinkedIn when hiring.
3% of LinkedIn members globally currently drive an electric vehicle, which is 57% above the global internet average.
LinkedIn Statistics
(Editor's choice) 
1. LinkedIn User Statistics 
LinkedIn boasts over 900 million users in more than 200 countries and territories worldwide (LinkedIn).
Although these figures seem considerably low compared to the likes of Instagram with over 2 billion users and Facebook at 2.91 billion users, the numbers are quite impressive, noting that LinkedIn targets a specific group of users ‒ the professional community.
Having been officially launched in 2003, LinkedIn has enjoyed a phenomenal gradual growth rate without experiencing any dips, as would be the case for other social media platforms like Twitter. 
In just two years after its launch, LinkedIn had already amassed 1.6 million members and crossed the 100-million mark in Q1 2011 after going public. 
The number of LinkedIn users more than tripled from 160 million to over 400 million members within the next five years, and just a year later, in 2017, the platform crossed its half-a-billion mark.
Over the years, LinkedIn became the go-to network for all professionals globally, and not just in the United States alone. Out of the 810 million LinkedIn users, there are only 185+ million members from the U.S. (LinkedIn).
2. LinkedIn Demographics: Gender 
LinkedIn's latest demographics stats indicate that the professional network is more popular among males than females. 57.2% of LinkedIn users are male, while females take up 42.8% of the total user number (Statista).
In the United States, it's a similar situation, as 42% of LinkedIn users are female and 58% of LinkedIn users are male (Statista).
While the platform remains more popular among males, LinkedIn's Gender Insight Report tells a different story regarding usage behaviours and engagement habits. According to the report, women are 16% more likely than men to get hired after applying for a job.
3. LinkedIn Demographics: Age
When broken further, the age group with the most number of LinkedIn users is between 25 and 34 years, taking up 59.1% of the total.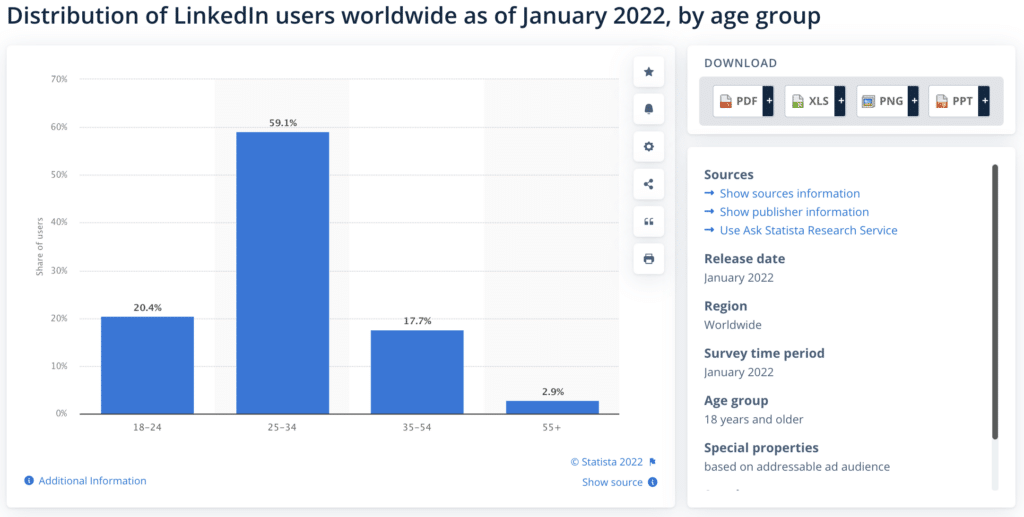 LinkedIn is a platform mainly built for working professionals and those looking to build their network. For this matter, it would make a lot of sense to notice a huge number of users from the ages of 25 to 35, as these are individuals looking to network and scout for better work opportunities. 
The second most popular age group on LinkedIn ranges between 18 and 24, taking up 20.4% of the total. Most of the people in this age are in (or done with) college and would like to connect with other professionals whom they could use as mentors to grow their careers. 
By the mere fact that LinkedIn is a platform for those working, scouting for newer professional opportunities, or looking to network, there are very few members (only 2.9% of the total) above 55. 
4. LinkedIn usage statistics
With the world moving towards the mobile-first ideology, it is no surprise to learn that 57% of all LinkedIn traffic is from mobile devices (LinkedIn, 2021). However, these figures haven't changed since 2018, but there was a prediction that the numbers would increase five-fold by 2024.
The same report from LinkedIn also claims that 80% of engagement on content comes from mobile devices. This means that if you wish to market any content on the platform, it must be optimized for mobile. 
According to Similarweb, members on this platform review an average of six pages per visit, spending approximately 7 minutes on the platform.
5. LinkedIn's popularity among marketers
89% of B2B marketers use LinkedIn for lead generation, and 62% say it generates them leads (LinkedIn).
One of the key reasons behind this success is the fact that LinkedIn is the most trusted social platform in the world, according to Business Insider. In its annual reports, LinkedIn has been shown to lead consistently as the most trusted social media platform amidst the surge of fake news. 
In a study conducted by Hubspot, LinkedIn leads in terms of lead conversion rates. Traffic from the platform generates the highest visitor-to-lead conversion rate at 2.74%, which is 277% higher than Facebook and Twitter. This is an impressive figure, more so since 80% of B2B leads come from LinkedIn.
While it is quite popular among B2B content marketers, LinkedIn treks behind Facebook and Instagram as the most popular social media platform for marketers ‒ and for obvious reasons (Hootsuite, 2021). 
With billions of users on both Instagram and Facebook, they are a marketer's go-to place as you can easily reach many people in an instant. However, due to its trustworthiness rating and high lead conversion rates, LinkedIn follows closely, ahead of other platforms like Twitter and YouTube.
6. Recruitment stats on LinkedIn
There are over 58.4 million companies listed on LinkedIn, with more than 15 million open job listings (LinkedIn). 
These figures make it no surprise to learn that 72% of recruiters use or engage LinkedIn at some point in their recruitment process.
According to LinkedIn, over 49 million people use the platform to search for jobs every week, and in every minute, 6 people get hired on LinkedIn. 
When looking at female and male candidates on LinkedIn, recruiters are 13% less likely to click on a woman's profile when she shows up in search.
A study found that 122 million received interview letters for a job they applied for via LinkedIn. Over 35 million people were hired by someone they connected with on the platform.
At the dawn of the Coronavirus pandemic, LinkedIn saw a 6x increase in the number of remote job postings in the U.S. There are 300K+ active remote job listings on the social media site at the moment. 
7. Stats on key decision-makers on LinkedIn
LinkedIn is arguably the world's largest gathering of decision-makers and professionals. According to the platform, 4 out of 5 LinkedIn members drive business decisions in some form. These numbers showcase to marketers the quality of LinkedIn's audience, which is .ideal for exploring if quality leads are the key to your business. 
In terms of absolute numbers, there are 61 million senior-level influencers and 65 million decision-makers on LinkedIn. This makes LinkedIn the best place you can go to if you need a direct connection with key decision-makers of your target market. 
For marketers whose target audience is the millennials, you'd be glad to learn that out of the 87 million millennials on LinkedIn, more than 11 million of them are key decision-makers. 
Content marketing has had its fair share on LinkedIn, with a 60% rise in content creation within the last year. You can be sure to reach key decision-makers of the industries you're targeting for your brand. 
According to LinkedIn, 45% of content readers are managers, CEOs, VPs, and other upper ranks in companies. You can help them discover your brand or product through a well-planned content marketing strategy.
Note: Please link back to omnicoreagency.com and this page when you reference/quote the statistic.
Photo Credit: Unsplash