Company Info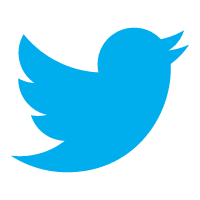 URL: https://twitter.com/
Founded on: March, 2006
CEO: Jack Dorsey
Headquarters: San Francisco, CA
Employees: 4100
Twitter Statistics
Total Number of Monthly Active Twitter Users:
326 million (source)
Last updated: 10/26/18
---
Total Number of Tweets sent per Day:
500 million
Last updated: 6/24/18
---
Percentage of Twitter users on Mobile:

80%
Last updated: 6/24/18
---
Number of Twitter Daily Active Users:

100 million
Last updated: 6/24/18
---
Twitter Demographics
Twitter Financials
Twitter's revenue: $711 million
Advertising revenue totalled $545 million (US:$374 million, International:$242 million), an increase of 6% year-over-year.
Mobile advertising revenue was 88% of total advertising revenue.
Total ad engagements were up 91% year-over-year.
Twitter is currently valued at $16 billion.
Fun Facts
Twitter can handle 18 quintillion user accounts.
74% of Twitter users say they use the network to get their news.
85% of small and medium business users use Twitter to provide customer service.
Saudi Arabia has the highest percentage of internet users who are active on Twitter.
In Q3 2017, Twitter live-streamed more than 830 events.
Twitter also live-streamed 96 million hours of live user-generated content in Q3 via Periscope.
Number of Twitter timeline views in 2014 is 200 billion.
83% of 193 UN member countries have a Twitter presence.
Twitter's revenue per employee is $488,913.
Note: Please link back to OmnicoreAgency.com and this page when you reference/quote the statistic.