Company Info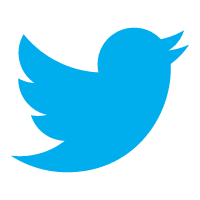 URL: https://twitter.com/
Founded on: March, 2006
CEO: Jack Dorsey
Headquarters: San Francisco, CA
Employees: 4300 (source)
Twitter Statistics
Total Number of Monthly Active Twitter Users:
330 million (source)
Last updated: 9/5/19
---
Total Number of Tweets sent per Day:
500 million (source)
Last updated: 9/5/19
---
Percentage of Twitter users on Mobile:

80%
Last updated: 6/24/18
---
Number of Twitter Daily Active Users:

139 million (source)
Last updated: 9/5/19
---
Twitter Demographics
Twitter Financials
Twitter's total revenue in Q2 2019 reached $841 million which is an increase of 18%.
Advertising revenue totaled $727 million, an increase of 21% year-over-year.
Mobile advertising revenue was 88% of total advertising revenue.
Total ad engagements were up 91% year-over-year.
Twitter is currently valued at $16 billion.
Fun Facts
Twitter can handle 18 quintillion user accounts.
74% of Twitter users say they use the network to get their news.
85% of small and medium business users use Twitter to provide customer service.
Saudi Arabia has the highest percentage of internet users who are active on Twitter.
In Q3 2017, Twitter live-streamed more than 830 events.
Twitter also live-streamed 96 million hours of live user-generated content in Q3 via Periscope.
Number of Twitter timeline views in 2014 is 200 billion.
83% of 193 UN member countries have a Twitter presence.
Twitter's revenue per employee is $488,913.
Most followed person on Twitter is Katy Perry with 107.47 million followers.
93% of Twitter's video views happen on a mobile device.
"Discover something new and interesting" is the most cited reason for visiting twitter.
Twitter app got 11.7 million downloads for AppStore.
Most used emoji in tweets is "Face with Tears of Joy" (used more than two billion times)
Note: Please link back to OmnicoreAgency.com and this page when you reference/quote the statistic.