Company Info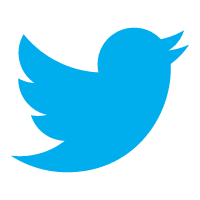 URL: https://twitter.com/
Founded on: March, 2006
CEO: Jack Dorsey
Headquarters: San Francisco, CA
Employees: 4800 (source)
Twitter Statistics
Total Number of Monthly Active Twitter Users:
330 million (source)
Last updated: 9/5/19
---
Total Number of Tweets sent per Day:
500 million (source)
Last updated: 9/5/19
---
Percentage of Twitter users on Mobile:

80%
Last updated: 6/24/18
---
Number of Twitter Daily Active Users:

152 million (source)
Last updated: 9/5/19
---
Twitter Demographics
Twitter Financials
Twitter's total revenue in Q4 2019 reached

1,01 billion U.S. dollar

s

Advertising revenue totaled

$885 million

, an increase of 12% year-over-year.

US is Twitter's largest market in terms of revenue: it generated

$591 million

, an increase of 17 percent year-over-year.

Mobile advertising revenue was 88% of total advertising revenue.
Total ad engagements were up 29% year-over-year.

Twitter is currently valued at

$24.6 billion

.
Fun Facts
Twitter can handle 18 quintillion user accounts.

71% of Twitter user

s say they use the network to get their news.
85% of small and medium business users use Twitter to provide customer service.

93% of Twitter

community members are open to brands getting involved, if done so in the right way.

Tweets with GIFs get

55% more

engagement than those without. However, only

2% of Tweets

contain GIFs.

Twitter

hosted 1,300 live streamed events

, 80% of which streamed to a global audience.

Twitter also live-streamed 96 million hours of live user-generated content in Q3 via Periscope.

Twitter's timeline

generates +31% higher emotional connection and +28% higher levels of memorability versus the social media average.

As of December 31, 2019, there were more than 1,700 Topics that people could follow in six languages.

92.23 percent of UN

member countries had some Twitter presence. Overall, 95 percent of G20 countries were active on Twitter.

Twitter's revenue per employee is

$210,417

.

Barack Obama is currently the

most followed account on Twitter

with over 112 million followers.

93% of Twitter's video views happen on a mobile device.

Twitter is the preferred social network for

news consumption

.

Twitter app got 11.7 million downloads for AppStore.

Daily limit of tweets is

2,400 per day

.

Most used emoji in tweets is "Face with Tears of Joy" (used

more than 2.7 billion times

)
Note: Please link back to OmnicoreAgency.com and this page when you reference/quote the statistic.